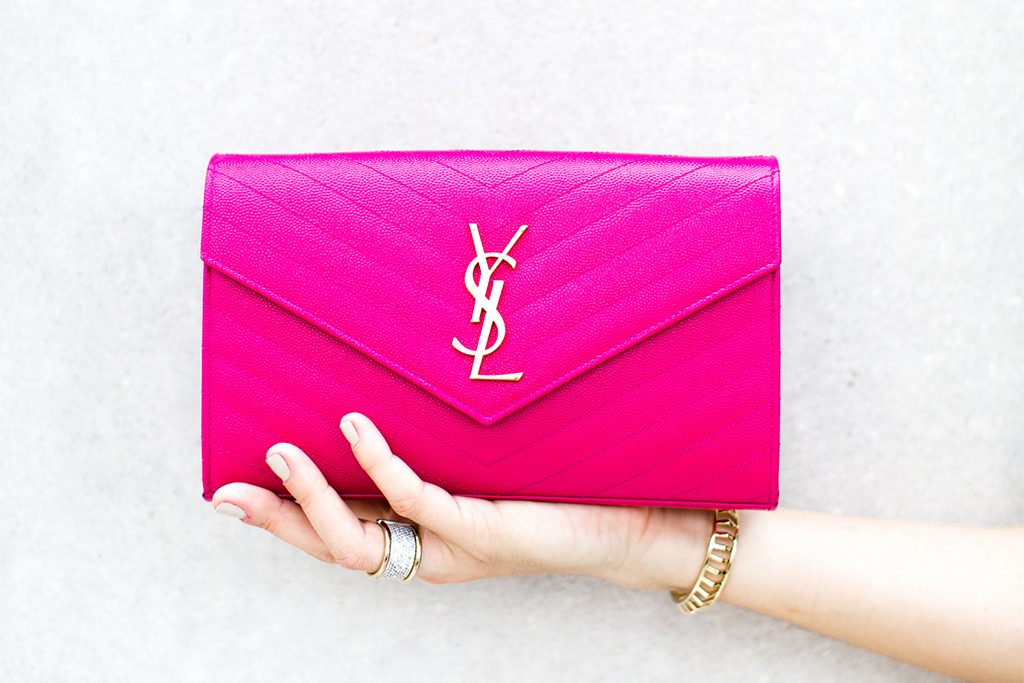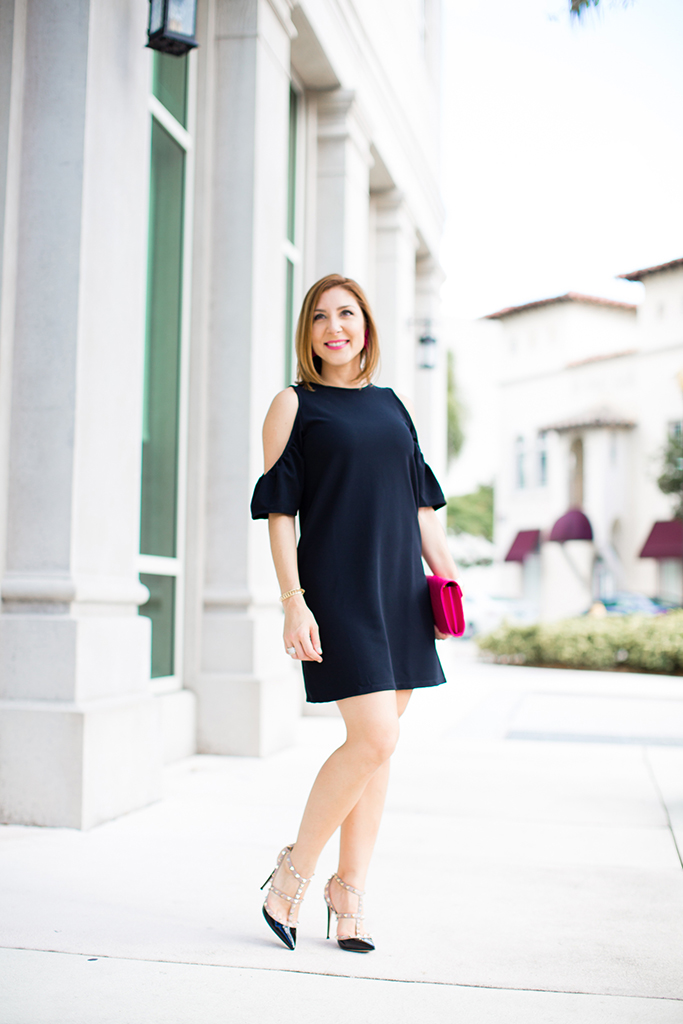 For those who aren't comfortable with pulling an all-black look, adding a pop of color to your little black dress is always a good idea.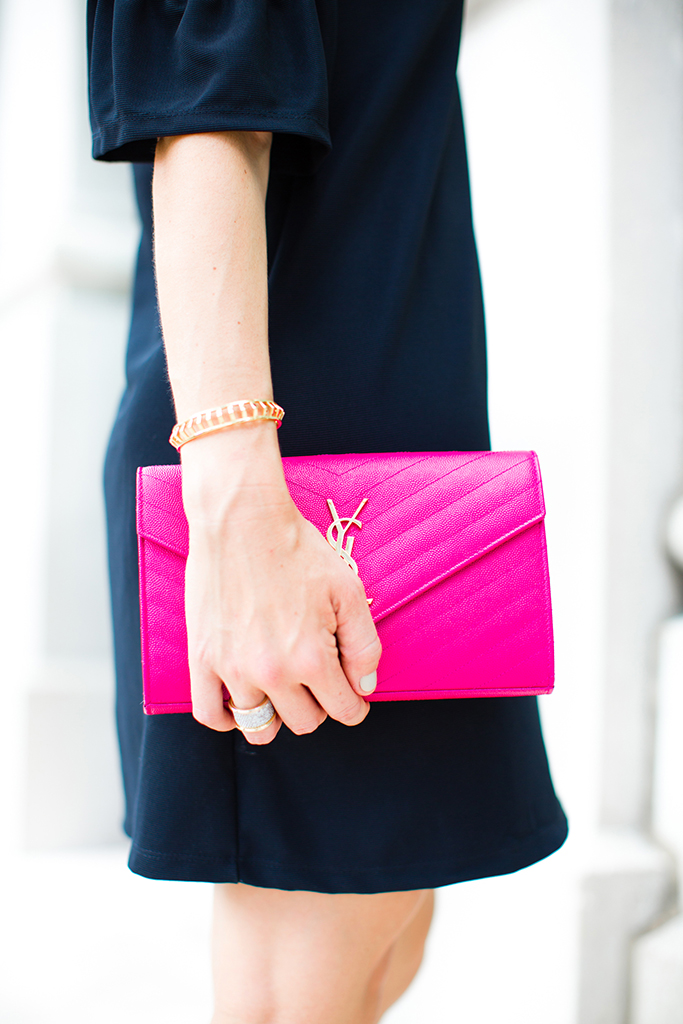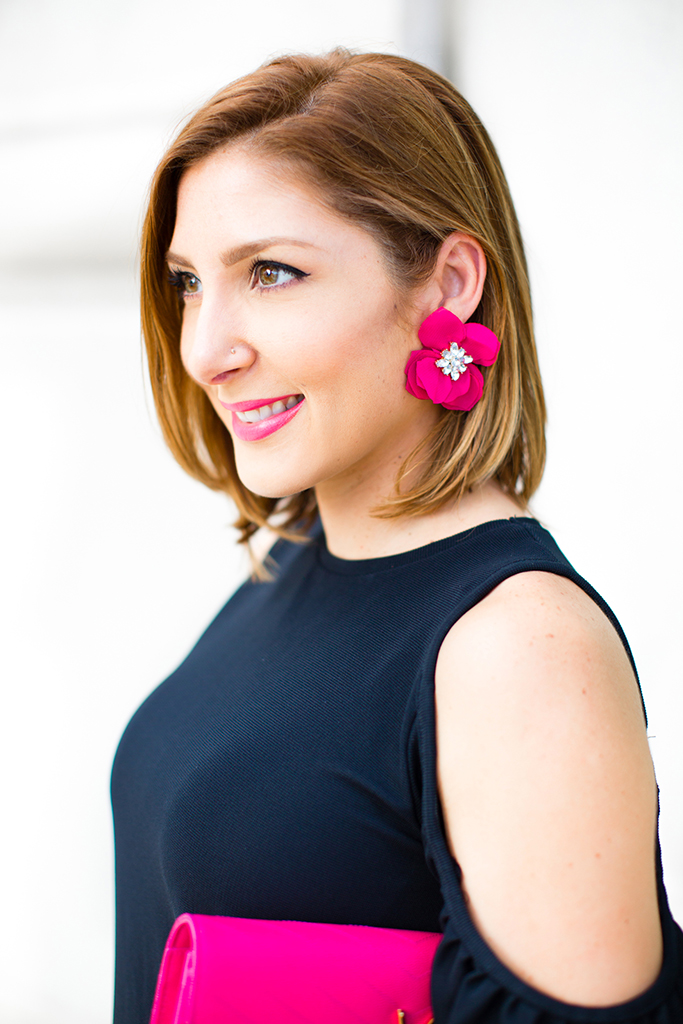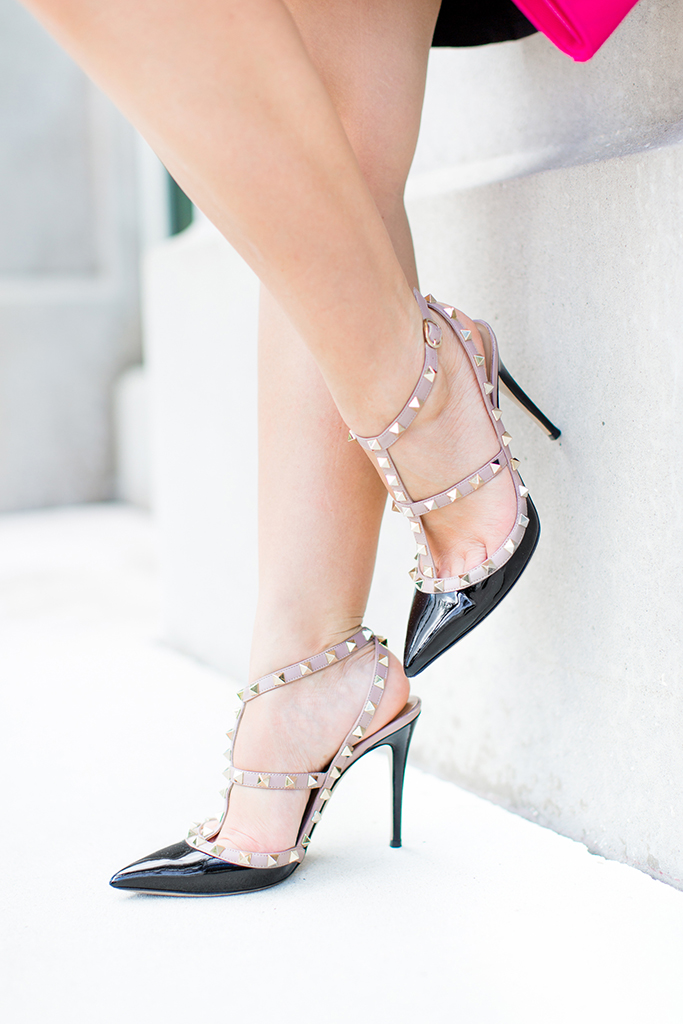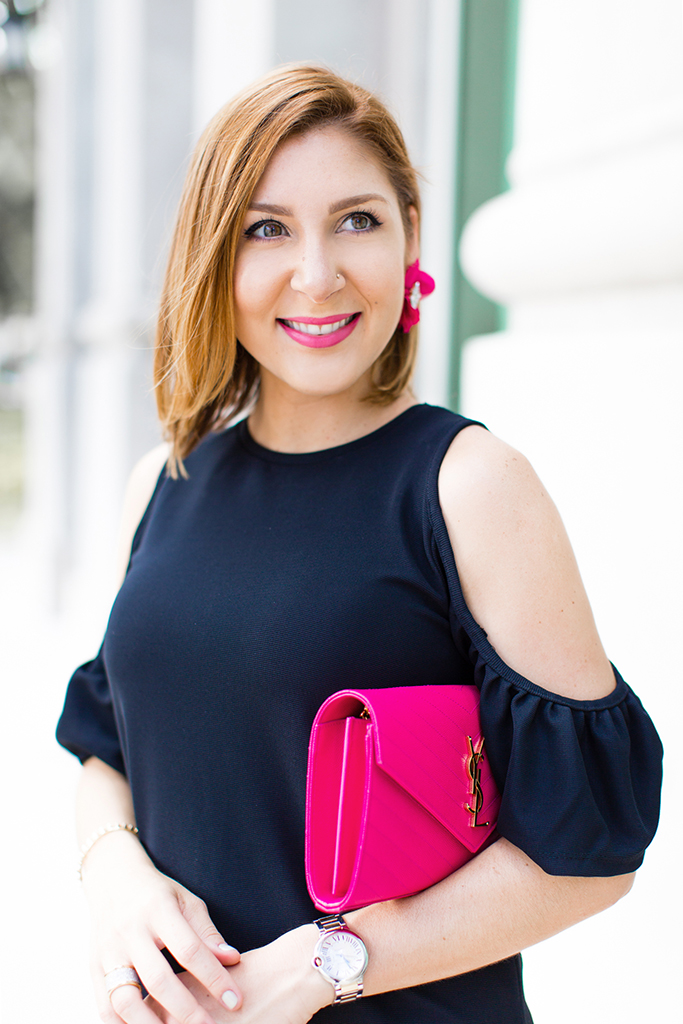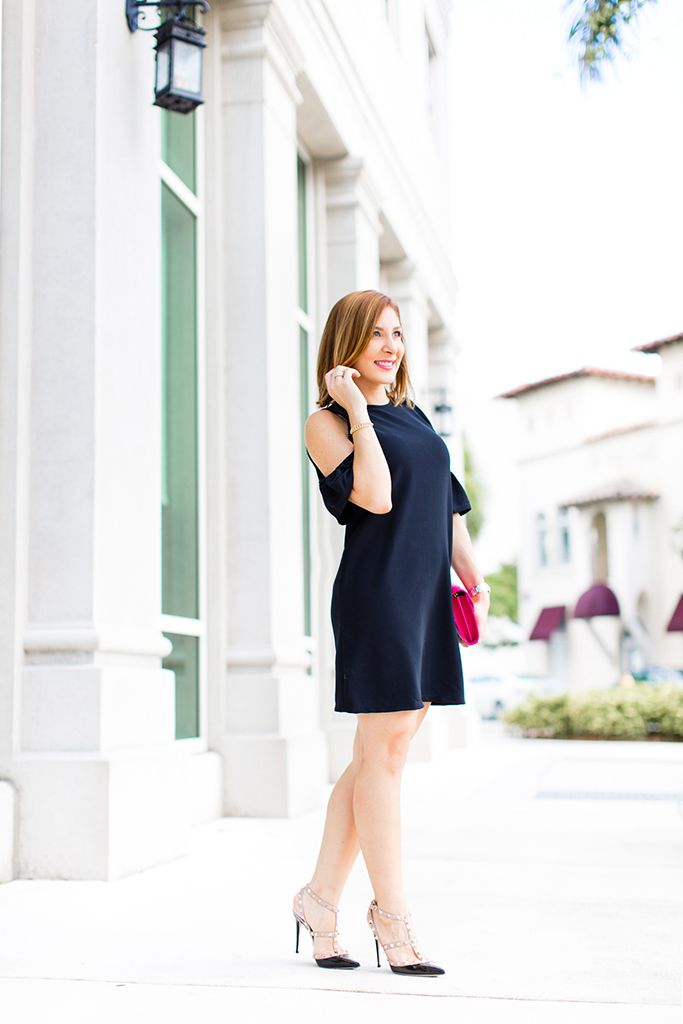 <<   DRESS:  Zara (exact one here)  |   EARRINGS: BaubleBar 'Paion' (now 50% off)   |   WATCH: Cartier (affordable version)  |     BRACELET: BaubleBar 'Ladder Cuff'   |  RING: Henri Bendel 'Bond Street Stack' (similar) |    HANDBAG:  Saint Laurent 'Monogram Medium Matelasse' (similar, affordable option)   |   HEELS: Valentino 'Rockstud Patent' (affordable option, affordable option)  |   NAIL POLISH: CND 'Svelte' |    LIPSTICK:  MAC 'Relentlessly Red'  >>
Photography by: Luccia Lowenthal
Happy Monday!
Since the hurricane scare was over (thankfully) for those who live in South Florida, the weekend plans were in full force. Thus for my close friend's wedding rehearsal dinner, I decided to wear this little cute cold-shoulder number. Don't know if I've shared before, but despite my forever hesitation with the color black, I decided to give it a try once again (with my own twist of course). My hubby always compliments how well the color black suits me but for whatever reason, I've never been a fan of it. Maybe it's because of the somber sensation it reminds me off, but little by little it is gaining more real estate in my closet. Since I am not completely ready to pull an all-black look, I decided to add a little sparkle and lots of color with my new BaubleBar earrings and vibrant clutch.
What did you all think? Is there a color you don't like to wear? Let me know if the comments section below.
PS: although I am very thankful that hurricane Matthew did not affect us in South Florida, I am very sad to see the devastating images from many of the Caribbean islands, especially my Cubita Linda (beautiful Cuba), along with Haiti and Bahamas.

VESTIDO NEGRO + SANDALIAS DE TACHUELAS
¡Feliz lunes!
Ya que la incertidumbre del huracán Matthew llego a su fin para aquellos que viven en el sur de la Florida, los planes para el fin de semana se mantuvieron en plena vigencia. Así que para la cena del día antes de la boda de mi amiga (conocido como rehearsal dinner en ingles), decidí vestir este alucinante vestido de hombros al descubierto. No sé si he compartido lo siguiente antes, pero siempre tengo mis dudas con el color negro, pero decidí cederle otra oportunidad. Por alguna razón u otra, aunque mi esposo me alaga cada vez que visto este color, nunca he sido un fan de el. Pero les confieso que poco a poco esta ganando más terreno en mi armario. Como no podía resistir las ganas de vestir algo sin un color llamativo, decidí añadir mis nuevos pendientes de BaubleBar junto con mi pequeño bolso del mismo color.
¿Qué pensaron de este look? ¿Hay un color que no les gusta vestir? Déjeme saber a continuación.
PD: Amares, aunque estoy muy agradecido de que el huracán no afectó el sur de Florida, estoy muy triste al ver las imágenes devastadoras de muchas de las islas del Caribe, especialmente mi Cubita linda junto con Haití y Bahamas.