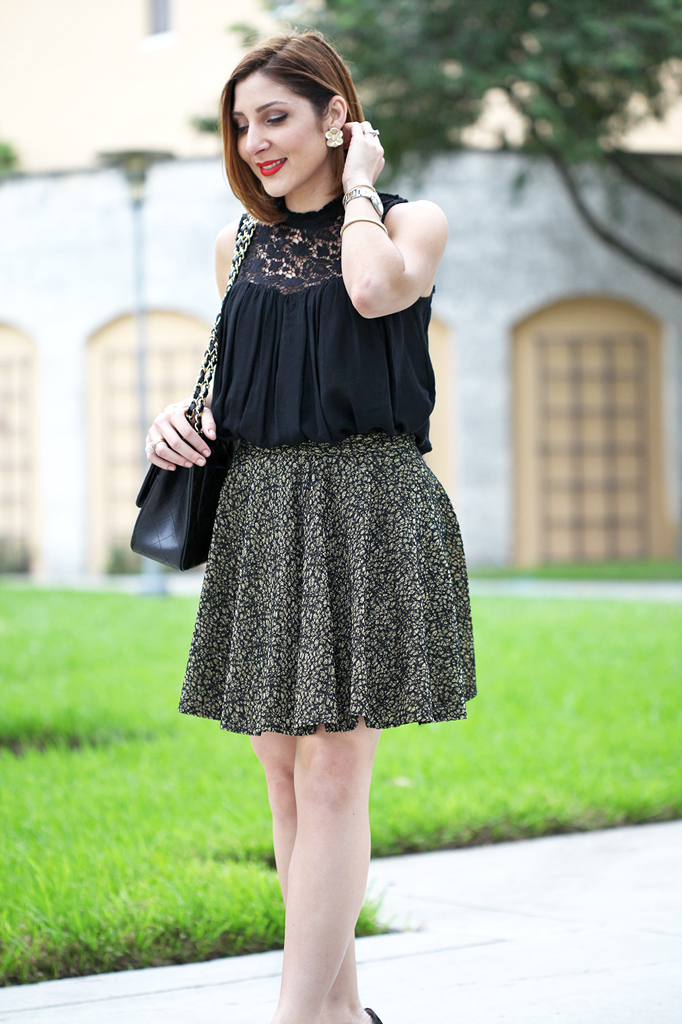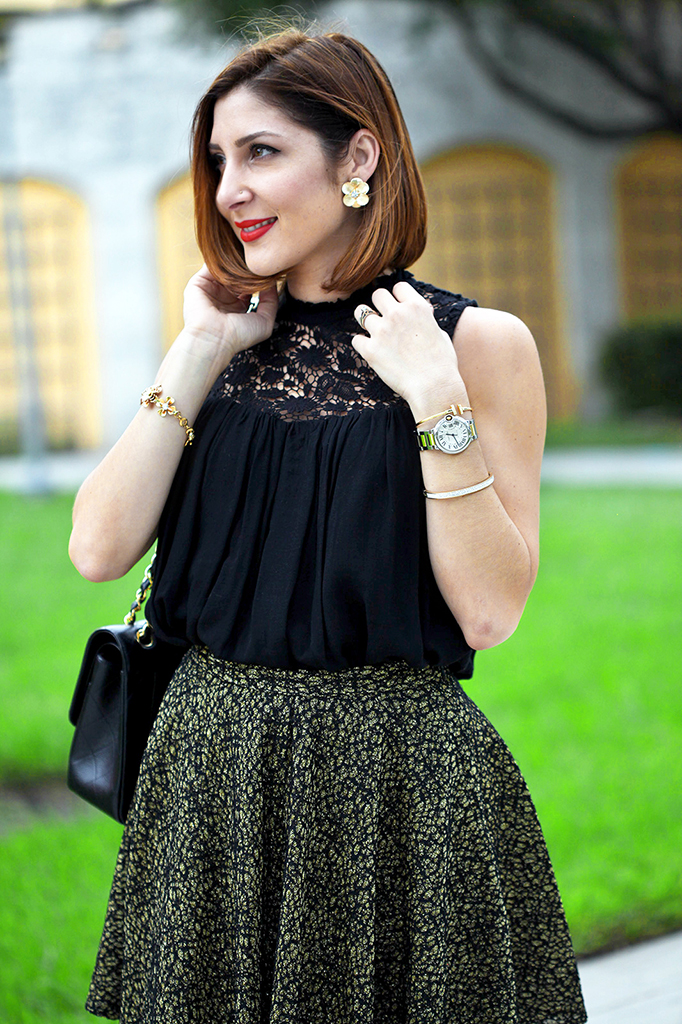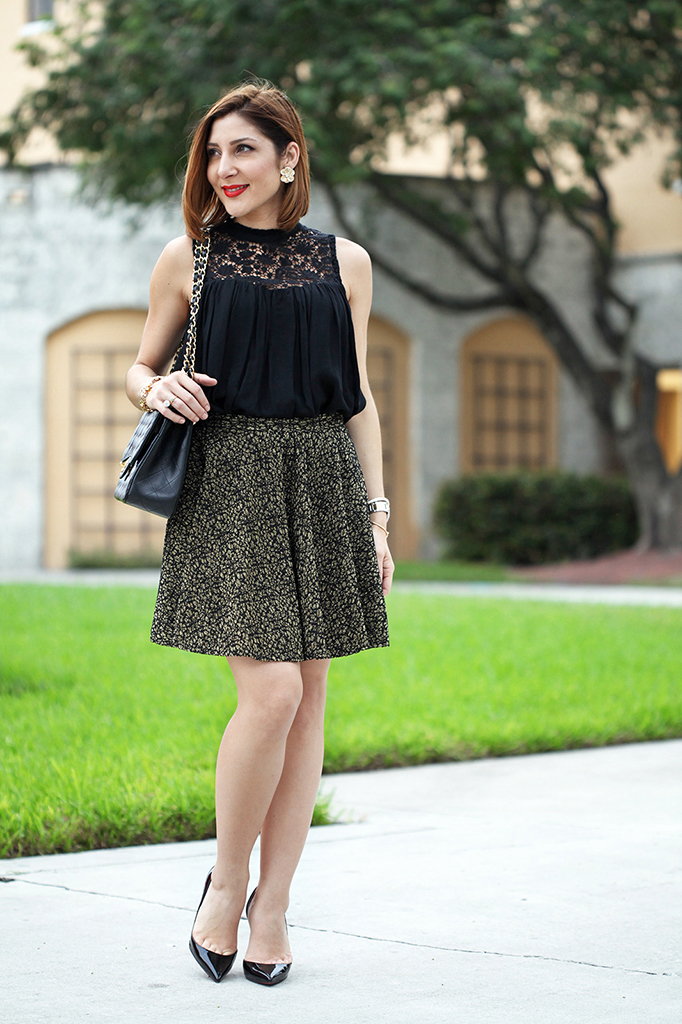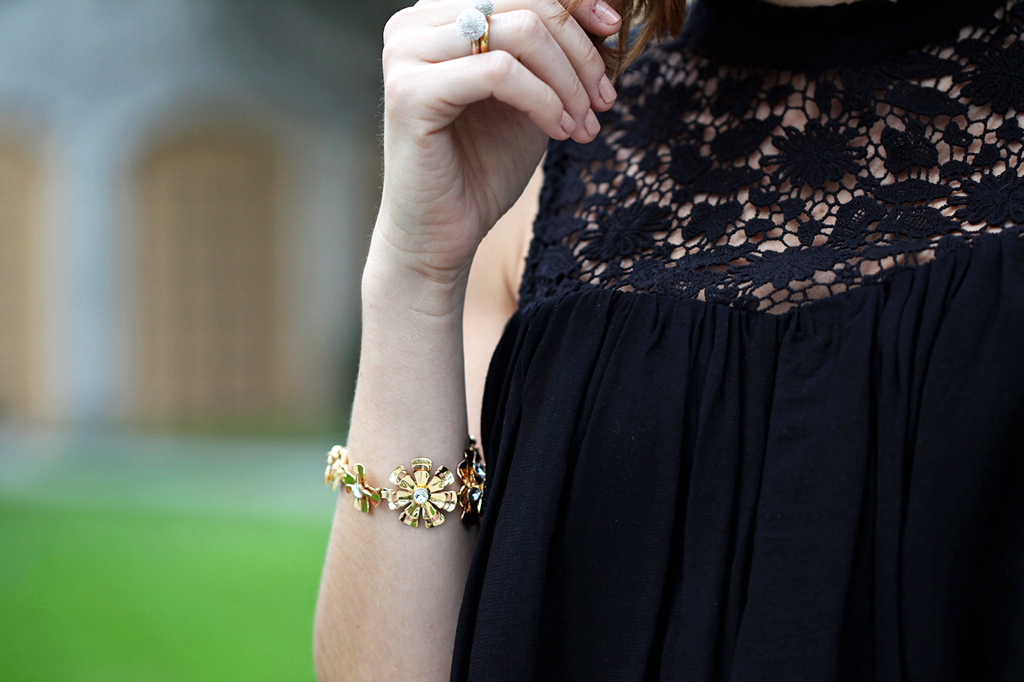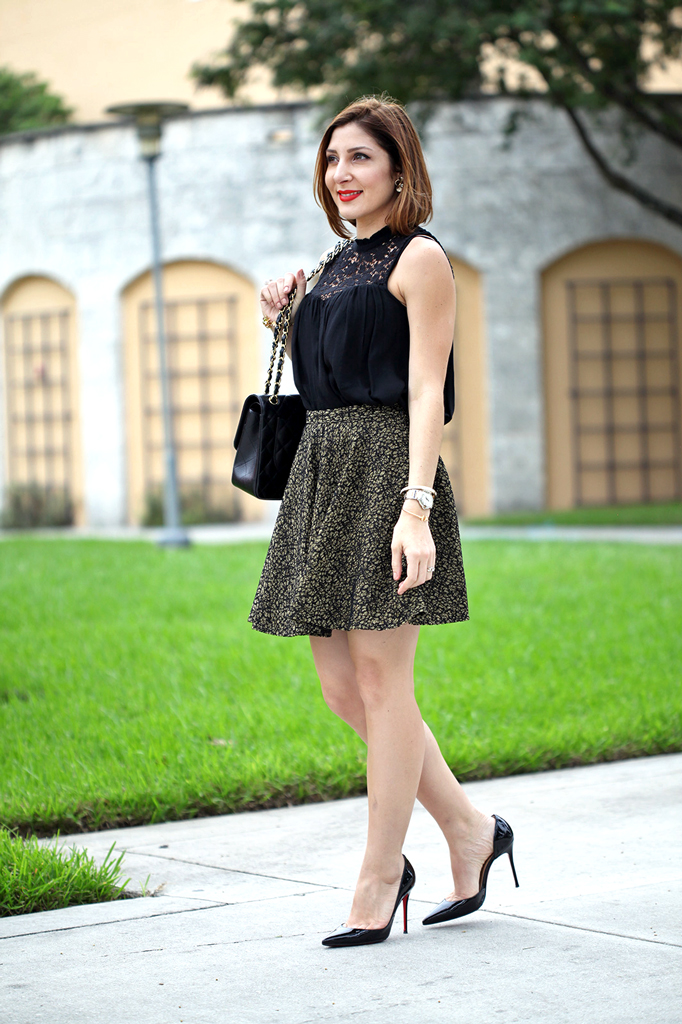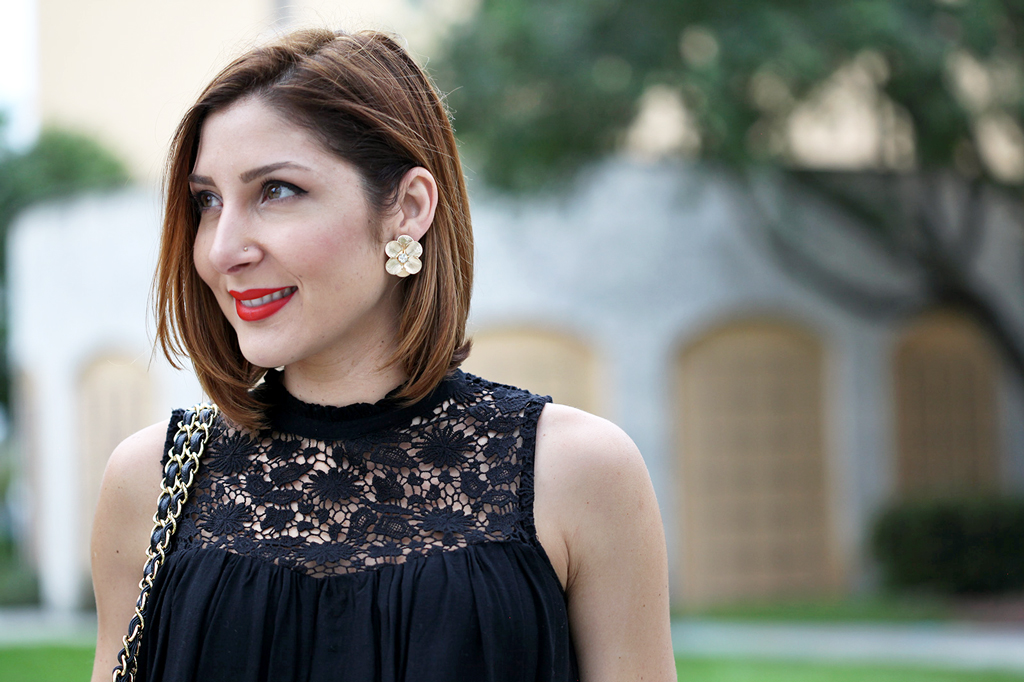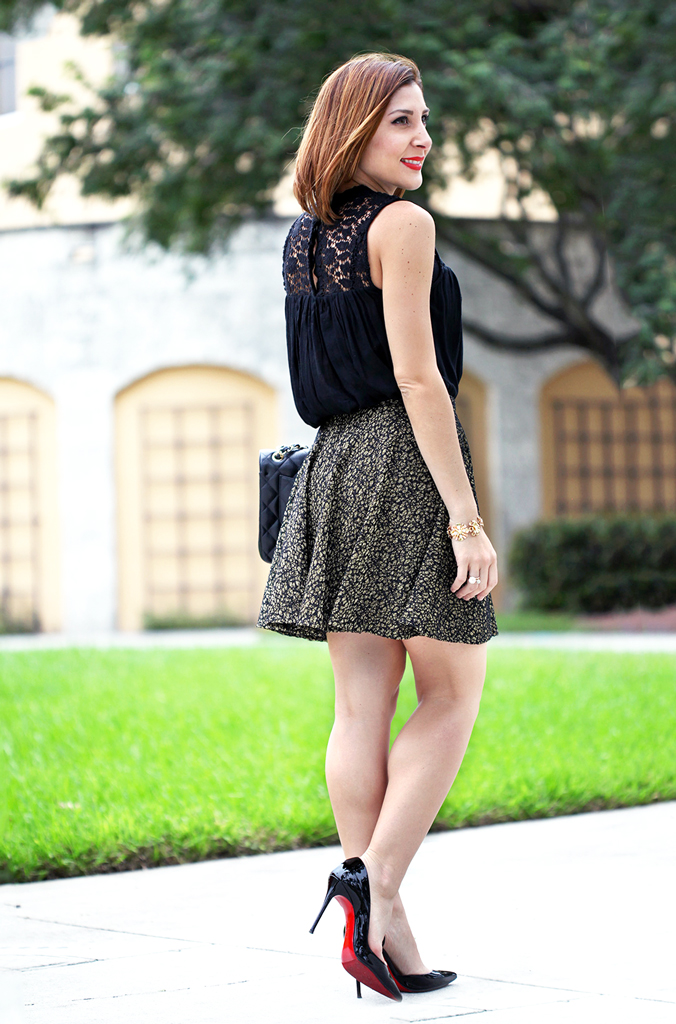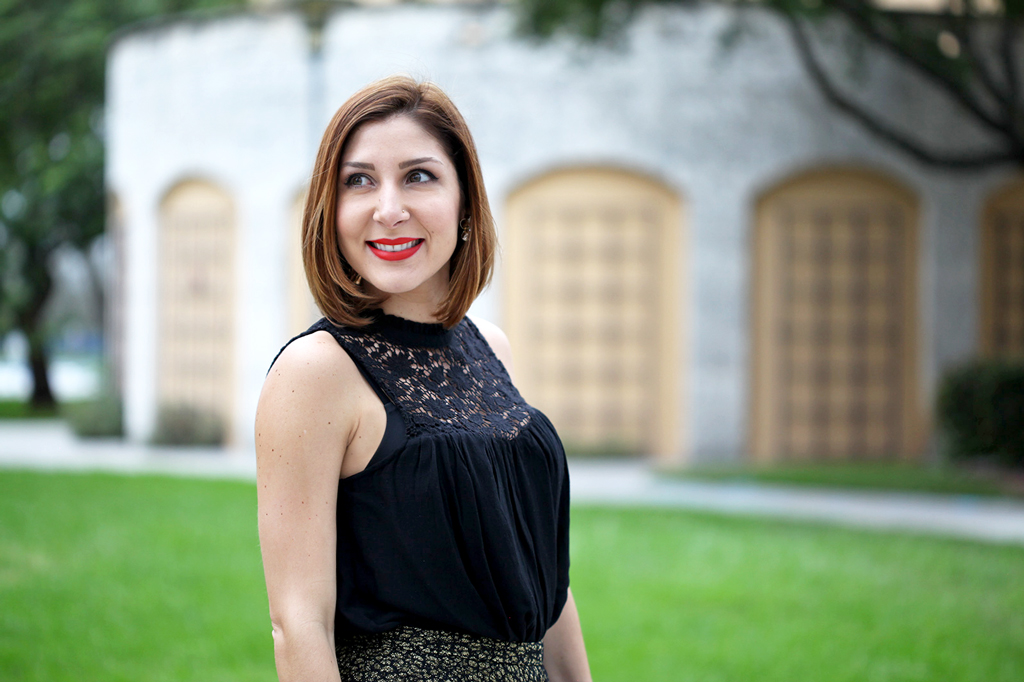 << SKIRT: Nordstrom (similar #1, similar #2)    |    BLOUSE: Zara (similar)   |     WATCH: Cartier     |   EARRINGS: Nordstrom (similar #1, similar #2)    |    BRACELET: Henri Bendel ('Bendel Rox Skinny Bangle', similar) & Tiffany & Co.     |    RING: Henri Bendel (similar)  |   PUMPS: Christian Louboutin 'Iriza'   |   HANDBAG: Chanel 'Classic Double Flap'   |    NAIL POLISH: CND Vinylux 'Svelte Suede'    |    LIPSTICK: MAC 'So Chaud'   |    LIPLINER:  Make Up For Ever '8C Red'  >>
Merry Xmas to all! Hope you had (or are having) an amazing time with those you love, laughed a lot, cried of uncontrollable happiness, drank delicious morning coffee and enjoyed giving more than receiving.
Now, without further ado, let's talk about NYE outfits since it is literally right around the corner and we need to be prepared for welcoming what's going to be a great 2016. This look is perfect for doing just that, because it's flirty, fun and oh so comfortable (check out my other NYE outfit here). This sleeveless lace-detailed blouse is a recent find at a Zara sale (#LUCKY indeed). And this flared skirt has the right amount pizzazz with its delicate but shiny gold embroidery. To continue with the theme, I opted for these flower earrings (which I have used in the past here and here), which resemble the lace details of the blouse, aren't they the prettiest?
Check back soon for more NYE outfit ideas, here's a hint for the next one… lace 🙂

LOOK PARA CELEBRAR AÑO NUEVO: FALDA ACAMPANADA + BLUSA DE ENCAJE
¡Feliz Navidad a todos! Espero que hayan tenido (o están pasando) un tiempo increíble con sus seres queridos, que se hayan reído mucho, llorado de alegría, bebido delicioso café de la mañana y sobre todo hayan disfrutado dar más que recibir.
Ahora, sin más preámbulos, vamos a hablar de vestuarios para celebrar el Año Nuevo ya que es, literalmente, a la vuelta de la esquina y tenemos que estar preparados para dar la bienvenida a lo que va a ser un gran año. Este look es perfecto para hacer precisamente eso, porque es coqueto, divertido y especialmente muy cómodo (echa un vistazo a mi otro outfit para Año Nuevo aquí). Esta blusa sin mangas y con detalles de encaje es un hallazgo reciente en una venta de Zara (#AFORTUNADA de hecho). Y esta falda acampanada es maravillosa con su delicado pero relucientes bordados color oro. Para continuar con el look, opté por estos aretes de flores (ya he utilizado en el pasado aquí y aquí), que se asemejan mucho a los detalles de encaje de la blusa, lindos ¿verdad?
Vuelva pronto para ver más ideas de cómo vestir para celebrar el Año Nuevo. He aquí una pista… encaje 🙂

You might also like