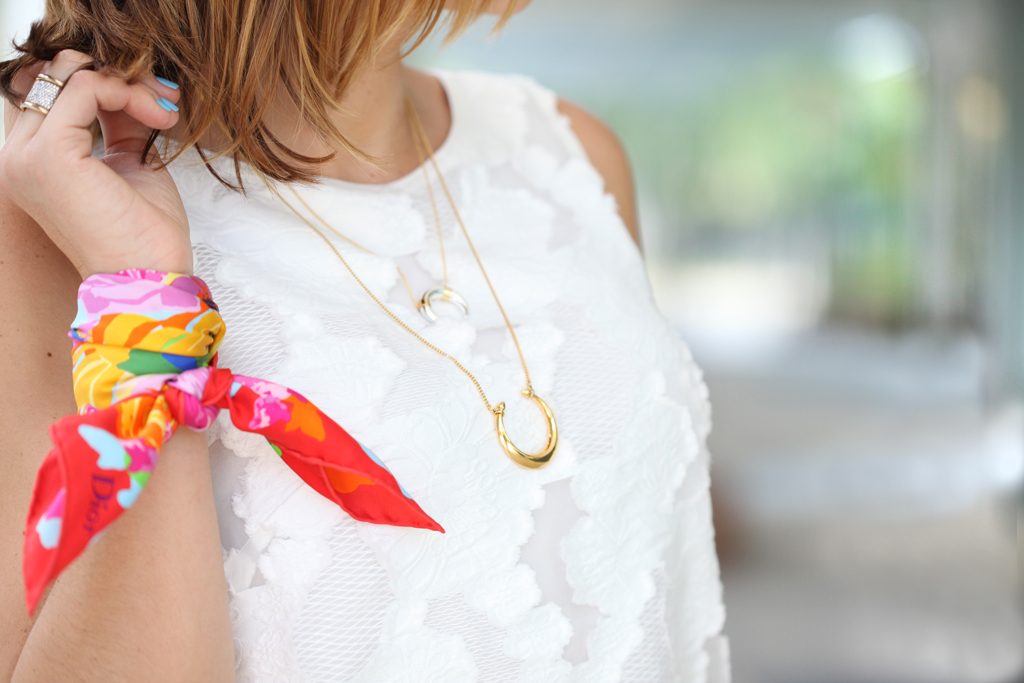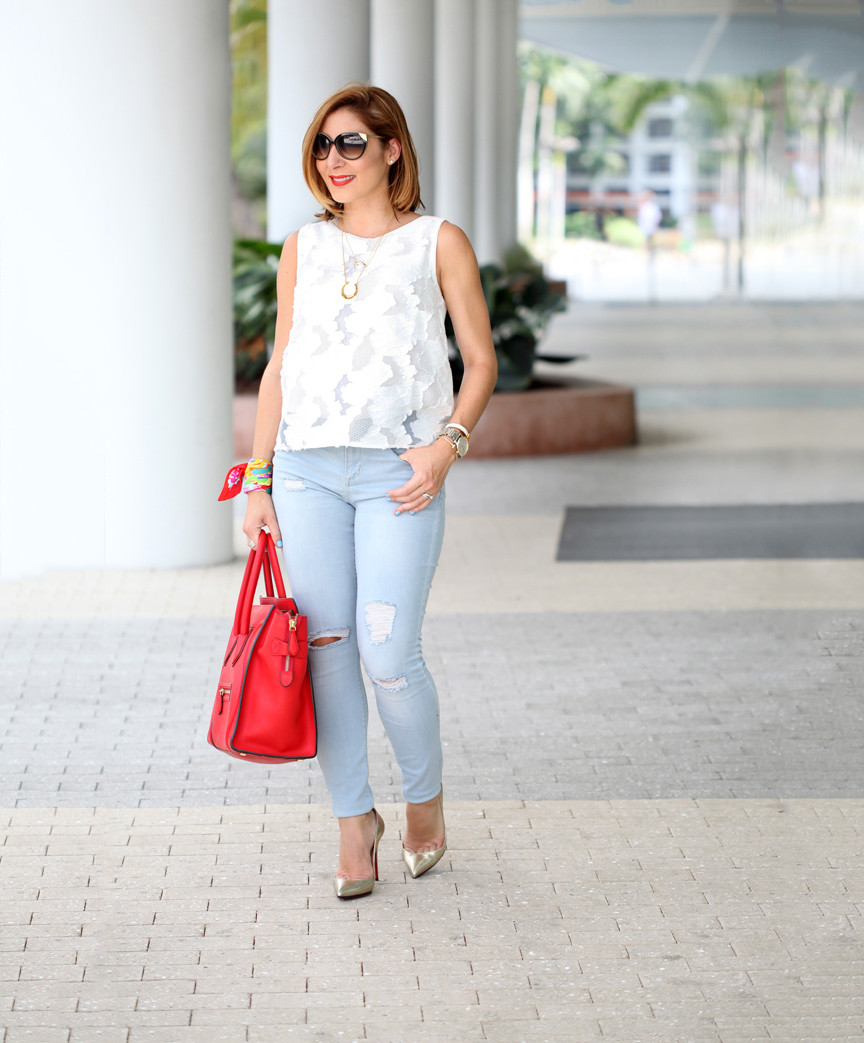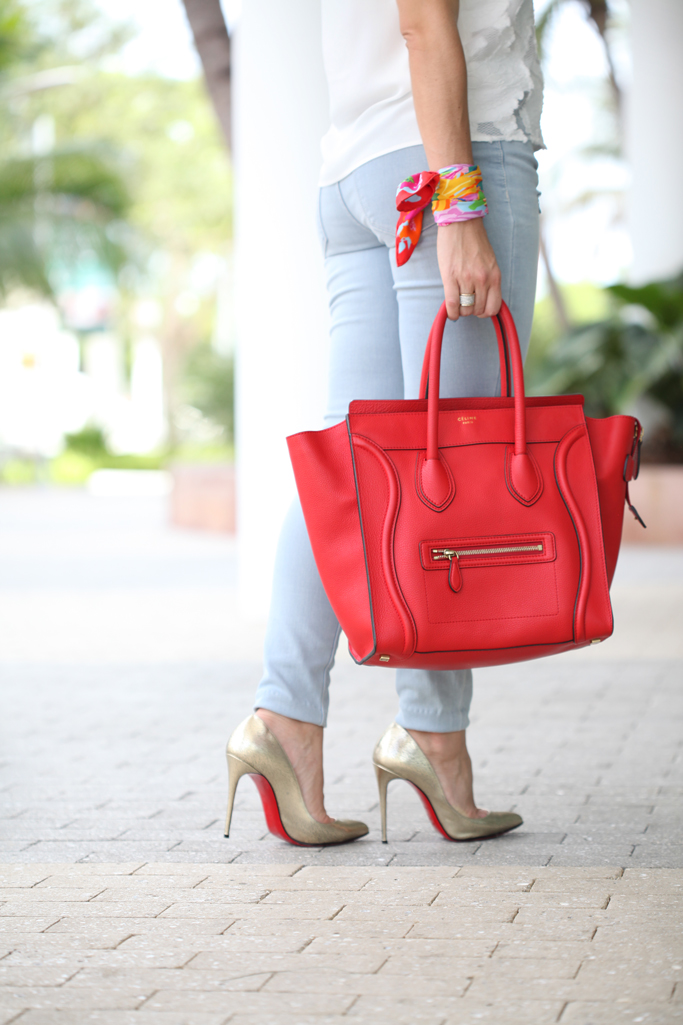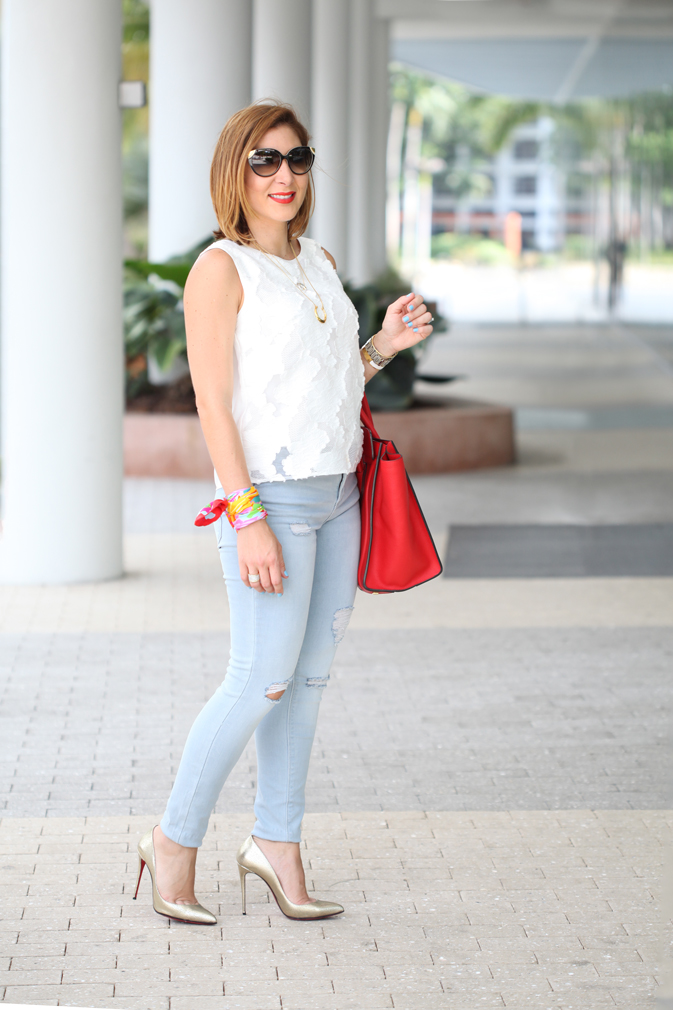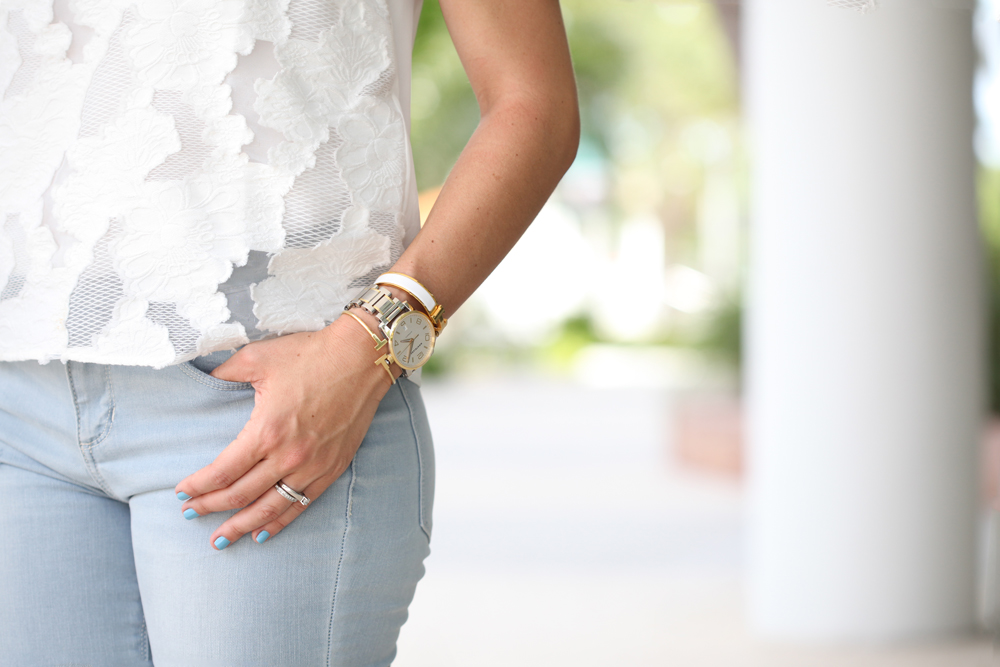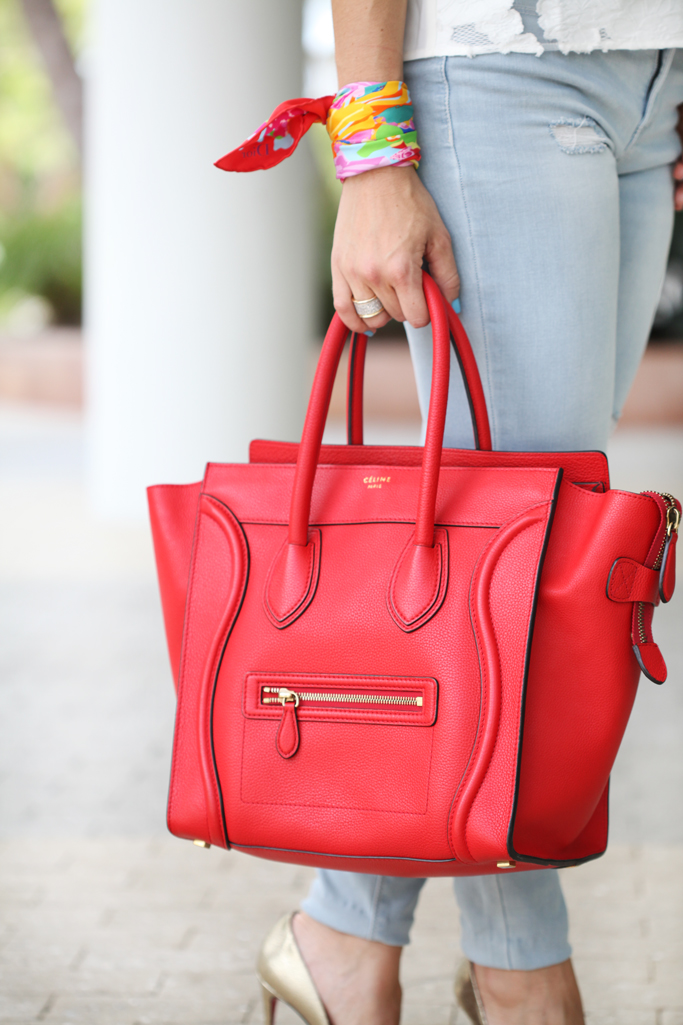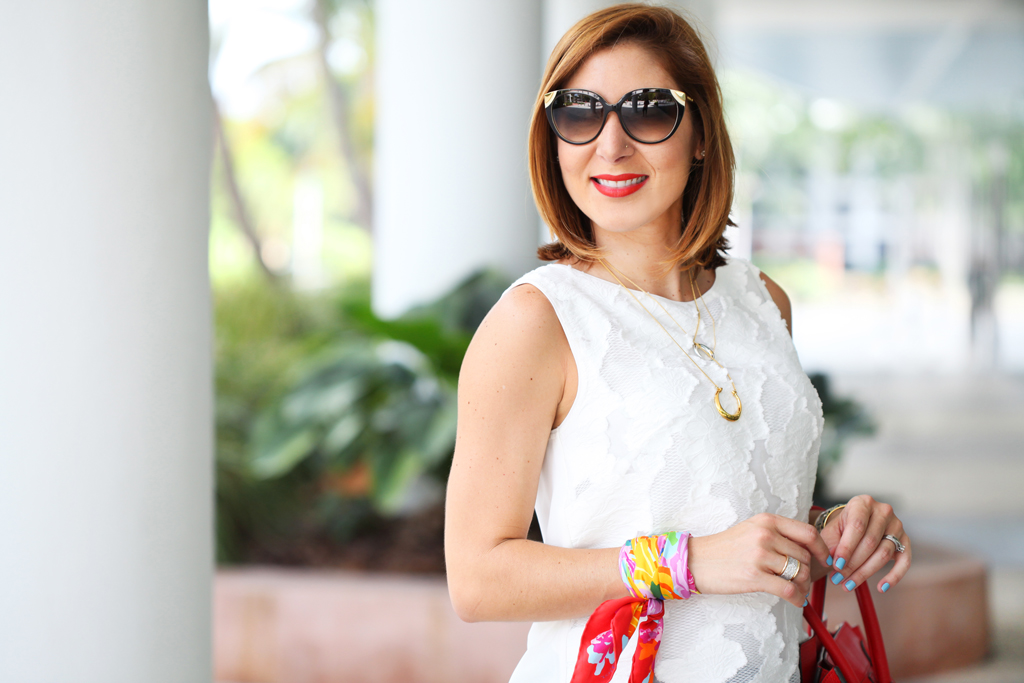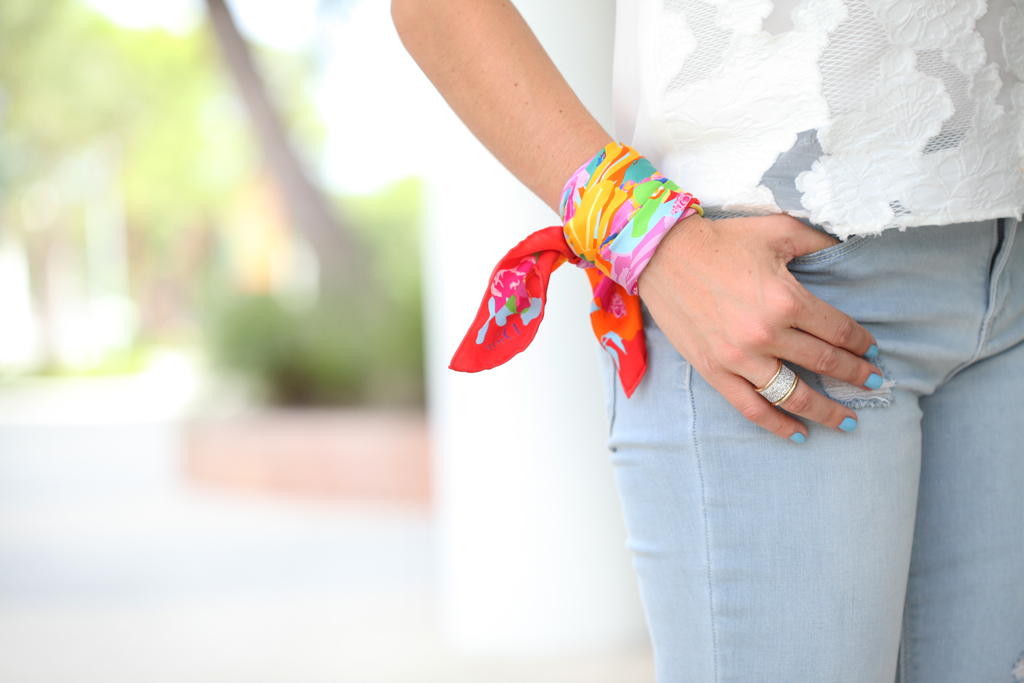 <<   TOP:  Nordstrom   |  JEANS: Nordstrom (similar #1, similar #2, similar #3)   |    NECKLACE: ℅ Stella & Dot 'Double Horn Pendant' and 'Luna Pendant' (shop the new fall collection here)   |   WATCH: Montblanc 'TimeWalker' (similar #1, similar #2)    |   BRACELET: Hermès 'Clic Clac H' (affordable option),  Cartier 'Juste un Clou' (affordable option), Baublebar 'Ladder Cuff' and Tiffany & Co. 'T-Wire' (affordable option)    |  RING: Henri Bendel 'Bond Street Stack'   |  HANDBAG: Celine 'Mini Luggage Tote' (similar #1, similar #2)  |  SCARF: Dior (similar #1, similar #2)    |   HEELS: Christian Louboutin (similar, affordable option #1, affordable option #2, affordable option #3)   |  SUNGLASSES: Louis Vuitton 'Amber' (similar #1, similar #2)    |   NAIL POLISH: CND 'Lost Labyrinth'   |    LIPSTICK:  MAC 'So Chaud'   >>
Hello August and heeeello Nordstrom sale!
Although I have already dedicated a blog post of ALL my top selections here (sale is now over), I had to interrupt the Miami Swim Week outfit schedule to show you some of my Nordstrom purchases before these pieces sell out. I've shared many times before here and here my love with the color white; it adds the perfect splash of a crisp, modern yet elegant feel to an outfit! So when I saw this pretty lace top in white I HAD to have it. Another reason why I love this shade is its versatility, and you all know that I never pass on the opportunity to add a pop of color, and with the color white any bright shade is a winner! Even though some of the items I am wearing are not from the Nordstrom sale, I was able to replicate the entire look with very similar pieces.
Have a great week and happy shopping!

VENTA DE NORDSTROM: BLUSA BORDADA + JEANS
¡Hola agosto y hoooola a la gran venta de Nordstrom!
Aunque ya he dedicado un post de TODAS mis mejores selecciones aquí (venta a terminado), tuve que interrumpir la programación de mis looks durante la semana de Miami Swim Week para mostrarles algunas de mis compras de Nordstrom antes de que estas piezas se agoten. He compartido muchas veces antes aquí y aquí mi adoración con el color blanco; añade la perfecta sensación de elegancia a cualquier outfit. Así que cuando vi esta bella blusa bordada en blanco tuve que tenerla. Otra razón por la que me encanta este tono es su versatilidad, y todos sabemos que nunca dejo pasar la oportunidad de añadir un toque de color, y con el color blanco cualquier tono llamativo ¡es el ideal! A pesar de que algunas de los piezas que estoy vistiendo no son de la venta de Nordstrom, pude replicar todo el look, con piezas muy similares.
¡Espero que tengan una linda semana y felices compras!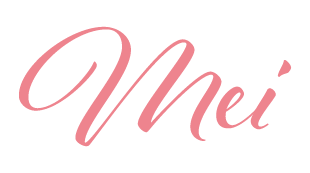 *Thanks to Stella & Dot for providing me with these beautiful pieces for this post. All the opinions expressed are, as always, honest and my own. This post contains affiliate links and, at no additional cost to you, I will be compensated if you make a purchase after clicking on my links.*
*Gracias a Stella & Dot por proporcionarme con estas bellas piezas para este post. Todas las opiniones expresadas, como siempre, son honestas y propias. Este post contiene enlaces de afiliados y, sin costo adicional para usted, seré compensada si realiza una compra después de hacer clic en mis enlaces.*