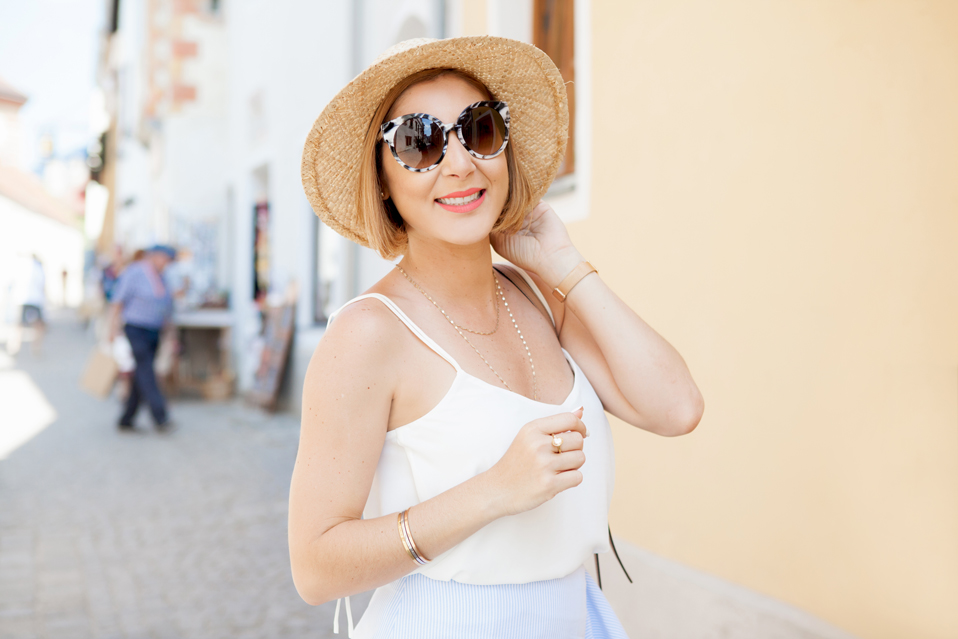 The most adorable ruffle-hem skirt in existence and currently on major sale! Did I mention it also has the cutest pom-poms and bow? Miami Fashion Blogger

TOP: Nordstrom (now 50% off & available in several colors) || SKIRT: Bloomingdale's (on sale for $47!) || NECKLACE: BaubleBar || BRACELETS: c/o Taudrey || HANDBAG: Gucci (affordable option here on sale!) || HAT: Nordstrom (similar here) || SANDALS: Stuart Weitzman (less than $60 here) || SUNGLASSE: Nordstrom Rack (similar here) || WATCH: c/o Daniel Wellington || LIPSTICK: Anastasia Beverly Hills – Dolce
[one_half]Happy #TBT loves!
By the time you are reading this, I may be taking care of last minute preparations for the hurricane that's coming our way. As of today (Wednesday night), it is category 5 (the highest in the scale) with wind speeds of 184 mph! thus residents of South Florida are pretty much scrambling and fearing the worst after the traumatic experience with Hurricane Andrew in 1992. I really hope everyone is prepared and ready!
But on a lighter note for this throwback Thursday, I wanted to share my birthday look while I was in Vienna (if you haven't taken a look at my vlog from Prague, you can do so here). A few of the reasons why we decided to visit Germany, Czech Republic, Austria and Hungary was, one, because of its warm weather and, two, to celebrate my birthday. And I knew exactly what I wanted to wear for such occasion! Not only because of the 30-some milestone, but because I always plan my outfits ahead of time while traveling. You all might be gasping, but this is something I swear by no matter how much time it takes me when packing at home. Honestly, it has always been my method in order to travel with one carry-on bag and avoid over packing.
Let's talk about the cuteness of this skirt though. It can't get any more perfect, right? It's the ideal combination of this summer's staples; pom-poms, stripes and ruffles. AND right now is on sale for less than $50! The other items, like this cami (that I don't take off and I'm sure you have all noticed), the boater hat and comfy ankle strap wedges are all available (#YAY!), so shop away ladies. Just as FYI, these shoes are absolutely the best purchase I made for this trip! They are truly the best for walking, and for those office gals that want cute shoes that are comfortable, presentable, versatile and trendy, well, these are for you!
Have you seen my other travel looks? You can take a look here for what I wore in Germany and here for my looks in Prague.
[/one_half][one_half_last]¡Feliz #JuevesDeAntaño!
Probablemente cuando estén leyendo esto, yo estaré en los preparativos de última hora para el huracán que se acerca al sur de la Florida. Por el momento, es categoría 5 (la más alta de la escala) con vientos de 184 mph, razón por lo cual los residentes de Miami temen lo peor después de la experiencia traumática con el huracán Andrew en 1992. ¡Realmente espero que todo el mundo está preparado y listo!
Pero, en una nota más ligera, quería compartir para este jueves de antaño, mi look de cumpleaños cuando visite Viena (si no han visto mi último vlog de Praga, pueden hacerlo aquí). Algunas de las razones por la que decidimos visitar Alemania, la República Checa, Austria y Hungría fue, una, debido a su clima cálido y, dos, para celebrar mi cumpleaños. ¡Y sabía exactamente lo que quería vestir para esa ocasión! No sólo por celebrar mis treinta y tantos años, sino porque siempre planeo mis looks de antemano para viajar. Sé que a lo mejor no me creen, pero ese es mi truco y siempre ha sido mi método para viajar con una sola maleta de mano.
Bueno, ahora les platico sobre esta bella falda. No puede ser más perfecta, ¿verdad? Es la combinación ideal de los esenciales básicos de este verano; pompones, rayas y volantes. Y ahora esta en venta por menos de $50. Las otras piezas, como esta camiseta (que no me quito y estoy segura de que todos lo han notado), el sombrero de ala ancha y cuñas están disponibles. De paso, estos zapatos son absolutamente la mejor compra que hice para mi viaje. Son verdaderamente los mejores para caminar, y para las chicas que están buscando zapatos cómodos, versátiles y de moda, estos ¡son para ti!
¿Han visto mis otros looks de mi viaje? Puede echar un vistazo aquí para lo que vestí en Alemania y aquí para mis looks en Praga.[/one_half_last]