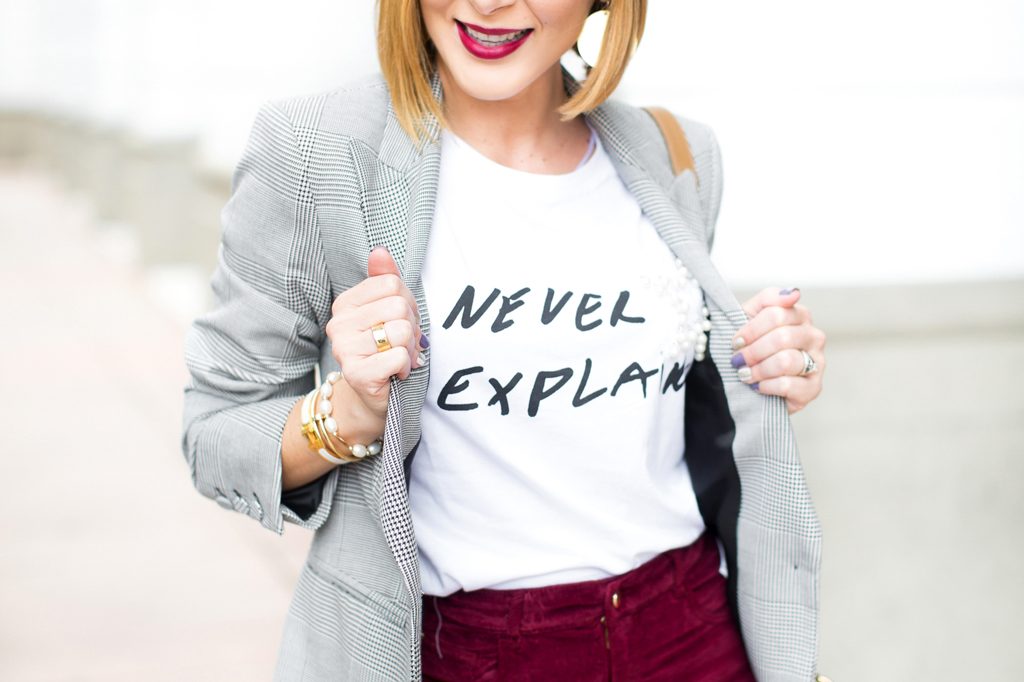 Styling a simple graphic t-shirt is simple! Pair it with the it piece of the season, a checked blazer and some killer heels. Ready. Set. Go! Miami Fashion Blogger


T-SHIRT: Zara (similar graphic tee with pearls) || BLAZER: Zara (similar check boyfriend blazer) || JEANS: Zara (similar velvet jeans on sale & available in green and black) || RING: BaubleBar || BRACELETS: Cartier (similar nail design bracelet), Taudrey (can be personalized) and Hermes (similar enamel bangle) || EARRINGS: BaubleBar || HANDBAG: Chanel (similar quilted handbag) || SHOES : Christian Louboutin || LIPSTICK: MAC – D for Danger
Photography: Luccia Photos
[one_half]
Hi loves,
Among the things you voted for in my recent survey, you requested for more casual looks. And it can't get any more casual than a graphic t-shirt, right!? But undoubtedly, I had to add my spin on it by pairing it with some killer heels and something to keep me warm during these Miami winter days. Yes. You. Read. Right. This look pretty much sums up how we in Miami can dress for what is considered as cooler temps. And when I mean cool, I mean 70's. Plus, unless we get struck by lightning, we don't expect a REAL cold front to hit our coordinates. Until then, I will keep you posted.
[/one_half][one_half_last]
Hola amores
Entre las cosas que pidieron en mi reciente encuesta, solicitaron más looks casuales o de fin de semana. Y no hay cosa más casual que una camiseta, ¿no creen? Pero indudablemente, tuve que agregar mi toque emparejándola con estos tacones y algo para mantenerme abrigada durante estos días de invierno en Miami. Sí. Leyeron. Bien. Este look resume bastante bien cómo vestimos en Miami para lo que se consideran como temperaturas más frías (de lo habitual). Y cuando digo 'frías', me refiero a los 70°F. [/one_half_last]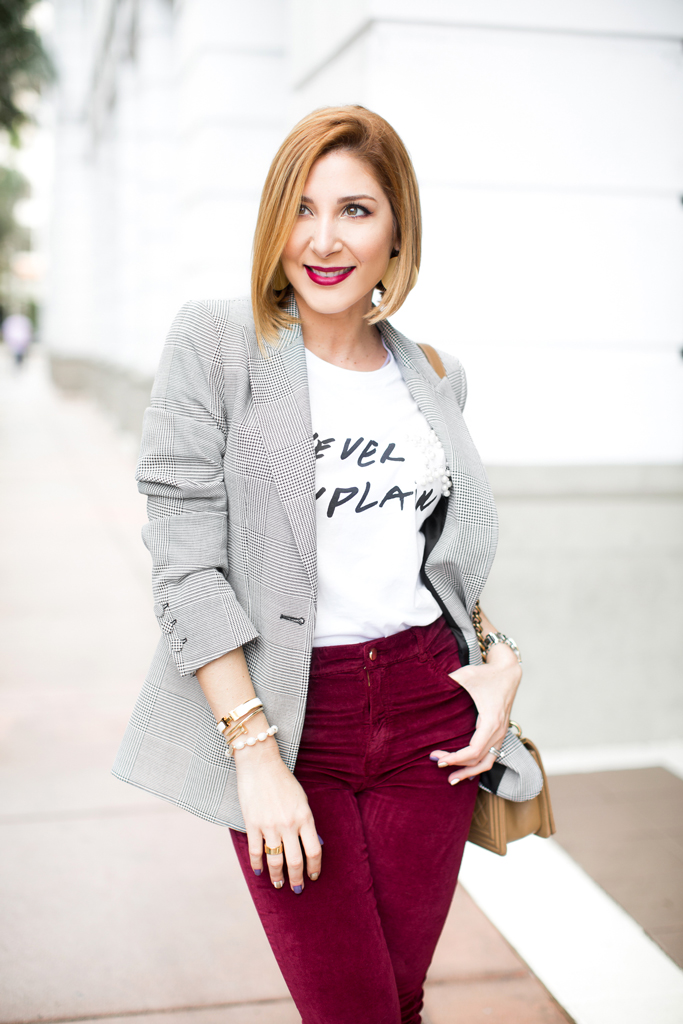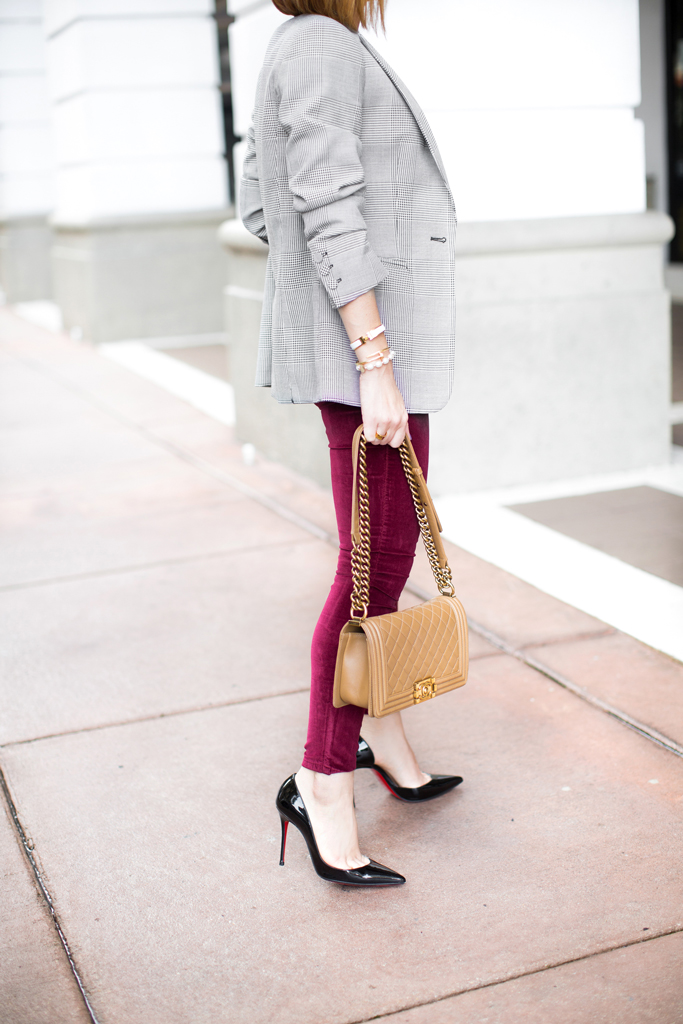 [one_half]
Most of this look, except for the shoes and handbag, is from Zara. Because obvi, I had to rampage its current online sale like there was no tomorrow. Besides the coveted Nordstrom sales, Zara's is the one I look forward to every June and December. Just-add-it-to-the-cart-Mei, I said to myself, you-can-remove-it-at-the-end OR just-return-it-if-it-doesn't-fit-you. Yeah. Right. Neither happened!
So just in case you want to revamp your wardrobe for spring, summer and even next fall, head to your nearest Zara. Or you can take the easy route and shop online, but you already know the consequences of that choice. PS: Did you know Zara offers free shipping on purchases over $50? 🙂
[/one_half][one_half_last]
La mayoría de las piezas en este outfit es de Zara. Ya que obviamente tuve que arrasar en su venta como si no hubiera un mañana. Solo-añádelo-a-tu-carrito-Mei, dije a mí misma, podrás-eliminarlo-al final O simplemente-devuélvelo-si-no-te-queda. Bueno, nada de esto sucedió, así que estoy aquí con grandes problemas matrimoniales porque según él, necesito ayuda.
Entonces, en caso de que deseen actualizar su guardarropa para la primavera, verano e incluso otoño, diríjanse a su Zara más cercano. O pueden tomar la ruta fácil y comprar en línea, pero ya saben las consecuencias de esa alternativa. PD:¿Sabían que Zara ofrece el envío es gratis en compras mayores de $50? 🙂
[/one_half_last]