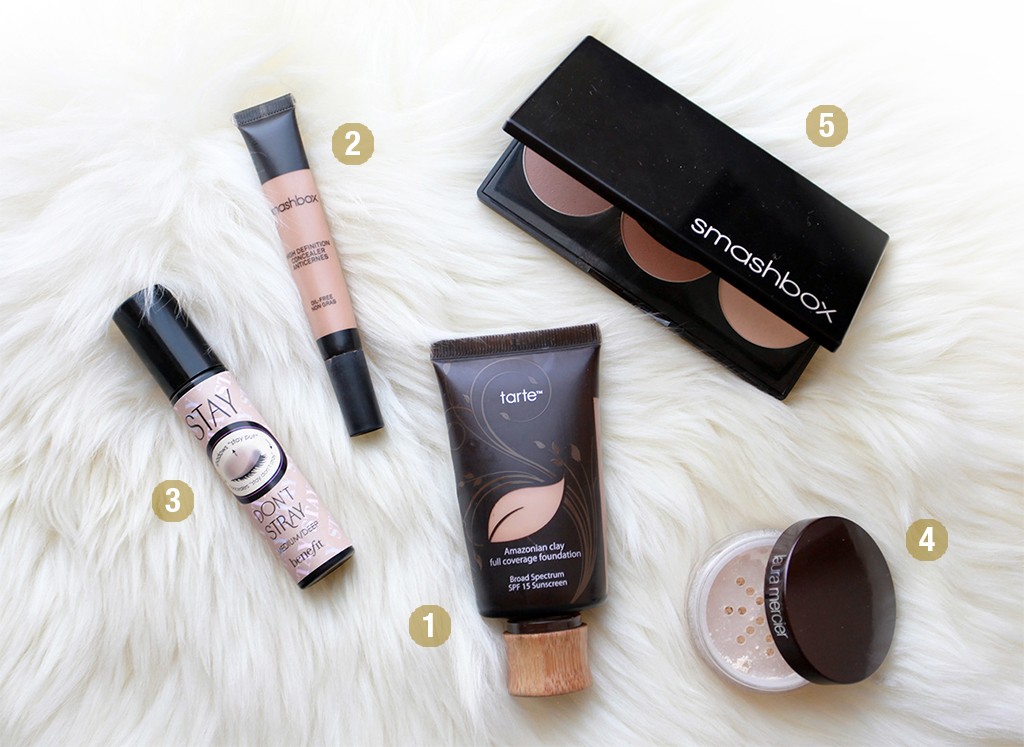 Happy Friday!
It has taken me months, and yes, even years to find my go-to makeup products.  So because I have thoroughly tried so many through the years I have found some that I just can't live without (for now at least).
First off, my main three issues are: combination skin (dryness in cheek area with oily T-zone), product's lasting power and achieving a natural look.
1. Foundation: Tarte Amazonian Clay 12-Hour Full Coverage Foundation (in the color medium-tan honey). When I can, I opt for products that are both natural and of great quality. That is why I love this brand! And since discovering it, have thus, tried A LOT of its products.  This is the smoothest and most flattering formula I have found. It goes on perfectly and has a matte finish. And it DOES last throughout the day.
TIP: always match your foundation to the color of your neck.
2. Under-eye: Smashbox High Definition Concealer (in the color medium/dark). This product is the opposite of others I've tried because it is soooo lightweight, it lasts through the day and as long as I set it with a powder it does not crease.

3. Eye-shadow primer: Benefits Stay Don't Stray 360 Degree Stay Put Eyeshadow Primer (in the color medium-deep). Although I don't use eyeshadow in my day-to-day makeup routine, I do use this primer to even out my eyelid's color.
4. Setting powder: Laura Mercier Translucent Loose Setting Powder. This stuff is one of my favs because it really helps your foundation last. I mostly use it in the areas where I need to highlight (forehead, the center of my nose, middle of my chin, under-eye area and above cheekbones; I even use it to set my eye-shadow primer).
5. Contour Kit: Smashbox Step-by-Step Contour Kit (in light-medium). I have to confess that I may be a contour addict and thus have tried MANY of the kits out there. By far, this is the one I have found to love because it blends great, lasts mostly through the day and its darker shade is of neutral tone (which a lot of kits fail to deliver).
TIP: Remember that the purpose of contouring is to accentuate what's already there, and in real life, the shadow casted on the skin is of a neutral tone, not warm. So if you currently use bronzer to contour, give a product with neutral tones a try.
Stay tuned for the second part where I will share my go-to eye-brow, lash, lip and cheek products.
What are YOUR must-have makeup products? Do we share some in common? Comment below, I would love to know.

MIS PRODUCTOS DE MAQUILLAJES MÁS ESENCIALES [PARTE 1]
¡Feliz viernes!
Me ha tomado meses, y sí, incluso años para encontrar mis productos esenciales de maquillaje. Y como los he probado a fondo, he descubierto algunos que no me pueden faltar en mi rutina diaria.
Antes que nada, mis tres problemas principales son: cutis mixto (frente grasa con resequedad en el área de las mejillas), durabilidad del producto y lograr una apariencia natural.
1. Base liquida: Tarte Amazonian Clay 12-Hour Full Coverage Foundation (color Medium-Tan Honey). Cuando puedo, opto por productos con componentes naturales sin arriesgar calidad. Es por eso ¡que me encanta esta marca! Desde que la descubrí he tenido la oportunidad de probar muchos de sus productos y esta base liquida es la más delicada y favorecedora que he encontrado. Se aplica a la perfección y tiene un terminado mate. Y ¡sí! dura todo el día.
CONSEJO: a la hora de elegir el tono correcto de su base, asegúrese que se asemeje al tono natural de su cuello.
2. Corrector para ojeras: Smashbox High Definition Concealer (color Medium/Dark). Este corrector es diferente de otros que he probado ya que no es espeso, y mientras use un polvo que lo selle no se agrieta. Además, permanece fijo durante todo el día.
3. Pre-base de sombra: Benefits Stay Don't Stray 360 Degree Stay Put Eyeshadow Primer (color medium-deep). Aunque yo no uso sombra en mi rutina diaria, sí uso esta pre-base para emparejar el color de mis párpados.
4. Polvo fijador: Laura Mercier Translucent Loose Setting Powder. Este producto es uno de mis favoritos, ya que realmente ayuda a prolongar la base liquida. Sobre todo, lo uso en las áreas en las que necesito iluminar (por ejemplo; la frente, centro de la nariz, ojeras, pómulos, e incluso, lo uso en mis párpados para fijar mi pre-base de sombra).
5. Polvos escultores: Smashbox Step-by-Step Contour Kit (color light-medium). Tengo que confesar que soy adicta a los productos para 'escultar' (conocido como contouring en inglés) y por eso he probado MUCHOS. Por el momento, este es el que más me ha gustado, ya que se incorpora en la piel muy fácilmente, es duradero y su tonalidad más oscura es de un tono neutral (cual una gran cantidad de polvos escultores no proveen).
CONSEJO: recuerden que el propósito de escultar es resaltar, y en realidad, la sombra natural de la piel es de un tono neutral, no cálido. Si usted usa bronceador para escultar, pruebe un producto que contenga un tono neutro.

Manténganse atentos para la segunda parte en la que voy a compartir mis productos esenciales para cejas, pestañas, labios y mejillas.
¿Cuáles son tus productos de maquillaje más esenciales? ¿Tenemos algunos en común? Comenten abajo, me encantaría saber.