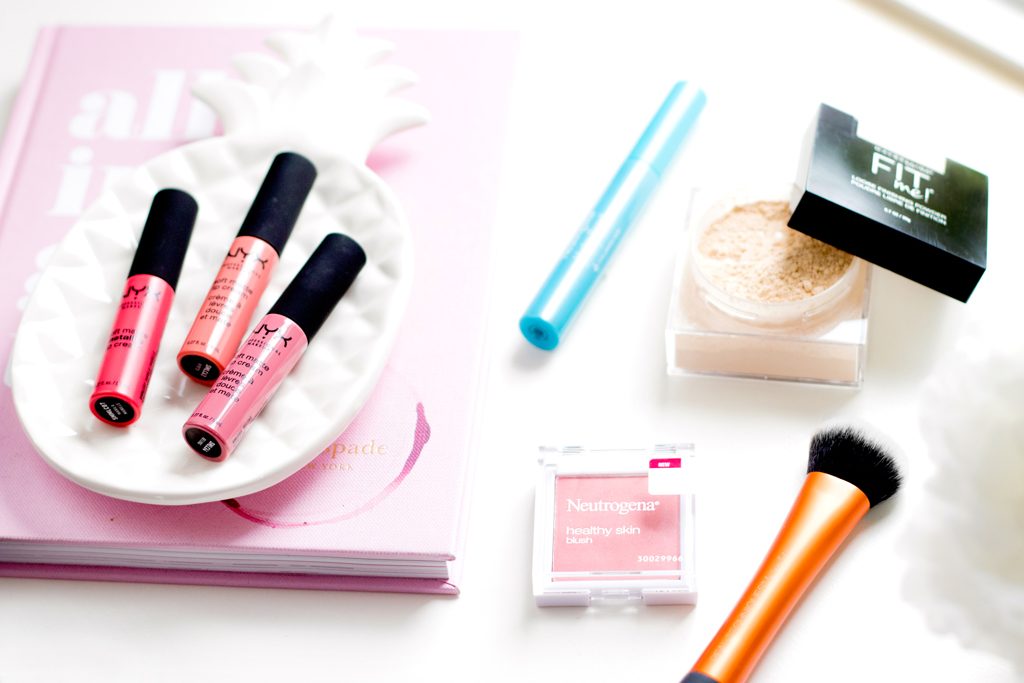 Here are five new makeup products from the drugstore I am currently loving. All are less than $10 each and so worth the hype, especially the Maybelline Fit Me Loose Finishing Powder.


[one_half]
Happy #InternationalWomensDay! I recently asked via my Stories if you'd like to see this post and it was an overwhelming YES! So ladies, here are five new makeup products from the drugstore I am currently loving. And can you believe each are less than $10? and so worth the hype by they way, no wonder they made it to my top 5 this month. So let's get to it.

1. Maybelline Fit Me Loose Finishing Powder
Price: $7.99
I recently came across what I believe is the best setting powder YET, and it's not Laura Mercier ladies…. #SORRY! I honestly thought that I would never like anything other than the best-selling translucent setting powder in the world (ok maybe in the U.S!), until a few weeks ago when one of my favorite beauty youtubers, NikkiTutorials, rated this powder as her holy grail! It is silky smooth and does not crease (AT ALL!). It is available in several shades for those that want the ideal hint of color. I opted for #10 Fair Light for a seamless highlighted look, which I place under my eyes, bridge of my nose, chin and center of my forehead. I serious have put my other setting powders to rest (including Kat Von D's Lock-it setting powder).
[/one_half][one_half_last]
¡Feliz Día Internacional de la Mujer! Hace poco pedí a través de mis historias si deseaban ver esta publicación, y bueno, todas contestaron que ¡SÍ! Entonces chicas, aquí hay cinco nuevos productos de maquillaje que son super económicos y que actualmente amo. ¿Y pueden creer que cada uno es menos de $10? Pues continuemos.
1. Maybelline Fit Me Loose Finishing Powder (Polvo para fijar maquillaje)
Precio: $7.99
Hace poco encontré lo que creo que es el mejor polvo fijador, y no es de Laura Mercier… #¡LO SIENTO chicas! Sinceramente, pensé que nunca me gustaría otro polvo que no fuera el más vendido del mundo (¡vale, tal vez en los EE. UU!), hasta hace unas semanas cuando una de mis YouTubers de belleza favoritas, NikkiTutorials, calificó este polvo como su preferido del momento. Su textura es sedosa y no se agrieta. Está disponible en varios tonos para aquellas que deseen un sutil toque de color. Opté por #10 Fair Light para aplicar en las partes donde deseo resaltar, como en el puente de la nariz, en el medio de la frente y debajo de mis ojos (donde también aplico mi corrector).
[/one_half_last]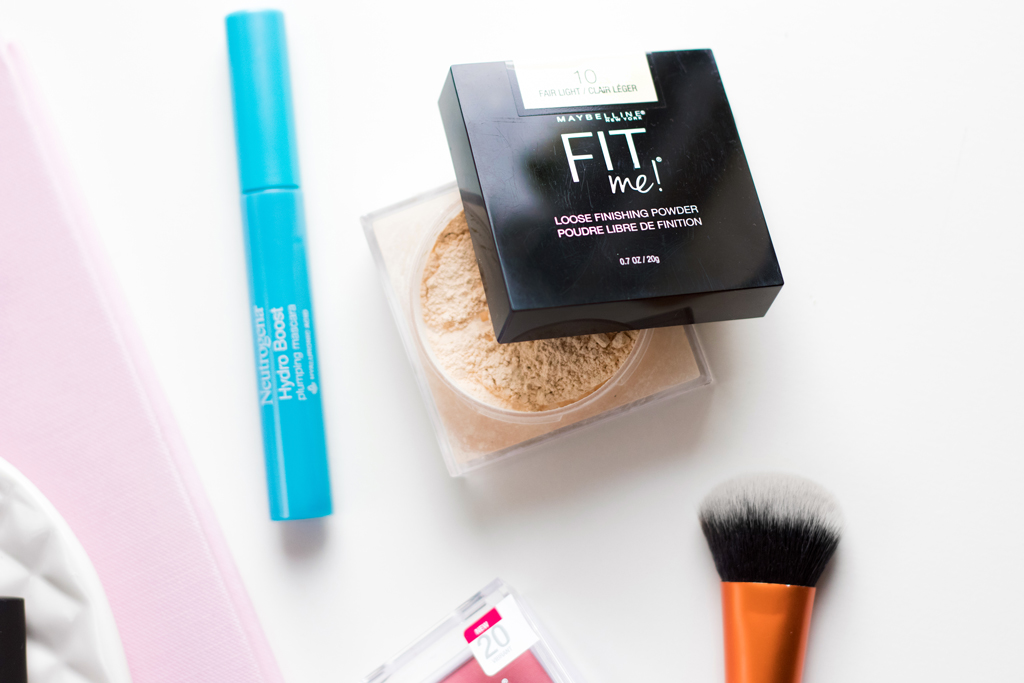 [one_half]
2. NYX Soft Matte Lip Cream
Price: $6.50
I recently received a PR box with what I believe is the entire collection of these lippies. And let me tell you ladies, the colors are…. TO. DIE. FOR! The formula is velvety smooth and sets to a stunning matte finish. It is incredibly nourishing (not drying at all!), durable and lightweight. By the way, each are named after a city, so I will try to not be bias and share my favorites for spring: Kyoto, Beijing and Manilla. Besides being able to purchase these lippies individually, sets of threes are also available and on major sale now for $6. If you want the entire collection though, it can be yours for only $32.50 (from its original price of $65).
[/one_half][one_half_last]
2. NYX Soft Matte Lip Cream (Lapiz labial)
Precio: $6.50
Recientemente recibí una caja con lo que creo que es la colección completa de estos lápices labiales. Y déjenme decirles chicas, los colores son bellísimos y diversos. La fórmula es como terciopelo y tiene un acabado mate impresionante. Es increíblemente hidratante (¡no seca los labios en absoluto!), duradero y suave. Por cierto, cada uno lleva el nombre de una ciudad, así que intentaré no ser parcial y compartir mis favoritos para la primavera: Kyoto, Beijing y Manilla. Además de poder adquirirlos individualmente, también están disponibles en juegos de tres, cual ahora están a la venta por solo $6. Sin embargo, si desean la colección completa, puede ser suya por solo $32.50 (su precio original es de $65).
[/one_half_last]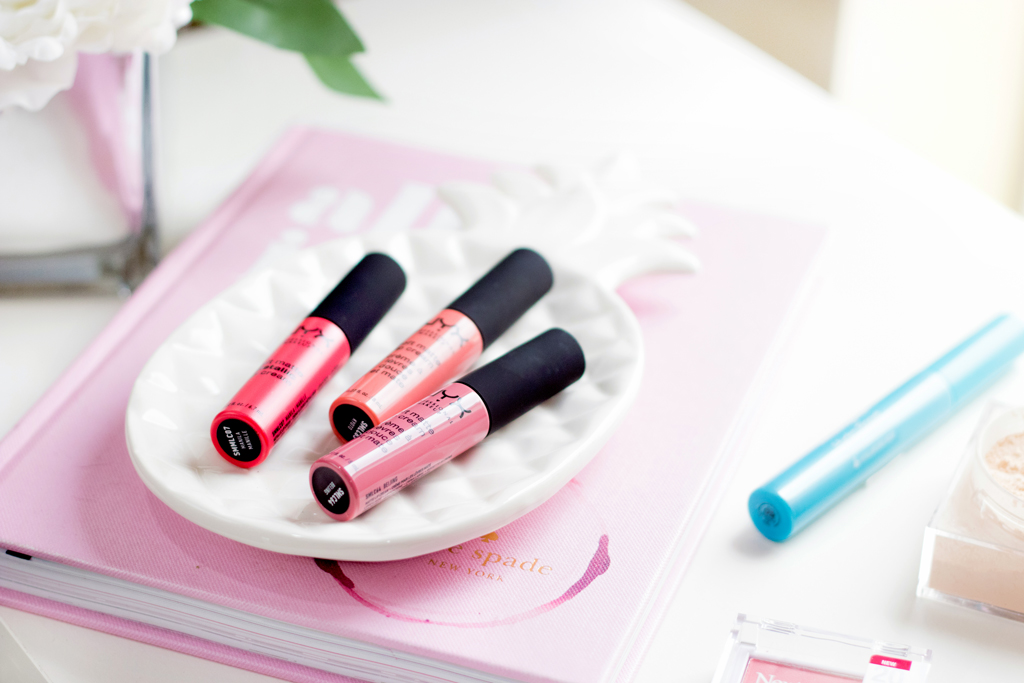 [one_half]
3. Real Techniques Expert Face Brush
Price: $9
I am always trying new brushes to better the application of my contour. And even though I've been a fan of Sigma forever, and 99% of the brushes I own are from them, I wanted to try Real Techniques because a few makeup YouTubers like LustreLux & Desi Perkins use it all the time. So, while browsing the makeup isle at the drugstore, I came across it and decided to purchase this specific one for contouring. It is actually meant to be used for liquid or cream foundation, but I don't follow guidelines with my brushes J. PS: this brush is actually Real Technique's #1 best-selling brush, and may I add, award-winning, yep!
[/one_half][one_half_last]
3. Real Techniques Expert Face Brush (brocha para cutis)
Precio: $9
Siempre estoy probando nuevas brochas para mejorar la aplicación de mi contorno. Y a pesar de que he sido fan de Sigma desde hace mucho tiempo, y el 99% de las brochas que tengo son de ellos, quería probar Real Techniques porque varias YouTubers de maquillaje como LustreLux y Desi Perkins lo usan todo el tiempo. Entonces, mientras ojeaba por los pasillos de Walgreens, me encontré con la marca y decidí comprar esta brocha para usar en mi contorno. En realidad, se debería utilizar para bases líquidas o de crema, pero no sigo las normas con brochas J. PD: esta brocha es la #1 best-seller de Real Techniques y hasta ha ganado premios.
[/one_half_last]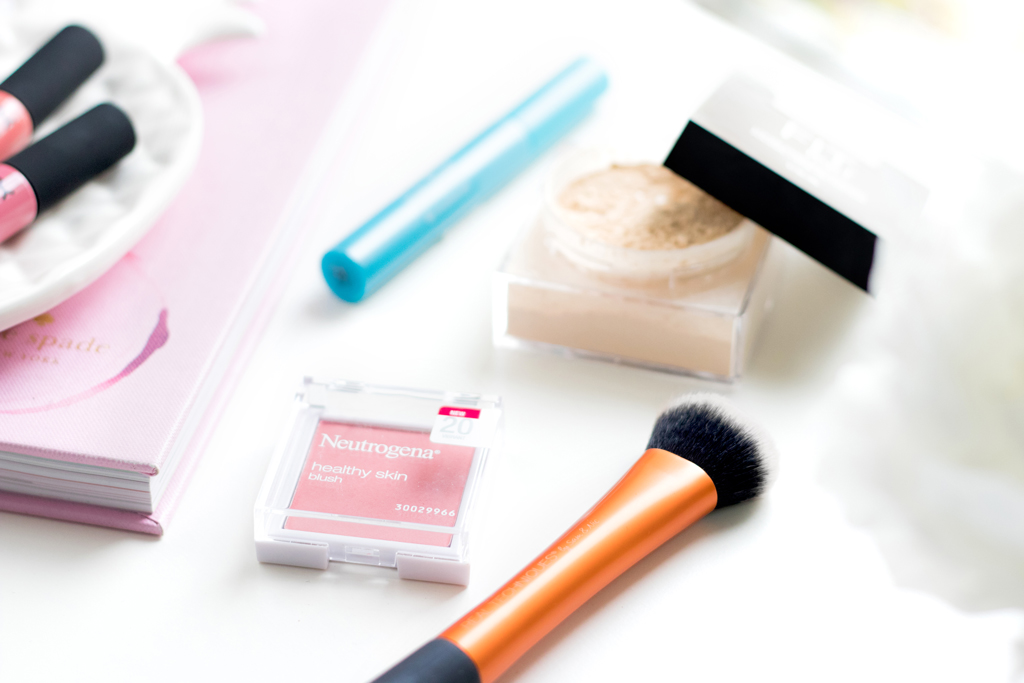 [one_half]
4. Neutrogena Hydro Boost Plumping Mascara
Price: $9
If you were peeking at my InstaStories from the #WeAllGrow Summit, you must have seen that all attendees were pampered by Neutrogena (which was one of main sponsors of the event). One morning we began with a makeup master class using only their products. And as soon as I used this mascara I saw how my lashes seemed longer! For the rest of the day, I noticed it did not smudge or flaked. I have shared before my obsession with the Hydro Boost line, that began when they sent me the moisturizing gel cream to combat my dry skin. If you want to read more about that review, you can do so here. But let's just say that I was using a very high-end moisturizer and quickly switched to Neutrogena because the results were almost immediate.
[/one_half][one_half_last]
4. Neutrogena Hydro Boost Plumping Mascara (Rímel)
Precio: $9
Si echas un vistazo a mis Stories de la conferencia #WeAllGrow, deben haber visto que todos los que asistimos fuimos enormemente mimados por Neutrogena (que fue uno de los principales patrocinadores del evento). Uno de los días comenzó con una clase de maquillaje utilizando solo sus productos. ¡Y tan pronto como usé este rímel, vi que mis pestañas parecían más largas! Durante el resto del día, noté que no se transfería ni corría el color. He compartido antes mi obsesión con la línea Hydro Boost, que comenzó cuando me enviaron la crema de gel hidratante para combatir mi piel seca. Si desean leer más sobre eso, puedes hacerlo aquí. Pero digamos que estaba usando una crema hidratante de muy alta gama y cambié rápidamente a Neutrogena porque los resultados fueron casi inmediatos.
[/one_half_last]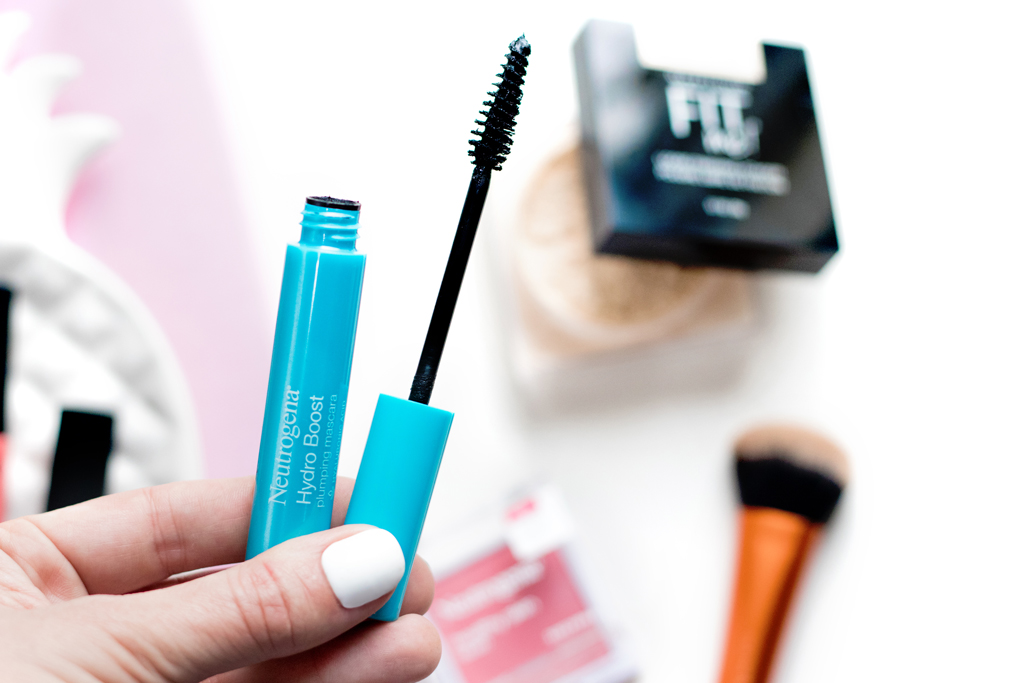 [one_half]
5. Neutrogena Healthy Skin Blush
Price: $8
I also tried this blush while at the #WeAllGrow Summit, and quickly became a favorite because of the color payoff with just applying a bit on the brush. It is enriched with Vitamin C, which is what all the craze is about now in skincare. I have shade #20 Vibrant and my next acquisition will be #10 Rosy which is between a light soft pink and hits of coral.
I hope you to try some of these products, and if you do, don't forget to let me know.
[/one_half][one_half_last]
5. Neutrogena Healthy Skin Blush (Rubor/Colorete)
Precio: $8
También probé este rubor mientras estaba en la #WeAllGrow, y rápidamente se convirtió en uno de mis favoritos debido a su buena pigmentación y facilidad de difuminar. Está enriquecido con vitamina C, que es de lo que la última locura de ahora en el cuidado de la piel. Tengo el color #20 Vibrant y mi próxima adquisición será #10 Rosy, que se entre un tono rosa claro con tonos sutiles de coral.
Espero que prueben algunos de estos productos, y si lo hacen, no olviden dejarme saber.
[/one_half_last]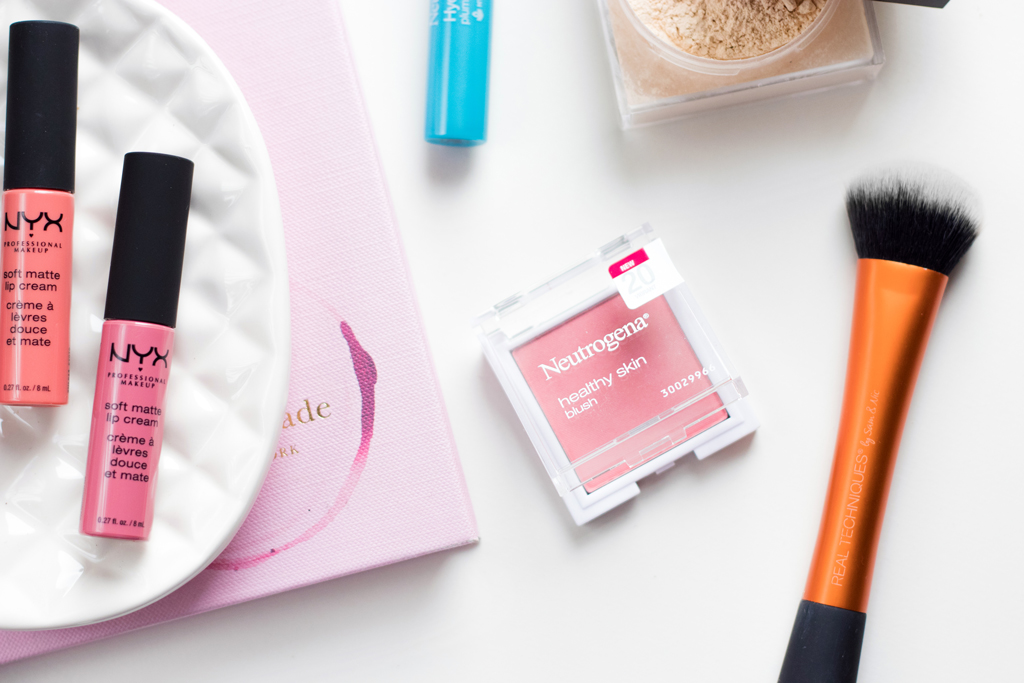 ---
PIN FOR LATER