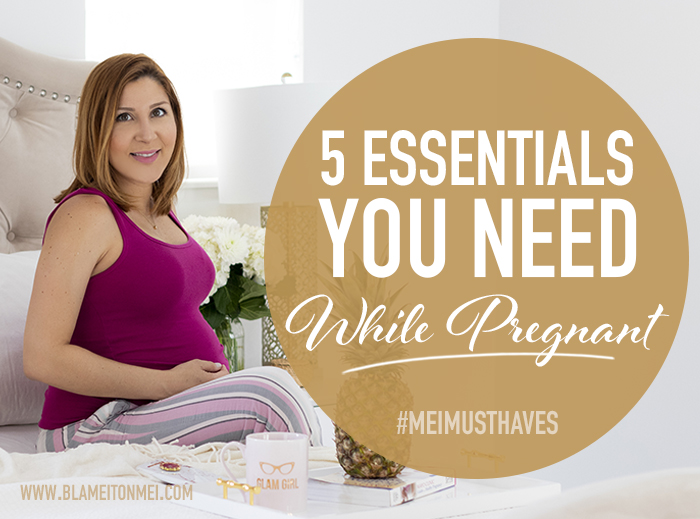 Here are 5 essentials you need while pregnant to help you navigate through the few months of discomfort during your pregnancy. essentials while pregnant. Miami Fashion Blogger


[one_half]
Happy Tuesday loves!
When I first found out I was pregnant I had many many many questions. Primarily what I couldn't and could do. Some questions were easily answered by my dear friend Google, while others, I preferred to direct them to my physician. Now that I am 8.5 months preggers, I realize that the following items are those you don't think you would need unless someone gives you the heads up, so that is why I am sharing them today.
1. SLEEPING PILLOW
Yep, believe it or not, I began using pregnancy pillow when I was round 5 months. These pillows are designed to help alleviate the hip, back and knee pain you will experience due to the extra belly weight. There a few options in the market, from C-shape to U-shape to just a wedge. I have the Leachco Snoogle Total Body Pillow (which is C-shaped) but, it is a bit cumbersome when I want to move sides, thus I think I would have bought the Leachco Back 'N Belly Chic Contoured Pregnancy Body Pillow instead (U-shape).
2. SLIP SHORTS
Excessive sweating during pregnancy is expected, and because I live in a hotter climate, it has been a bit challenging to escape the heat and alas the sweating. This is especially the case when I wear dresses or skirts where my inner thighs rub against each other. I purchased these at Target and they are great. I barely feel like I am wearing another layer. This remedy does not stop the sweating, BUT it does help avoid irritation and potentially heat rashes.
[/one_half][one_half_last]
¡Feliz martes amores!
Cuando descubrí por primera vez que estaba embarazada tuve muchas, muchas, muchas preguntas. Principalmente sobre lo que podía y no podría hacer. En algunas acudí a mi querido amigo Google, mientras que otras preferí preguntarle a mi médico. Ahora que tengo 8 meses y medio de embarazo, me doy cuenta de que las siguientes cosas fueron aquellas que nunca pasaron por mi mente durante mi primer trimestre, y, sin embargo, necesite. Por eso es por lo que las comparto hoy con ustedes.
1. ALMOHADA PARA DORMIR
¡Sí! créanlo o no, comencé a usar una almohada especifica para embarazadas cuando tenía alrededor de 5 meses. Estas almohadas están diseñadas para ayudar aliviar el dolor de cadera, espalda y rodilla que sentirán debido al peso de su vientre. Hay algunas opciones en el mercado, aquellas con forma de C, otras con forma de U, u otras con forma de cuña. Tengo la almohada Leachco Snoogle Total Body Pillow (que tiene forma de C), pero es un poco incomodo cuando quiero moverme de un lado al otro, así que creo que hubiera preferido Leachco Back 'N Belly Chic Contoured Pregnancy Body Pillow (que es en forma U).
2. LEGGINGS/CORTOS
Es normal transpirar excesivamente durante el embarazo, y debido a que vivo en un clima más cálido, ha sido un poco difícil escapar del calor y el sudor. Este es especialmente el caso cuando uso vestidos o faldas donde mis muslos se frotan entre sí. Compré estos en Target y son geniales. Apenas siento que los estoy usando. Esto no evita la sudoración, PERO ayuda a evitar la irritación y potencialmente miliaria.
[/one_half_last]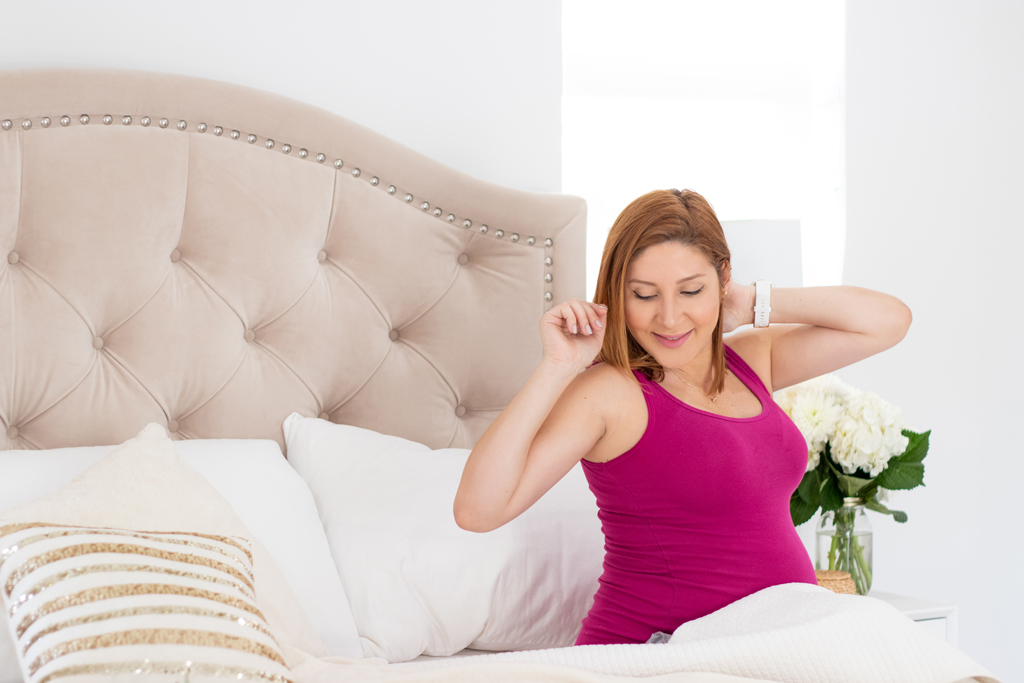 [one_half]
3. MOISTURIZING/STRETCH MARK LOTION
A stretch mark lotion is not only intended to prevent these infamous marks, but it helps with the lack of skin moisture you will experience during your pregnancy. Although my physician swore that no product could avoid stretch marks, I have continued to use Palmer's Cocoa Butter Formula Massage Lotion for Stretch Marks because it helps with the itching. As your skin stretches, you'll feel tightness, itchiness and occasional burning, but avoid scratching. Moisturizing formulas that include shea butter, aloe vera, cocoa butter, coconut oil will help with this.
4. THE RIGHT BRA
A well fitted bra will be your best friend, trust me! And believe it or not your breast will be the first to experience the change expectant mothers go through. Visit your local intimate's boutique or store to get measured. I was surprised when I visited my local Victoria's Secret and was told I was 2 cups larger than what I usually am. The type of bra you choose is up to you, but I opted for no underwire or padding, like this one. I found that underwires can cause pain on my ribs since the organs are pushing closer together in order to leave room for the growing baby.
5. MATERNITY JEANS/SHORTS
As I mentioned in my 10 Staple Pieces You Can Wear During & After Pregnancy, the only maternity items I've purchased are jeans and shorts. Not only because I believe spending money on a new wardrobe that will last for just a few months is not necessary, but because I have strategically been able to steer off the maternity section by finding pieces that will work during and after my pregnancy.
[/one_half][one_half_last]
3. LOCIÓN HIDRATANTE O CONTRA-ESTRIAS
Una loción para las estrías no solo está destinada a prevenir las marcas no deseables, sino que también ayuda con la falta de humedad en su piel durante el embarazo. Aunque mi médico juró que ningún producto podría evitar las estrías, he seguido usando la loción Palmer's Cocoa Butter Formula Massage Lotion for Stretch Marks porque ayuda con la picazón. A medida que su piel se estira, sentirán opresión, picazón y ardor ocasional, pero eviten rascarse. Las fórmulas humectantes que incluyen manteca de karité, sábila, manteca de cacao y aceite de coco ayudarán con esto.
4. EL SOSTÉN CORRECTO
Un sostén bien ajustado será tu mejor amigo. Y créalo o no, su pecho será el primero en ver el cambio que toma el embarazo en una mujer. Visite su boutique o tienda local para medirse. Yo me sorprendí cuando visité el Victoria's Secret mas cercano y me dijeron que era 2 tallas más grande de lo que normalmente soy. El tipo de sostén que elijan depende de ustedes, pero yo opté por no tener aros o relleno, como este. Descubrí que los aros pueden causar dolor en las costillas, ya que los órganos se están acomodando para dejar espacio al bebé.
5. JEANS Y PANTALONES CORTOS DE MATERNIDAD
Como mencioné en mis 10 piezas básicas que puede usar durante y después del embarazo, los únicos artículos de maternidad que he tenido que adquirir son jeans y pantalones cortos. No solo porque creo que gastar dinero en un nuevo guardarropa que durará solo unos pocos meses no es necesario, sino porque estratégicamente he podido alejarme de la sección de maternidad buscando piezas que funcionen durante y después de mi embarazo.
[/one_half_last]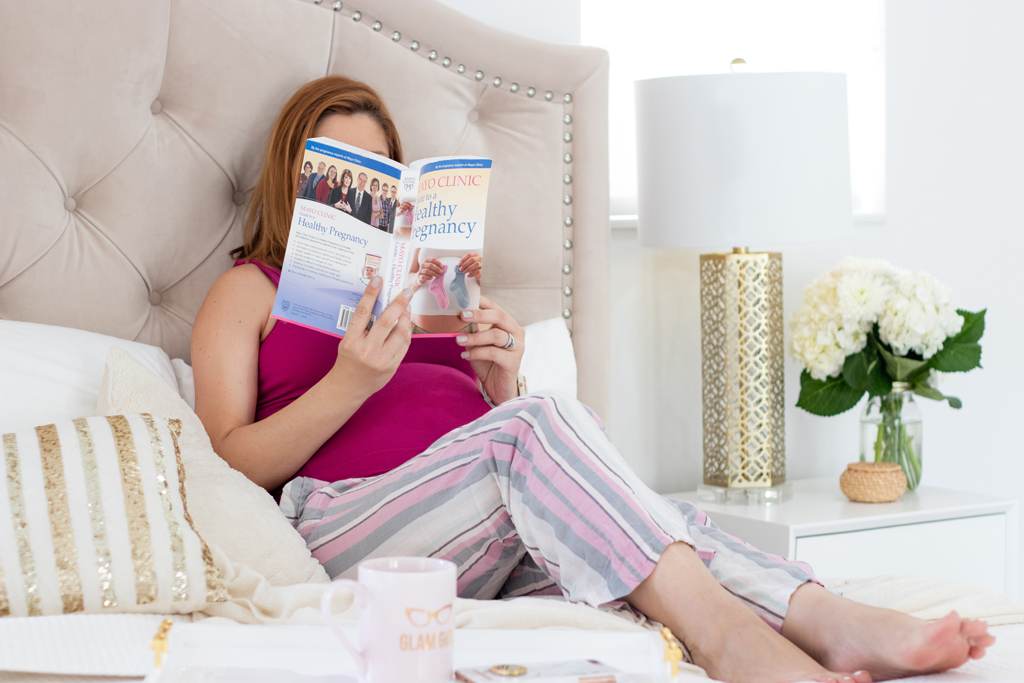 [one_half]
HONORABLE MENTIONS
1. OVERSIZED WATER BOTTLE
You need to drink at least 8 glasses of water for you and the health of your baby. I have a few on rotation that I love.
2. COMFORTABLE & VERSATILE SLIDE SANDALS
Feeling comfortable will be your #1 priority while expecting. But you don't have to sacrifice style for comfort. You'll want shoes that are easy to put on (like slides) and that can be effortlessly combined with basically every outfit. I am loving these, which I happened to purchase as an emergency when I couldn't continue walking with the shoes I was wearing that day.
3. ANTI-ACIDS
Some women do not experience heartburn, and in fact I've only had very few instances where this happens. Thus, to be prepared in case this does happen, I carry a travel-sized case of TUMS (which is what is recommended by physician, NO ALKA-SETZER ladies!)
[/one_half][one_half_last]
MENCIONES HONORÍFICAS
1. BOTELLA DE AGUA EXTRA-GRANDE
Deben beber al menos 8 vasos de agua para usted y la salud de su bebé. Tengo en rotación algunos que amo… como este, este y este.
2. SANDALIAS CÓMODAS Y VERSÁTILES
Sentirse cómoda será su prioridad número 1 mientras están embarazadas. Pero no tienen que sacrificar estilo por la comodidad. Querrán zapatos que sean fáciles de poner (como sandalias) y que se combinen fácilmente con cualquier look. Me encantan estas sandalias, que casualmente adquirí de emergencia cuando no podía seguir caminando con los zapatos que llevaba puestos ese día.
3. ANTIÁCIDOS
Algunas mujeres no experimentan acidez estomacal y, de hecho, solo he tenido muy pocos casos en que esto me ocurre. Por lo tanto, para estar preparadas en caso de que esto ocurra, llevo este estuche pequeño de TUMS (que es lo que recomienda el médico, ¡NO TOMEN ALKA-SETZER CHICAS!)
[/one_half_last]