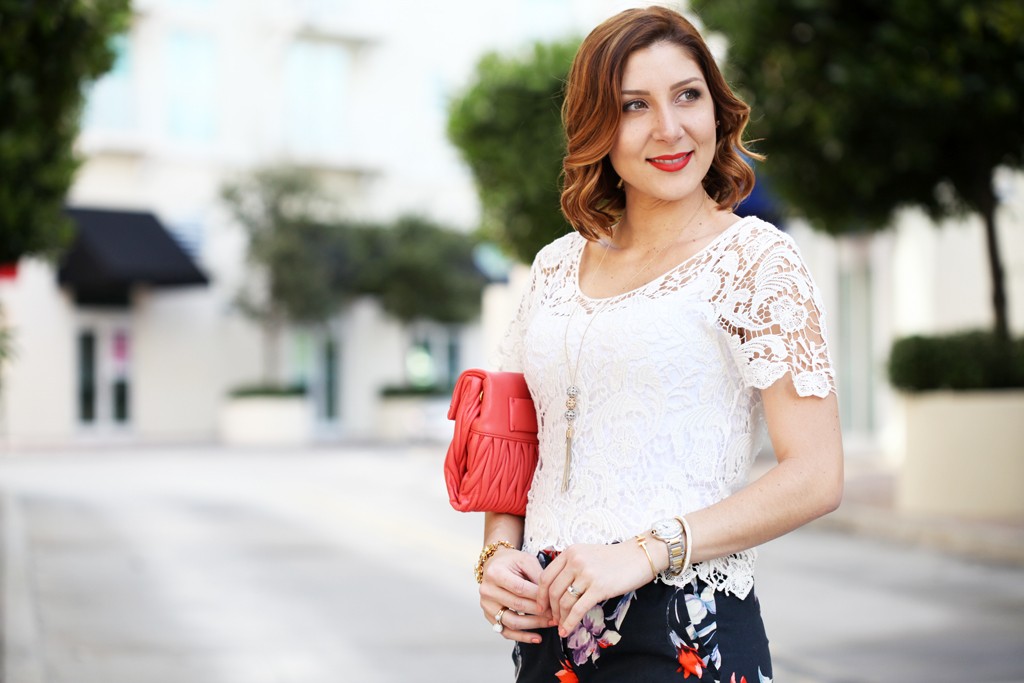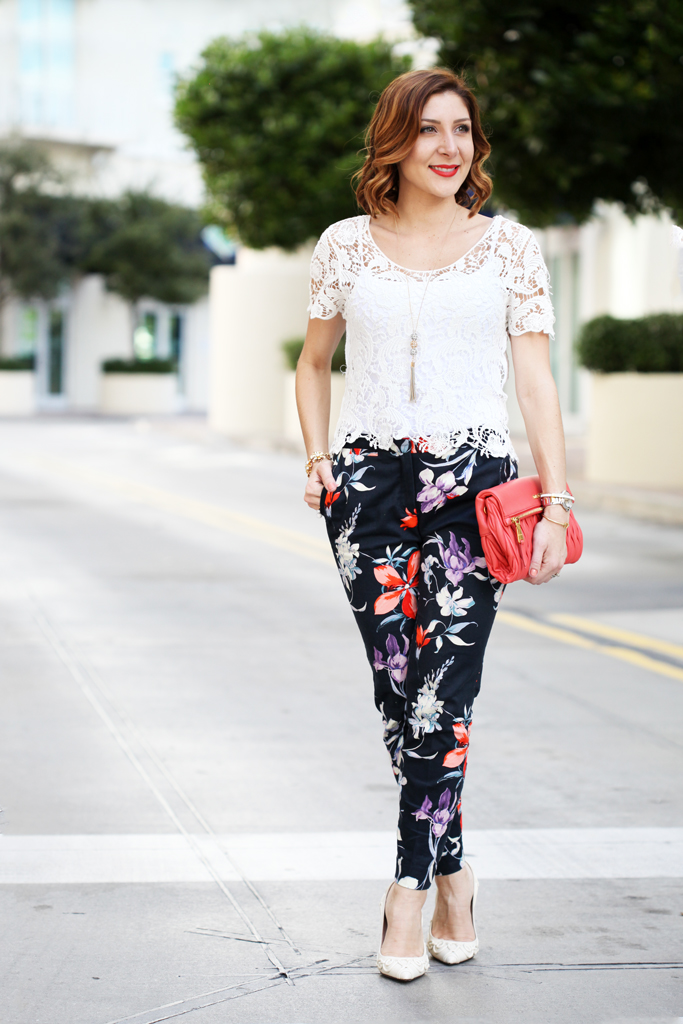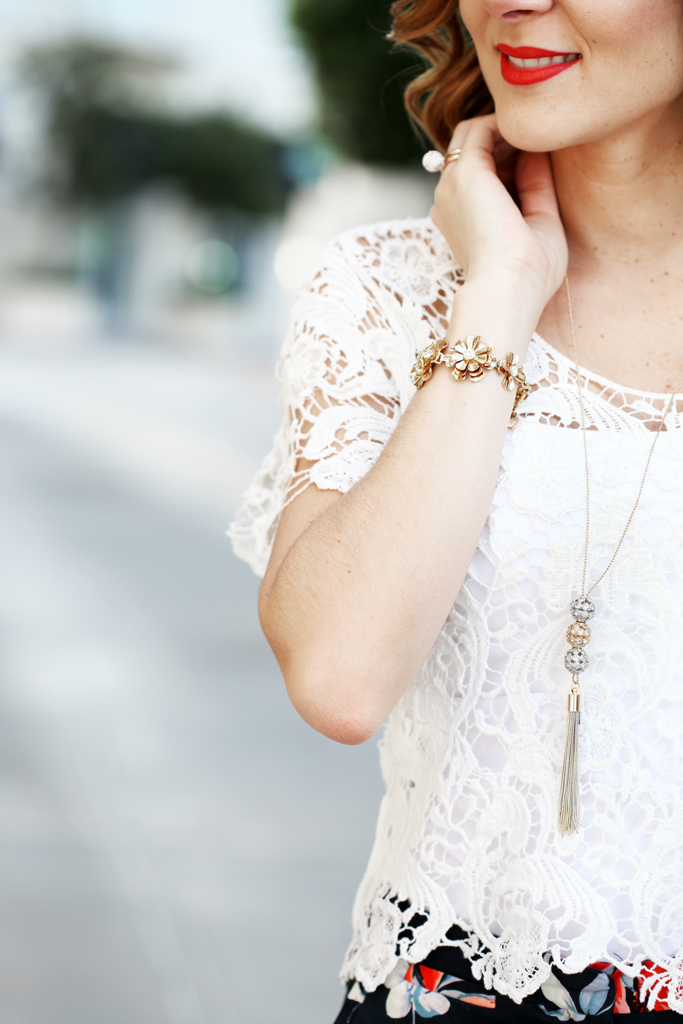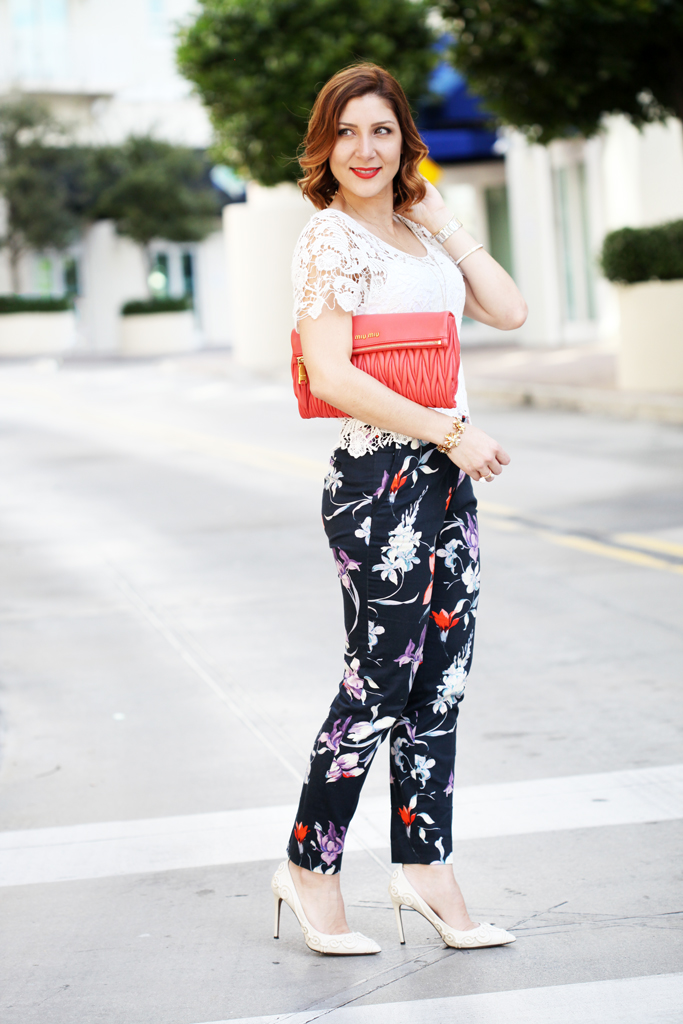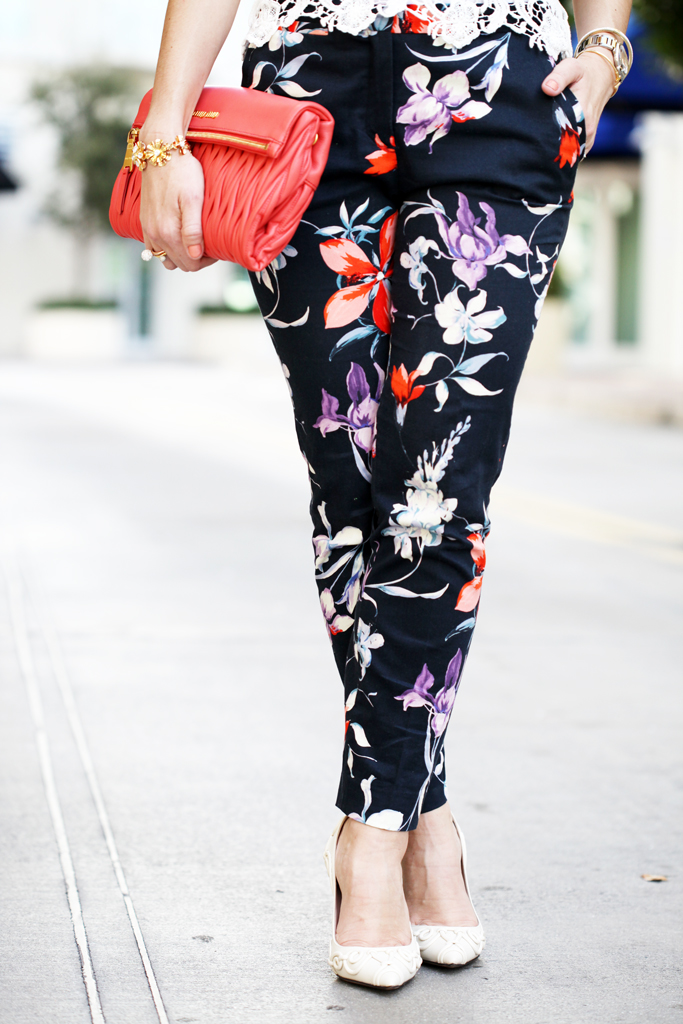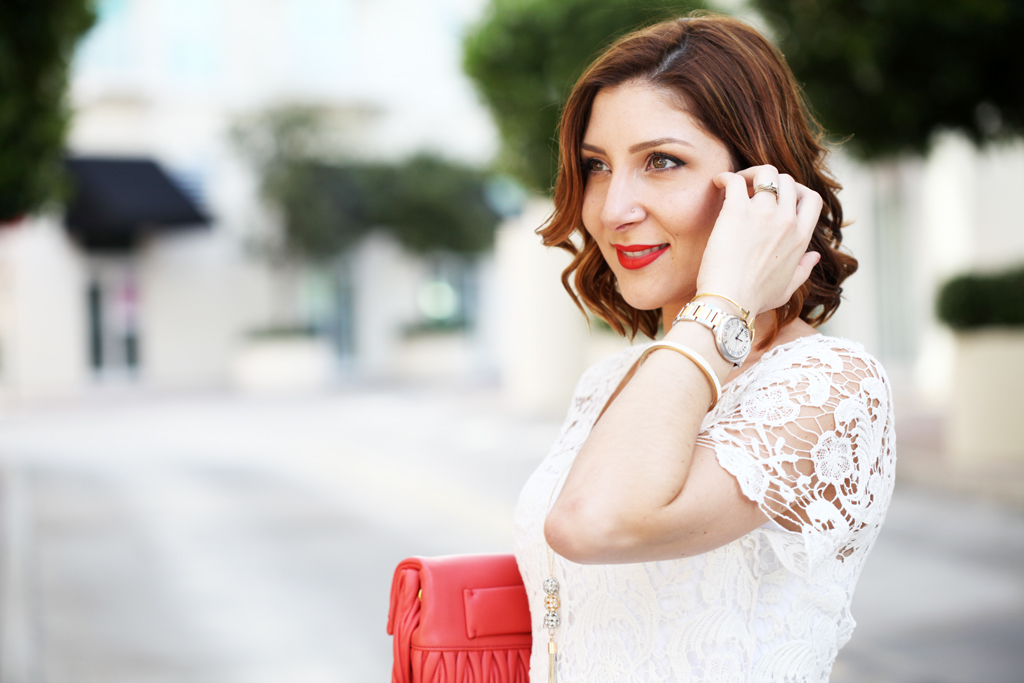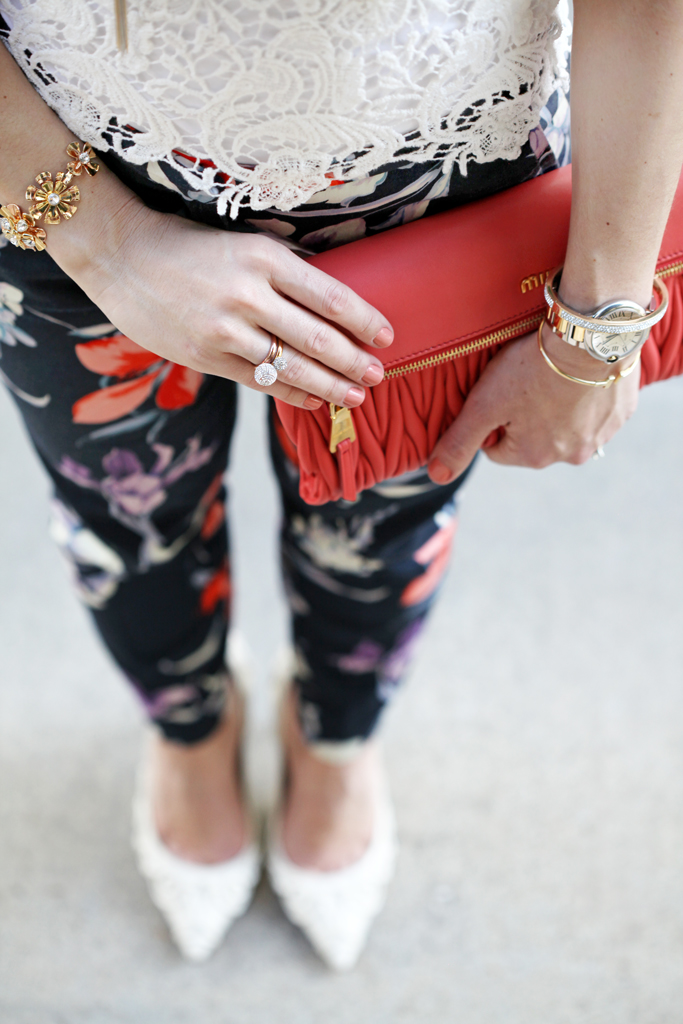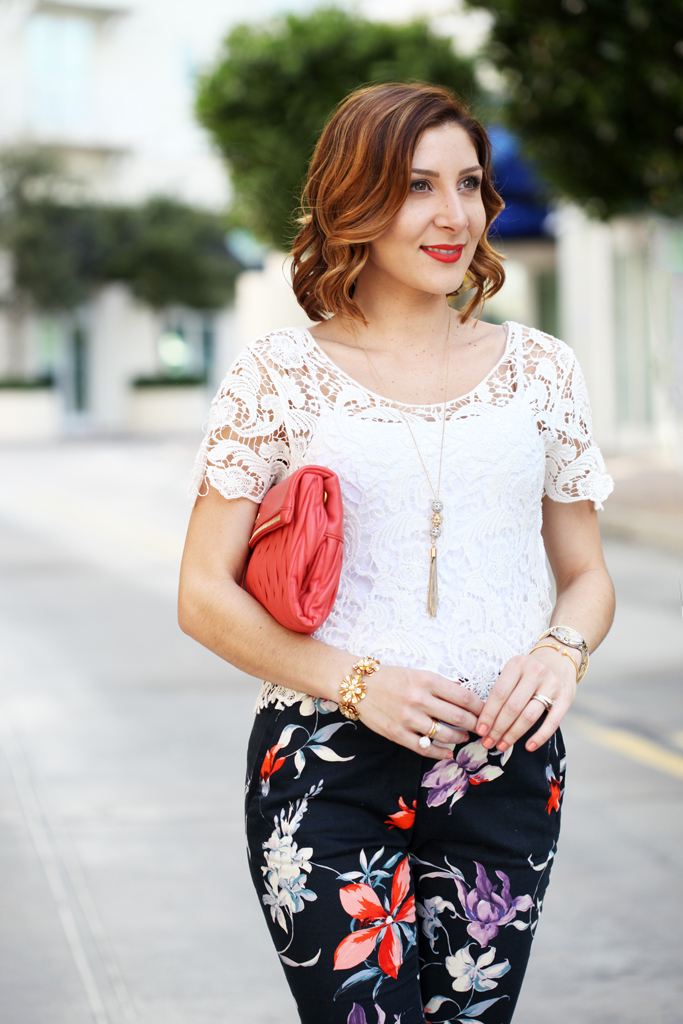 <<   TOP: Nordstrom (similar)   |   PANTS: Zara (similar #1, similar #2)  |    HANDBAG: Miu Miu (similar #1, similar #2)    |    NECKLACE: Macy's (similar #1, similar #2)  |   RING:  Henri Bendel (similar)   |   BRACELETS:  Henri Bendel (Rock Box Skinny Bangle & similar) and Tiffany & Co. 'T:Wire' (affordable option)    |    PUMPS: Valentino (similar #1, affordable option)   |    WATCH: Cartier 'Ballon Bleu' (affordable option)   |   NAIL POLISH: Opi 'Crawfishin For A Compliment'    |   LIPSTICK: Mac 'So Chaud'    >>
Although I have been enjoying the cooler Miami temperatures, I must confess I have been longing for spring for a few days now. I am such a sucker for vibrant colors, patterns, shorts, rompers and warmer weather, of course. So for my first spring look, I decided to pair my favorite crochet/lace top (take a look here for how I paired it in the past) with this floral beauty from a few seasons ago. Floral pants are great piece to have in your wardrobe because they can be easily paired with several tops depending on your color mood. For example, this specific pattern can also be paired with a purple or orange top. So because of their versatility they are a total win-win in my book.
Do you own a pair of floral trousers? If not, what are you waiting for?

ARRIBÓ LA PRIMAVERA: BLUSA DE ENCAJE + PANTALONES FLOREADOS
Aunque he estado disfrutando de las temperaturas frías de Miami, debo confesar que he estado anhelando la primavera ya hace unos días. Tengo debilidad por los tonos llamativos, estampados, pantalones cortos, monos y un clima cálido, por supuesto. Así que para mi primer look primaveral, decidí combinar mi blusa de encaje favorita (puede ver aquí cómo la he combinado en el pasado) con este pantalón floreado que poseo desde hace un par de temporadas. Pantalones floreados son piezas necesarias de tener en su armario, ya que pueden ser fácilmente combinados con varios tops dependiendo de su estado de ánimo o clima. Por ejemplo, este estampado en específico también se puede combinar con un top púrpura o naranja. Por lo tanto, debido a su versatilidad esta pieza será un éxito en su armario.
¿Posee unos pantalones floreados? Si no, ¿Qué está esperando?