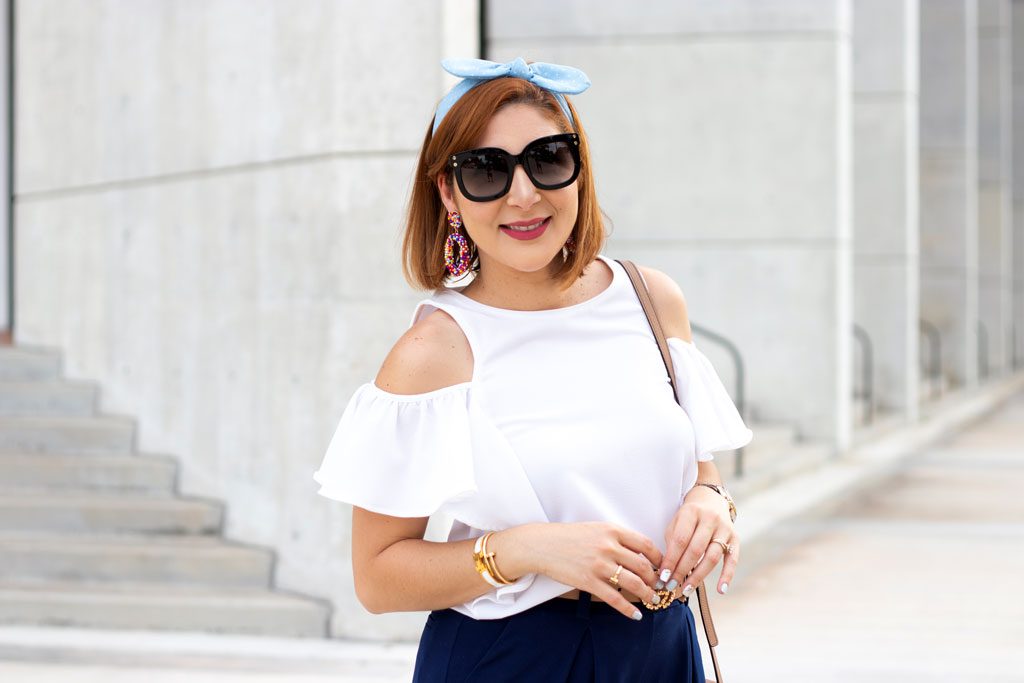 One of this year's trend are headbands, headwraps and turbans. Here are a few tips to learning how to wear them. Miami Fashion Blogger, Miami Mommy Blogger.


TOP: Nordstrom (similar here and here) || PANTS: Express (available in 5 other colors) || HEADWRAP: Old Navy || HANDBAG: Gucci (affordable quilted crossbody) || EARRINGS: Target || SUNGLASSES: Henri Bendel (identical square sunglasses) || SHOES: Tori Burch (similar gold glitter espadrilles here and here)
[one_half]
One of these year's major trend is headwraps. I have always been a fan, don't believe me? Take a peek here to see a few ways I've worn them. And by the way, there are many options out there to choose from, from the sparkly, classic, knotted, embellished and even animal print, you are sure to find one (or a few) you like.
If you love them as much as I do but are intimidated by them or don't know to wear them. Here are a few tips/ideas of how to do it.
[/one_half][one_half_last]
Una de las principales tendencias de este año son las cintas para el cabello. Siempre me han gustado ¿no me creen? echen un vistazo aquí para ver algunas formas en que las he usado. Y, por cierto, hay muchas opciones para elegir, desde estampado de leopardo y flores, e incluso con perlas o tachuelas, así que de seguro encontrarán una (o algunas) que les guste.
Si las amas tanto como yo, pero se sienten intimidadas o no saben cómo usarlos, aquí hay algunos consejos/ideas de cómo hacerlo.
[/one_half_last]
[one_half]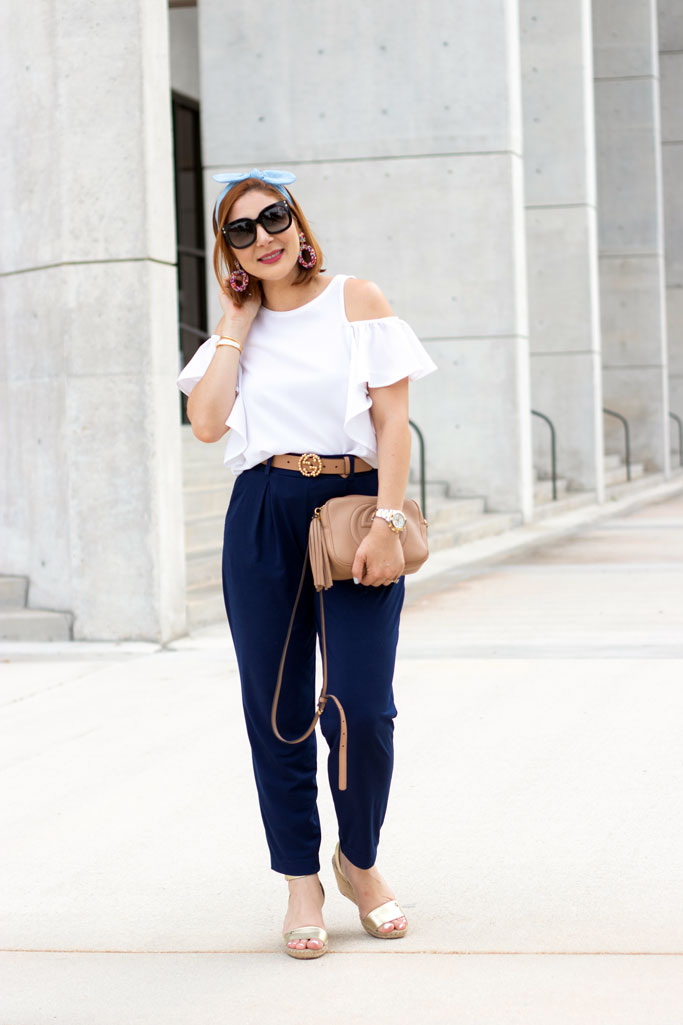 [/one_half][one_half_last]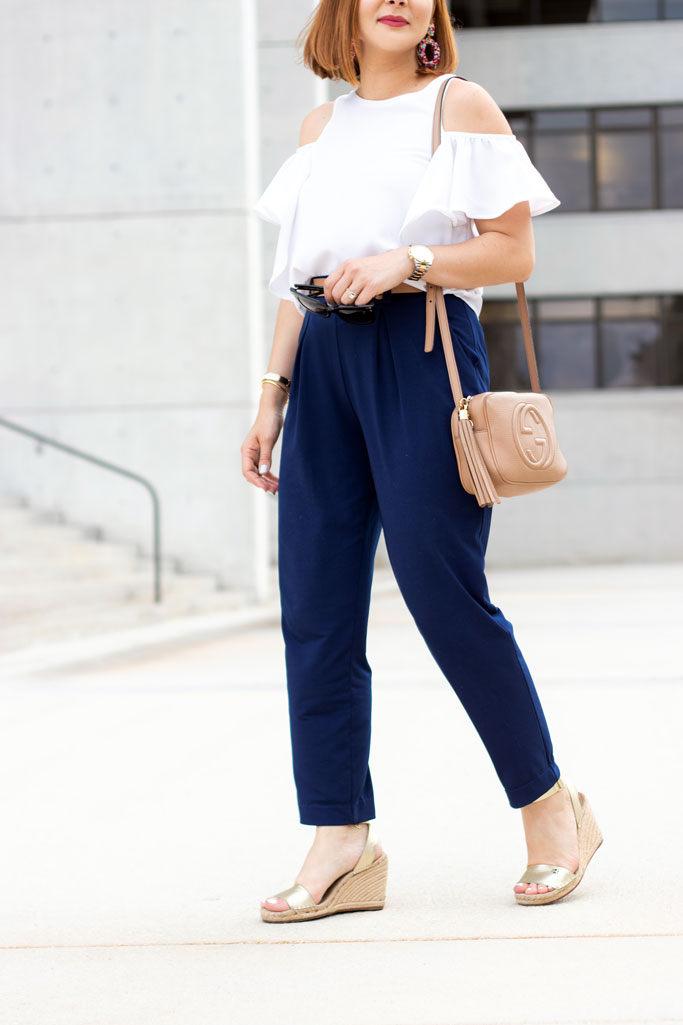 [/one_half_last]
[one_half]
A basic outfit is your best friend.
The easiest way to wear a headwrap, either if it is patterned or one-color, is to style it with basics. What do I mean by this? Choose a white tee, blouse or cami and pair it your favorite denim jeans, skirt or shorts. Picture a leopard print headwrap with any of the above pieces. It's a match you can't go wrong with.
Don't be afraid to play with patterns.
I know mixing patterns can also be a bit intimidating, but ladies, don't fear what you don't know. And you won't know until you try it. Imagine your favorite graphic tee, like this one, with a floral headwrap, like this one. Paired with a pop of color with earrings, handbag or sandals. As a rule of thumb, geometric patterns like stripes, polka dots and even grids, paired with florals or leopard print work really well. Here are a few examples: stripes and florals, leopard and stripes, grid-print and florals.
[/one_half][one_half_last]
Un outfit básico es tu mejor amigo.
La forma más fácil de usar una diadema (como también se conoce) ya sea de un estampado o de un solo color, es combinarla con elementos básicos. ¿Qué quiero decir con esto? Elige un top blanco y combínalo con tus jeans, falda o pantalones cortos favoritos. Imagina una diadema con estampado de leopardo con cualquiera de las piezas anteriores. Es un partido con el que no puedes equivocarte.
No tengan miedo de jugar con estampados.
Sé que mezclar estampados también puede ser un poco intimidante, pero chicas, no teman lo que no saben. Y no lo sabrán hasta que lo prueben. Imaginen su camiseta gráfica favorita, como esta, con una cintas de cabello floreada como esta, con un toque de color con pendientes, un bolso o sandalias. Como regla general, los estampados geométricos como rayas, lunares (polka dot) e incluso de cuadros, combinados con estampados de flores o leopardo funcionan muy bien. Aquí tienen algunos ejemplos; rayas con floreado, cuadros con floreado, leopardo con rayas.
[/one_half_last]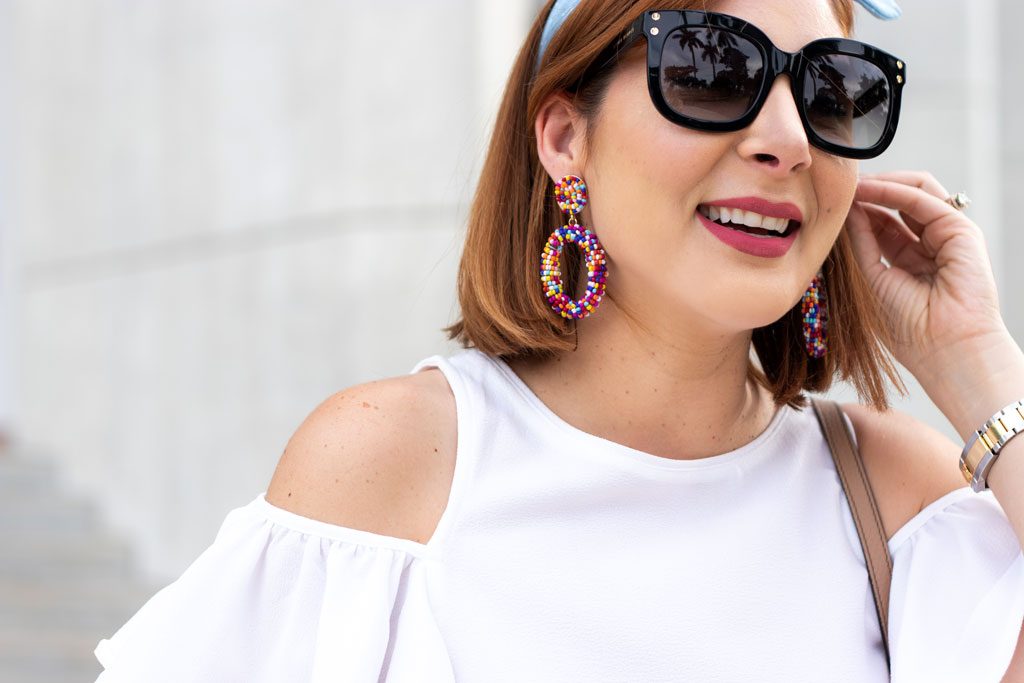 [one_half]
Pick a color from your outfit
If you are wearing a floral, geometric, tribal or any other patterned piece, choose a headwrap in one of the colors you see on that main piece. This set of headwraps that I found on Amazon is only $12 and has 10 pieces of different colors.
Know color harmony.
If you want to take it a step further, color blocking is not a thing of the past yet ladies. Becoming familiar with the basic techniques for combining colors is a great help when choosing headwraps. Here is a link that will help you understand (with pictures) colors that are complementary, analogous, and such of your outfit.
[/one_half][one_half_last]
Elige un color de tu outfit.
Si llevas un vestido de flores, geométrico, tribal o de cualquier otro estampado, elige una cinta en cualquier de los colores que este presente en la pieza principal. Este conjunto de cintas para el cabello que encontré en Amazon es solo $12 y tiene 10 piezas de diferentes colores.
Conoce la armonía de los colores.
Chicas, sí decean ir un paso más allá, mezclar colores sólidos (conocido como color blocking en ingles) aun no es cosa del pasad. Familiarizarse con las técnicas básicas para combinar colores es una gran ayuda a la hora de elegir las cintas de cabello. Aquí hay un enlace que las ayudarán a entender (con imágenes) los colores que son complementarios, análogos, etc. de tu atuendo.
[/one_half_last]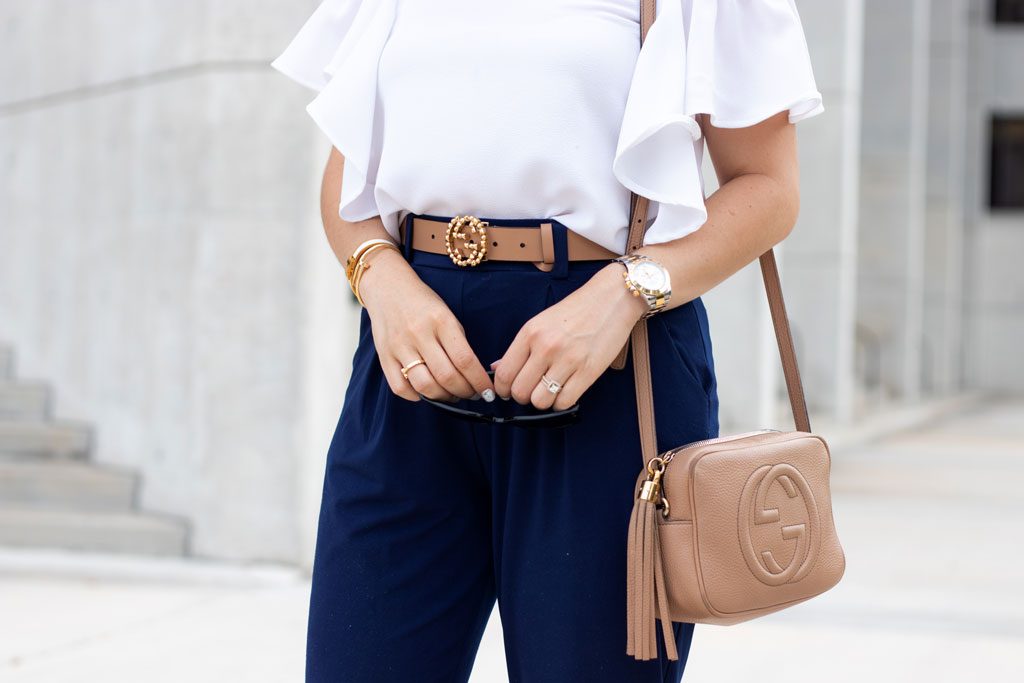 [one_half]
Add a pop of color.
Combining a headwrap when you are wearing basics, as I mentioned earlier, is a great option, but adding a pop of color is my go-to when I want to make a statement. One of my favorite things to do when putting an outfit together, is adding accessories of a bright hue. It can be done with earrings, handbag, shoes, so why not with a headwrap. If you are wearing a leopard dress, or a polka dot top, imagine adding a turquoise or red headwrap to the mix.
Placement and hair style.
Another tip is to play with the placement of the headwrap as well as the parting of your hair. You can have your locks picked up in a pony tail, a bun, half-picked up or side parted. Just play with it!
[/one_half][one_half_last]
Añade un color llamativo.
Combinar una cinta de cabello cuando vistes piezas básicas, como mencioné anteriormente, es una excelente opción, pero agregar un toque de color me fascina cuando quiero llamar la atención. Una de las cosas favoritas cuando estoy combinando un outfit es agregar accesorios de colores llamativos. Se puede hacer con pendientes, bolsos, zapatos, así que ¿por qué no con una diadema? Si llevas un vestido de leopardo o un top de lunares, imagina que agregas una diadema de color turquesa o roja a la mezcla.
Colocación y peinado.
Otro consejo es jugar con la posición de la diadema, así como con la separación del cabello. Pueden recogerse totalmente el cabello, o medio recogido o separarlo de lado, hacerse ondas, etc. Jueguen con varias opciones y de seguro que encontraras su favorita.
[/one_half_last]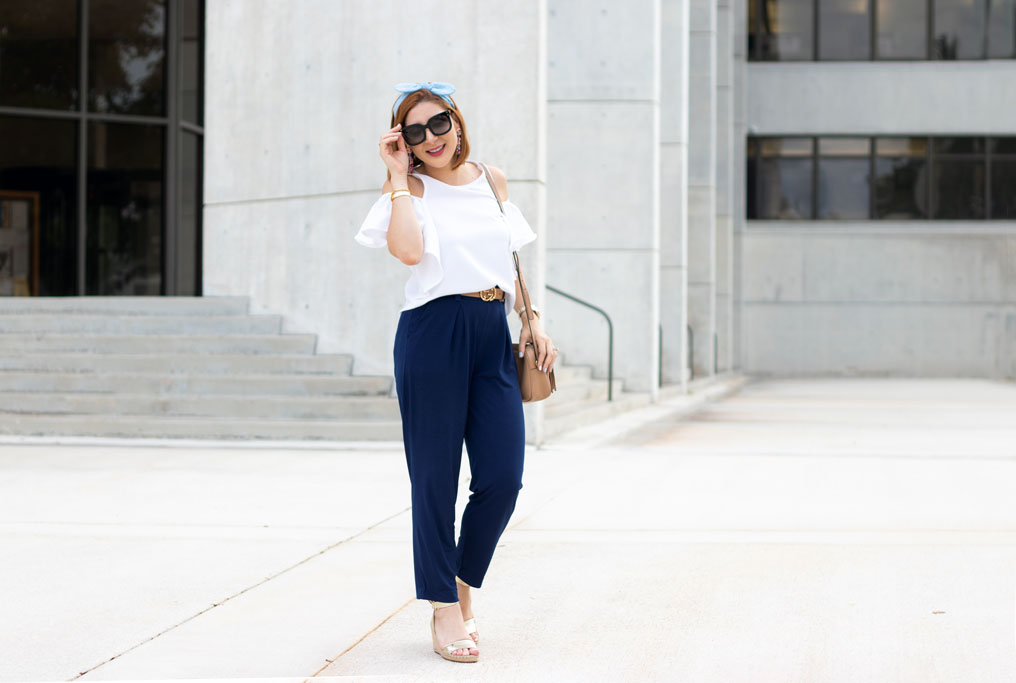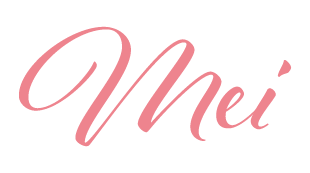 ---
PIN FOR LATER