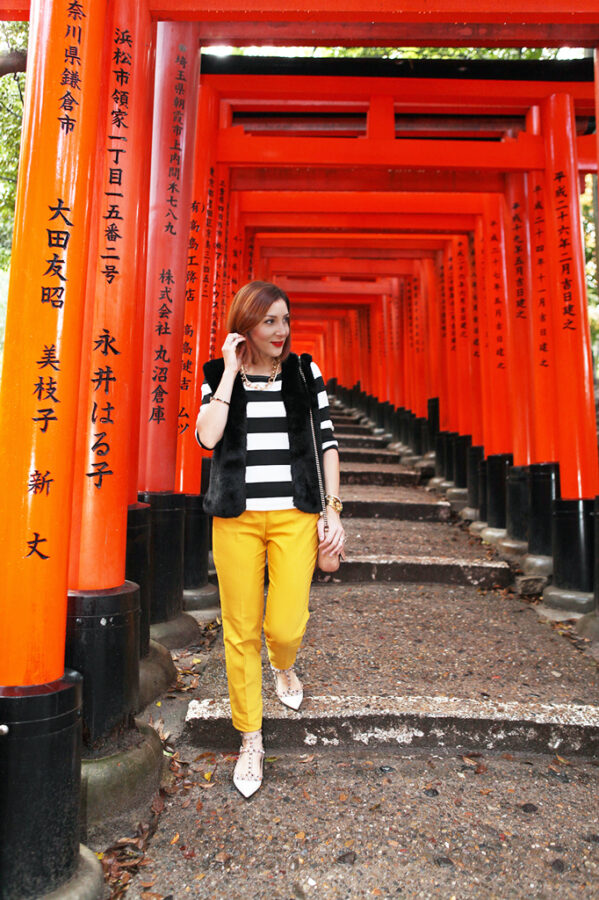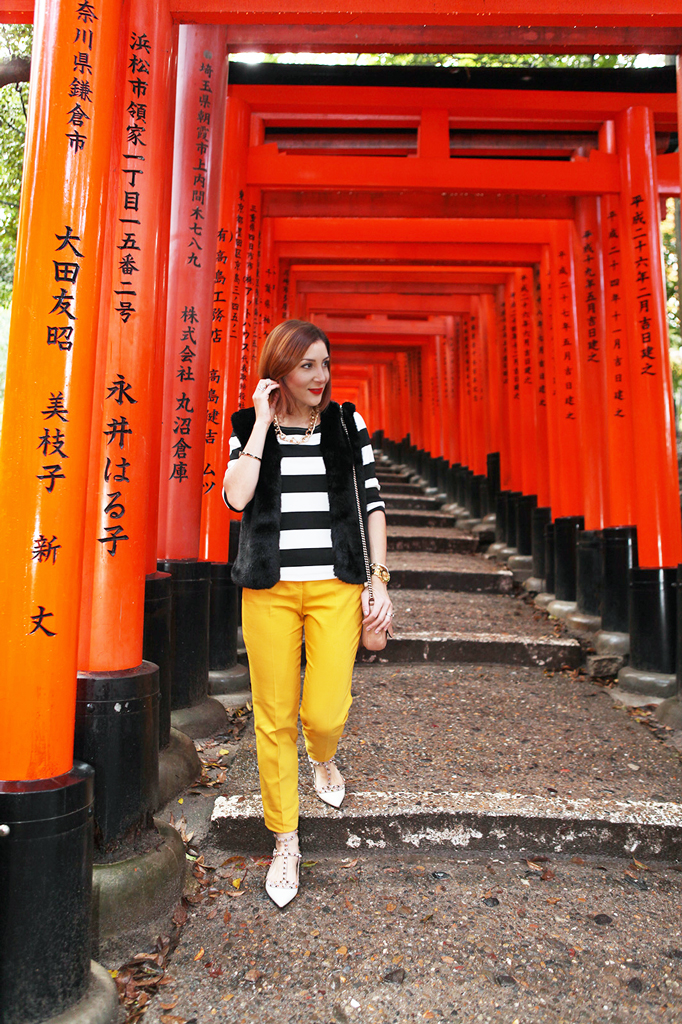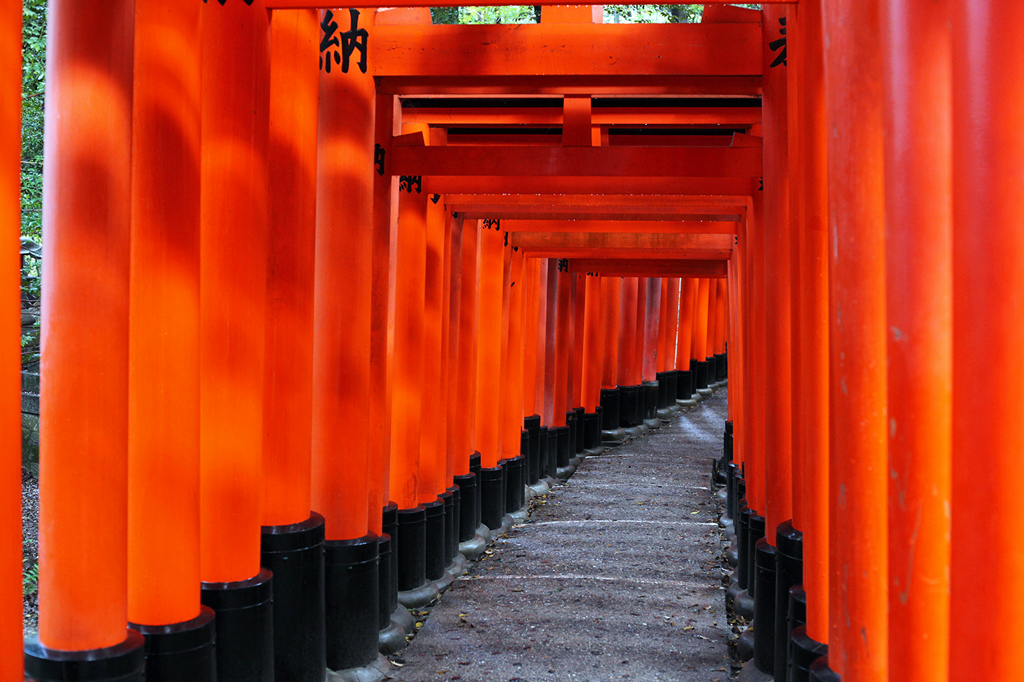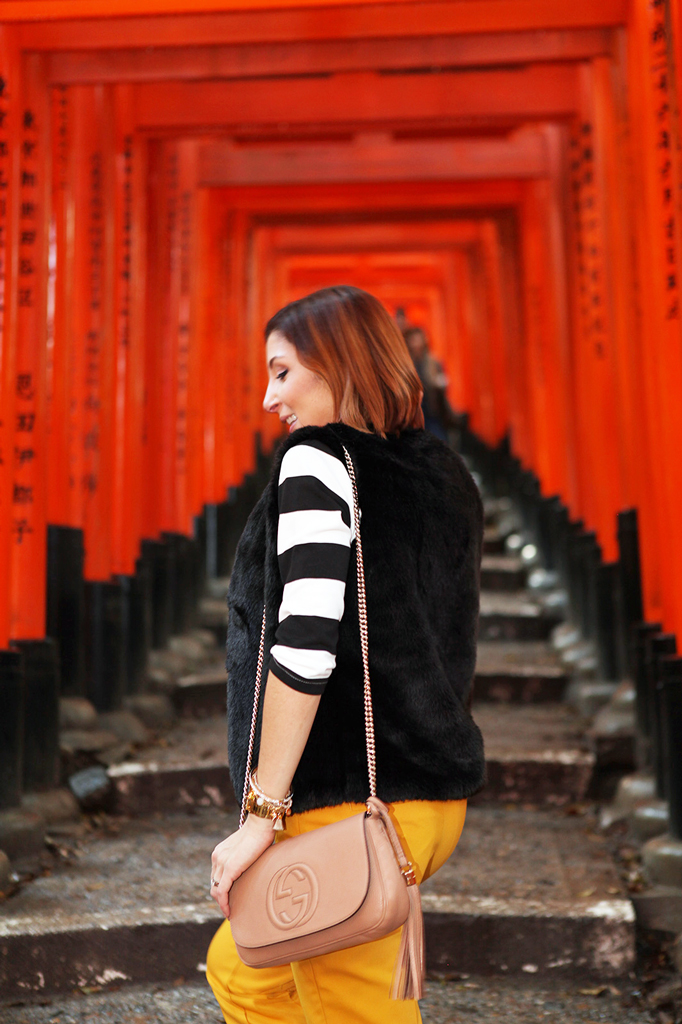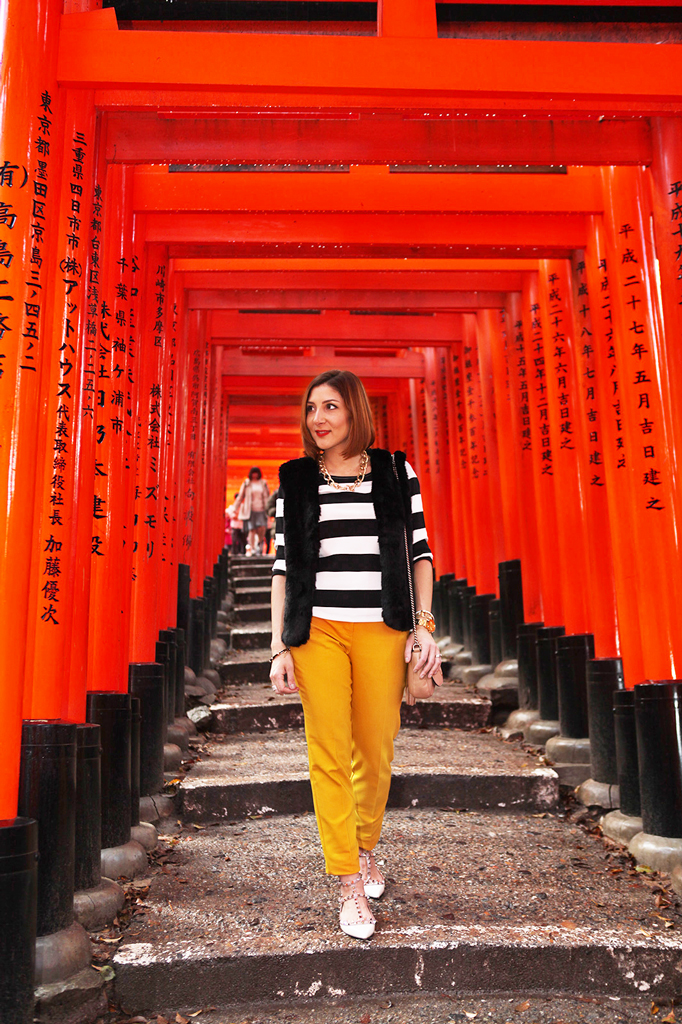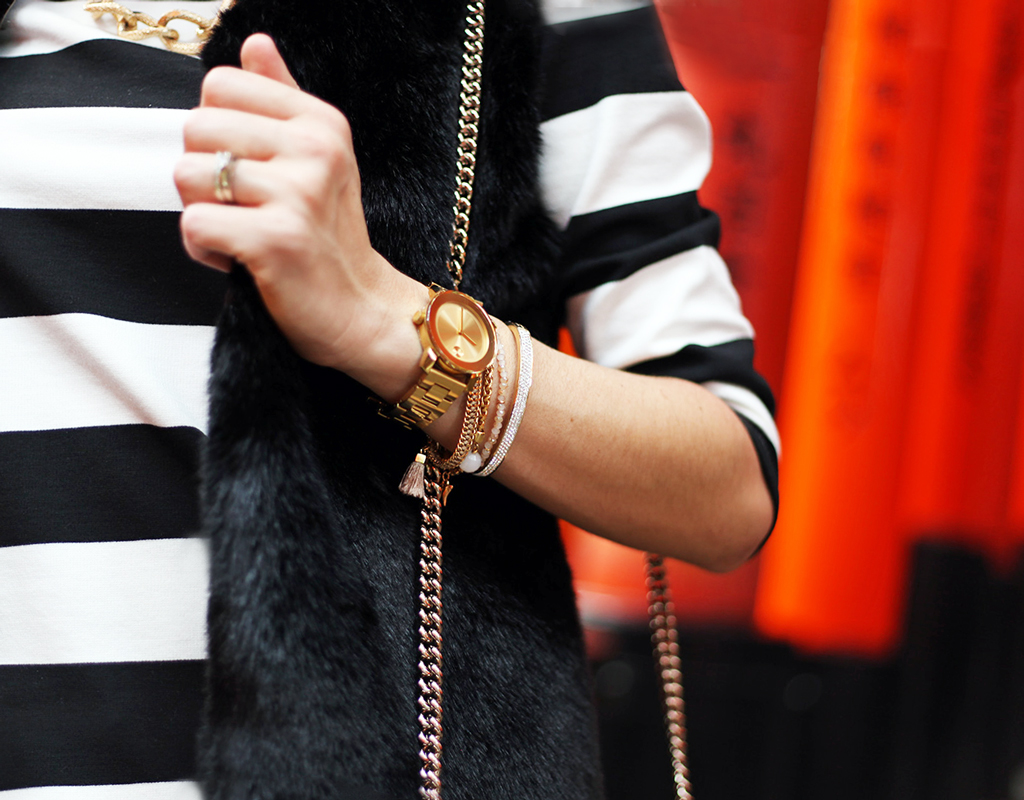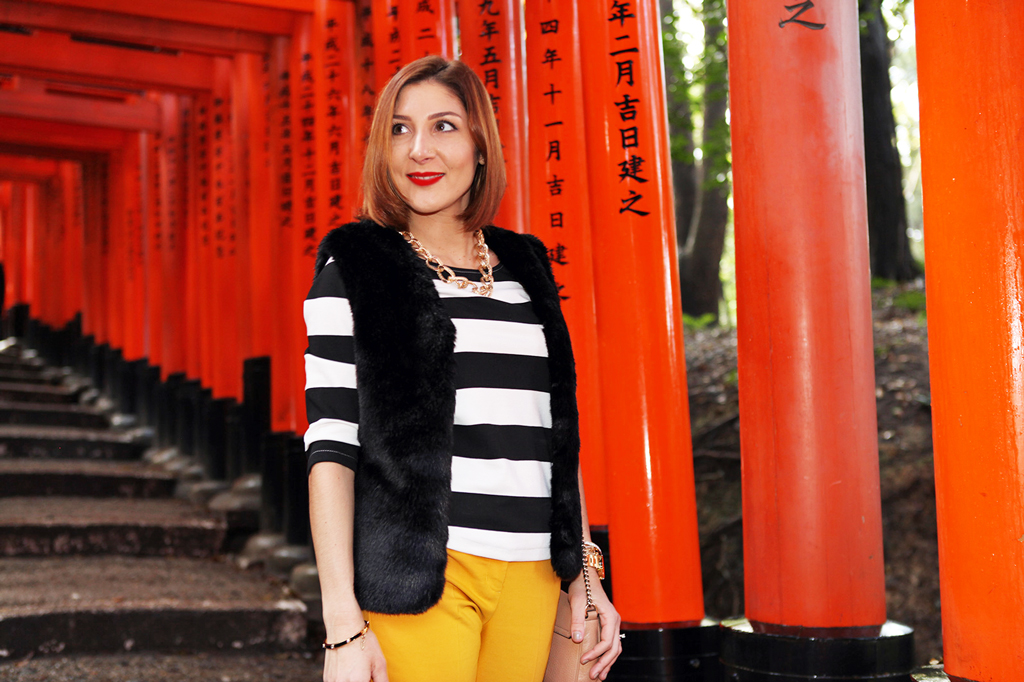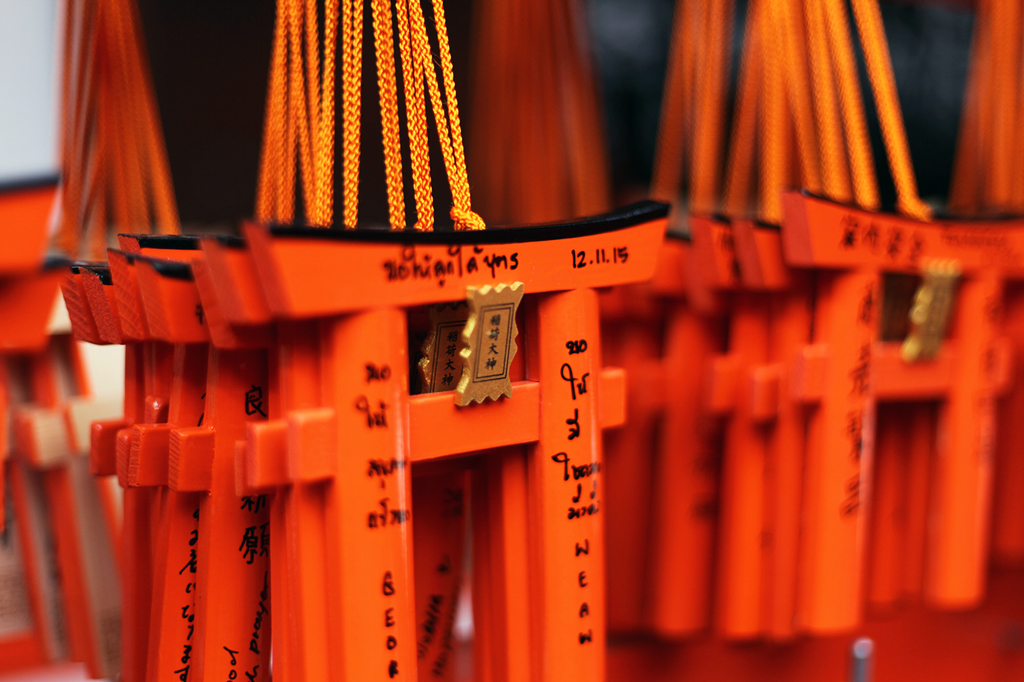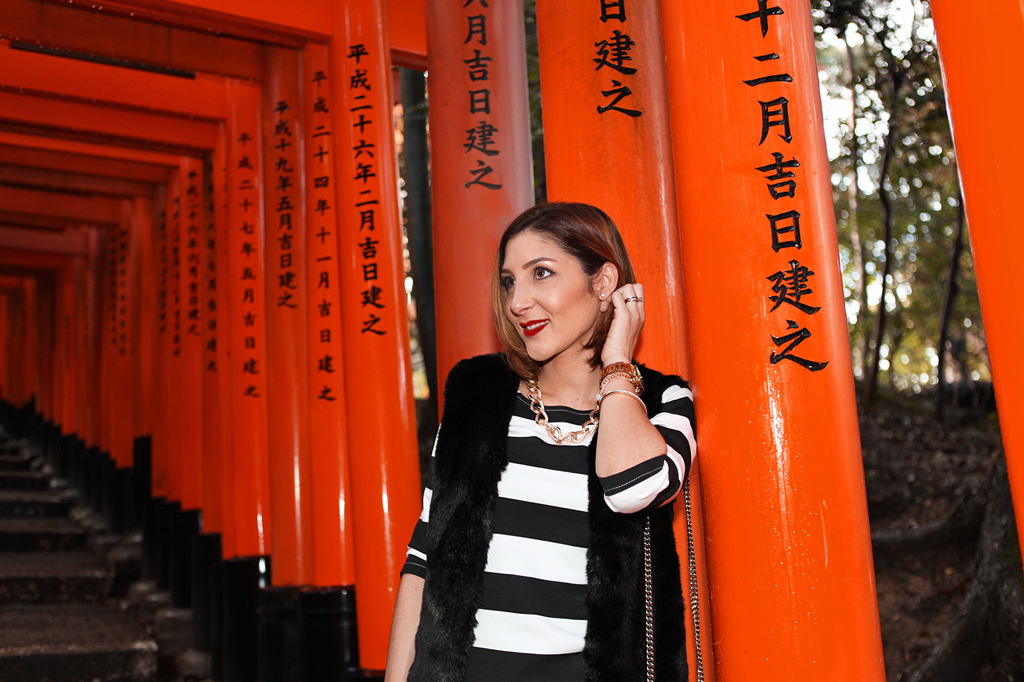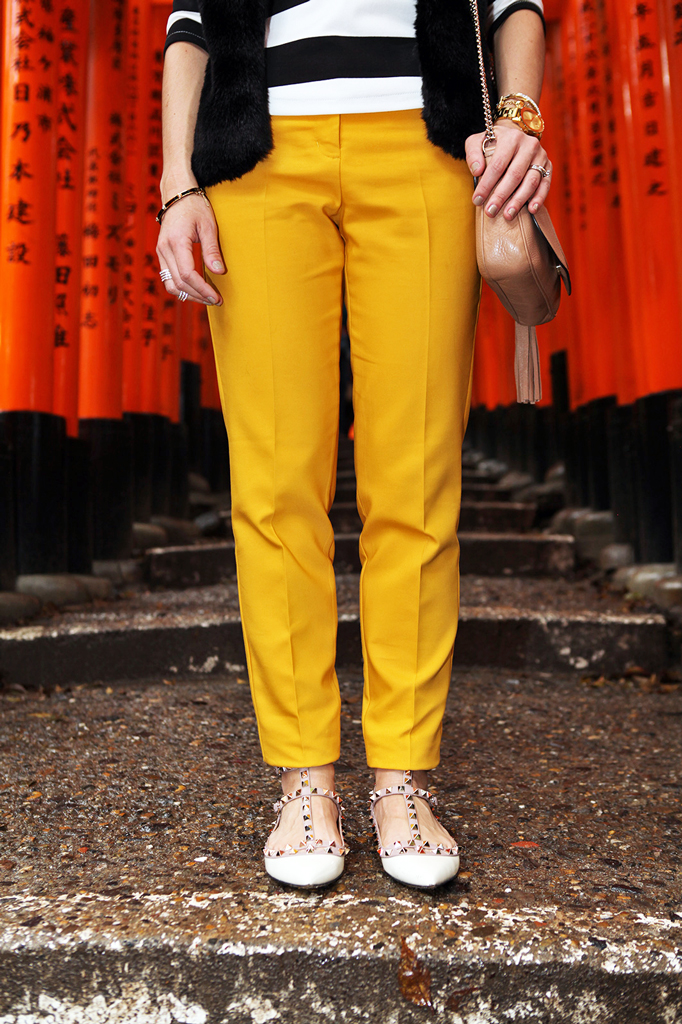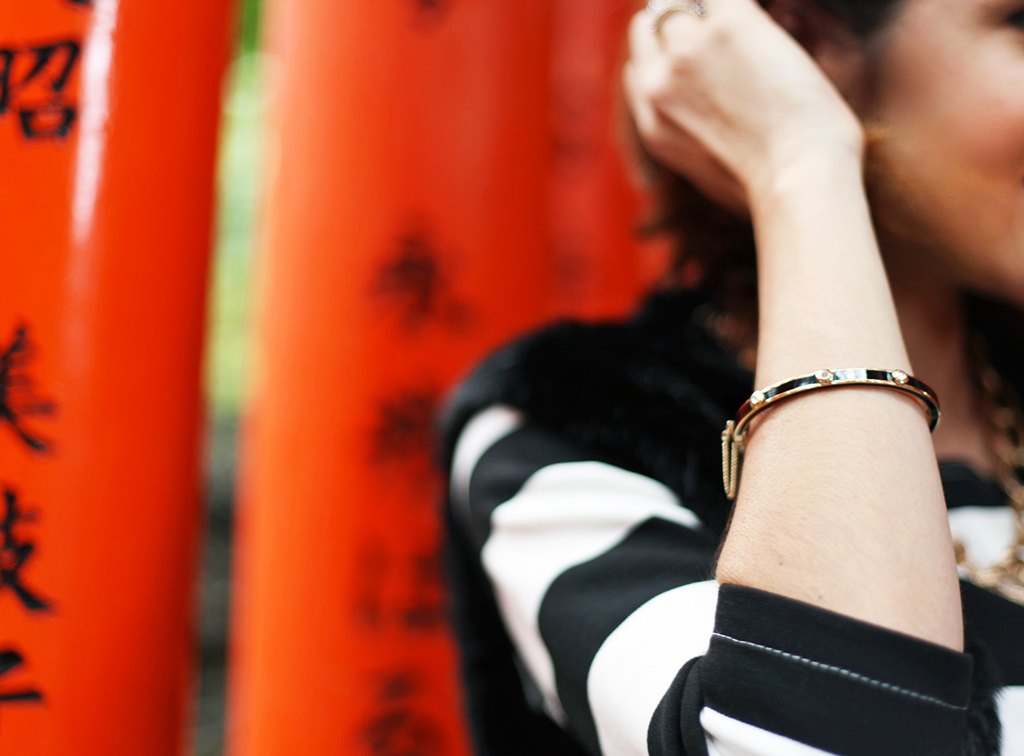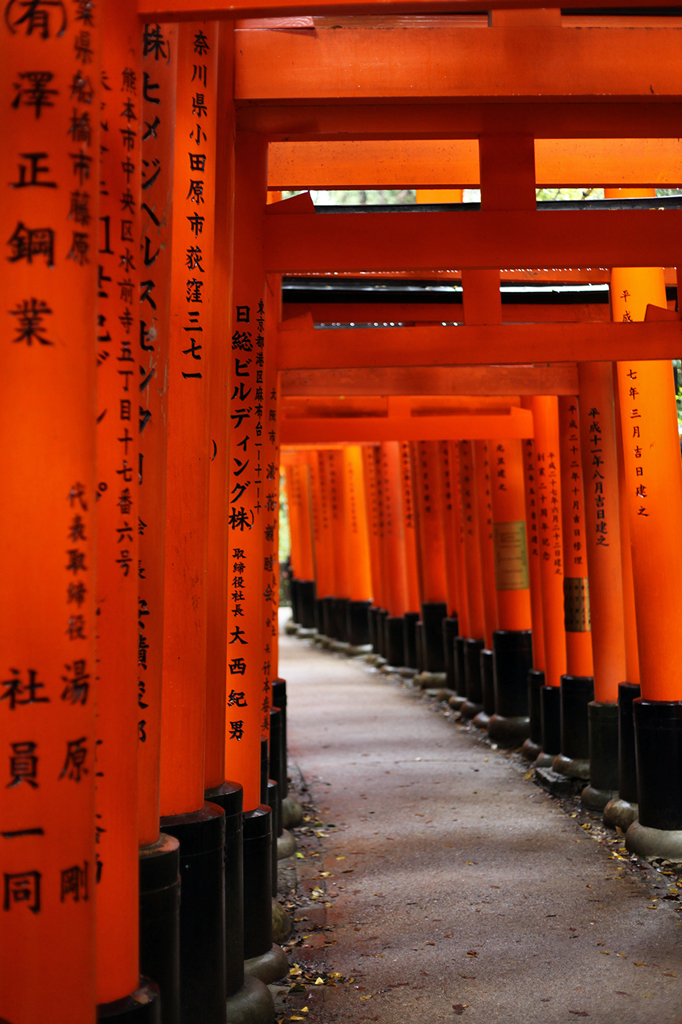 << TOP: SheIn | VEST: ChichWish (similar #1 & similar #2) | PANTS: Express 'Ultimate Double Weave Editor Ankle' | WATCH: Movado 'Bold' | BRACELET: Henri Bendel ('Rox Skinny Bangle' & 'Miss Bendel Rivet Bangle') | NECKLACE: Nordstrom (similar) | RING: Henri Bendel (similar) | HANDBAG: Gucci 'Soho Medium Crossbody' | FLATS: Valentino 'Cage Ballerina Flat' | NAIL POLISH: CND Vinylux 'Svelte Suede' | LIPSTICK: Urban Decay Revolution 'Naked 2' >>
Kyoto, a city where you will be fascinated with geishas, cherry blossom trees, Zen gardens and the most-recognized torii gates. One thing about Kyoto is that there is much to see! One sight in particular is its highly important Shinto shrine, named Fushimi Inari, where for a 2.5-mile pathway you will see more than 10,000 red torii dedicated to the goddess of rice. These gates mark the entrance to a sacred space and are also often standing in front of Emperors' tombs. Fushimi Inari was founded in 711 and throughout the years individuals and businesses of Japan have donated tori gates as a symbol of their worship (each gate bears its donor's name). It is truly a surreal sight, not only because there are thousands of red gates perfectly lined together but also because you feel like you are no longer in the city, you are fully surrounded by trees, birds' chirps and an immense feeling of peace. Given the popularity of this sight, I would recommend visiting it during the weekday or early morning.
For this day full of sightseeing and hiking, I decided to wear something comfortable and versatile. I layered in case I would get hot from the hike or the temperatures change, and opted for my favorite pants (I may or may not have these in all colors #TRUESTORY). Ladies, throughout the years I have been a loyal fan of Express' double-weave ankle pants; one, because they are the right length without having to tailor them; two, they are extremely comfortable, flattering and well-made; three, they come in several colors; and four, they can be dressed down for a casual movie night, glamorized for a date night or styled professionally for the office.

KIOTO, JAPÓN

: CAMISA DE RAYAS ANCHAS +

PANTALONES COLOR MOSTAZA
Kyoto, una ciudad en la que se sentirá fascinado con geishas, cerezos, jardines zen y las más reconocidas puertas torii. Una cosa acerca de Kyoto es que hay ¡mucho que ver! Un lugar en particular es su muy importante santuario sintoísta llamado Fushimi Inari, donde por un camino de 4 kilómetros (o 2.5 millas) podrá ver más de 10,000 torii (arcos rojos) dedicados a la diosa del arroz. Estos arcos marcan la entrada a un espacio sagrado y también se ubican al pie de las tumbas de los emperadores. El santuario Fushimi Inari fue fundado en el año 711 y durante los años individuos y negocios de Japóneses han donado estos arcos como símbolo de su adoración (cada puerta lleva el nombre de su donante). Es realmente un lugar surrealista, no sólo porque hay miles de arcos rojos perfectamente alineados entre sí, sino también porque te sientes como si no estuvieras en la ciudad, estás totalmente rodeado de árboles, cantos de pequeños pájaros y una inmensa sensación de paz. Dada la popularidad de este sitio, le recomiendo visitar durante un día de la semana o principios de la mañana.
Para este día ocupado de turismo y excursiones, decidí llevar algo cómodo y versátil. Use dos capas en caso de que me acalorara por la caminata o por si el clima cambiara, y opté por mis pantalones favoritos (es posible que los tenga en todos los colores #HISTORIAREAL). Chicas, a lo largo de los años he sido un fan leal de estos pantalones de Express; uno, porque son el largo correcto sin tener que adaptarlos; dos, son extremadamente cómodos, halagador y muy bien hecho; tres, vienen en varios colores; y cuatro, pueden vestirse casual como para una día de cine, elegantes como para una cena de noche o profesional para la oficina.