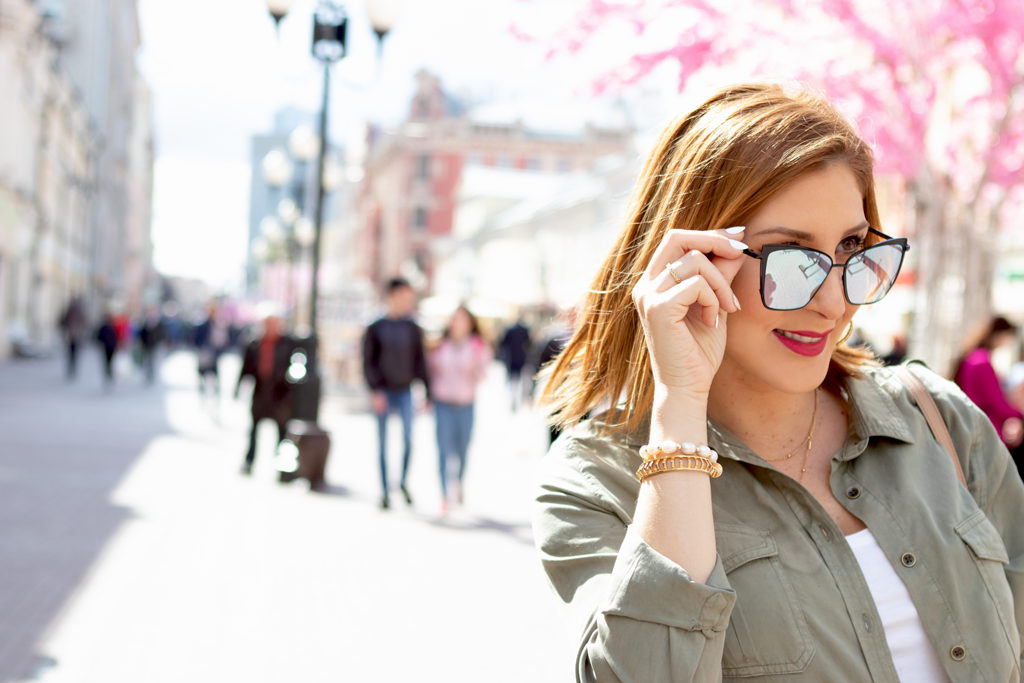 packing a carry on can be an overwhelming task, but follow these simple rules and you will be a master in no time. Miami Fashion Travel Blogger, Maternity Look Fashion


WHITE TOP: Target || LONG SLEEVE TOP: Target || MATERNITY JEANS: Target || CAP: Nordstrom || BRACELET: Taudrey (you can personalize it) and BaubleBar || NECKLACE: BaubleBar (very similar y-chain necklace) || BELT: Gucci (dupe here) || HANDBAG: Gucci (affordable round tassel crossbody and here) || SUNGLASSES: c/o DIFF Eyewear || WATCH: c/o Daniel Wellingon || SHOES: Target (similar white with gold trim sneakers) || LIPSTICK: NYX – Paris
[one_half]
At one point or another, we have all struggled with packing for a destination where the temperatures are on the cooler side. And I must admit, overpacking for trips like these was once my worst nightmare, but not anymore! And if you follow these simple rules, you will beat your oversized luggage to the curve, like I did, and opt for a carry on whenever possible.
For our trip to Russia and Greece, I packed one carry on luggage and this bag. I love this overnight handbag because you can fold it and store it easily since its made of nylon. And its size is perfect to fit your laptop and a change of clothe.
As for this look, it is the perfect example that the same shoes, jeans and long-sleeve top can be worn different ways without looking like you are repeating the same look (even when you are pregger). PS: I was 6.5 months pregnant here, can't believe Baby Julian is already 3 weeks old this week.
[/one_half][one_half_last]
En un momento u otro, todas hemos lidiado con empacar para un destino donde las temperaturas serán más frías de lo que acostumbramos. Y debo admitir que sobre-empacar fue una vez mi peor pesadilla para viajes así, ¡pero ya no! Y si siguen estas simples reglas, podrán dejar su equipaje grande en casa, como hice yo, y optarán por un equipaje de mano siempre que sea posible.
Para nuestro viaje a Rusia y Grecia, empaqué un equipaje de mano y esta bolsa. Me encanta este bolso de mano porqué puedes doblarlo y guardarlo fácilmente gracias a su material de nylon. Y su tamaño es perfecto para guardare su computadora portátil y una muda de ropa.
En cuanto a este look, es el ejemplo perfecto de que los mismos zapatos, jeans y top de manga larga se pueden usar de diferentes maneras sin que parezca que estás repitiendo el mismo look (incluso cuando estás embarazada). PD: Aquí estaba embarazada de 6.5 meses; no puedo creer que Julian ya tenga 3 semanas de nacido.
[/one_half_last]
[one_half]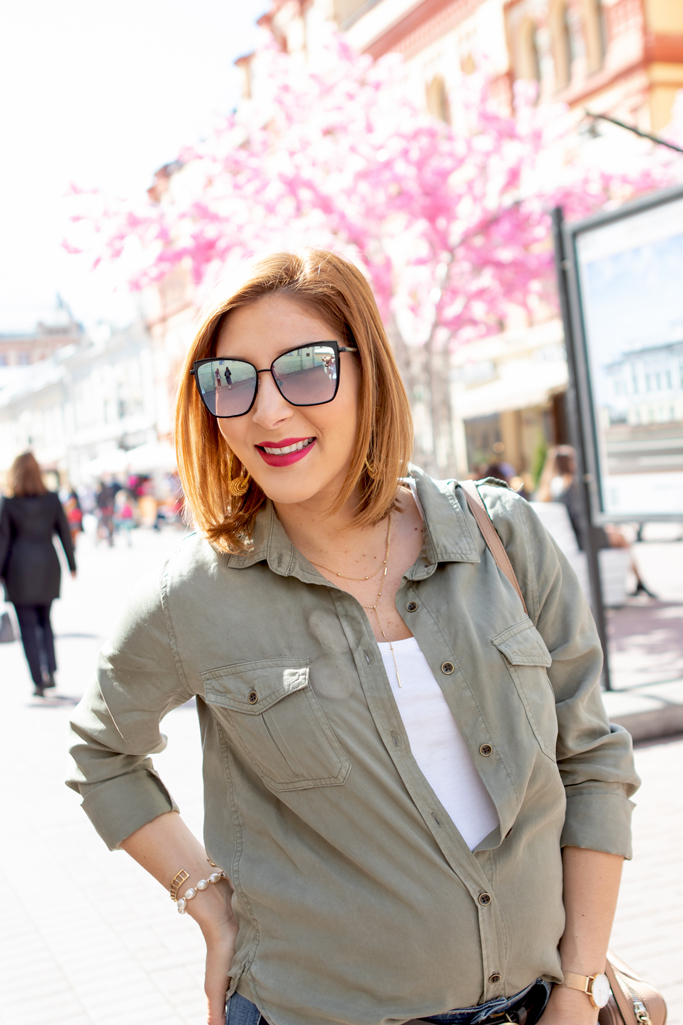 [/one_half][one_half_last]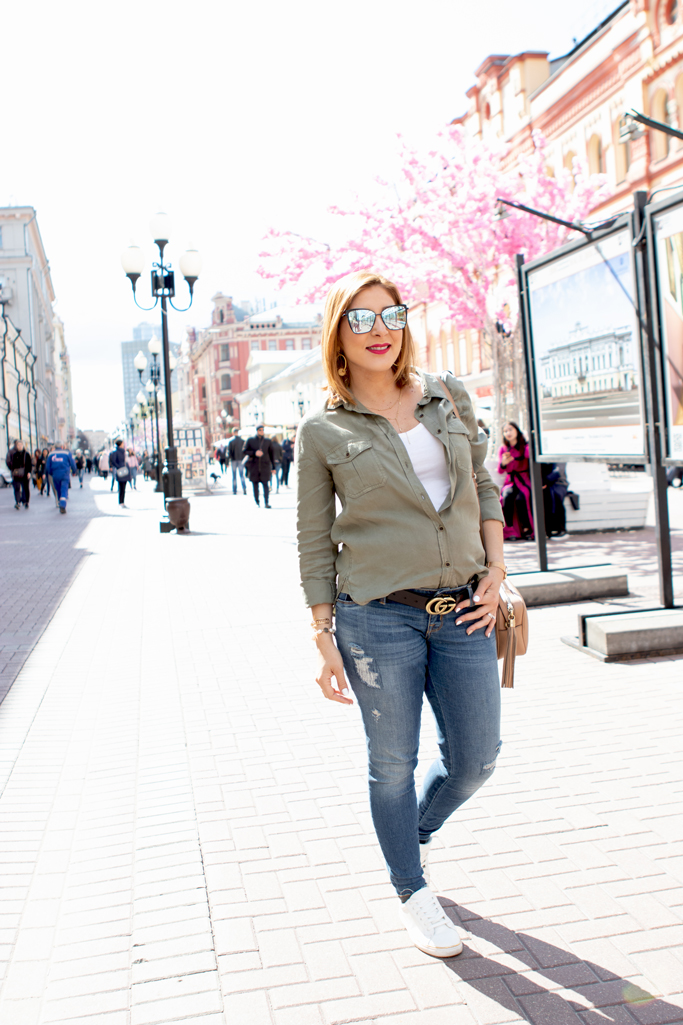 [/one_half_last]
[one_half]
Check out my travel guide from St. Petersburg if you're thinking of visiting Russia.
.
[/one_half][one_half_last]
Echen un vistazo a mi guía de turismo de
St. Petersburg si están pensando visitar Russia.
[/one_half_last]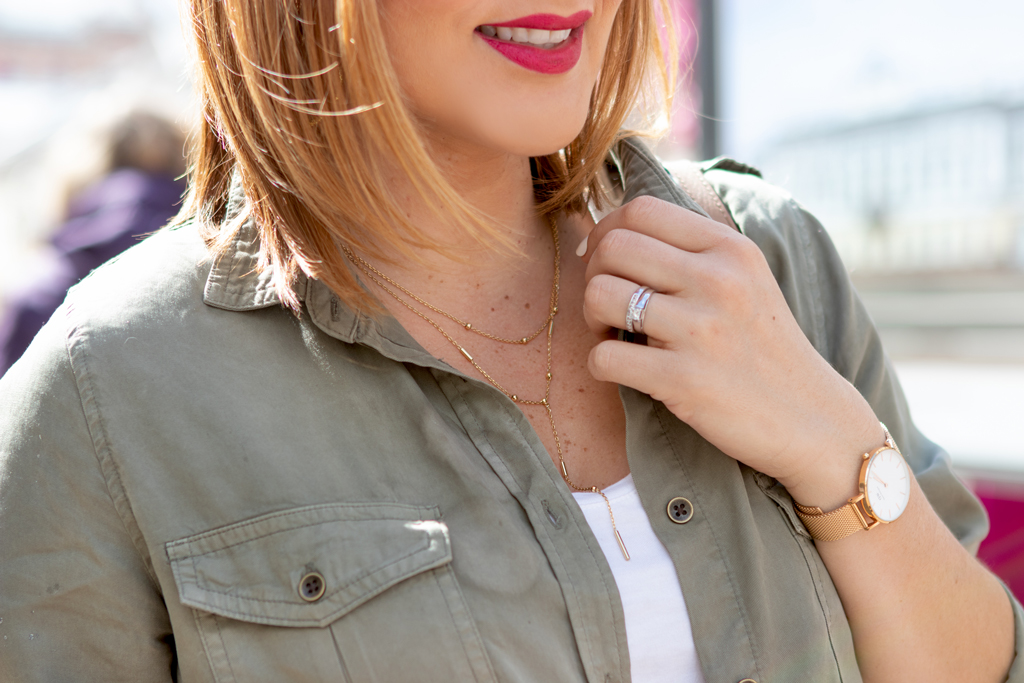 [one_half]
Now let's get to the tips that have saved my sanity for packing one carry on luggage for a 2-week trip:
1. Create a packing-list
This will prevent you from forgetting any essentials. And you only have to do this once because you can later re-use it for other trips.
2. Choose clothes that match, pair and layer easily
This is the key to avoiding overpacking, but be realistic and don't take pieces you don't need. It takes a bit of planning I must admit, but it saves space in your luggage, headaches when traveling and baggage fees at the airport.
3. Photograph your outfits
What good is it to plan your outfits if you don't document them. I always photograph my looks, including accessories, handbags and shoes. This saves you time when you need to get dressed and it serves as an archive when you don't know what to wear.
[/one_half][one_half_last]
Ahora vamos a los consejos que han salvado mi cordura al empacar un equipaje de mano para un viaje de 2 semanas:
1. Crear una lista
Esto evitará que olvides cualquier elemento esencial. Y solo tienes que hacerlo una vez porque luego puedes reutilizarlo para otros viajes.
2. Elegir ropa que combine fácilmente y que se pueda usar en capas
Esta es la clave para evitar sobre-empacar, pero tienes que ser realista y no llevar piezas que no necesitas. Debo admitir que tima un poco de planificación, pero ahorraras espacio en tu equipaje, dolores de cabeza al viajar y tarifas de equipaje en el aeropuerto.
3. Fotografiar los outfits
¿De qué sirve planificar tus outfits si no los documentas? Siempre fotografío mis looks, incluyendo accesorios, bolsos y zapatos. Esto ahorra tiempo al vestirte y sirve como un archivo cuando no sabes qué ponerte.
[/one_half_last]
[one_half]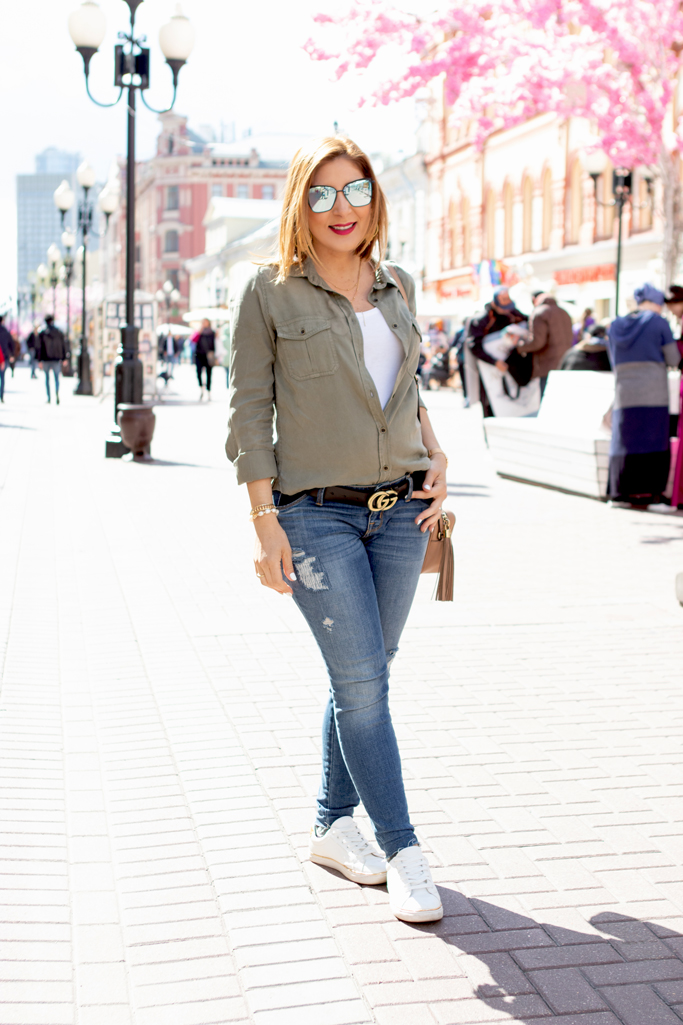 [/one_half][one_half_last]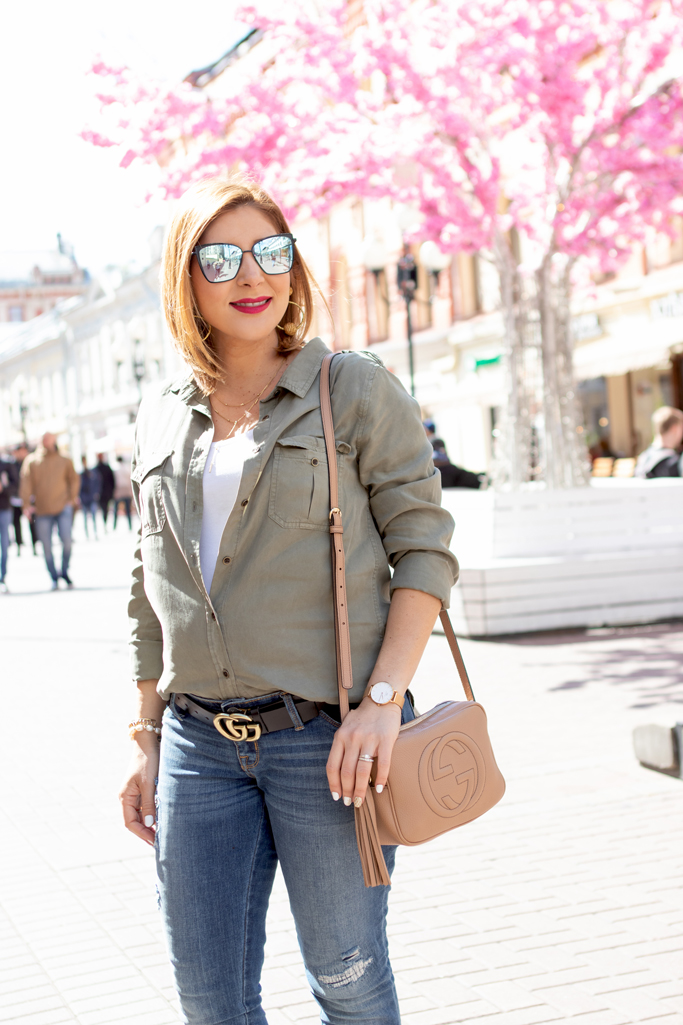 [/one_half_last]
[one_half]
4. Develop a shoe strategy
There is definitely a thin line between looking cute and feeling comfortable, but it can be done, I. PROMISE! Depending where you are heading to, choose one to two pairs of shoes that will go with all your looks from above (#2). Shoes are one of the bulkiest pieces in your luggage, so simplify, simplify, simplify. For my trip to Russia I only packed one pair of white sneakers (take a peek here, here and in the look I am sharing today to see how I styled them).
5. Wear your heaviest and bulkiest outfit to the plane
No explanation needed other than, this is another great trick to not having to pack your bulky sweater, jacket or 2nd pair of winter shoes in your carry on. Wear your bulkiest item during the actual leg of the trip, be it by train, plane, etc.
6. Use your personal item wisely
Leave your tiny purse at home (or tucked inside your carry on) and take advantage of this perk. Airlines let you take a carry on and a personal item on board. This personal item can be a backpack, large handbag or an overnight/weekender bag (like this one, which is the one I usually opt for).
[/one_half][one_half_last]
4. Desarrollar una estrategia para los zapatos
Muchas pueden pensar que es difícil lucir a la moda y al mismo tiempo sentirse cómodo, pero se puede hacer, ¡SE LOS PROMETO! Dependiendo de hacia dónde te dirijas, elige uno o dos pares de zapatos que vayan con todos tus looks. Los zapatos son una de las piezas que toman mas espacio en el equipaje, así que simplifica, simplifica, simplifica. Para mi viaje a Rusia, solo empaqué un par de zapatillas blancas (echen un vistazo aquí, aquí y el look que comparto hoy para ver cómo las puse).
5. Vestir el look que tomaría mas espacio en la maleta, para el viaje.
No es necesario explicar mucho más, solo que este es otro truco para no tener que empacar ese suéter grueso, esa chaqueta de piel o ese segundo par de zapatos de invierno en tu equipaje de mano. Viste las piezas más gruesas en el transcurso del viaje, así sea en avión, tren, etc.
6. Escoger artículo personal inteligentemente
Deja tu bolso pequeño en casa (o dentro de tu equipaje de mano) y aprovecha esta ventaja. Las aerolíneas te permiten llevar un equipaje de mano y un artículo personal a bordo. Este artículo personal puede ser una mochila, un bolso grande o un bolso como este, que es el que usualmente llevo.
[/one_half_last]
[one_half]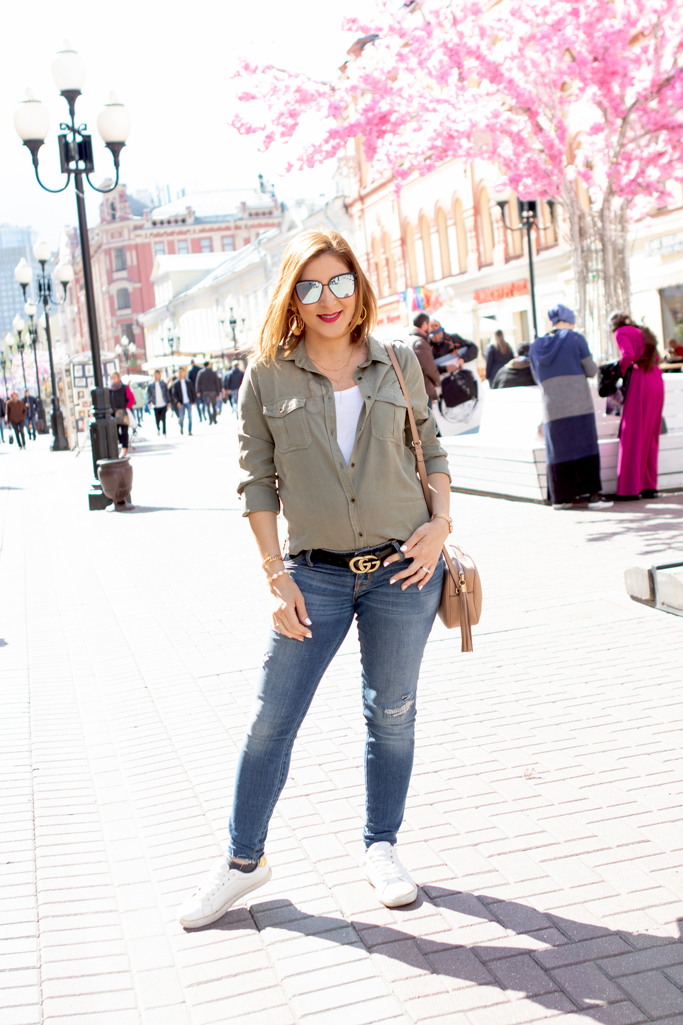 [/one_half][one_half_last]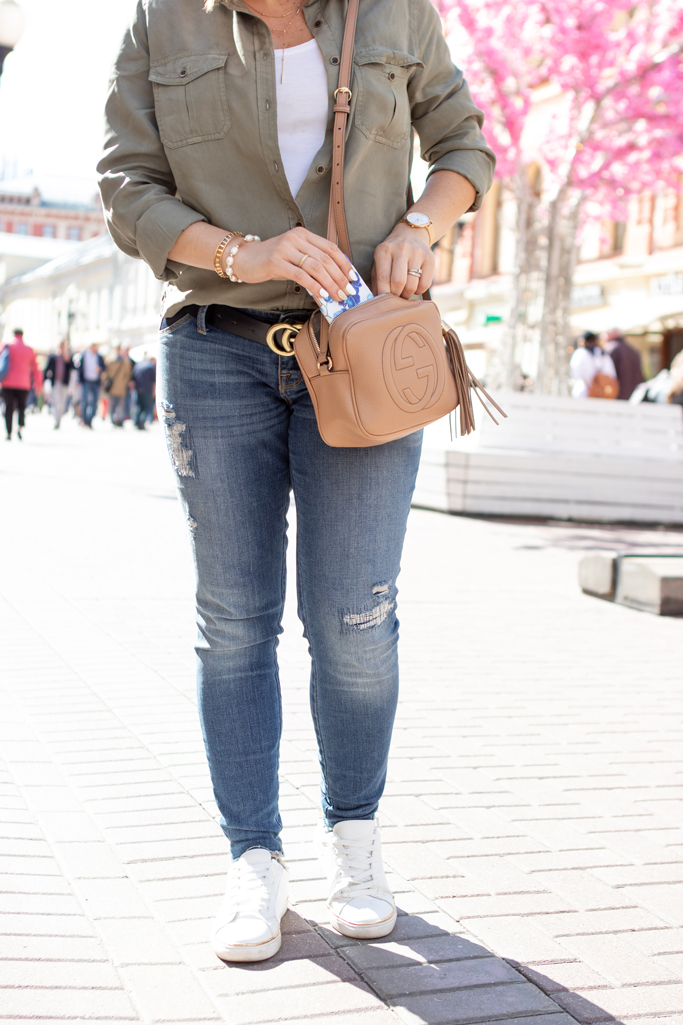 [/one_half_last]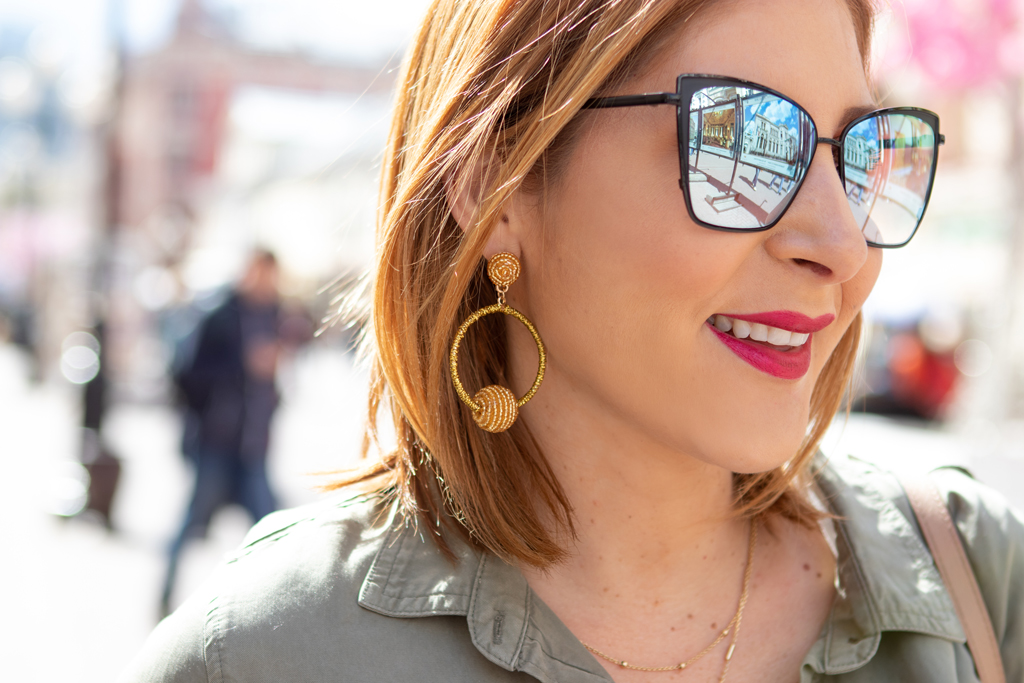 [one_half]
7. Roll, don't fold, your clothe
I've done this for years! Make sure to roll everything very tightly and place heaviest items like jeans first.
8. Use dead space intelligently
I use the inside of my shoes to store my fashion jewelry or other small items.
9. Take advantage of travel size toiletry items
Bed Bath & Beyond has a great selection of travel size items, and Sephora is my go-to for beauty and makeup items. And once again, be realistic and only pack what you really need, remember that hotels usually provide minimal essentials like soap, shampoo and body wash. PS: I never use clear containers for liquids like shampoo, body lotion, perfume, etc. when traveling. There have been instances during my international travels, that airport officials are apprehensive of unlabeled items and ask if they could investigate it or throw it away. To avoid this unpleasant experience, I just purchase travel size items and pack them in their original container.
10. Wash, rinse and repeat
Undergarments can take up some prime real estate in your luggage, especially if you are packing more than one week's worth! Thus, if that's the case, I highly recommend to only pack intimates for one week and wash them as you go.
[/one_half][one_half_last]
7. Enrollar, no doblar, la ropa
¡He hecho esto por años! Asegúrate de enrollar todo muy bien y colocar los artículos más pesados como los jeans primero.
8. Usar el espacio vacío inteligentemente
Uso el interior de mis zapatos para guardar mis joyas u otros artículos más pequeños.
9. Aprovechar los artículos de aseo de tamaño pequeño
Bed Bath & Beyond tiene una gran selección de artículos de tamaño de viaje, y Sephora es mi opción para productos de belleza y maquillaje. Y, una vez más, se realista y solo empaques lo que realmente necesitas, recuerda que los hoteles por lo general proporcionan artículos esenciales como jabón, champú y gel de baño. PD: Nunca uso recipientes transparentes para líquidos como champú, lociones, perfumes, etc. cuando viajo. Ha habido casos durante mis viajes internacionales, que los empleados del aeropuerto están preocupados por los artículos sin etiquetas y me preguntan si pueden investigar ese articulo o desecharlo. Para evitar esta experiencia desagradable, solo compro artículos de tamaño del viaje y los empaco en su envase original.
10. Lavar, enjuagar y repetir.
La ropa interior puede ocupar un lugar privilegiado en tu equipaje, especialmente si estás empacando para más de una semana. Por lo tanto, si ese es el caso, recomiendo empacar para una semana y lavar tu ropa interior a medida que pasan los días.
[/one_half_last]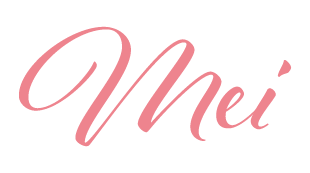 ---
PIN FOR LATER