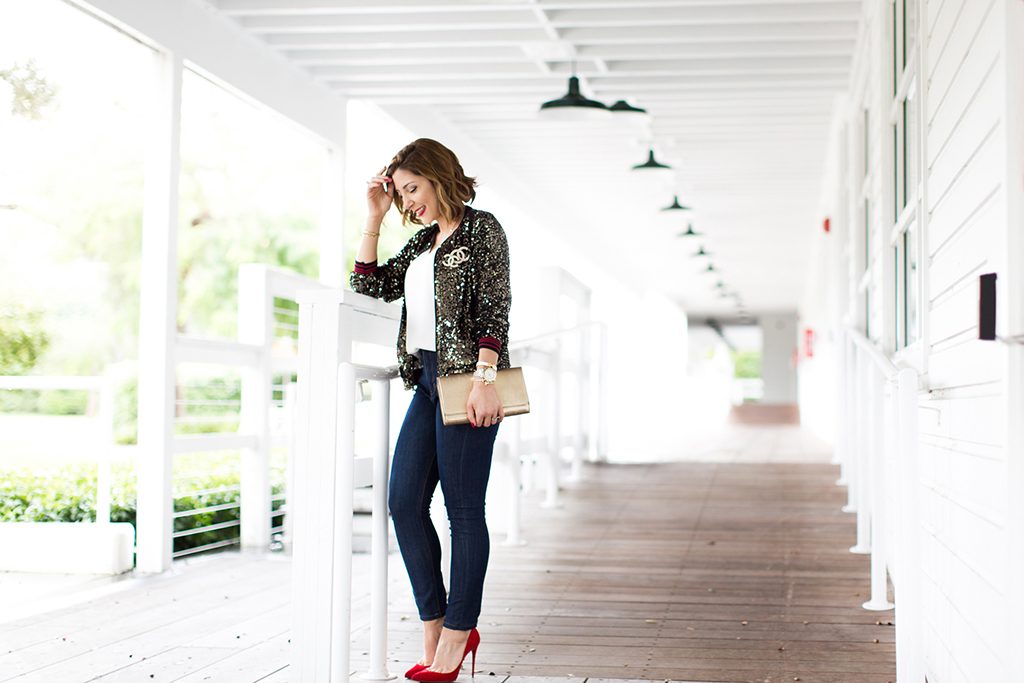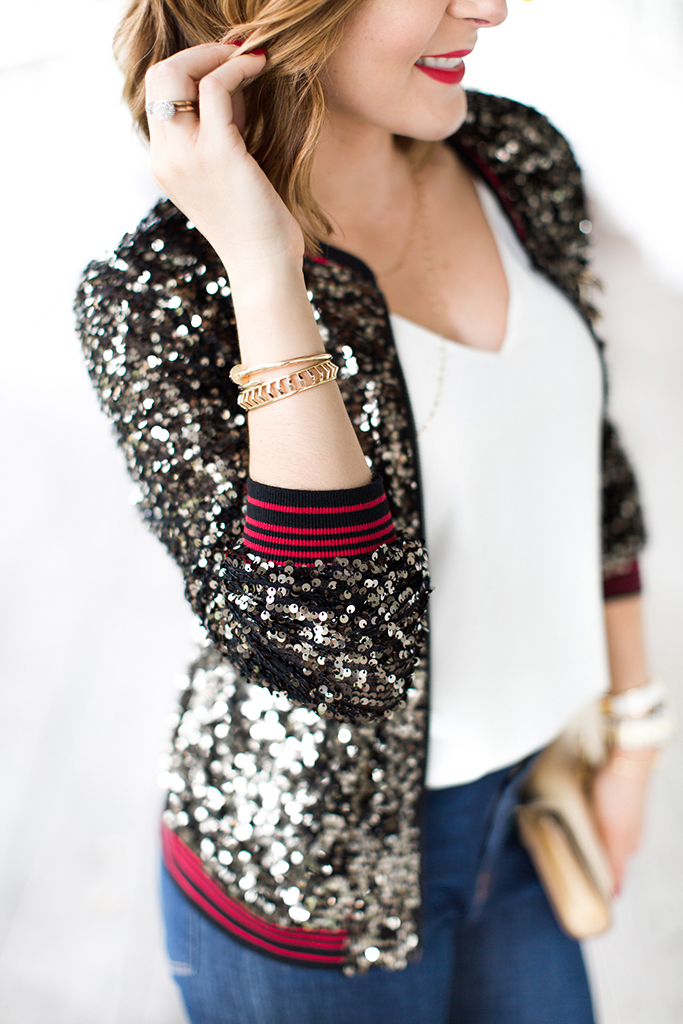 A sequin bomber jacket to celebrate New Year's Eve? Why not? Especially if you want to feel comfy & look fancy while you ring in the new year.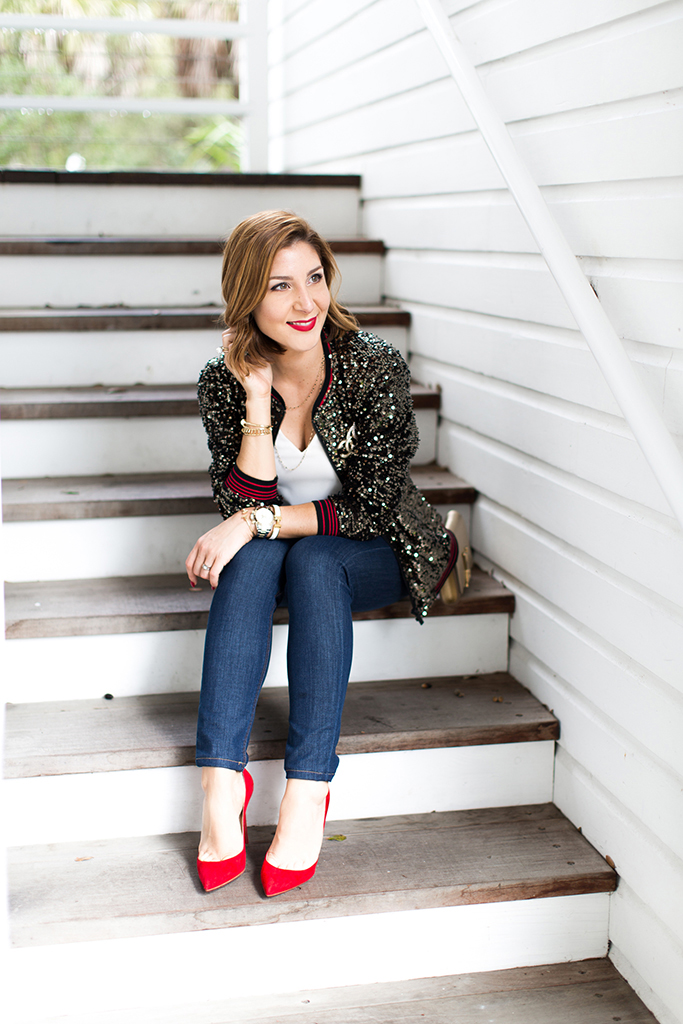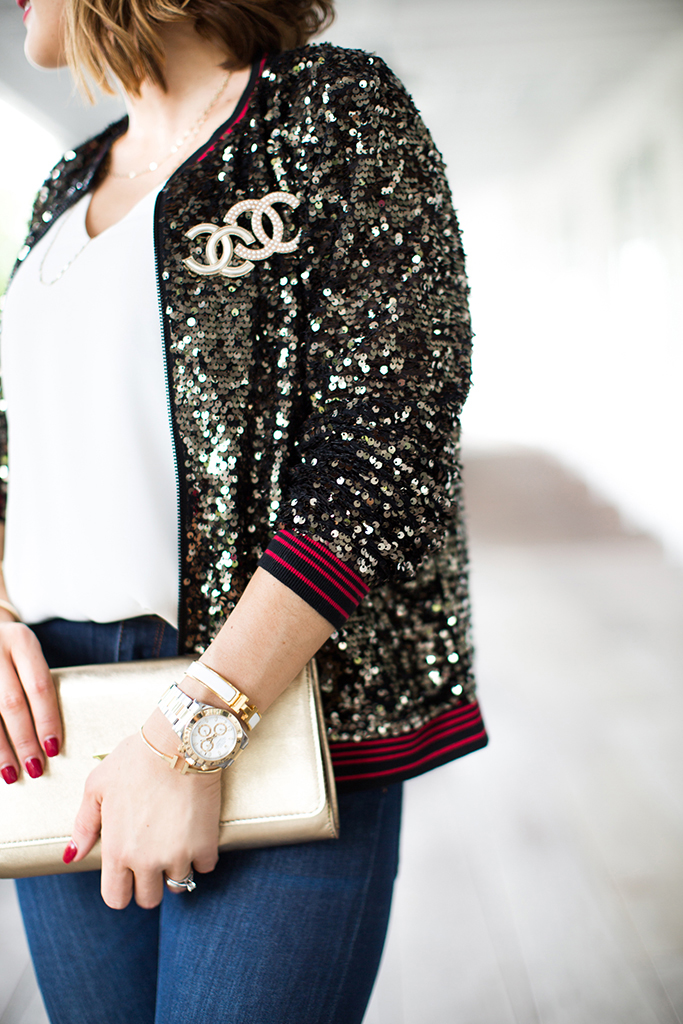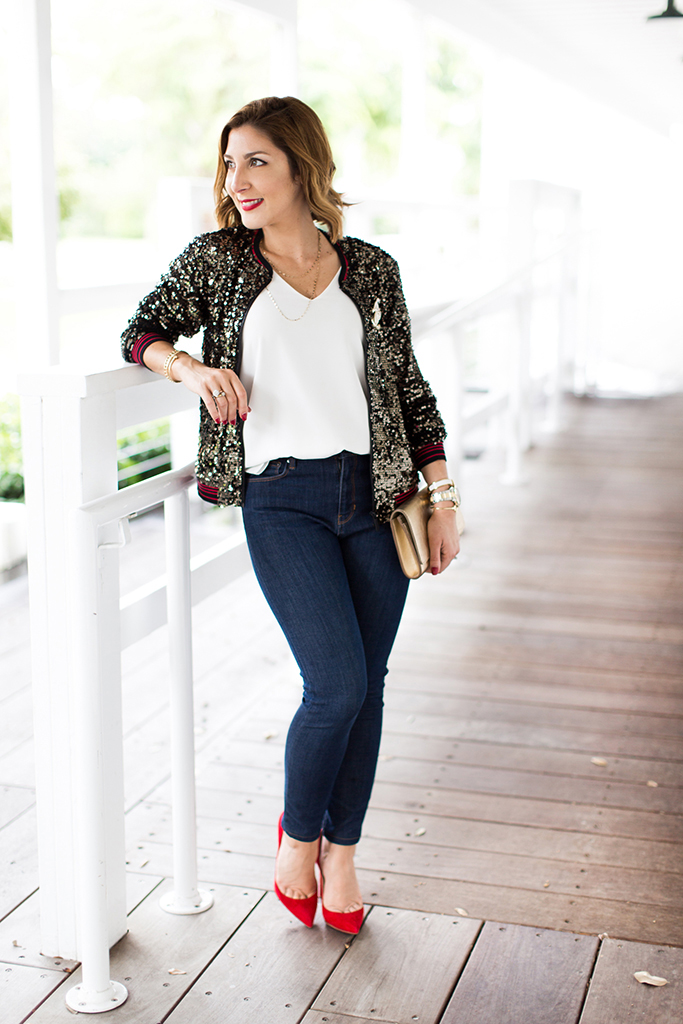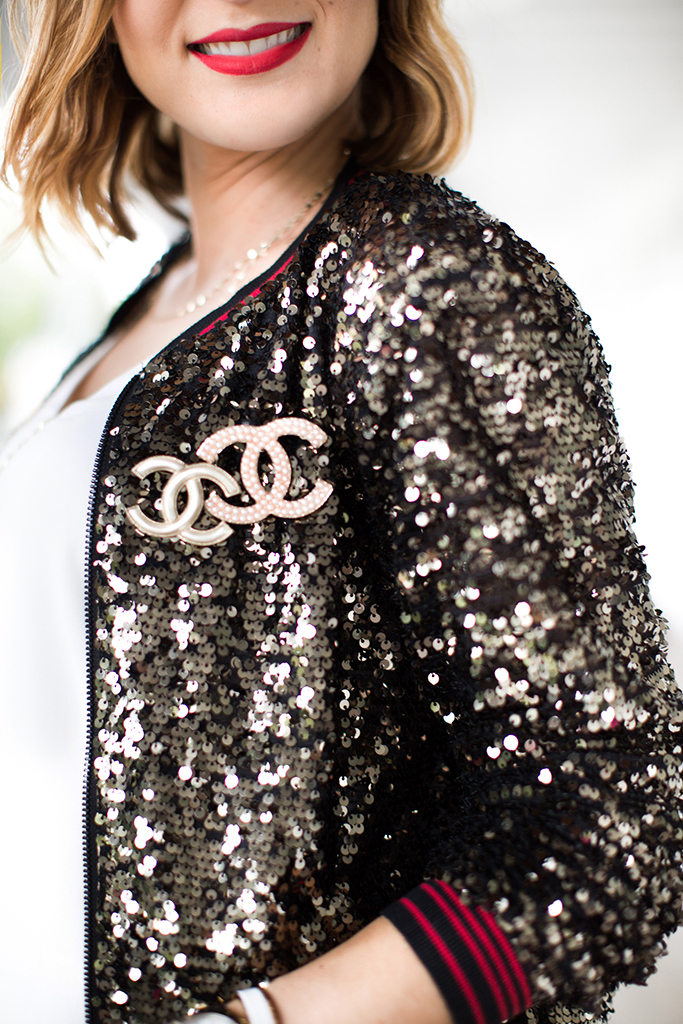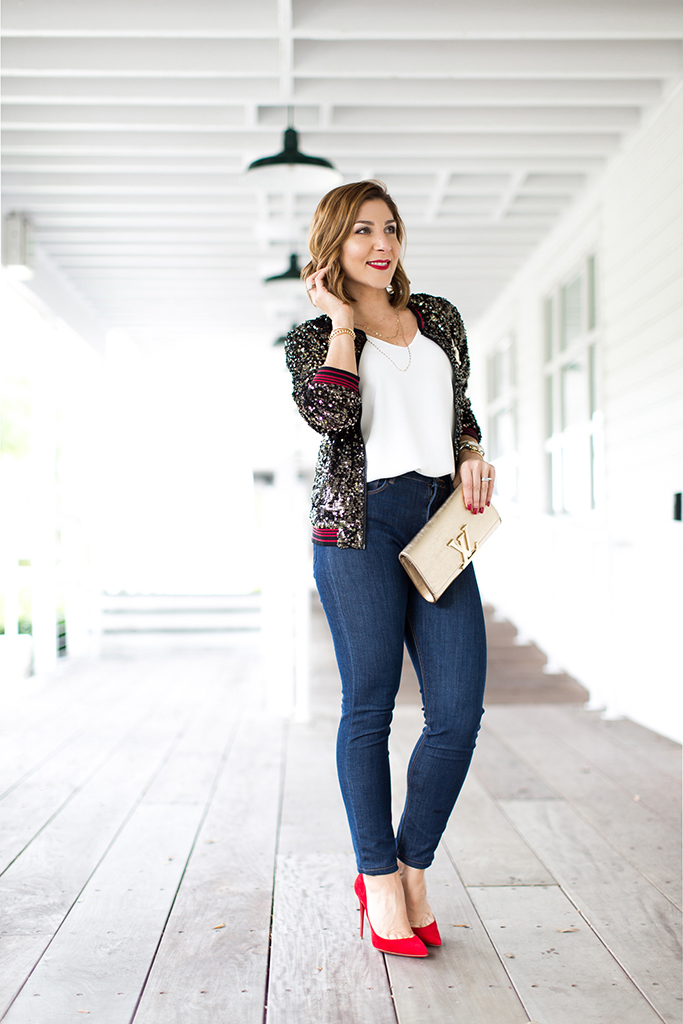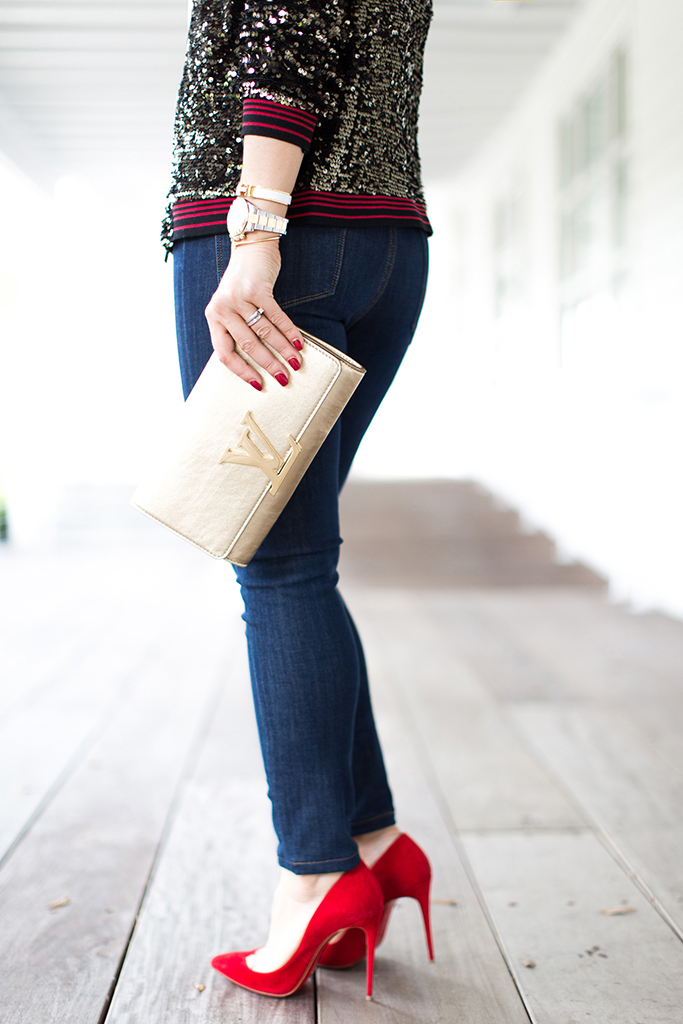 TOP: Nordstrom || JACKET: Lord & Taylor on sale! (similar here and here) || JEANS: Zara (similar here) || HANDBAG: Louis Vuitton (similar option here and affordable option here and here) || NECKLACE: Nordstrom (similar here) || RING: Henri Bendel (similar here and here) || BRACELET: BaubleBar, Cartier (affordable version here under $40), Hermès (affordable option here and here) and Tiffany & Co. (affordable option here) || HEELS: Christian Louboutin (affordable option here) || WATCH: Rolex (affordable option here) || NAIL POLISH: OPI 'Ring the buzzer again' || LIPSTICK: MAC 'D for Danger'
Photography by: Luccia Lowenthal
Happy Wednesday loves!
Because the holiday festivities are far from coming to an end, I made sure to curate a few looks before leaving on my trip for what is one of the most epic parties of the year; the awaited New Year's Eve bash. Now I must warn you that there's a repeated theme in all (sparkles anyone?).
Do you ever wish to wear jeans to a party because you want to feel comfy? Well this look is right up your alley! Even though jeans are the epitome and key piece in a casual attire, it doesn't mean you can't dress it up (I do it ALL.THE.TIME!). But for New Year's, we surely need to ramp up the fab dial with sequins. So ladies, go right ahead and strut your way into that party because you will definitely look fancy without the pressure of having to wear a dress.
PS: Here is a little update of our trip… Today we are going to visit Corcovado Mountain. This mountain's most recognizable feature is one of the New Seven Wonders of the World, Christ the Redeemer. Don't forget to check my Instagram Stories for behind-the-scenes.

CHAQUETA DE LENTEJUELAS + JEANS
¡Feliz miércoles mis amores!
Debido a que las festividades de este mes están lejos de llegar a su fin, me aseguré de crear algunos looks antes de viajar para lo que es una de las fiestas más esperadas del año, la celebración de Año Nuevo. Debo advertirles que todos estos outfits tienen algo en común; ¿sera que todos brillan de alguna manera u otra? Posiblemente sí, así que manténganse atentas.
¿Alguna vez ha deseado usar jeans a una fiesta porque quiere sentirse cómoda? ¡Bueno, este look es justo para ti! A pesar que los jeans es la pieza clave en un atuendo casual, esto no significa que no se puede vestir con algo más elegante (yo SIEMPRE lo hago). Pero para el Año Nuevo, indudablemente necesitamos aumentar la elegancia con lentejuelas. Así que damas, diríjanse a esa fiesta con sus jeans favoritos porque definitivamente lucirá elegante sin la presión de tener que usar un vestido.
PD: aquí les tengo unas noticias de nuestro viaje… Hoy vamos a visitar la Montaña del Corcovado. La característica más reconocible de esta montaña es una de las Nuevas Siete Maravillas del Mundo, el Cristo Redentor. No se olvide de revisar mis Historias de Instagram para saber más.