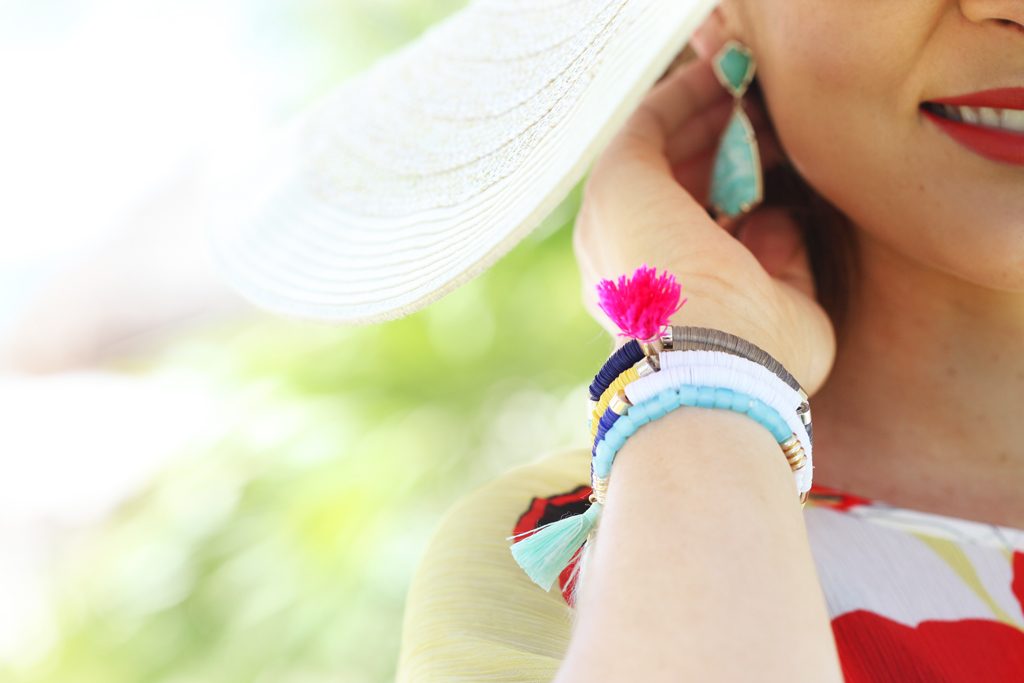 SWIMSUIT: Nordstrom (similar #1, similar #2) | SARONG: Shopbop (similar #1, similar #2, similar #3) | HANDBAG: Saks Fifth Avenue OFF 5TH (on sale under $30!) | BRACELET: Baublebar 'Paleo Set' | EARRINGS: Kendra Scott 'Carey' via Rocksbox (use code blameitonmeixoxo to get your first month free!) | SUNGLASSES: Louis Vuitton 'Amber' (similar, similar #2, similar #3) | HAT: Nordstrom (similar #1, similar #2) | NAIL POLISH: Essie 'Fiesta' | LIPSTICK: MAC 'So Chaud'
[one_half]
As my tropical vacation was coming to an end, I couldn't help but to think about my life without the unlimited luxuries of Secrets Maroma. Such small things like, made-to-order omelets with the freshest ingredients at breakfast (and don't get me started with the vegan pancakes, oh my! who knew they would taste this awesome), the poolside fruits as snacks, the delicious (and non-stop) cocktails with top-shelf spirits, the delectable gourmet meals of several international cuisines, the spectacular nightly shows that are as close to Las Vegas's as it can get, the outdoor hydrotherapy area at the world-class spa, the sugar-like sand, and being able to lounge in the hanging daybeds with the most beautiful turquoise ocean view are a few of what I will miss from my visit to this resort! I truly spent the most relaxing days I've experienced in quite some time.
As for my beach look, I am totally loving one-piece swimsuits, can't you tell? Especially the crocheted construction of this one, its plunging neckline and chic open back. Check out the other beauties I wore here and here. And for the record, I did pack a few bikinis but they just didn't make the cut (compared to these cuties). To spice things up I added this vibrant cover up and my new Kendra Scott earrings from this month's Rocksbox. Do you know about Rocksbox? For $19 a month you'll receive a set of 3 designer jewelry pieces on loan worth on average over $200. You borrow 3 pieces at a time, and swap your set anytime you want. These aren't just any pieces, they are specifically picked for you depending on your style questionnaire. Use code blameitonmeixoxo to get your first month free!
PS. Other things I love about this resort is that is adults-only, its complimentary wi-fi, the free calls to US, Canada & Mexico, and no need to wear wristbands to enjoy the unlimited luxuries.
*This post was in no way sponsored by Secrets Maroma Beach Riviera Maya nor by its parent company AMResorts. This is truly a resort I love, thus all opinions expressed are honest and my own.*


[/one_half][one_half_last]
Cuando mi vacaciones tropicales estaban llegando a su final, no pude evitar pensar en mi vida sin los lujos ilimitados de Secrets Maroma. Cosas como los omelets hechos al momento y con los ingredientes más frescos en el desayuno (y no me hagan hablar con los panqueques veganos ¡que delicia!), las frutas más sabrosos junto a la piscina, deliciosos cócteles con licores premium, sabrosas comidas gourmet, espectaculares shows nocturnos que se parecen tal como los de Las Vegas, área de hidroterapia al aire libre en el spa, la arena más fina que azúcar y estas camas con la vista al más bello mar color turquesa son algunas cosas que ¡más extrañaré! Estos fueron verdaderamente los días más relajantes que he pasado en los últimos años.
En cuanto a mi look playero, estoy totalmente enamorada de trajes de baño de una sola pieza, ¿ya lo han notado? Especialmente con su construcción elegante de crochet, escote y espalda descubierta. Echen un vistazo a mis otras bellezas aquí y aquí. Y que conste, que si empaqué unos bikinis, pero simplemente no tenían comparación a mi nueva obsesión. Para añadir color a mi look añadí este pareo y mis nuevos pendientes Kendra Scott de este mes de Rocksbox ¿Sabe acerca de Rocksbox? Por $19 al mes, recibirá un conjunto de 3 piezas de diseñador que de promedio tienen un costo de $200. Pueden usar las piezas por el transcurso de un mes, y cambiarlas por otras 3 más en el momento deseado. No son cualquier piezas de joyería, son escogidas específicamente para usted dependiendo de su estilo. Utilice el código blameitonmeixoxo para obtener ¡su primer mes gratis!
Nota. Otras cosas que me encantan de este resort son, llamadas gratis a USA, Canadá y México, su Wi-Fi es por cortesía a través de todo el resort y no hay necesidad de llevar pulseras dentro del resort para disponer de su 'unlimited luxury'.
* Este post no fue de ninguna manera patrocinado por Secrets Maroma Beach Riviera Maya ni por su empresa AMResorts empresa matriz. Este es realmente un resort que me encanta, y por lo tanto, todas las opiniones expresadas son honestas y propias.*
[/one_half_last]