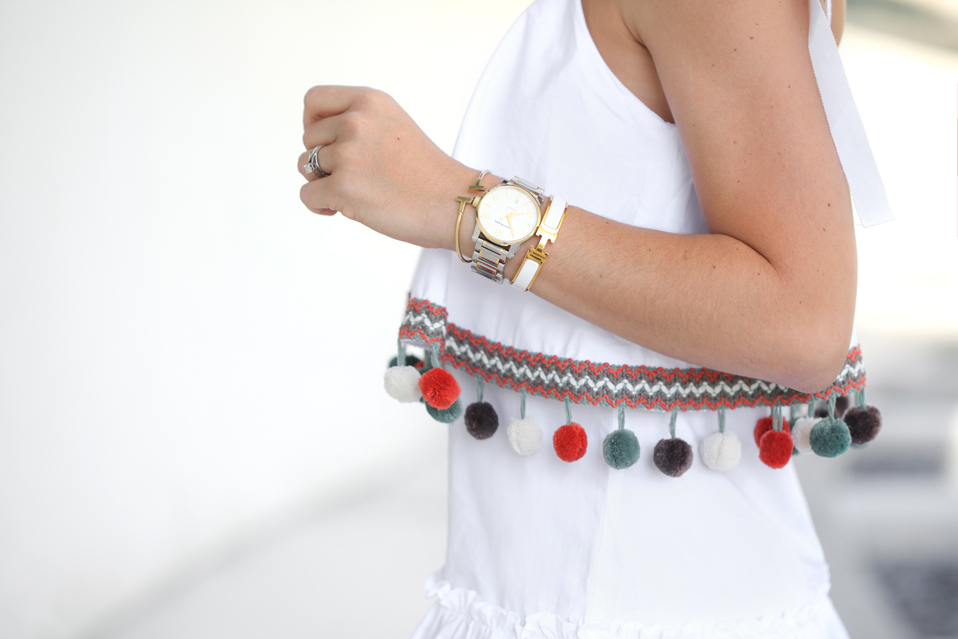 This adorable pom-pom dress is the perfect statement piece when you're out on the town during your next tropical vacation.


DRESS: Shopbop (similar here, here and longer version here)   ||   RING: BaubleBar (here and here)  ||  BRACELETS: c/o Taudrey, Hèrmes (affordable option here) and Tiffany & Co. (affordable option here)   ||   HANDBAG: Givenchy  (affordable option here less than $35!) ||   SANDALS: Sam Edelman (on sale! if previous sold our, also available here)   ||  SUNGLASSES: Louis Vuitton (affordable option here for less than $20)  ||   WATCH: Montblanc (affordable option here) ||   LIPSTICK: MAC – So Chaud
[one_half]
It's almost Friday loves! And although the calendar says its officially Autumn, Miami's weather completely disagrees. Actually, it won't be until late December or early January that we will be able to sport cozy knits and chunky scarfs, so in the meantime, I will be wearing dresses and other similar pieces like this until then. Now, I am sure you've noticed that I am wearing white. Well, I am one of those gals that does not believe in the #WhiteAfterLaborDay stigma. I love white, and will continue to wear it indefinitely. If you, however, don't feel the same way, that's fine, because I am sure that if you live in colder climates you are probably planning a little holiday in a warmer destination. If so, this is the dress for you. I can picture this pom-pom cutie in Greece, Riviera Maya or even in Miami 🙂
And because this piece is no longer available, I searched high and low to find similar options for yah! And you can find those all above. Happy shopping!
[/one_half][one_half_last]
¡Es casi viernes mis amores! Bueno, aunque el calendario indica que es oficialmente otoño, el clima de Miami no está de acuerdo. En realidad, no será hasta finales de diciembre o principios de enero que podremos usar suéteres y bufandas, así que mientras tanto, estaré usando vestidos y piezas similares como esta hasta entonces. Estoy segura de que han notado que estoy vistiendo blanco. Y se no sabían, no soy una de esas chicas que creen en el estigma de no vestir blanco en otoño. Me encanta el blanco, y seguiré vistiéndolo indefinidamente. Sin embargo, si ustedes no comparten mi opinión (cual está bien, todas no podemos pensar igual), y viven en climas más fríos, es probable que estén planeando unas vacaciones en un destino más cálido. Si es así, este es el vestido para ti. Puedo imaginar esta divertida belleza de pompones en Grecia, o Riviera Maya, incluso en Miami 🙂
Y porque esta pieza ya no está disponible, he encontrado muchas opciones similares, porque de seguro me preguntaran (arriba pueden encontrarlas). ¡Felices compras![/one_half_last]