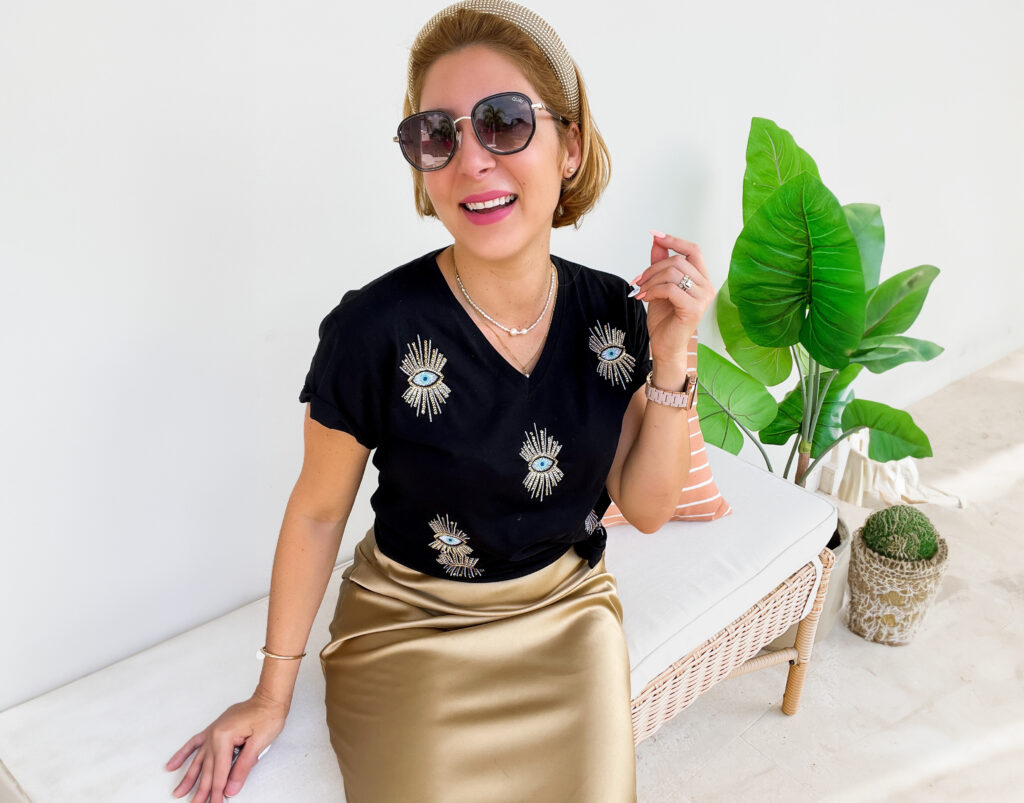 Hey there, my fellow trendsetters! It's your friendly neighborhood blogger back at it again with the hottest trend of the moment – the evil eye! 🔮👁️
If you haven't noticed, the evil eye has been making a major comeback in the fashion world. This ancient symbol, believed to ward off negative energy and protect against bad vibes, is now the must-have accessory of the season. So, let's dive into some of the most fabulous and trending evil eye products that you need to get your hands on ASAP
¡Hola, a todas mis las amantes de la moda! Aquí está su amigable bloguero local de nuevo con la tendencia más candente del momento: ¡el ojo turco! 🔮👁️
Si no lo han notado, el ojo turco ha vuelto con fuerza al mundo de la moda. Este antiguo símbolo, que se cree que aleja las energías negativas y protege contra las malas vibras, es ahora el accesorio imprescindible de la temporada. Así que sumerjámonos en algunos de los productos de ojo turco más fabulosos y de moda que necesitan tener en sus manos lo antes posible.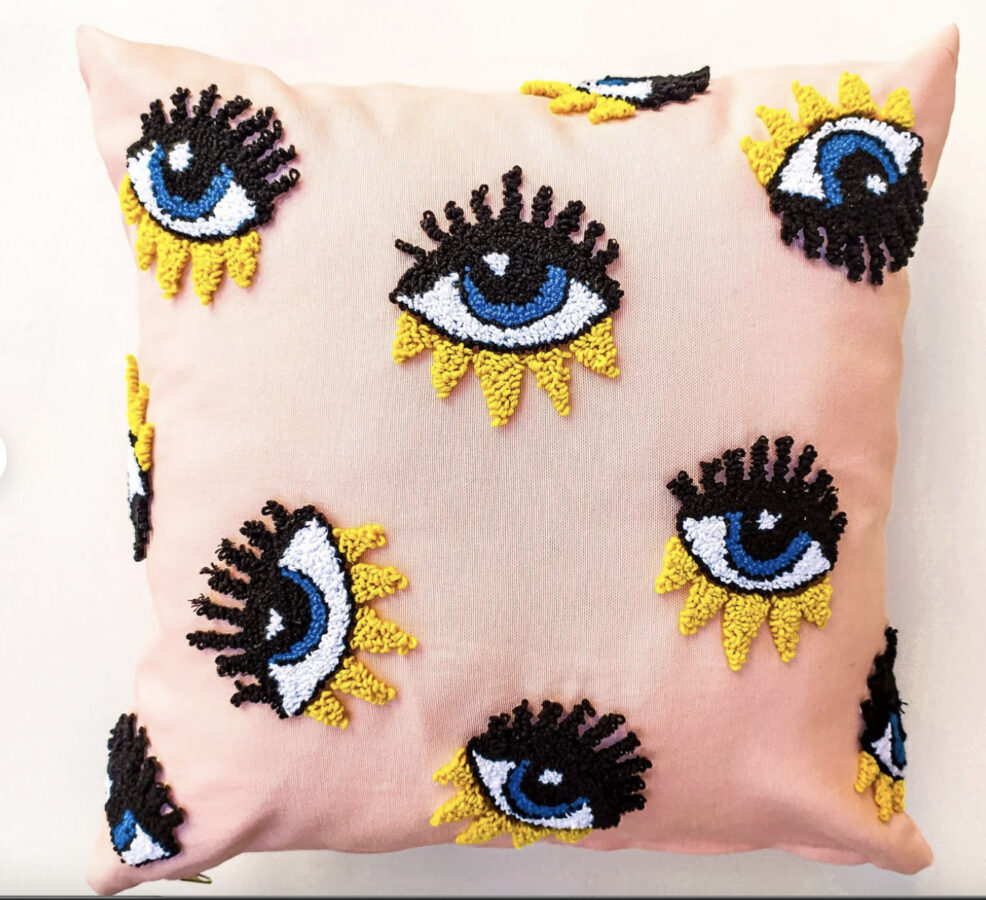 Handmade Pillow Cover with Punch Needle Detail
First up, we have this stunning handmade pillow cover featuring intricate punch needle details. It's the perfect addition to your home decor, adding a touch of mystique and style to any space.
👗Funda de Almohadón Hecha a Mano con Detalles Bordados
En primer lugar, tenemos esta impresionante funda de almohadón hecha a mano con intrincados detalles bordados. Es la adición perfecta para la decoración de su hogar, agregando un toque de misticismo y estilo a cualquier espacio.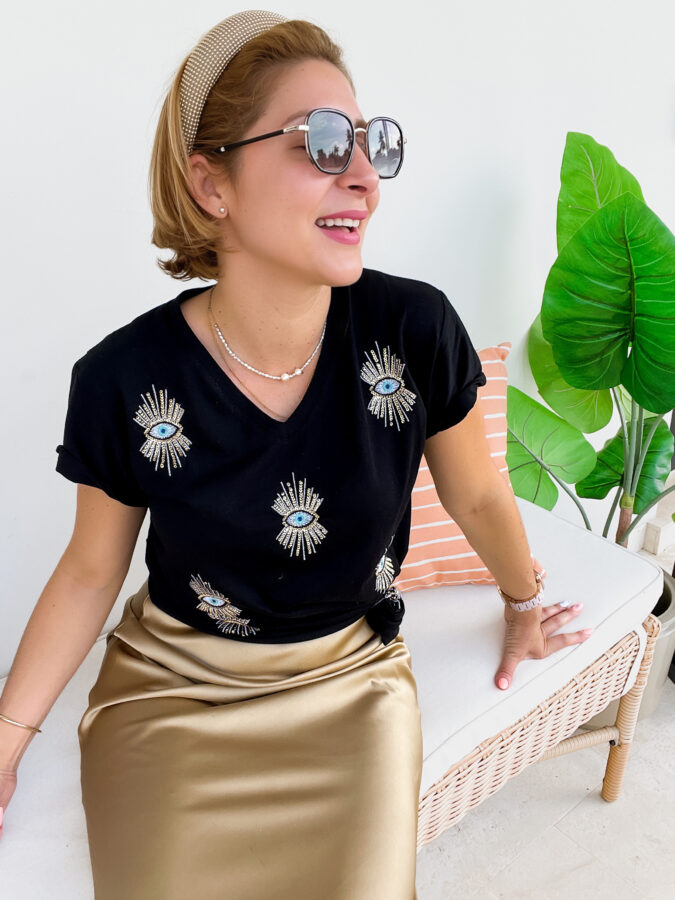 Embroidered Evil Eye T-Shirt made of Cotton
Who says you can't be stylish and comfortable at the same time? This cotton t-shirt with beautifully embroidered evil eye design is not only trendy but also super comfy for your everyday adventures.
Camiseta Bordada de Ojo Turco hecha de Algodón
¿Quién dice que no puedes estar a la moda y cómodo al mismo tiempo? Esta camiseta de algodón con un hermoso diseño de ojo turco bordado no solo es trendy sino también súper cómoda para sus aventuras cotidianas.
Are we friends on Instagram yet?
¿Ya somos amigas en Instagram?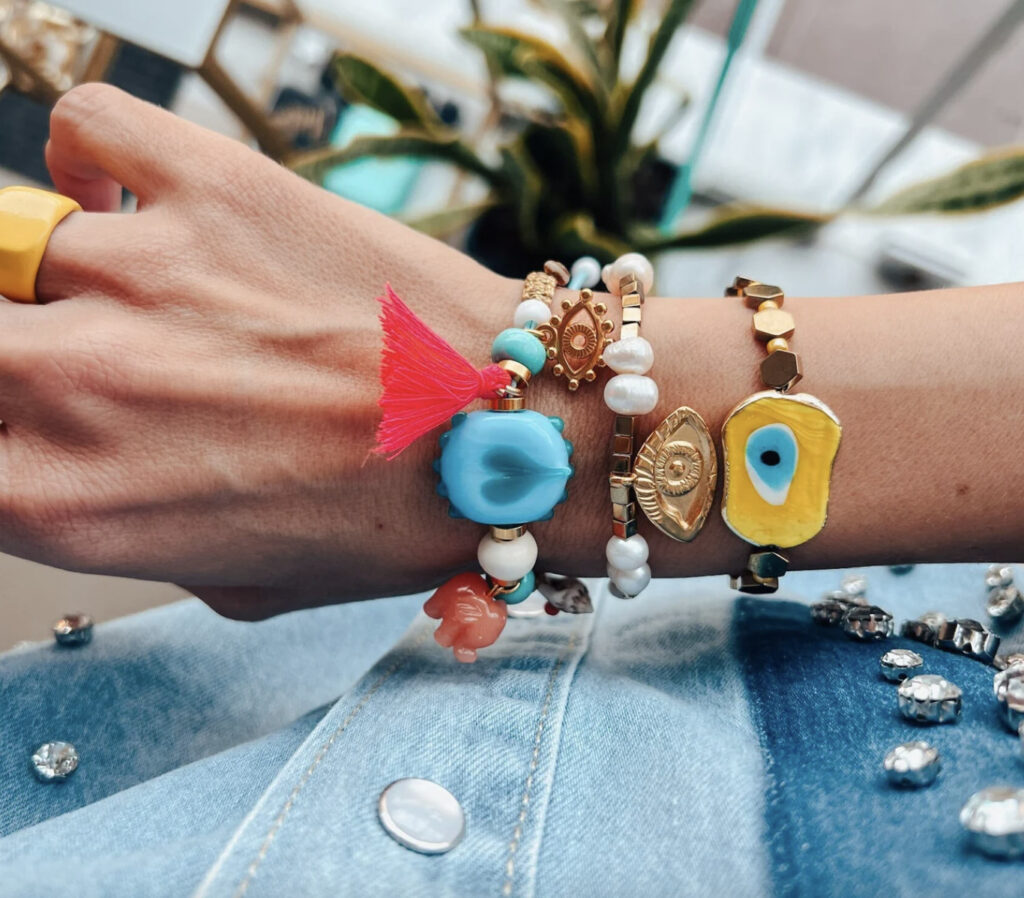 Evil Eye Summer Bracelets Combination
Stack 'em up and show off your summer vibes with these evil eye bracelets. Whether you're hitting the beach or just chilling with friends, these accessories will keep you looking cool.
Combinación de Pulseras de Verano de Ojo Turco
Apílalas y muestra tus vibras veraniegas con estas pulseras de ojo turco. Ya sea que vayas a la playa o simplemente te relajes con amigos, estos accesorios te mantendrán luciendo genial.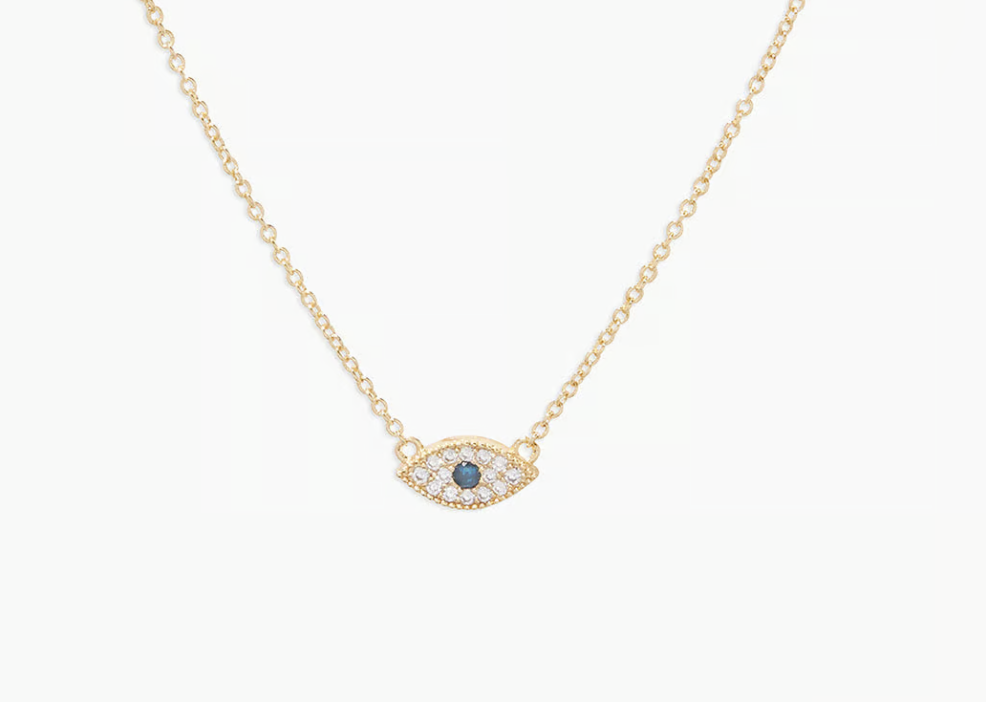 Gold Plated Necklace with Sparkling Evil Eye Pendant
Elevate your jewelry game with this gold-plated necklace featuring a dazzling evil eye pendant. It's the perfect statement piece for any outfit and will have heads turning wherever you go.
Collar Chapado en Oro con Colgante de Ojo Turco Brillante
 Eleva tu juego de joyería con este collar chapado en oro con un deslumbrante colgante de ojo turco. Es la pieza perfecta para cualquier atuendo y hará que las cabezas se giren donde quiera que vayas.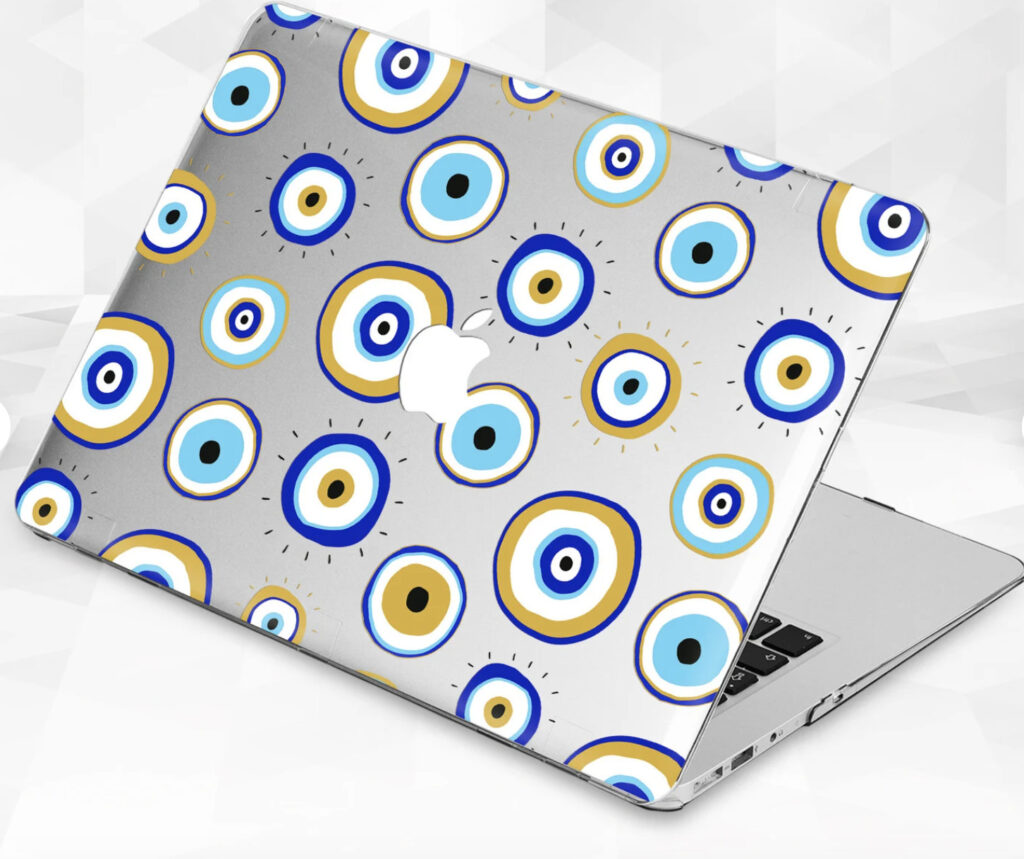 Evil Eye MacBook Case
Protect your laptop in style with this evil eye MacBook case. It's not only functional but also a fashion statement that'll make you the envy of your tech-savvy friends.
Funda de MacBook de Ojo Turco
Protege tu portátil con estilo con esta funda de MacBook de ojo turco. No solo es funcional, sino también una declaración de moda que te hará la envidia de tus amigos conocedores de la tecnología.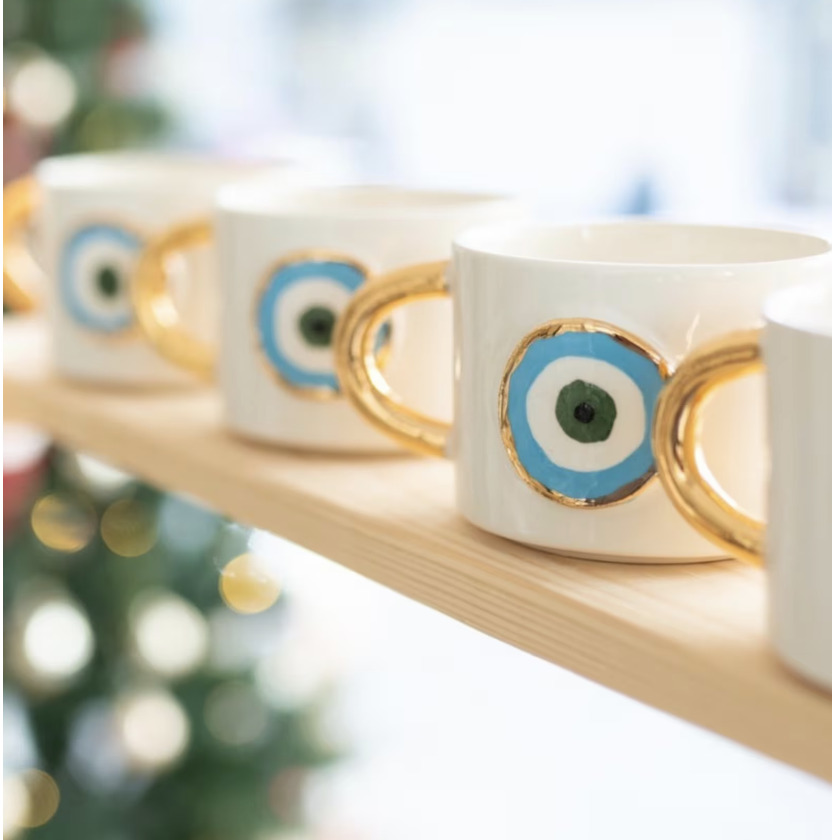 Handmade Evil Eye Gold Plated Ceramic Mug
Start your day with good vibes by sipping your morning brew from this handmade ceramic mug. The gold-plated evil eye adds a touch of luxury to your coffee routine.
Taza de Cerámica Chapada en Oro de Ojo Turco Hecha a Mano
Comienza tu día con buenas vibras tomando tu café matutino en esta taza de cerámica hecha a mano. El ojo turco chapado en oro agrega un toque de lujo a tu rutina de café.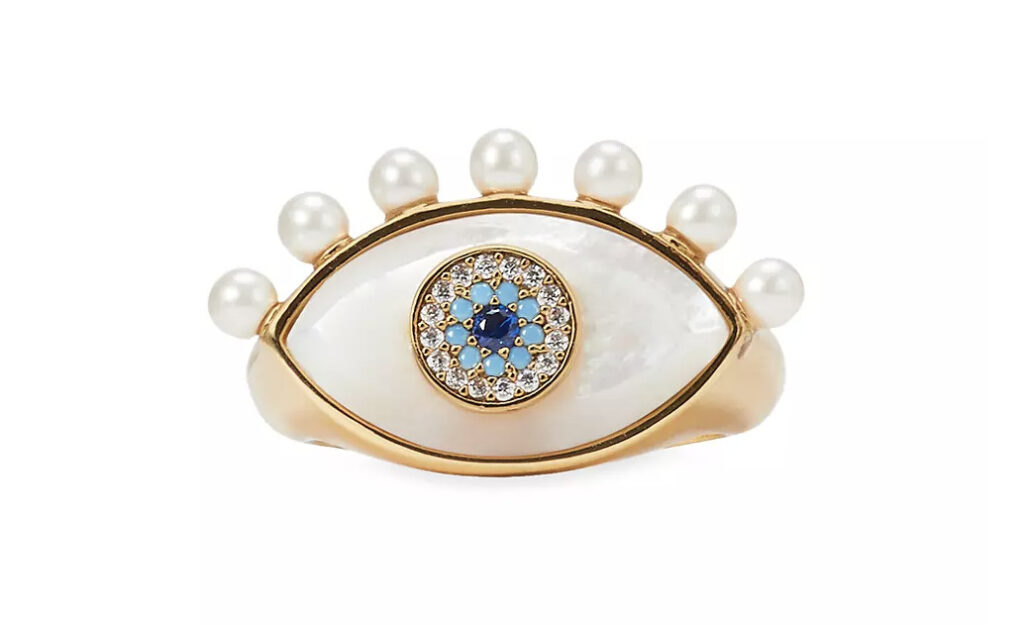 Kate Spade Evil Eye Mother-Of-Pearl Ring
Finally, for those special occasions, we have the Kate Spade Evil Eye Mother-Of-Pearl ring. It's elegant, sophisticated, and sure to make you the center of attention at any event.
Anillo de Madreperla de Ojo Turco de Kate Spade
Finalmente, para esas ocasiones especiales, tenemos el anillo de madreperla de ojo turco de Kate Spade. Es elegante, sofisticado y seguro que te convertirá en el centro de atención en cualquier evento.
In conclusion
The best thing about these evil eye products is that they not only look fabulous but also carry a meaningful symbol with them. It's like wearing a shield of positivity and protection wherever you go. Plus, they make for fantastic gifts for your loved ones who could use a little extra good luck in their lives.
So, there you have it, folks – the trendiest evil eye products of the moment. Whether you're looking to spruce up your home decor, level up your fashion game, or just add a little extra sparkle to your life, these items have got you covered. Don't wait too long because these trendsetters are flying off the shelves. Embrace the power of the evil eye and stay stylish, positive, and protected! 🌟😎👁️
En conclusion
Lo mejor de estos productos de ojo turco es que no solo lucen fabulosos, sino que también llevan consigo un símbolo significativo. Es como llevar un escudo de positividad y protección a donde quiera que vayas. Además, son regalos fantásticos para sus seres queridos que podrían necesitar un poco de buena suerte en sus vidas.
Entonces, ahí lo tienen, amigos, los productos de ojo turco más de moda del momento. Ya sea que estén buscando darle un toque especial a la decoración de su hogar, elevar su estilo de moda o simplemente agregar un poco de brillo extra a sus vidas, estos artículos tienen todo lo que necesitan. No esperen mucho, porque estos productos están volando de las estanterías. ¡Aprovechen el poder del ojo turco y manténganse con estilo, positivos y protegidos! 🌟😎👁️