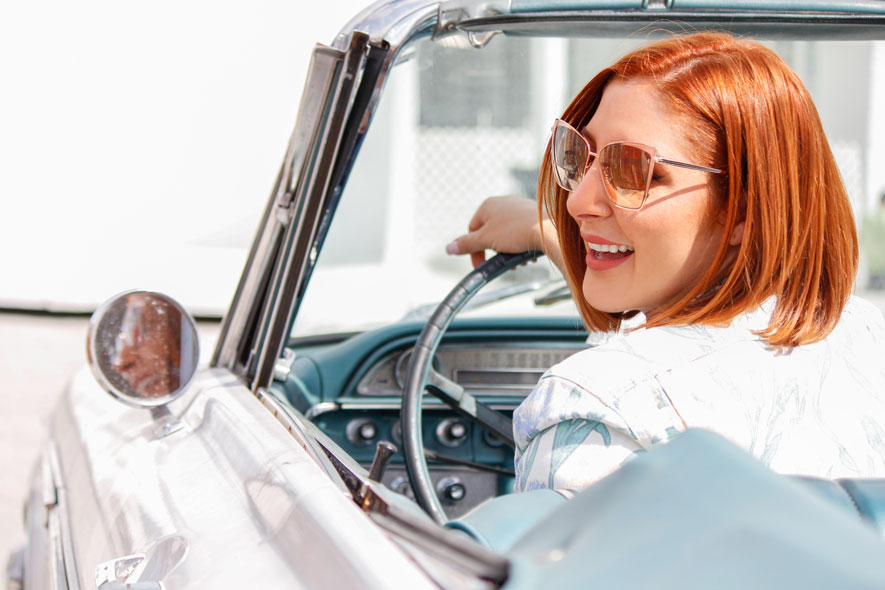 Let's get ready for spring by updating our wardrobe and our locks without breaking the bank. Get spring hair ready with Hair Cuttery


[one_half]
The flowers are blooming, the weather is calling for off-the-shoulder tops and your hair is screaming for a little update. Here is something to consider… if your wardrobe gets a facelift for Spring, why shouldn't your locks? I am not talking about some radical change. Spicing up your hair can be as simple as trimming it a bit or adding a few lowlights. It can even be changing how you style it. And by the way, it doesn't need to cost you a lot to get it ready for the new season.
Need any ideas on how to actually do this? Well, you came to the right place, because today I am sharing three spring looks that not only pair beautifully with my new hair color thanks to my friends at Hair Cuttery, but it shows how styling it differently can unquestionably elevate your entire outfit.
[/one_half][one_half_last]
Las flores están floreciendo, el clima exige tops de hombros al descubierto y tu cabello está gritando por un pequeño cambio. Consideremos algo juntas… si ustedes cambian las piezas en sus guardarropas para la primavera, ¿por qué no debería suceder lo mismo con sus cabellos? No estoy hablando de un cambio radical. Cambiar el cabello puede ser tan simple como cortarlo un tín, o agregar algunas iluminaciones. Incluso, pueden peinarlo de diferente manera. Y, por cierto, no es necesario que cueste mucho para estar lista para la nueva temporada.
¿Necesitan alguna idea de cómo hacer esto? Bueno, vinieron al lugar correcto, porque hoy estoy compartiendo tres looks de primavera que no solo combinan a la perfección con mi nuevo color de cabello gracias a mis amigos de Hair Cuttery, sino que muestran cómo peinarlo de diferente forma puede elevar sin duda tu atuendo.
[/one_half_last]
Sleek & Edgy
Elegante y moderna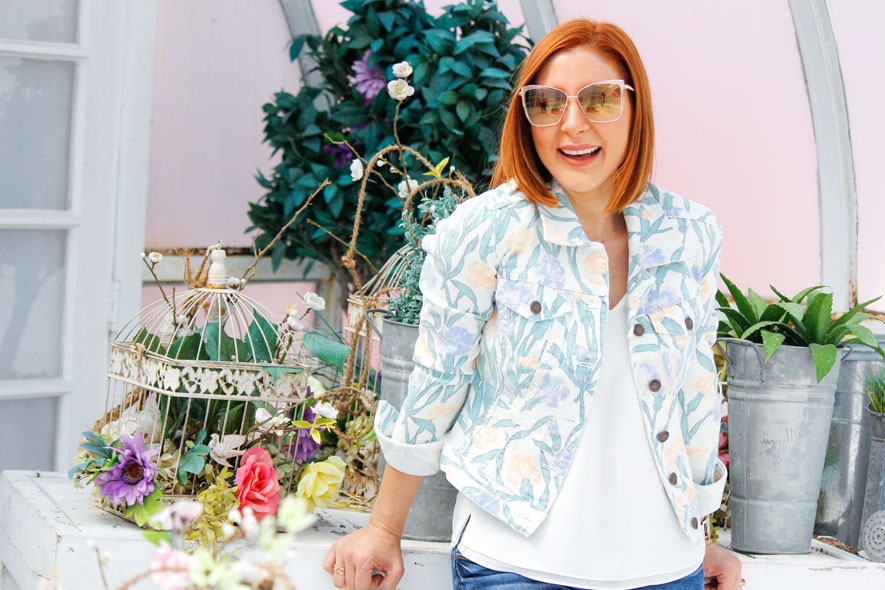 [one_half]
I love denim jackets! I may or may not have four [or five] in my closet. And to be honest, I don't think they get the credit they deserve. This is truly a wardrobe staple that is versatile, functional and timeless. And, when I saw this specific one a few seasons ago, I had to have it. So, who says floral denim jackets can't be edgy? The straight do and cat-eye mirrored sunnies complete the look and add that extra oomph. Wouldn't you agree? You can easily transition the outfit for a date night by replacing the jeans for a midi skirt like this one or this one.
[/one_half][one_half_last]
¡Me encantan las chaquetas de mezclilla! Es muy posible que tenga cuatro [o cinco] en mi armario. Y para ser honesta, no creo que esta pieza recibe el crédito que merece. Esta es verdaderamente una pieza clave en tu guardarropa que es versátil, funcional y atemporal. Por lo tanto, cuando vi esta hace unas temporadas, tenía que tenerla. ¿Quién dice que las chaquetas de mezclilla con flores no lucen sofisticadas? Bueno, los lentes de sol y el peinado extra liso claramente ayuda y agrega el toque final al look. ¿No están de acuerdo? Pueden cambiar fácilmente el outfit para ir a una cita de noche, reemplazando los jeans por una falda midi como esta o esta.
[/one_half_last]
[one_half]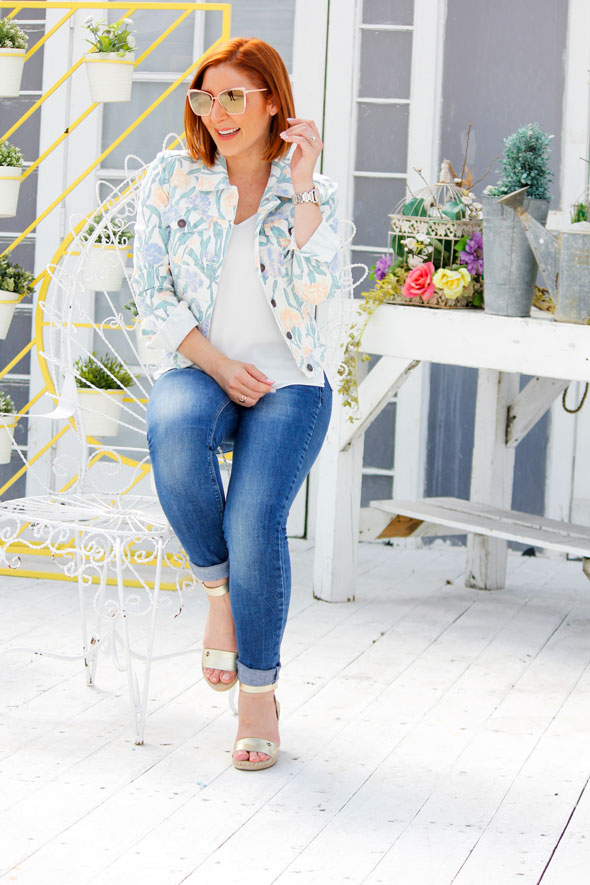 [/one_half][one_half_last]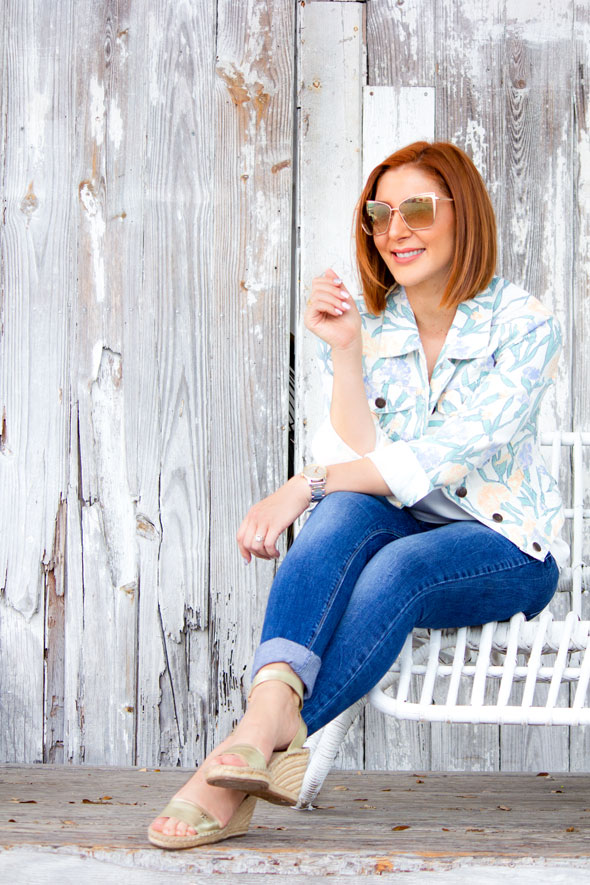 [/one_half_last]
Carefree & Casual
Tranquila y casual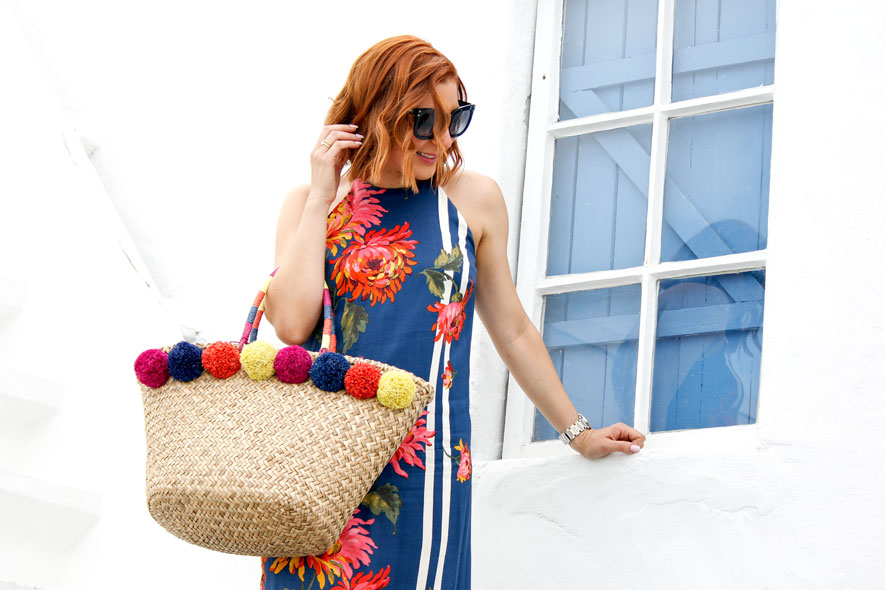 [one_half]
Florals for spring? Groundbreaking, right?! But oh-so perfect for a day of strolling around the city or out shopping with the family. The loose waves add the carefree sensation to this ensemble, as well as the sandals, which have been to Europe and back. Metallic sandals are my go-to when I am in doubt of which color shoes to wear. And for traveling, they are a life saver since you don't need to pack several pairs in order to match your outfits.
[/one_half][one_half_last]
¿Flores para la primavera? no tan innovador, ¡lo se! pero perfectas para un día de paseo por la ciudad o de compras con la familia. Las ondas en el cabello agregan la sensación casual a este conjunto, así como las sandalias, que han ido hasta Europa. Las sandalias metálicas son mi opción preferida cuando tengo dudas sobre qué calzado me pongo. Y para viajar, son maravillas, ya que no necesitas empacar varios pares para combinar con varios outfits.[/one_half_last]
[one_half]
[/one_half][one_half_last]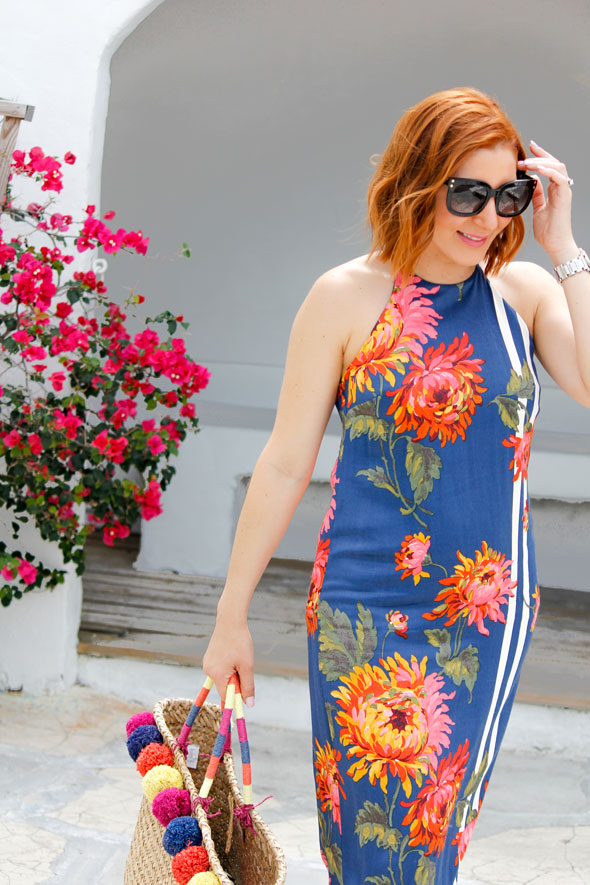 [/one_half_last]
Effortless & Chic
Natural y chic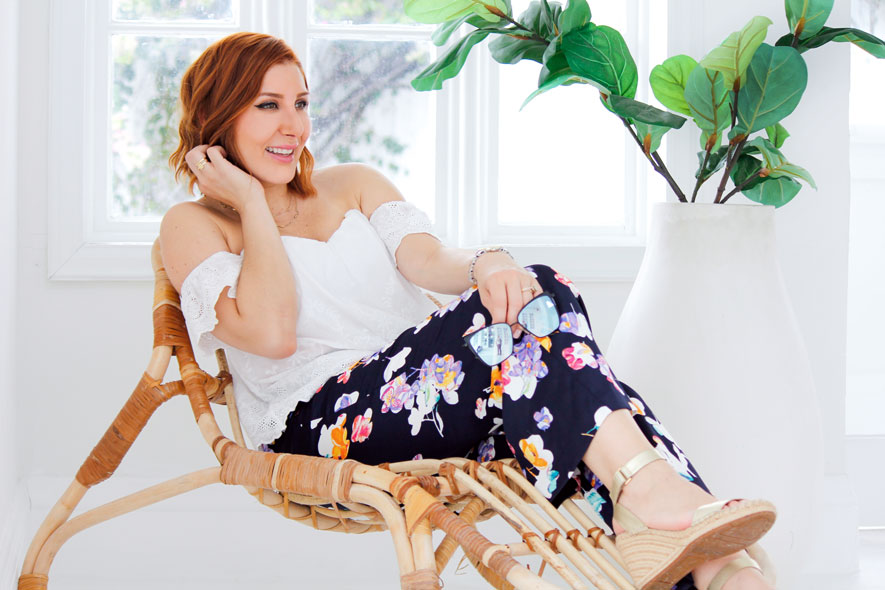 [one_half]
Who doesn't love going out to brunch? And more so, when the weather is as perfect as it is during Spring. Who's with me?! Naturally, this weekend occasion calls for a comfy look. And there is nothing more flattering [and comfortable] than an off-the-shoulder top paired with wide-leg floral pants. If florals aren't for you, try a pattern that is not so heavy or bright. As far as hair, well, this relaxed wave is fast and easy to accomplish and the perfect accessory to finish off your brunch look.
[/one_half][one_half_last]
¿A quién no le agrada ir de brunch? Y más aún, cuando el clima es tan perfecto como lo es durante la primavera. ¡¿Quien está de acuerdo?! Naturalmente, esta ocasión de fin de semana requiere un look cómodo. Y no hay nada más favorecedor [y cómodo] que un top con hombros al descubiertos combinado con pantalones anchos de flores. Si el estampado de flores no es para ti, trata algo que no sea tan intenso ni colorido. En cuanto al cabello, bueno, estas semi-ondas son rápidas y fáciles de crear y el accesorio perfecto para finalizar tu look de brunch.
[/one_half_last]
[one_half]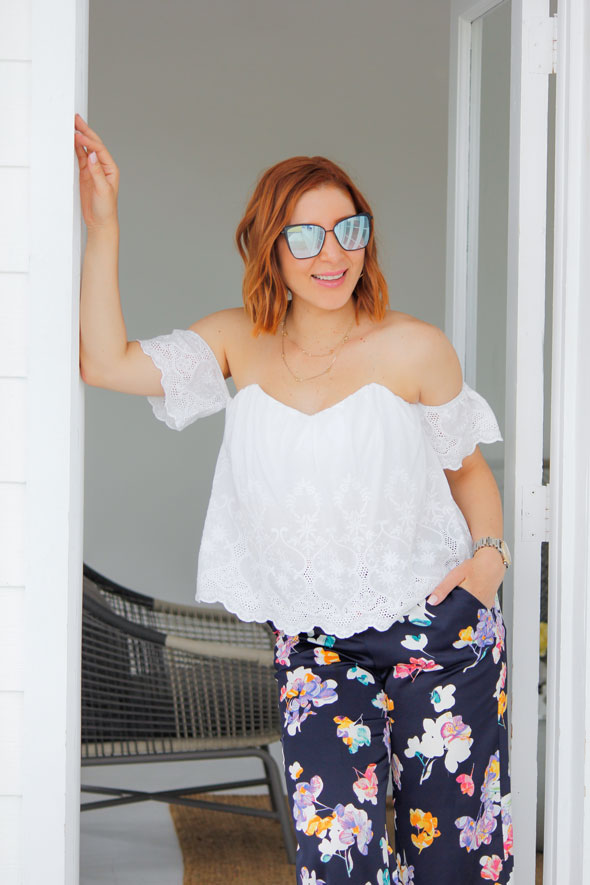 [/one_half][one_half_last]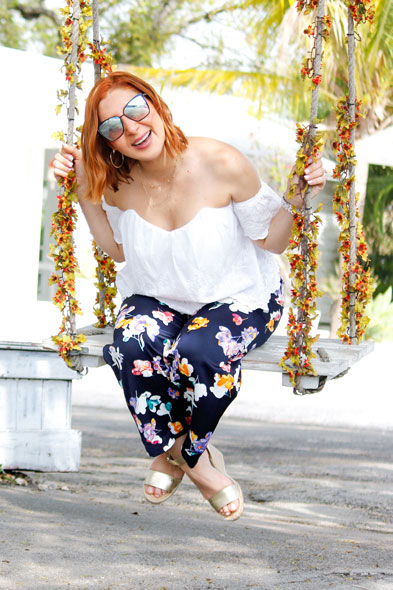 [/one_half_last]
[one_half]
Hope you ladies enjoyed these three looks that not only are spring worthy but, demonstrate how changing up your hair can take your entire outfit up a notch [without breaking the bank].
This is a sponsored conversation written by me on behalf Hair Cuttery. All the opinions expressed are, as always, honest and my own. Thanks for supporting the brands that make this blog possible.
[/one_half][one_half_last]
Espero que hayan disfrutado de estos tres looks que no solo son dignos de la primavera, sino que también demuestran cómo cambiar su cabello [sin gastar millones] puede hacer que todo su atuendo luzca mucho mejor.
Esta es una conversación escrita por mí y patrocinada por Hair Cuttery. Todas las opiniones expresadas, como siempre, son honestas y propias. Gracias por apoyar a las marcas que hacen este blog posible.
[/one_half_last]