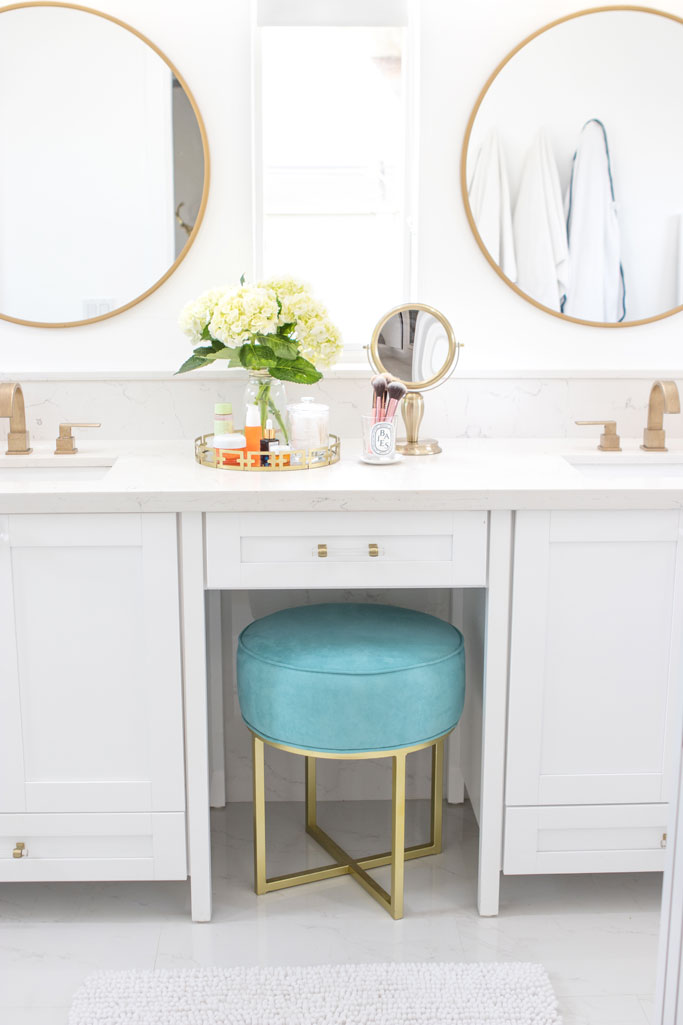 This year is all about the KonMari Method, thus today I am sharing five steps to help you organize your bathroom easily and pleasantly.


Confession time… I've always suffered from OCD (Obsessive Compulsive Disorder) when it comes to keeping things organized. Keeping my home tidy, and even my laptop's files is essential to keeping my daily life as sane as possible. But sometimes I wonder, "am I the only one that gets anxiety when there's a messy room, drawer, or closet?" Well, now with the KonMari method craze, I am not! 🙂
And when interDesign reached out to be one of their ambassadors, well I had a minor breakdown (of excitement) because I have used its products FOR YEARS! If you look at your kitchen drawers, pantry, linen closet or even your laundry, you probably find one of its products.
Es hora de una confesión… siempre he sufrido de TOC (Trastorno Obsesivo Compulsivo) cuando se trata de mantener las cosas organizadas. Mantener mi casa ordenada, e incluso los archivos de mi computadora portátil es esencial para mantener mi vida diaria lo más sana posible. Pero a veces me pregunto, "¿seré la única que siente ansiedad cuando hay una habitación, una gaveta o un armario desordenado?" Bueno, ahora con la locura del método KonMari, ¡no lo soy! 🙂
Y cuando interDesign me pidió que fuera una de sus embajadoras, ¡bueno, tuve un pequeño ataque de emoción porque he usado sus productos POR AÑOS! Si abren sus gavetas en su cocina, su despensa, o incluso hasta en su baño, probablemente encuentren uno de sus productos.
"The objective of cleaning is not just to clean, but to feel
happiness living within that environment." Marie Kondo
"El objetivo de la limpieza no es solo limpiar, sino sentir
la felicidad que se vive en ese entorno". Marie Kondo
STEPS
Take everything out of the cabinets and drawers.
Sort everything by category, such as:

Makeup
Hair care products
Hair tools
Skin care products
Prescription medications
Grooming tools
Towels
Cleaning supplies
Paper goods (like tissues and toilet paper)
Q-tips, cotton pads, etc.
First-aid supplies

Get rid of the items that are expired, you have not used in the last 6 months or are past their shelf-life (here is an informative article from the FDA regarding shelf-life and a great little keep-or-toss guide by Real Simple).
Determine what organizers will work best and where you will place them (keep in mind the items you use often versus those you do not).
Clean area and products you are keeping.
Organize!
PASOS
Sacar todo de los gabinetes y gavetas.
Ordenar todo por categoría, como:

Maquillaje
Productos para el cuidado del cabello
Herramientas para el cabello
Productos para el cuidado de la piel
Medicamentos
Herramientas de aseo
Toallas
Artículos de limpieza
Artículos de papel (como pañuelos y papel higiénico)
Q-tips, almohadillas de algodón, etc.
Productos de primeros auxilios

Deshágase de los artículos que están vencidos, que no hayan usado en los últimos 6 meses o que hayan expirado (aquí hay un artículo de la FDA explicando sobre la vida útil de productos básicos y aquí una guía general de productos con su fecha de expiración).
Determine qué organizadores funcionarán mejor y dónde los colocará (tenga en cuenta los elementos que usan a menudo y los que no).
Limpie el área y los productos que está guardando.
¡A organizar se ha dicho!
MY CABINET

MI GABINETE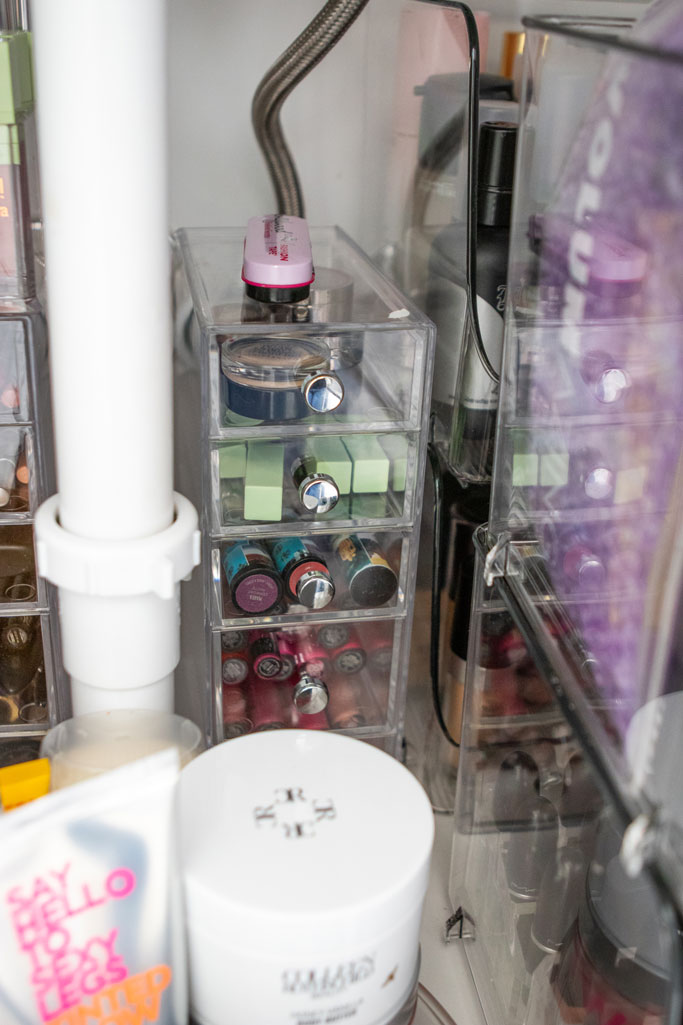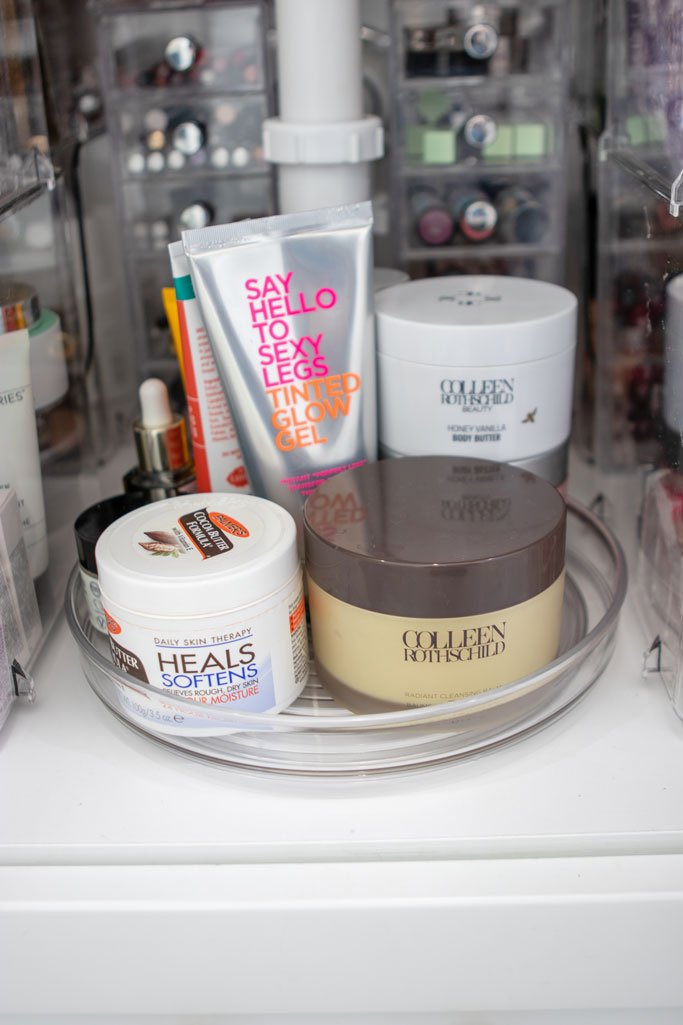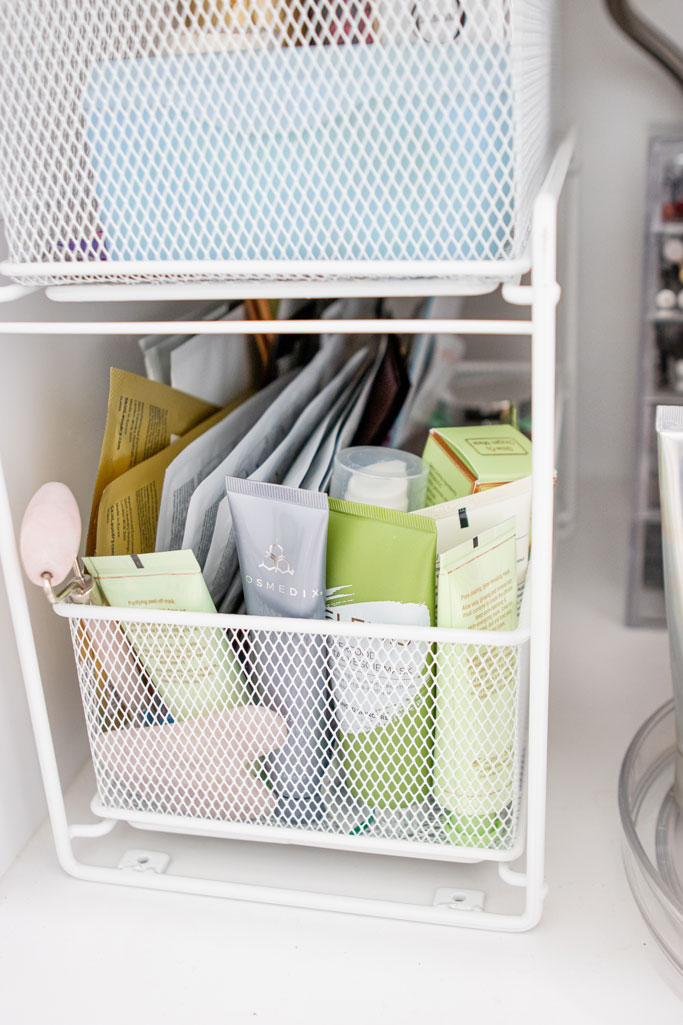 MY CABINET || Main Drawer

MI GABINETE || Gaveta Principal
Two-compartment organizer (used 3 in the back vertically) || Single organizers in small, medium, large (used one of each horizontally)
MY CABINET || Middle Drawer

MI GABINETE || Gaveta (más pequeña) en el medio
Two-compartment organizer (used 2 in the back vertically) || Single organizer
The first project I decided to tackle was our bathroom's cabinet. Even though a lot of it is quite organized (for most people's standards), I felt that it could be improved. I wanted to dispose of things I no longer used (or had expired) and organize/store things in categories.
Here is a little background of my bathroom and who's side belongs to who. In the pictures you can see that we have two cabinets, each with one bottom drawer, and a smaller drawer that connects them. The left cabinet and center drawer are mine; the right side is my husband's and what would be his bottom drawer is baby Julian's. Since we bath him in our bathroom, a lot of his essentials are in that drawer. There is also another small free-standing cabinet that I purchased during my last trip to Home Goods.
So, enough explaining and let's get to the before and after photos, along with 5 steps to help YOU organize your bathroom cabinets easily and pleasantly.
PS: All the products I used are linked in the beginning of this post and below each photo.
El primer proyecto que decidí enfrentar fue el gabinete de nuestro baño. Aunque gran parte de el está bastante organizado (para los estándares de la mayoría de las personas), sentí que podría mejorarlo. Quería deshacerme de cosas que ya no usaba (o expiradas) y organizar cosas en categorías.
A continuación, les comparto un poco de mi baño y a quien le pertenece que. En las imágenes puede ver que tenemos dos gabinetes, cada uno con una gaveta inferior, y una gaveta más pequeña que los conecta. El gabinete izquierdo y gaveta central son míos; el lado derecho es el de mi esposo y lo que sería su gaveta inferior es del bebé. Como lo bañamos en nuestro baño, muchos de los productos esenciales están en esa gaveta. También hay otro pequeño gabinete independiente que compré durante mi último viaje a Home Goods.
Entonces, suficiente explicación y veamos las fotos de antes y después, junto con 5 pasos para que también puedan organizar SUS gabinetes de baño de manera fácil y placentera.
PD: Todos los productos que utilicé están vinculados al principio de este post y debajo de cada foto.
MY HUSBAND'S CABINET

GABINETE DE MI ESPOSO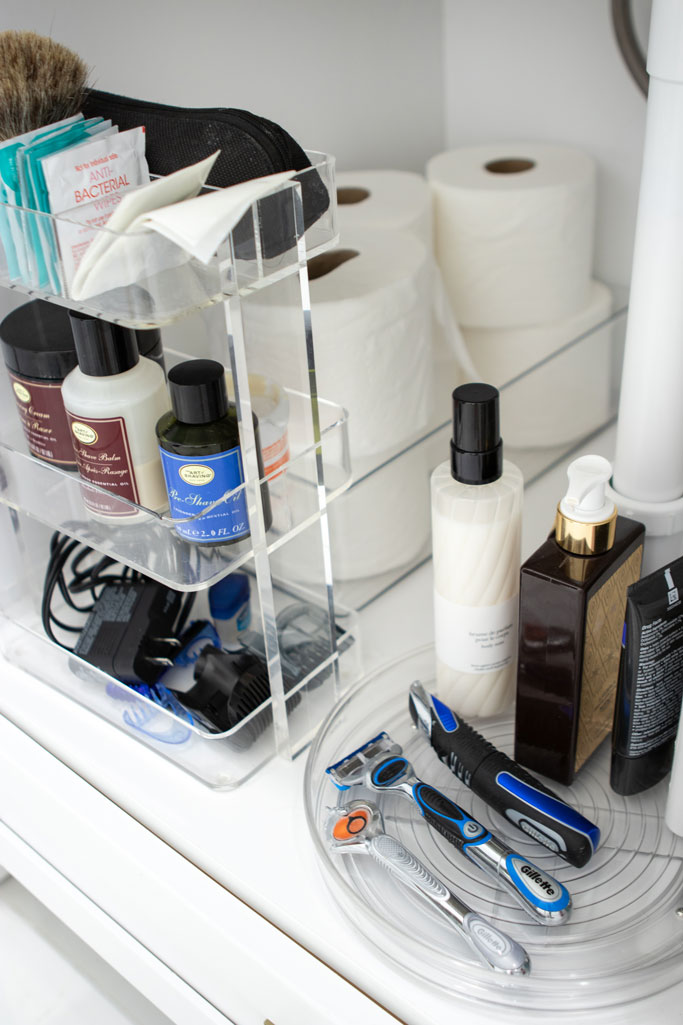 Large bin (toilet paper storage)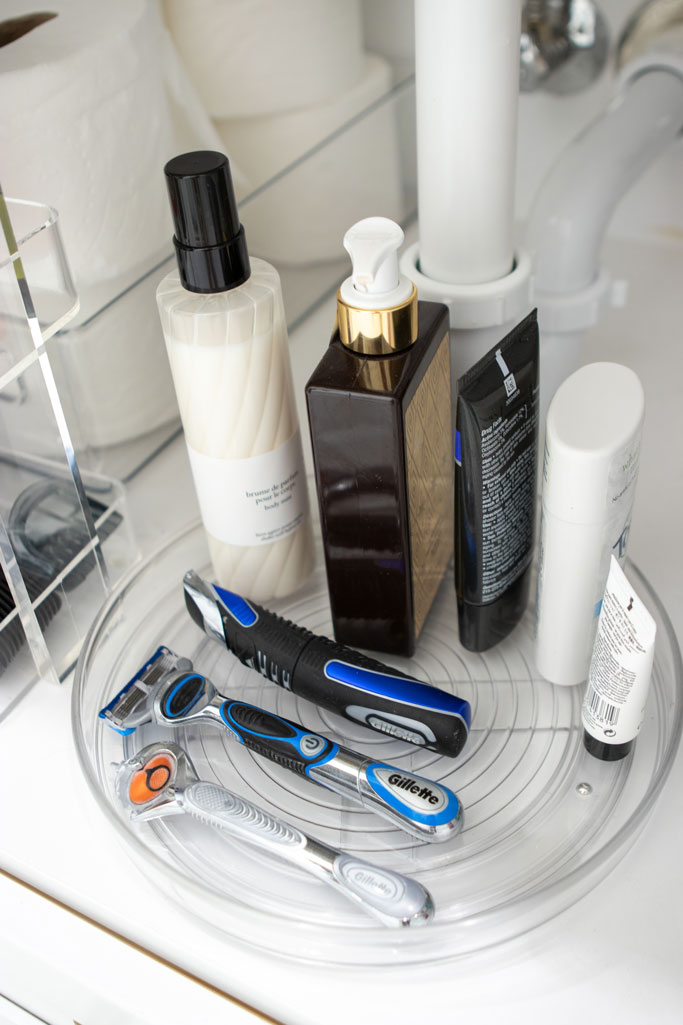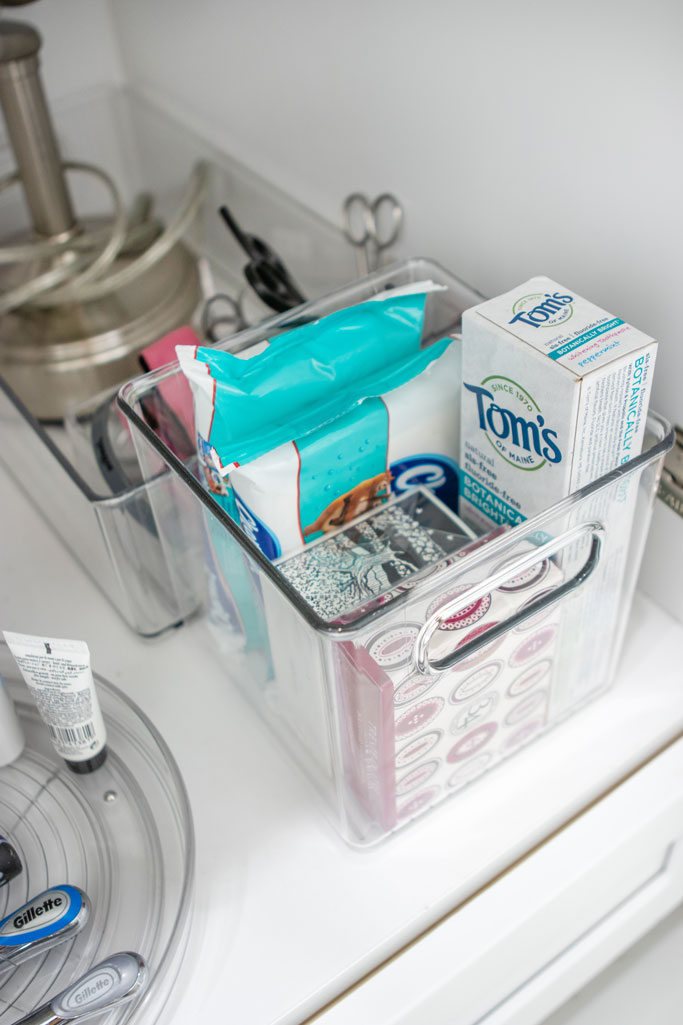 MY HUSBAND'S CABINET (Julian's Bath Essentials) || Main Drawer

GABINETE DE MI ESPOSO || Gaveta Principal
Two-compartment organizer (used 3 in the back vertically) || Single organizers in small, medium, large (used one of each horizontally)
EXTRA CABINET

GABINETE EXTRA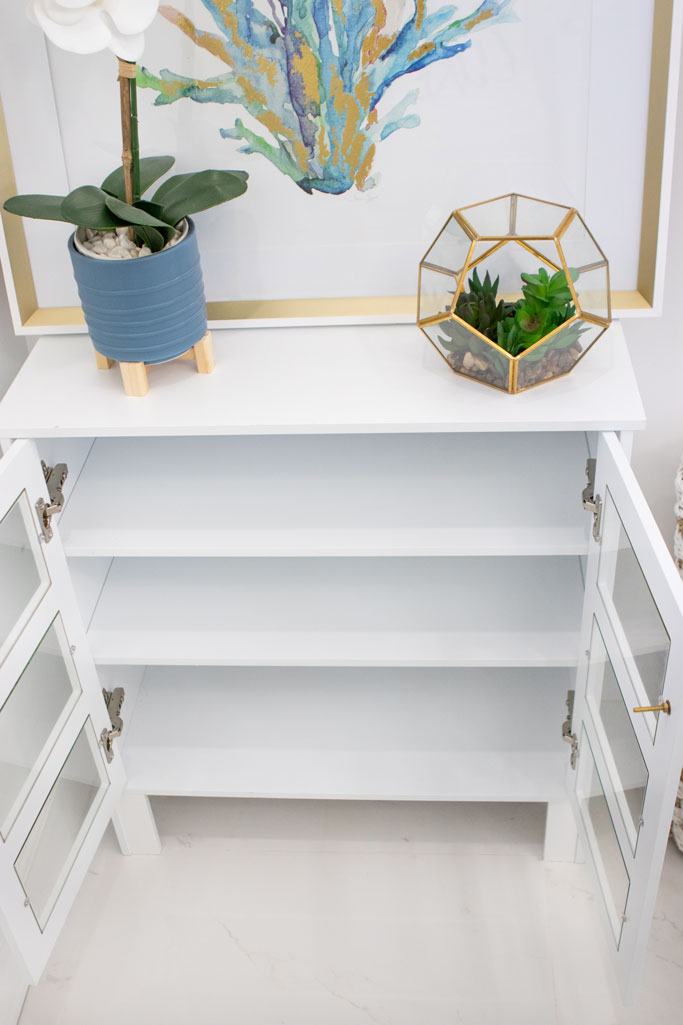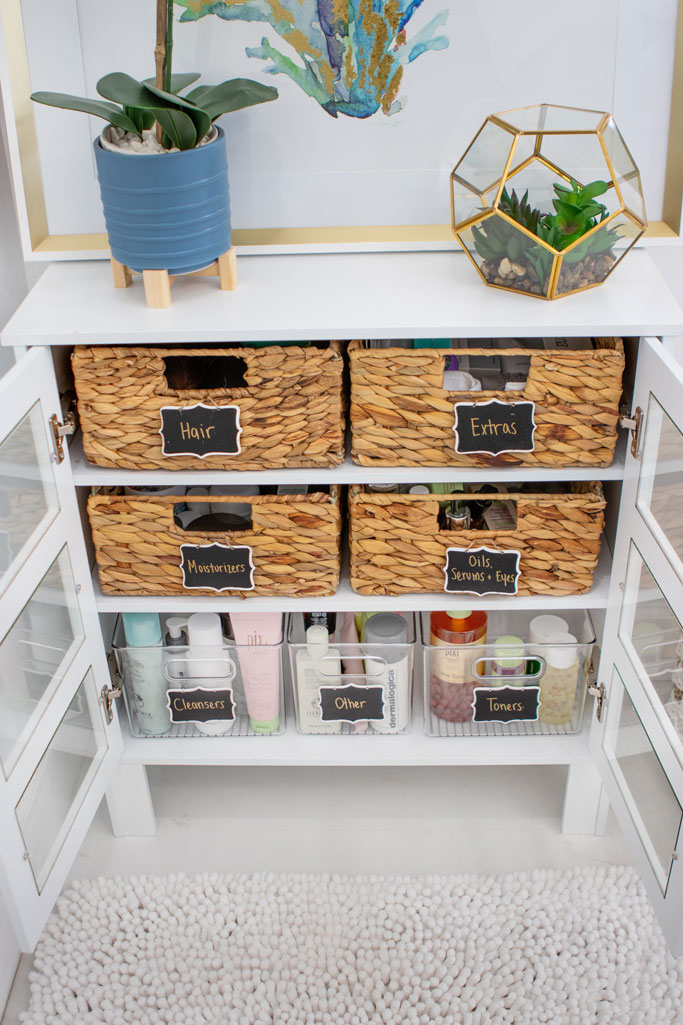 Baskets || Clear Bins (size large, size medium) || Wood labels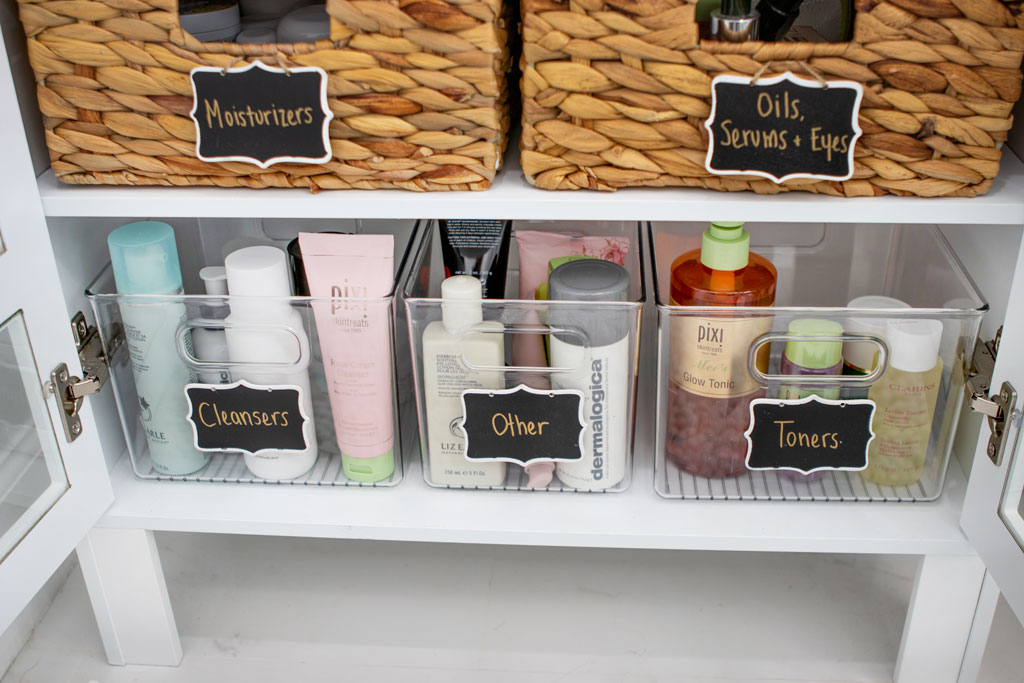 Baskets || Clear Bins (size large, size medium) || Wood labels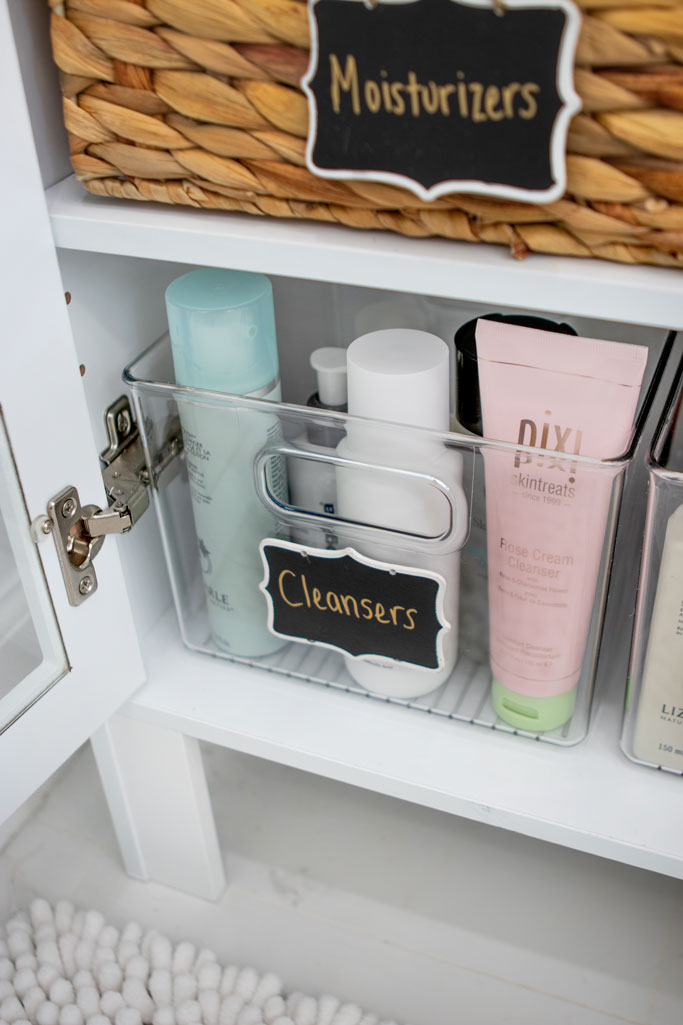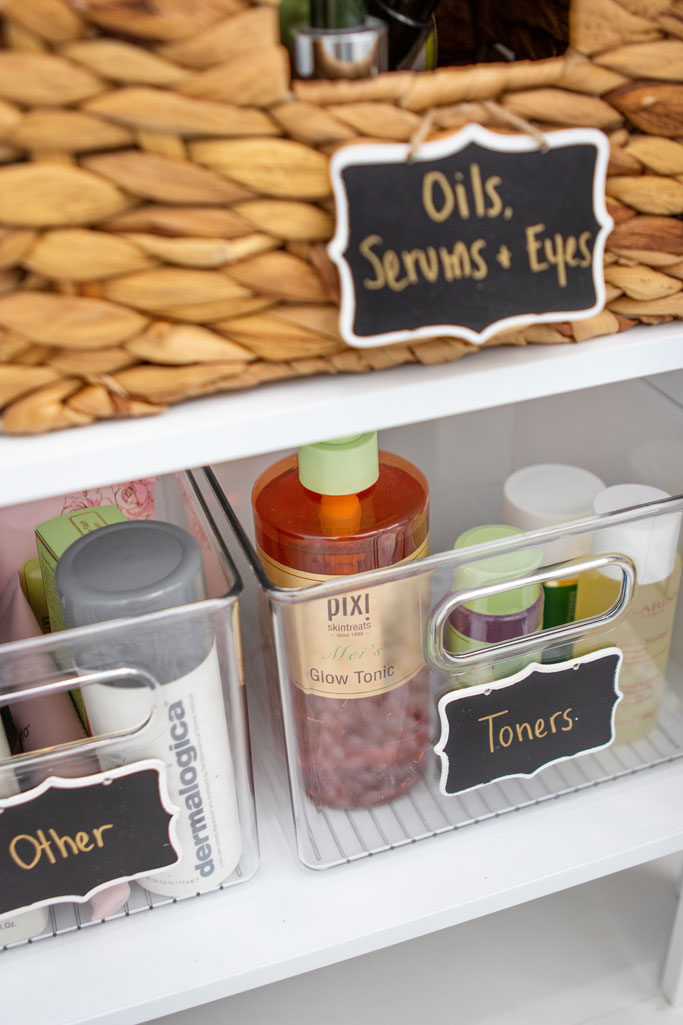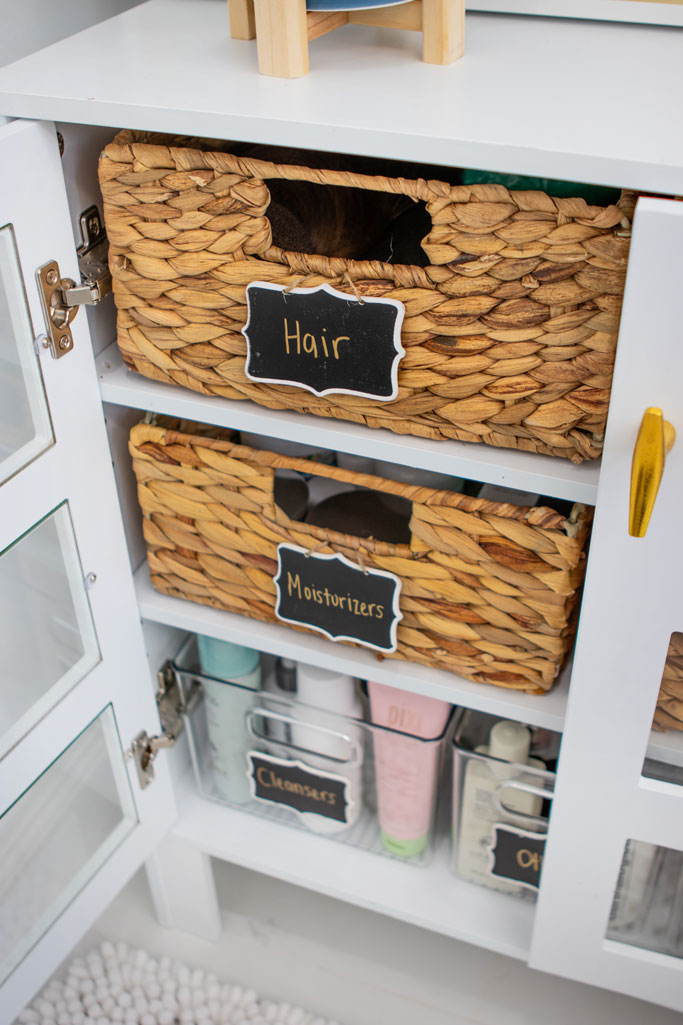 Baskets || Clear Bins (size large, size medium) || Wood labels
Thanks to interDesign for providing all the storage solutions for this project.
Gracias a interDesign por proporcionar todas las soluciones de almacenamiento para este proyecto.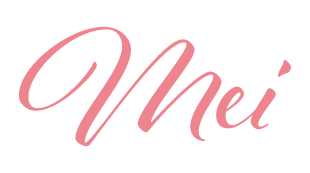 ---
PIN FOR LATER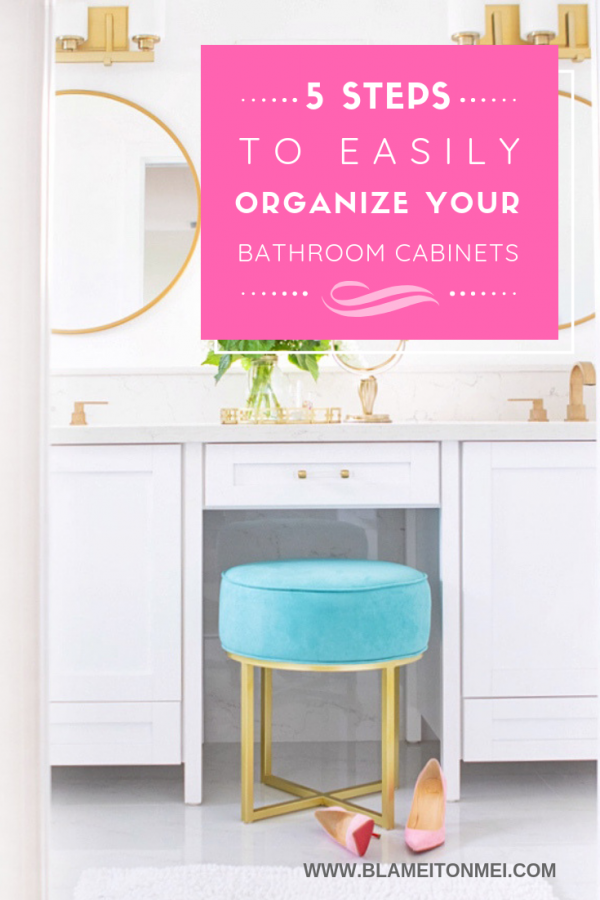 You might also like