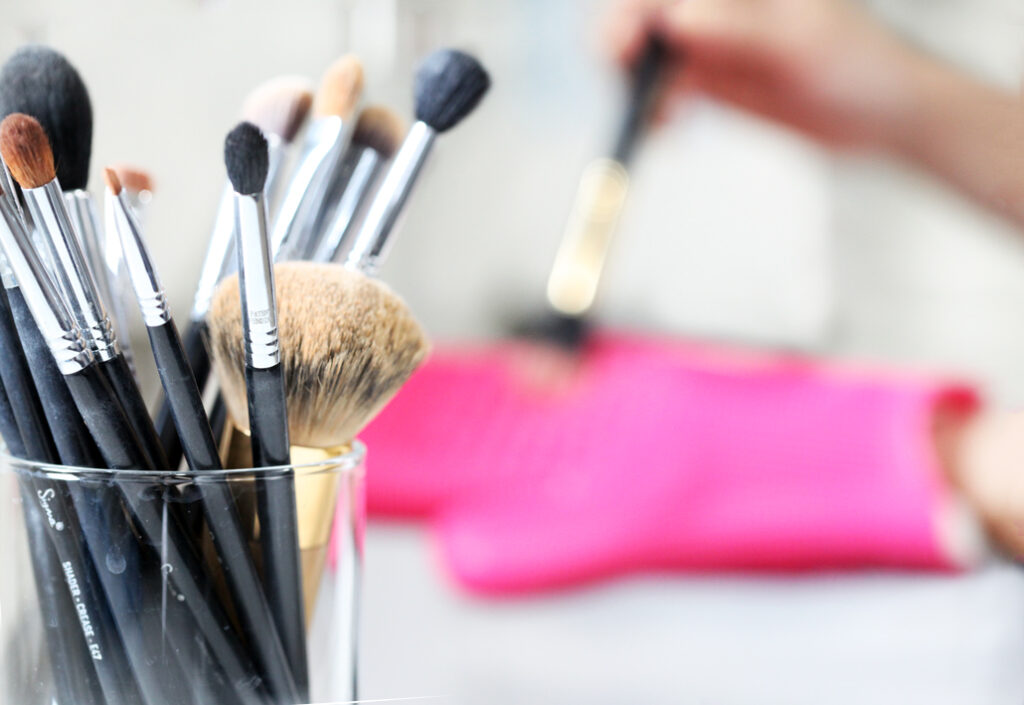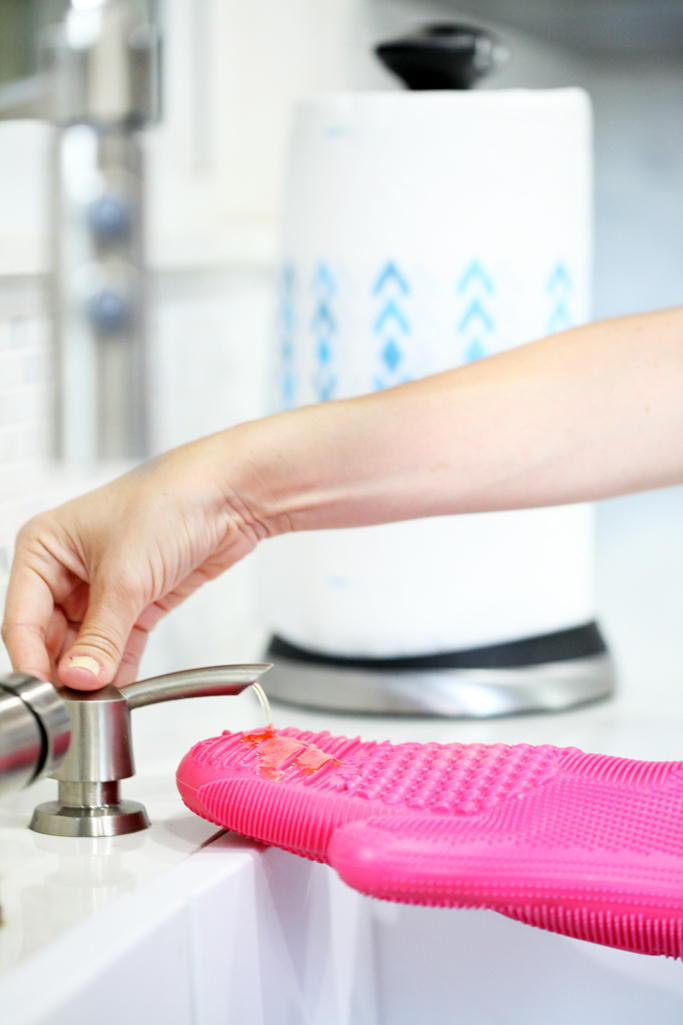 How to clean your makeup brushes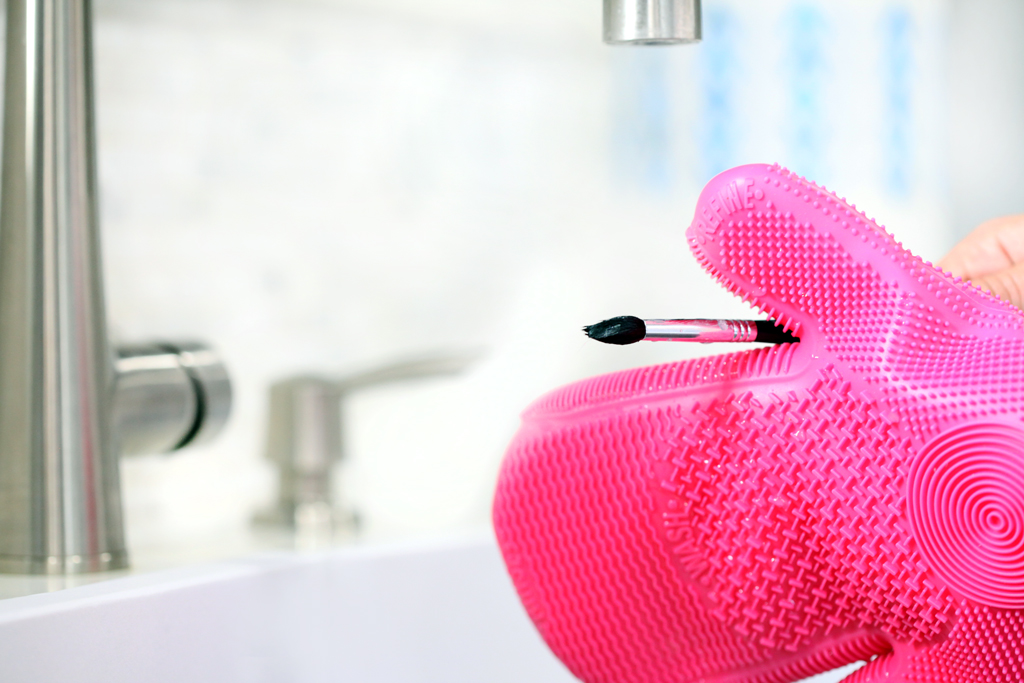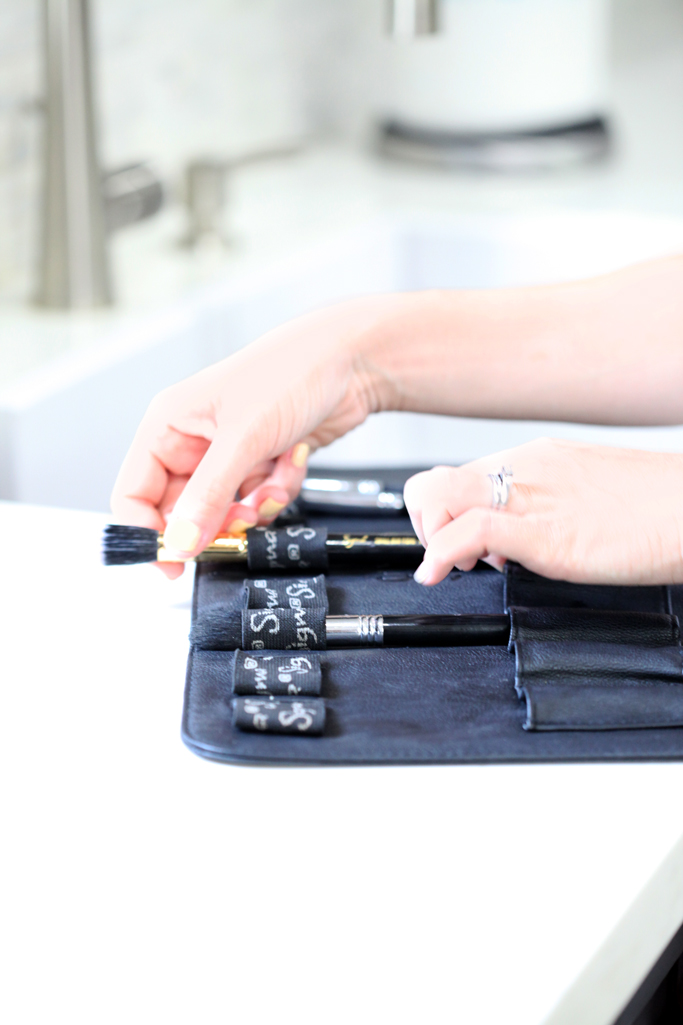 <<   Cleaning Glove: 2X Sigma Spa® Brush Cleaning Glove, other cleaning gadgets here and here (smaller version here)   |   Drying Mat: Sigma 'Dry'N Shape'   |  Brushes: my personal must-haves here and here  >>
Happy Wednesday loves!
So far, I've shared my must-have makeup brushes (here and here), but haven't shared how to keep them clean. And because bits of makeup, oil, dirt and even bacteria can get trapped in the bristles, it's very important to learn how to keep them clean. Dirty brushes can lead to clogged pores, pesky breakouts and even unwanted makeup application; so follow the following simple steps to protect your investment and your beautiful skin.
I used to lather and clean my brushes on the palm of my hand, but alas this wonderful concoction by Sigma Beauty, my fav makeup brush brand, came to existence. Sigma actually has several different types of brush-care gadgets, and in fact, I happen to have the Sigma Spa® Express Brush Cleaning Mat and switch ever so often with this 2X Sigma Spa® Brush Cleaning Glove.
What you'll need
• Dish soap/liquid detergent (great for oil-based makeup) or baby shampoo (contains less harsh chemicals).
• Cleaning gadget (today I am using 2X Sigma Spa® Brush Cleaning Glove, but recommend all of Sigma's brush-care items here).
• Towel or Dry'N Shape mat.
Instructions
1. WET. Wet the bristles of your brushes under warm water. Try to avoid fully submerging the brush handle to prevent damage.
2. WASH. Add a small amount of your chosen cleaning solution to your gadget (in my example, the glove), swirl and lather to deep clean the brush.
3. RINSE. Rinse under running water until the water runs clear. Repeat steps 2 and 3 for maximum clean.
4. SQUEEZE. Gently squeeze brush head to remove excess water, and specifically for this glove, by pressing your thumb and index finger together.
5. RE-SHAPE. Reshape the brush head with your fingers.
6. DRY. Place makeup brushes in Dry'N Shape to quickly dry or if you don't have one, simply lay your brushes flat on a towel.

CÓMO LIMPIAR TUS BROCHAS DE MAQUILLAJE
¡Feliz Miércoles mis amores!
Hasta el momento, he compartido mis brochas de maquillaje más esenciales (aquí y aquí), pero no he compartido cómo mantenerlas limpias. Y debido a que residuo de maquillaje, aceite, e incluso bacterias pueden quedar atrapadas en sus cerdas, es muy importante mantenerlos limpios. Los pinceles sucios pueden dar lugar a poros obstruidos, brotes de acné e incluso aplicación de maquillaje no deseada; así que siga los siguientes pasos para proteger su inversión y su hermosa piel.
Solía limpiar mis brochas en la palma de la mano, pero gracias a esta maravillosa invención por Sigma Beauty, mi marca favorita de pinceles, es más fácil y rápido de hacer. Sigma tiene varios artículos para el cuidado de sus brochas, y de hecho, también tengo el Sigma Spa® Express Brush Cleaning Mat y lo intercambio de vez en cuando con este 2X Sigma Spa® Brush Cleaning Glove.
Lo que necesitarás
• Detergente líquido (ideal para el maquillaje con base de aceite) o champú para bebés (contiene productos químicos menos dañinos).
• Artículos de limpieza (hoy estoy usando 2X Sigma Spa® Brush Cleaning Glove, pero recomiendo todos los artículos para limpiar las brochas de Sigma aquí).
• Toalla o Dry'N Shape para escurrir el agua.
Instrucciones
1. MOJAR. Mojar las cerdas de las brochas con agua tibia. Trate de evitar totalmente sumergir el mango de la brocha para evitar dañarlas.
2. LAVAR. Añadir una pequeña cantidad de detergente líquido al artículo de su elección (en mi ejemplo, el guante), enjabone y gire para limpiar el cepillo profundidad.
3. ENJUAGAR. Enjuague con agua hasta que el agua salga clara. Repita los pasos 2 y 3 para obtener máxima limpieza.
4. EXPRIMIR. Exprima suavemente la cabeza de cepillo para eliminar el exceso de agua. Si está usando este guante, presionando el dedo pulgar y el dedo índice juntos mientras pase la brocha.
5. FORMAR. Volver a dar forma a las cerdas de la brocha con los dedos.
6. SECAR. Coloque los cepillos del maquillaje en Dry'N Shape para secar rápidamente o si no tiene uno, sólo tiene que poner sus brochas sobre una toalla.