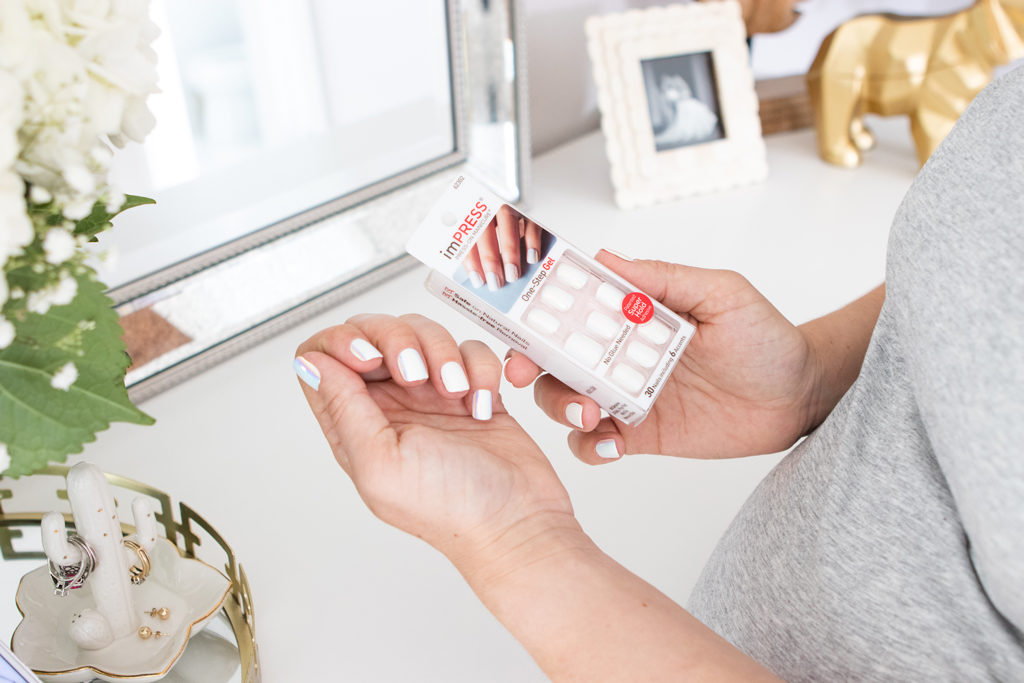 HLet me show you how to get a gel manicure at home in less than 5 minutes. Can last up to 2 weeks, no LED lamp or drying time required.. Miami Fashion Blogger


PRESS-ON NAILS: Target
[one_half]
I have gotten countless compliments on my manicure for the last few months, and I have, in fact, mentioned my little secret through my Instagram Stories. But today it's time I share how I achieve a flawless gel manicure in 5 minutes that lasts and is not damaging to your natural nails.
I came across this product while desperately looking for a last-minute solution. I was going to an event that night but hadn't had the time to do my manicure. I could have done it myself, but I really didn't have enough time. I headed to my local Walgreens (PS: more affordable at Target though), and was browsing their nail section. Because I am preggers, I was hesitant for the standard product where you use nail glue (or sometimes Crazy Glue) to stick them. Even the smell is not the best and I was afraid of it being toxic. Alas I came across these!!! They were and still are my life saver today. You don't need glue because they have a patented super hold adhesive. They are safe on natural nails, you can easily remove them and in the package, you will get 30 nails including 6 accents to mix and match. This means, you can replace the ones that fall out or are no longer looking its best. And fear not ladies, if you take care of them while wearing them; for example, wear gloves when doing the dishes, these will last at least a week. I. GUARANTEE. IT! The longest I've had them on has been almost 2 weeks. Oh and lastly, there are so many shades and shapes available.
To show you how easy they are to put on I created a video…. See it below!
[/one_half][one_half_last]
He recibido varios elogios por mis uñas durante los últimos meses y, de hecho, he mencionado mi secreto a través de mis Stories de Instagram. Pero ya es hora de que comparta cómo logro una manicura impecable en solo 5 minutos que dura y no dañan tus uñas naturales.
Descubrí este producto mientras buscaba desesperadamente una solución de último minuto. Iba a asistir a un evento esa noche, pero no había tenido tiempo de hacerme las uñas. Pude haberlas hecho yo misma, pero realmente no tenia tiempo. Me dirigí a mi Walgreens local (PD: más asequible en Target), y estaba mirando en su sección de uñas. Como estoy embarazada, no quería usar el producto estándar en el que utilizas pegamento para pegarlas (o, a veces, Crazy Glue) por miedo de que fuera tóxico ¡Y me encontré con estas! En ese momento fueron, y siguen siendo mi salvación. No necesitan pegamento porque tiene un adhesivo patentado que es súper resistente. No dañan las uñas naturales, puedes quitarlas fácilmente y en el paquete obtendrás 30 uñas, incluyendo 6 de otro color, con otro estampado o con escarcha para combinar. Esto significa que pueden reemplazar las que se caen o aquellas que ya no se ven bien. Y no teman, chicas, si cuidas de ellas mientras los usas; por ejemplo, usando guantes cuando laven los platos, les durarán al menos una semana ¡LO ASEGURO! El tiempo más largo que las he tenido puestas ha sido de casi dos semanas. Ah, y por último, hay tantos colores y formas disponibles que nunca se aburrirán.
Para mostrarles lo fácil que son de poner, pueden ver el video a continuación.
[/one_half_last]
---
PIN FOR LATER