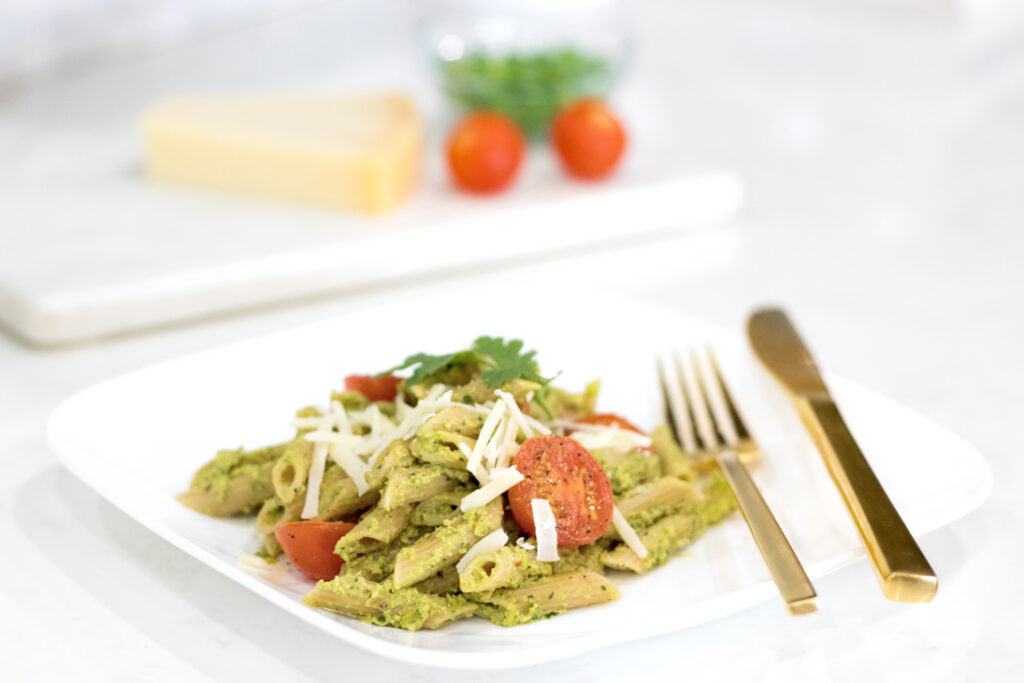 Here is a yummy twist to an Italian classic. This healthy pasta recipe is easy and very fast to make. With just a few ingredients you will have a delish dish to feed your yourself or fam.
[one_half]
Italian cuisine could possibly be MY FAVORITE, only after Peruvian. Thus, I was beyond excited when I found this healthy recipe of an Italian classic.
The star of this recipe is the pesto sauce, and it is made with ingredients that I was pleasantly surprised with. It is super simple to make and delish to devour. I added cherry tomatoes to the original recipe, which adds a punch of sweet citrus to the overall dish.
Hope you enjoy it!
[/one_half][one_half_last]
La cocina italiana es una de mis FAVORITAS, después de la peruana por supuesto. Por lo tanto, estaba más que emocionada cuando encontré esta receta saludable de un plato italiano muy conocido como clásico.
Lo que hace esta receta tan especial es su salsa color verde. Esta salsa contiene ingredientes que me sorprendieron, pero de bueno manera. Es muy simple de hacer y mucho más fácil de devorar. Agregué tomates pequeños a la receta original, cual añade sabores cítricos y dulces al plato en general.
¡Espero que lo disfruten!
[/one_half_last]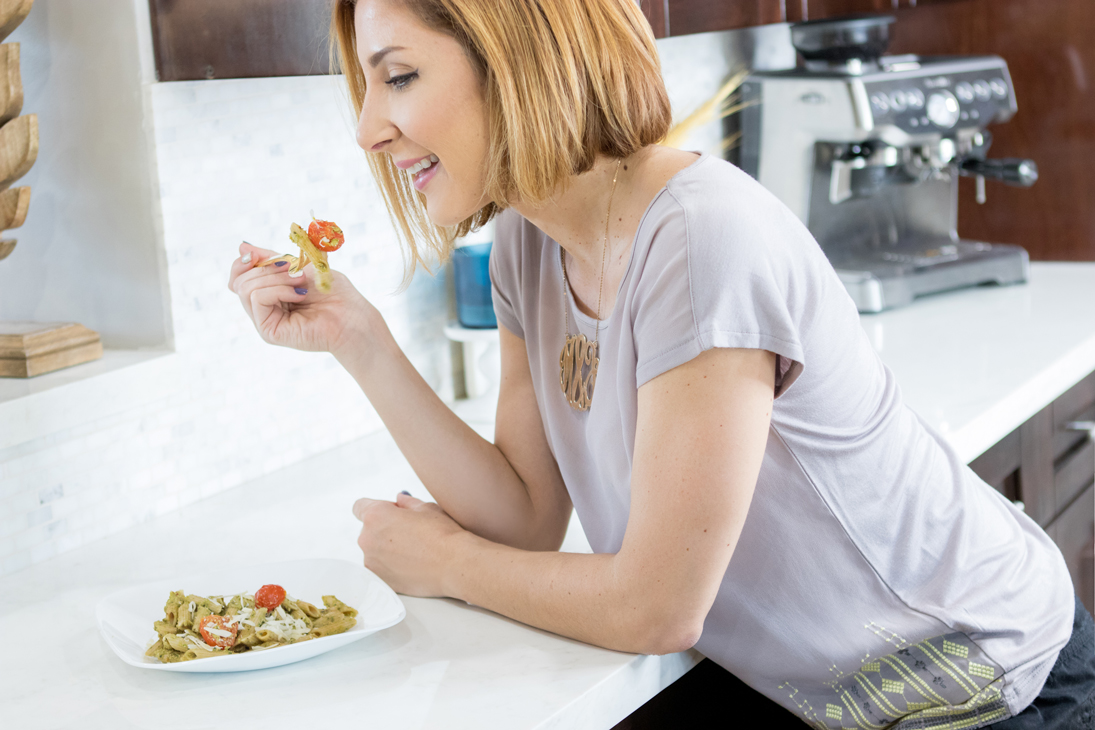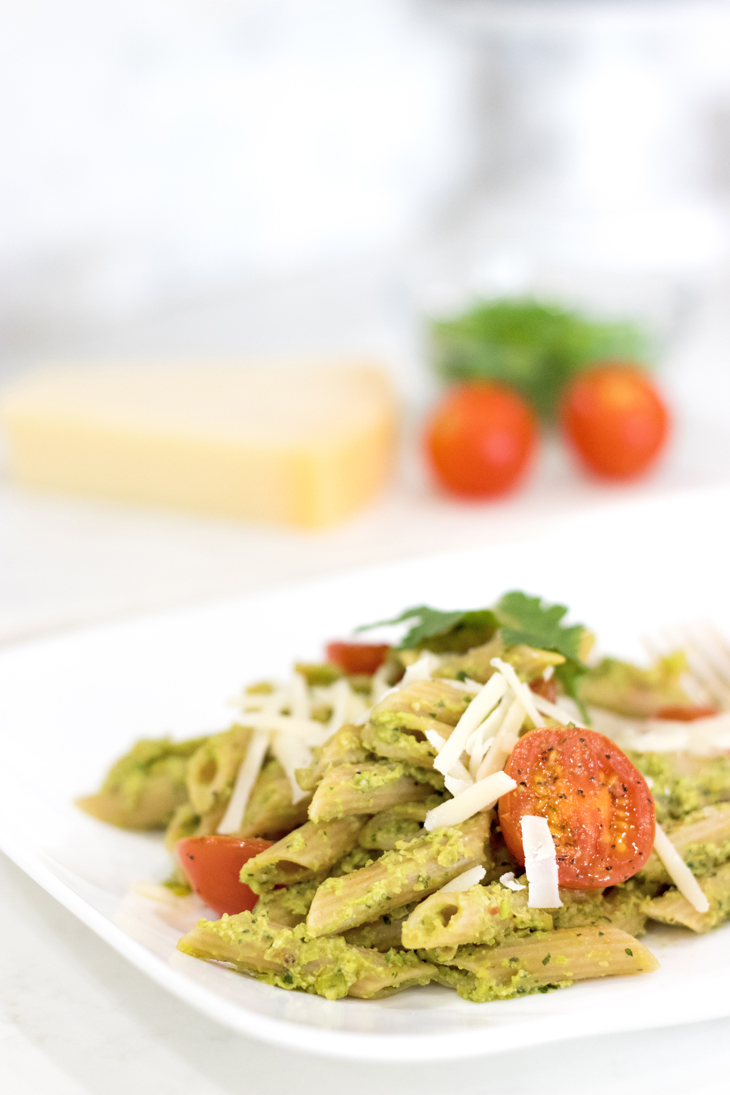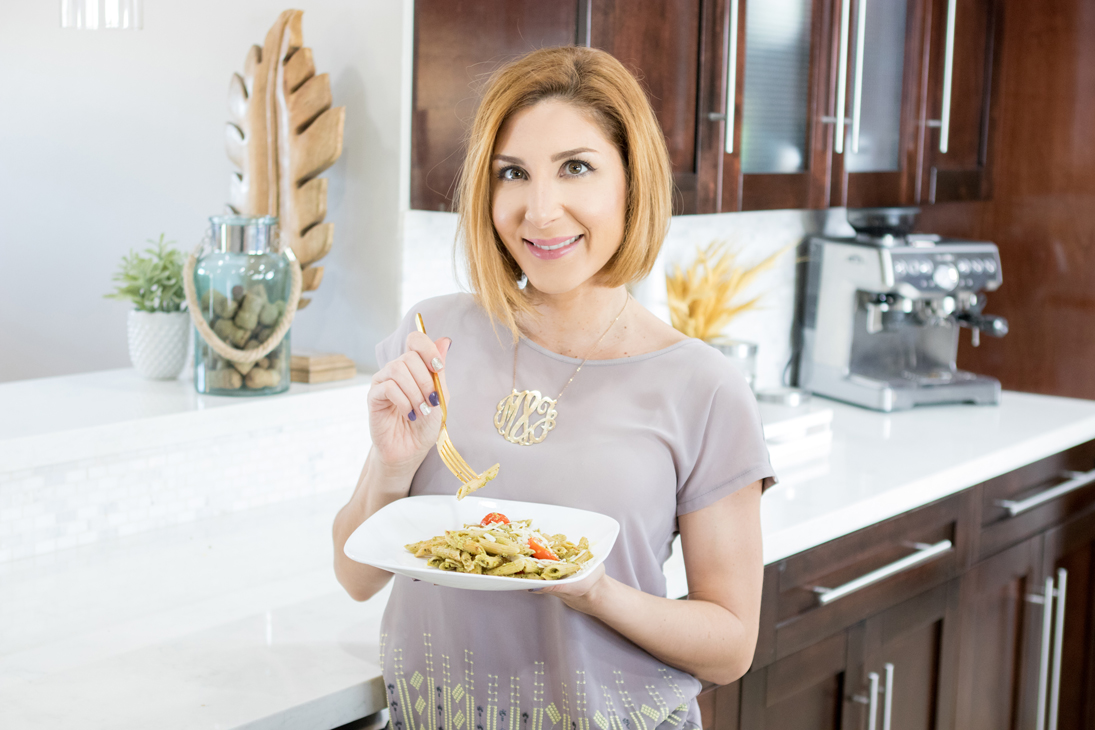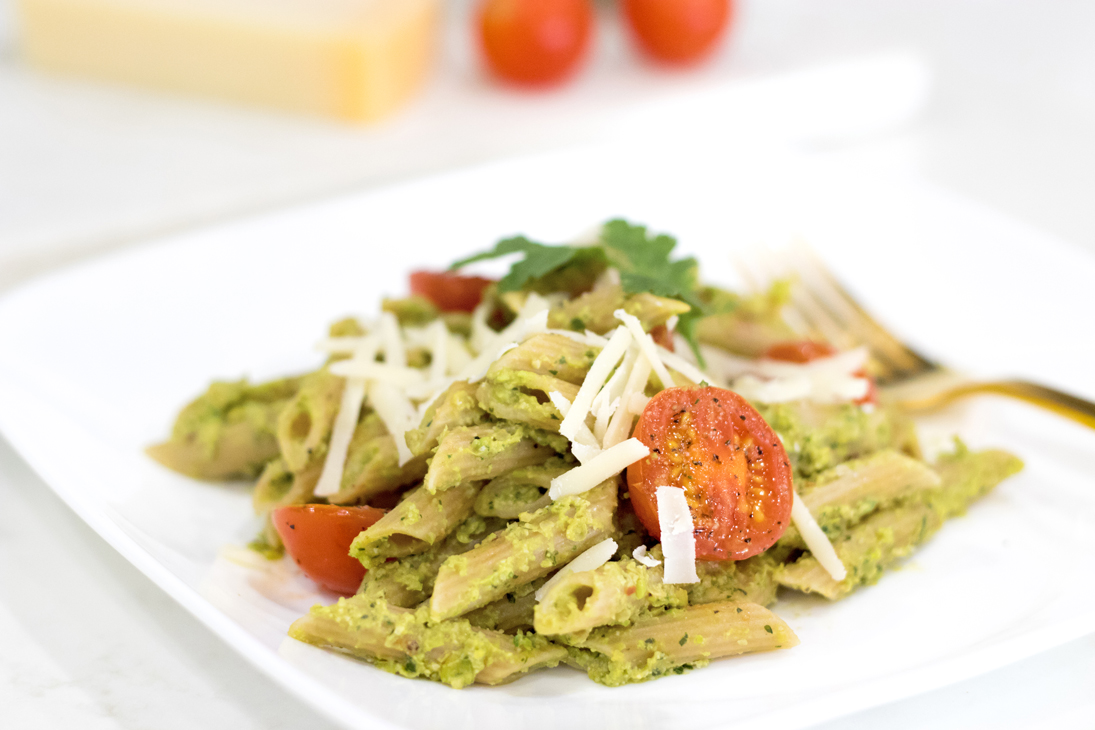 WHOLE WHEAT PASTA WITH A CRUSHED PEA BASIL PESTO
2018-01-13 18:42:36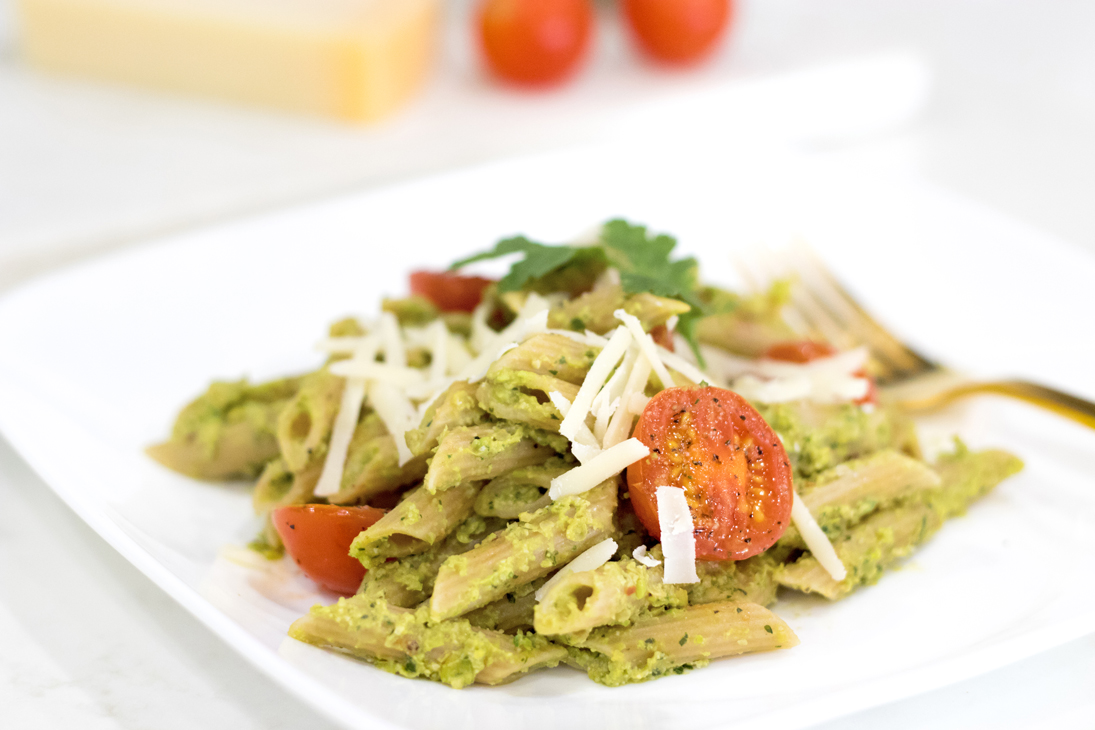 Serves 4
A great and easy twist on the Italian classic. **This recipe is vegetarian & vegan friendly**
Ingredients
• 250 grams dry pasta
For Cherry Tomatoes
• 2 cups cherry tomatoes
• ½ tablespoon olive oil
• ¼ teaspoon salt
• ¼ teaspoon pepper
For Pesto
• 2 ½ cups blanched peas
• 1 ½ cups fresh basil
• ½ cup roasted sunflower seeds
• ¼ cup green onion (scallion)
• 1 teaspoon red pepper flakes
• 1 teaspoon lemon zest
• Juice of 1 lemon
• ½ cup freshly grated parmesan
• 1/3 cup olive oil
• ¼ cup water
Instructions
Bring a large pot of water to boil and cook pasta according to packet directions. Drain and set aside.
Prepare a large bowl of ice water.
Bring a medium pot of water to boil and cook peas for 1 ½ minute.
Drain the peas quickly in a colander and immediately transfer them to the bowl of ice water.
Leave the peas in the ice water for 2 minutes, drain them in a colander and set aside.
Place all pesto ingredients (blanched peas, basil, sunflower seeds, green onion, red pepper flakes, lemon zest, lemon juice and grated parmesan) in a food processor, or blender, excluding the olive oil and water.
Process until chunky but combined.
Add 1/3 cup olive oil in a steady stream with the motor running and then add the water.
Check and adjust seasoning, then set aside.
Cut cherry tomatoes in half.
Heat ½ tablespoon olive oil in a 12-inch skillet over medium-high.
Add tomatoes and season with salt and pepper.
Sauté, shaking pan frequently, until tomatoes soften and skins just begin to wrinkle, about 2 minutes.
Combine hot pasta with pesto and cherry tomatoes, toss to evenly disperse.
Adapted from http://thehealthyhunterblog.com
Blame it on Mei | Miami Mom Blogger Mei Jorge https://www.blameitonmei.com/