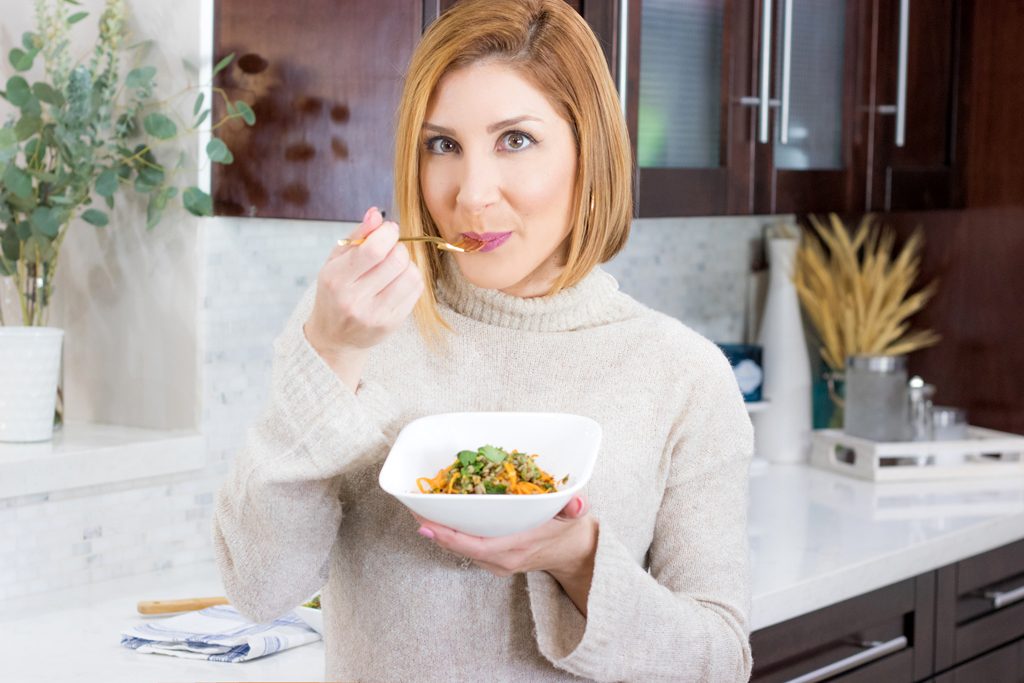 This simple and oh-so healthy sweet potato recipe has a few star ingredients that make it as yummy as can be. The combination of the sweet potato noodles garnished with the super light and bright flavors of the gremolata are what make this recipe one of my favorites yet. Miami Fashion Blogger
[one_half]I recently shared on this Instagram post a sneak peek of something that I am actually debuting today, drumroll please… healthy recipes. I often get asked about how I maintain a healthy lifestyle. Among the several and very fundamental things I implement in my daily life, eating wholesome meals has been very imperative and actually fun to fulfill. But, don't get me wrong, I sometimes opt for small overindulgences (whoever says they don't they are flat-out lying :)).
Ever since I became a vegetarian, I love searching the net for new recipes. Yep! it's been around 4 months that my husband and I made the decision to switch, but I haven't shared this until now (if you want to know more about it let me know in the comments section below). There are so many delicious options for vegetarians, vegans, lactose intolerant, etc. and the most fun thing is when I try the finished product and awe at how yummy it actually is.
I hope you all enjoy this new section of the blog. And as always, thanks for reading and for suggesting I share this with you all.
PS: if you want to know the winner to last week's giveaway, you can follow this link (announced at the end of the post).
[/one_half][one_half_last]
Hace poco compartí en esta publicación de Instagram un adelanto de algo que de hecho estoy estrenando hoy con ustedes… recetas saludables. A menudo me preguntan cómo mantengo un estilo de vida saludable. Entre las muchas cosas fundamentales que implemento en mi vida diaria, comer comidas sanas ha sido muy imperativo y realmente divertido de cumplir. Pero, no me malinterpreten, a veces opto por pequeñas satisfacciones que no son consideradas saludables (quien diga que no lo hace, están mintiendo :)).
Desde que cambie a vegetariana, me encanta buscar nuevas recetas en el internet. ¡Sí! Han pasado alrededor de 4 meses que mi esposo y yo tomamos la decisión de cambiar esa parte de nuestras vidas, pero no lo he compartido hasta ahora (si desean saber más al respecto, hágamelo saber en la sección de comentarios al final). Hay tantas opciones deliciosas para vegetarianos, veganos, intolerantes a la lactosa, etc. y lo más divertido es cuando pruebo el producto final y admiro lo delicioso que es en realidad.
Espero que todos disfruten esta nueva sección del blog. Y como siempre, gracias por leer y por sugerir que comparta esto con ustedes.
PD: si desean saber quien es el ganador del sorteo de la semana pasada, pueden seguir este enlace (anunciado al final de la publicación).
[/one_half_last]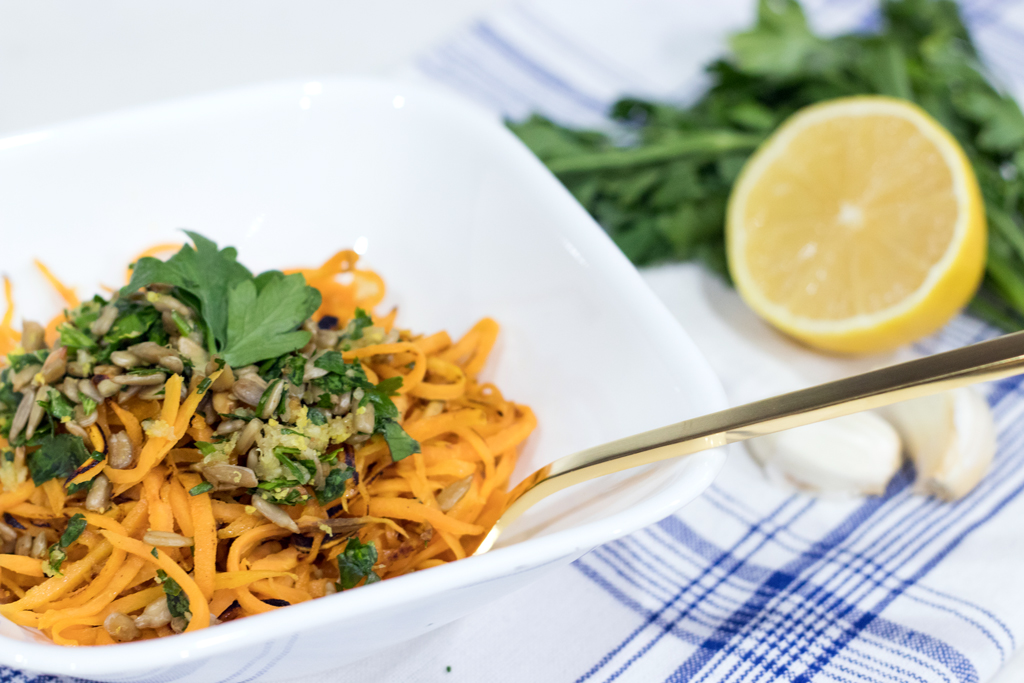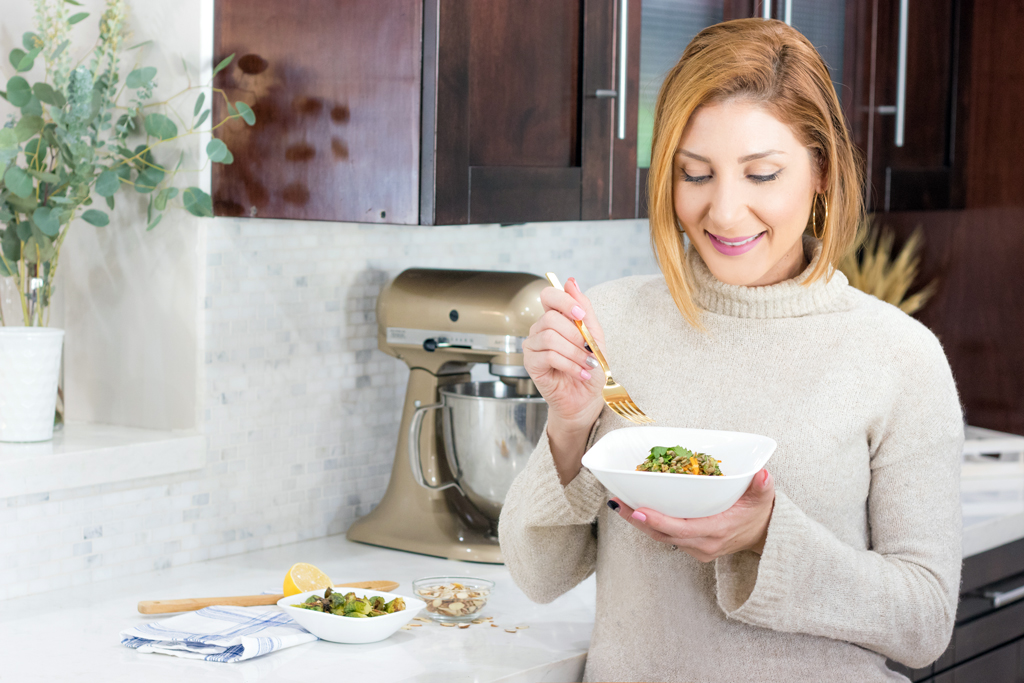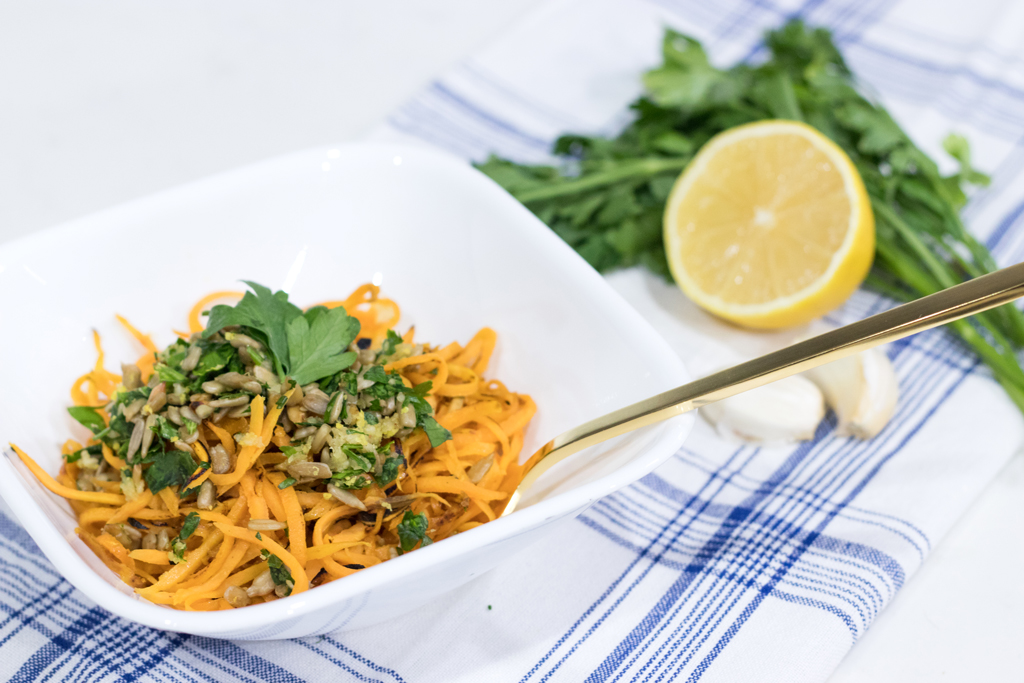 SWEET POTATO NOODLES WITH SPICY PEPITA GREMOLATA
2018-01-03 20:35:51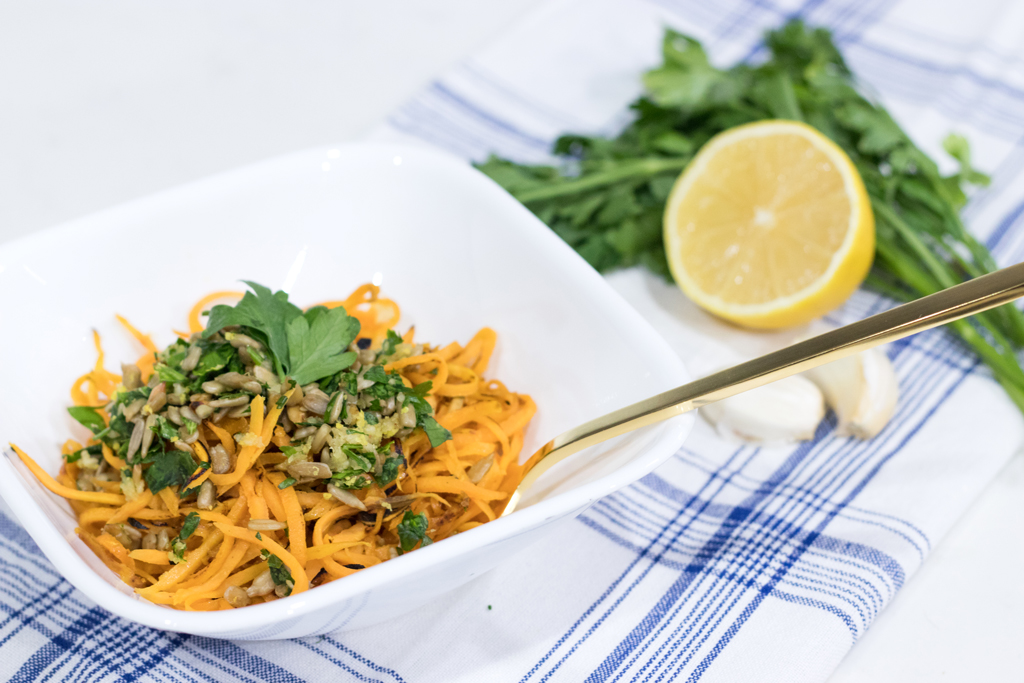 Serves 4
What is gremolata? Is an incredibly simple Italian condiment that adds a pop of bright and fresh flavors to a large array of dishes, including this one. **This recipe is paleo, gluten-free, whole30-approved, vegetarian & vegan friendly**
Gremolata sauce
- 1/4 cup pepitas (sunflower seeds), roughly chopped
- zest of 1 lemon
- 1/3 cup Italian flat-leaf parsley, chopped
- ~1 teaspoon fresh garlic, finely minced (~1-2 cloves)
- dash of cayenne pepper, to taste
- pinch of salt
Sweet Potato Noodle
- 2 large sweet potatoes, peeled
- 2-3 tablespoons olive oil
- salt, to taste
Instructions
Mix all the gremolata ingredients together and set aside.
Use a spiralizer to turn the sweet potatoes into noodles. (See note below for some additional spiralizer/noodle tips.)
Pour olive oil into a large pan on medium-high heat.
Once the oil is hot enough to sizzle, add the sweet potato noodles in a single layer, turning gently as needed. You may need to cook them in smaller batches to make sure they cook evenly.
After about 7 minutes in the pan, they should be tender but not so soft that they are falling apart. Sprinkle with salt.
Serve the noodles warm with a heap of gremolata spooned on top. If it's not spicy enough for you, top with a shake or two of crushed red pepper.
Notes
- Do not cook the sweet potato for longer than 5 minutes, otherwise it will get mushy.
- Make sure your garlic is fresh.
- If you eat dairy, this is awesome with some freshly shaved Parmesan cheese on top.
- If you can't find pepitas (sunflower seeds) in your local grocery store, you can purchase it on Amazon. You can also substitute it for cashews or another nut/seed of your choice.
Adapted from worthypause.com
Blame it on Mei | Miami Mom Blogger Mei Jorge https://www.blameitonmei.com/