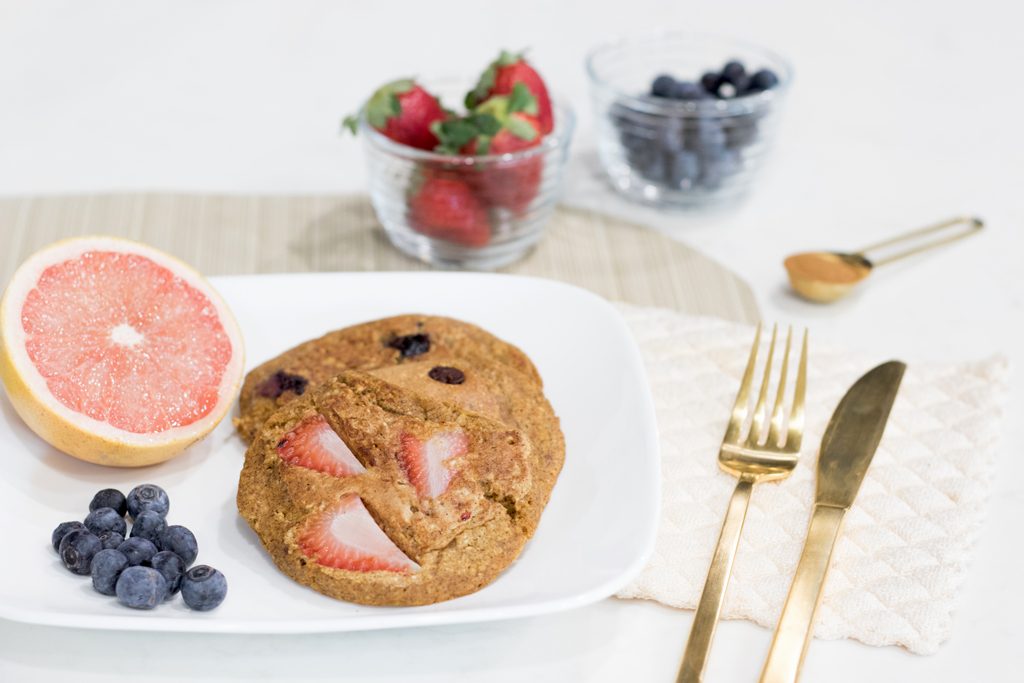 Brighten up your morning mood with some yummy, healthy and easy-to-make pancakes. This healthy breakfast recipe is one I make more often than I would like to admit, but it is just THAT good! Miami Fashion Blogger
[one_half]
Happy Tuesday!
I am currently at the airport in Santorini (check out my Stories to see everything I've been up to this week) on our way to Athens. We have night there and then heading back home. I already miss my family, my pup and my bed. I love traveling, don't get me wrong, but it gets to a point when I just want to return to my routine and my comfy bed –especially being preggers.
Today's healthy breakfast recipe is one I make very often. It was inspired by Jamie Eason, a badass fitness professional and spokesmodel of BodyBuilding.com. She has an awesome workout program (which I attempted and loved) and other delish healthy recipes here, so go check it out.
Besides the yummy taste, I like this recipe because I am all for prepping food ahead of time. So if there is a faster and yummier version of making packages, I am there like yesterday. I make this batch (and store in the fridge) which yields about 10 packages and lasts me 3-4 days depending on how many pieces I decide to make each day. To make it a bit more fun and flavorful, I added my own little spin by including fresh fruits and/or chocolate chips. I've tried it with strawberries, blueberries and even dark chocolate chips. Each pancake is less than 40 calories; if you include the chocolate chips it will be about 65 calories. What will you add to yours?
If you want more healthy recipes, you can check out this section of the blog. Most of them are vegetarian friendly, easy to make and more importantly good for your health.
[/one_half][one_half_last]
¡Feliz martes!
Actualmente estoy en el aeropuerto de Santorini (echen un vistazo a mis Stories para ver todo lo que he estado haciendo esta semana) en nuestro camino a Atenas. Tenemos una noche allí y luego regresamos a casa. La hemos pasado espectacular pero extraño a mi familia, perrito y especialmente mi cama. Me encanta viajar, no me malinterpreten, pero llega un punto en el que ya anhelo mi rutina y mi cómoda cama, sobre todo estando embarazada.
La receta saludable de hoy es ideal para el desayuno es una que hago muy a menudo. Fue inspirada por Jamie Eason, un profesional de fitness y representante de BodyBuilding.com. Ella tiene un increíble programa de ejercicios (que intenté y me encantó) al igual que otras recetas deliciosas y saludables aquí, así que échenle un vistazo.
Además de su delicioso sabor, me gusta esta receta porque siempre estoy dispuesta a preparar platos con anticipación. Entonces, si hay una versión más rápida y rica de hacer panqueques (o hotcake), pues yo estoy ahí. Preparo la receta (y la guardo en la nevera) que produce alrededor de 10 panquequesy me dura 3-4 días, dependiendo de la cantidad de panquequesque decida hacer cada día. Para hacerla un poco más divertida y sabrosa, agrego frutas frescas. He probado con fresas, arándanos e incluso pepitas de chocolate negro. Cada panqueque tiene menos de 40 calorías; si incluye las pepitas de chocolate, tendrá alrededor de 65 calorías. ¿Qué agregarás al tuyo?
Si se les apetece mas recetas saludables, pueden consultar esta sección del blog. La mayoría de ellas pueden adaptarse a opciones vegetarianas, son fáciles de preparar y, lo que es más importante, bueno para su salud.
[/one_half_last]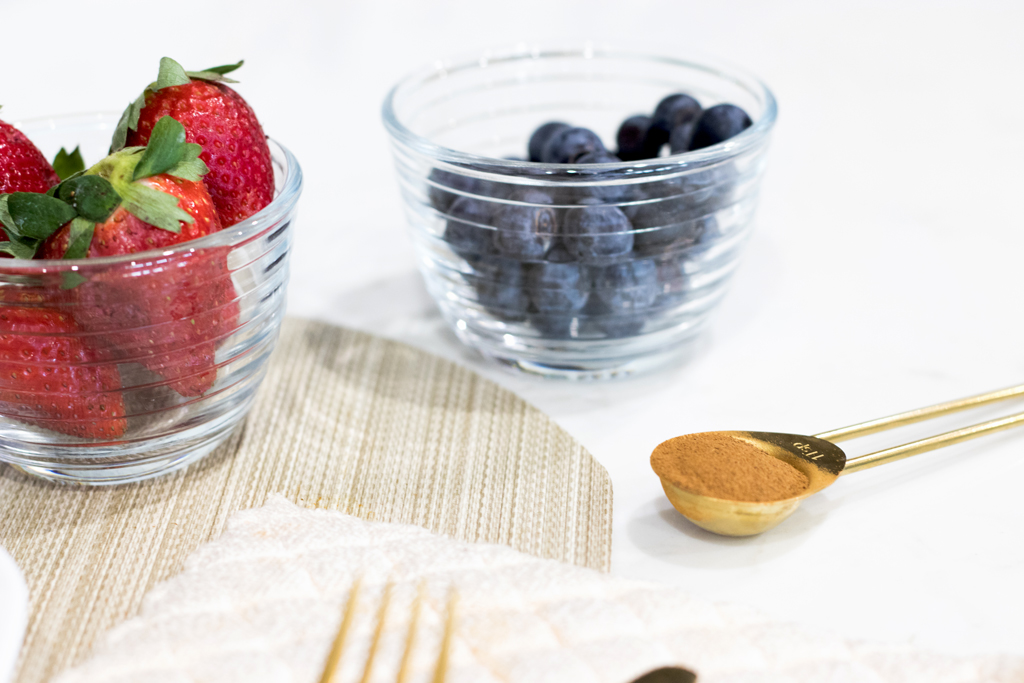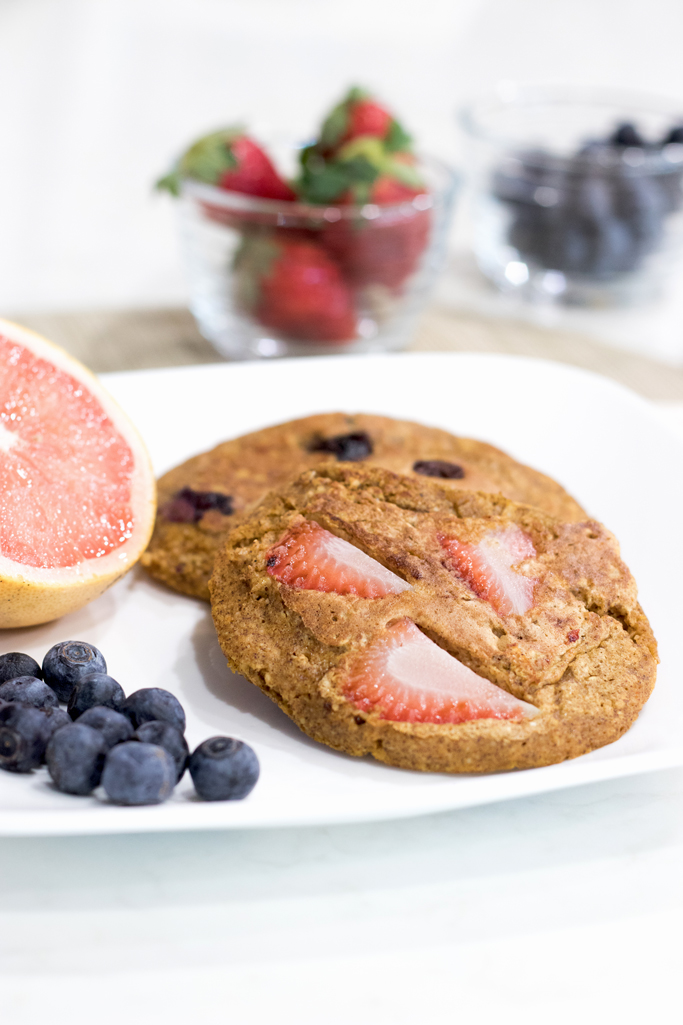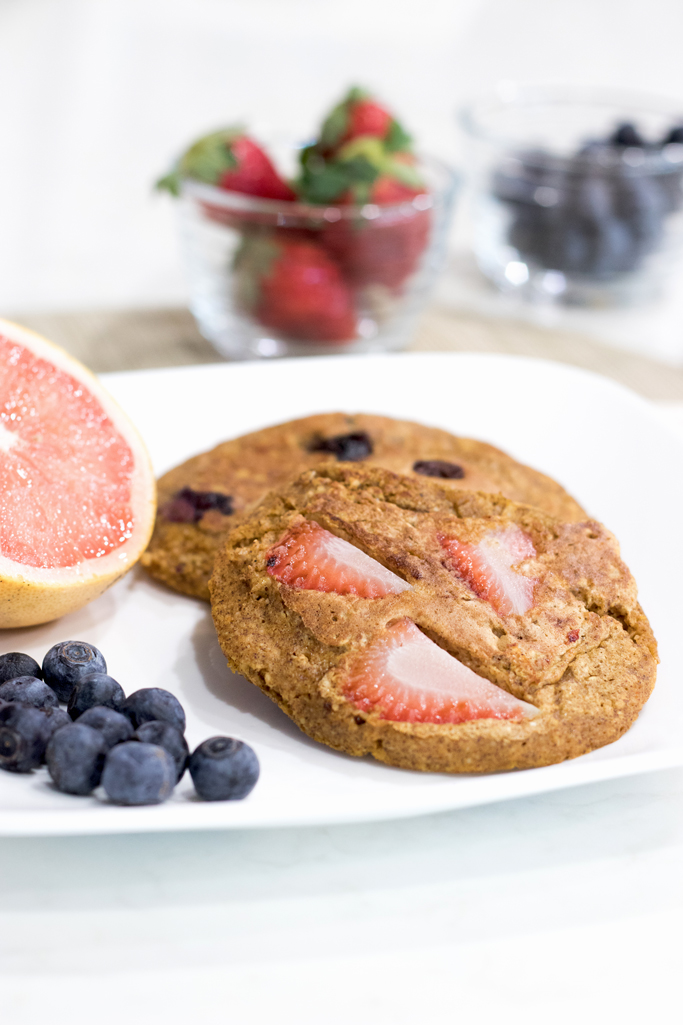 Healthy Pumpkin Spice Pancakes
2018-05-08 15:31:21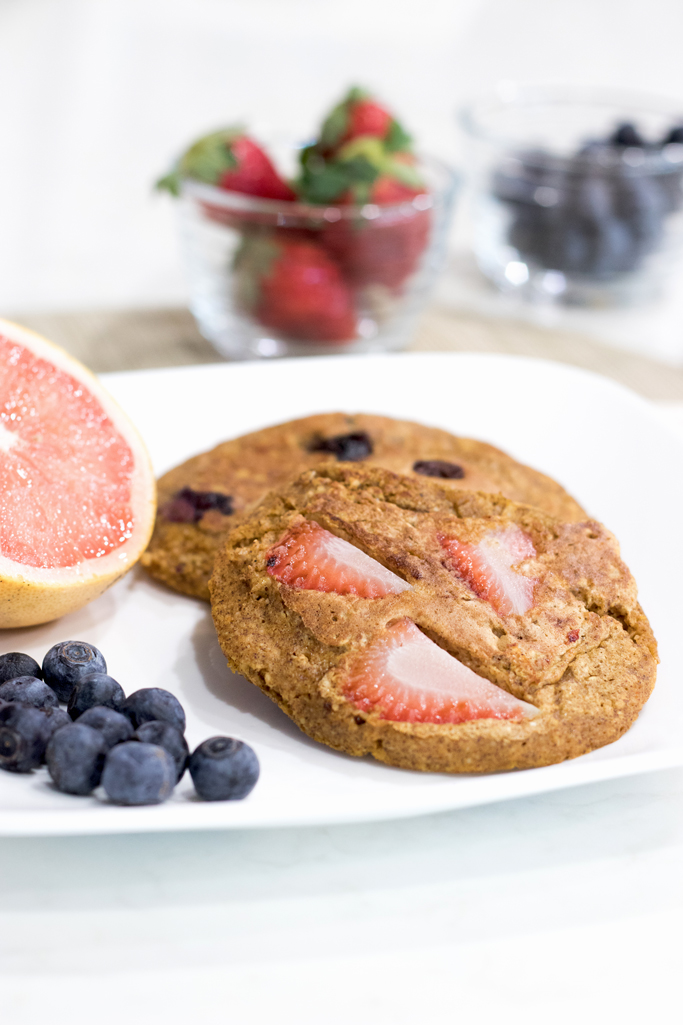 Brighten up your morning mood with some yummy, healthy and easy-to-make pancakes.
Ingredients
• 1 ½ cups oat flour (add rolled oats to a food processor and grind into a flour consistency)
• 2 tablespoon Stevia (or any sugar substitute)
• 1 tablespoon baking powder
• ½ tsp salt
• 1 tablespoon cinnamon
• ¼ teaspoon allspice
• ¼ teaspoon nutmeg
• 4 egg whites
• ½ cup raw pumpkin
• 1 ½ cups unsweetened almond milk
Instructions
Preheat griddle or pan to medium heat.
Mix oat flour, Stevia (or sugar substitute of choice), baking powder, salt, cinnamon, allspice and nutmeg in one bowl.
In another bowl, wisk egg whites and pumpkin. Mix in almond milk.
Add wet ingredients to dry ingredients and mix together.
Spray griddle or pan with non-stick butter spray.
Scoop batter with a 1/4 cup measuring cup onto griddle. Add fruits or chocolate chips to your liking.
Cook 3-5 minutes on each side.
Notes
• This recipe can be made the day of or before hand and saved in fridge.
• Stays good for up to three days.
• If you can't find oat flour in your grocery store, you can easily make yours by adding rolled oats to a food processor and grinding into a flour consistency.
Blame it on Mei | Miami Mom Blogger Mei Jorge https://www.blameitonmei.com/
---
PIN FOR LATER