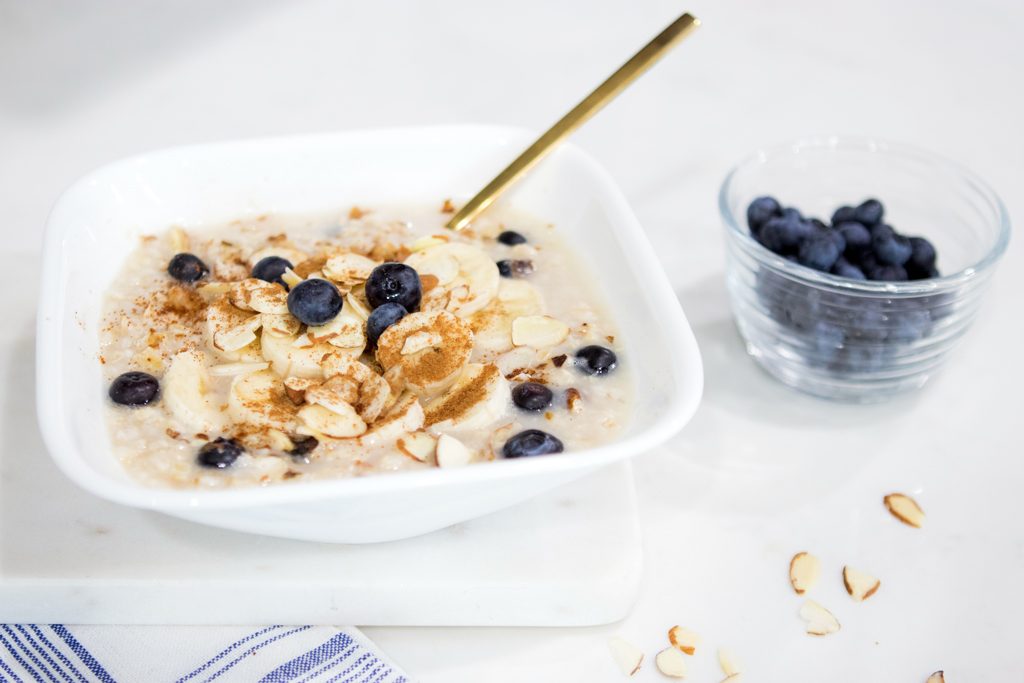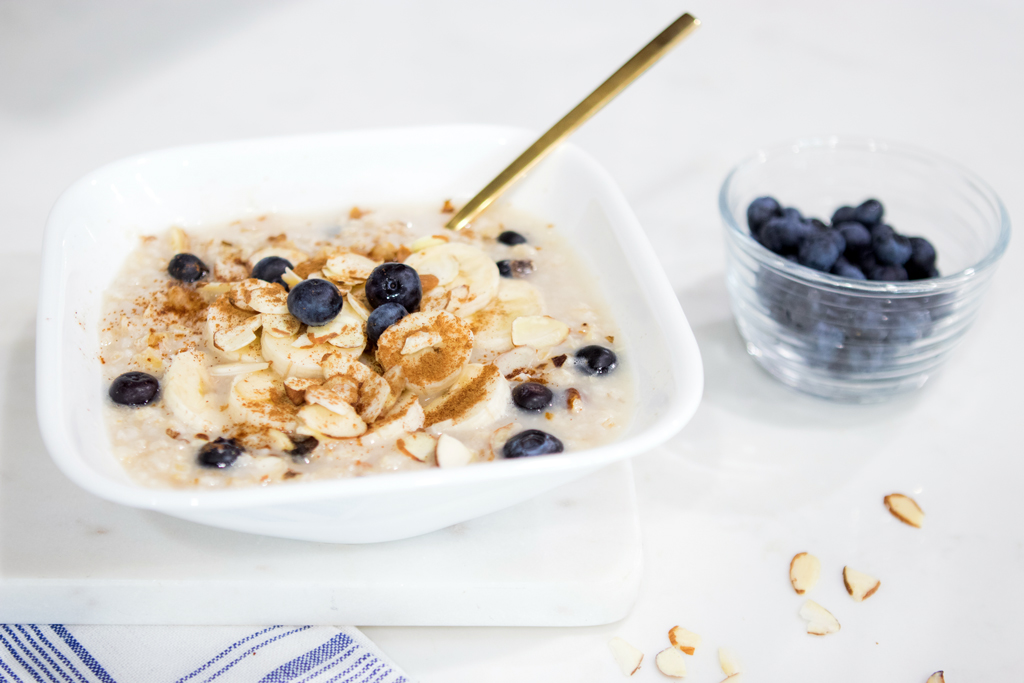 I think I have only met a handful of people who do not eat breakfast. This recipe is not only for those who enjoy the most important meal of the day, but for those that I challenge to give it a try. This super healthy oatmeal recipe is definitely one of my all-time favorites. Miami Fashion Blogger
[one_half]
Hi loves!
If you are in the states, I am sure you are recuperating from Memorial Day weekend. And to help you get you back on track (from the barbecue and beer overload), I am sharing one my personal faves and may I add secret recipe for breakfast. Recently it dawn on me, that I LOVE breakfast (I think it's could possibly be my favorite meal of the day #NoJoke!).
By the way, if you know me, you know that I love meal prepping. I love saving time, ESPECIALLY IN THE KITCHEN. This recipe is also perfect for that, and in the notes section of the recipe I share how you can prepare a handful of these ahead of time while only needing about 5 minutes (or less) to prep your toppings the day of.
Have you seen my other breakfast recipes? They are all healthy options, so make sure you take a peek here 🙂
[/one_half][one_half_last]
¡Hola mis amores!
Si se encuentran en los Estados Unidos, estoy segura de que están recuperándose del fin de semana largo conmemorando Día de los Caídos (Memorial Day en ingles). Y para ayudarlos a regresar a la rutina saludable (ya que seguramente hubo una sobrecarga de barbacoa y cerveza), hoy estoy compartiendo una de mis recetas favoritas para el desayuno. De paso, esta receta es uno de mis secretos de cocina 🙂 y cuando lo comparto con familiares y amigos siempre se preguntan "¿porque yo no pensé en eso?".
Por cierto, si me conocen, saben que me encanta preparar comidas con antemano. Me encanta ahorrar tiempo, ESPECIALMENTE EN LA COCINA. Esta receta también es perfecta para eso, y en la sección de notas, al final, comparto cómo pueden preparar un puñado de estos antes de tiempo y solo necesitaran unos 5 minutos (o menos) para cortar las frutas o nueces que desean añadir el día que lo vayan a comer.
¿Ya han visto mis otras recetas para el desayuno? Todas son opciones saludables, así que asegúrense de echar un vistazo aquí.
[/one_half_last]
Super Healthy & No Sugar-Added Oatmeal
2018-05-25 22:01:55
Start your mornings right with this yummy, super healthy, and no sugar-added oatmeal recipe.
Ingredients
For oatmeal
• 1/4 cup of rolled oats
• 2½ tablespoons of oatmeal flour (add rolled oats to a food processor or blender and grind into a flour consistency)
• pinch of salt
For toppings
• cinnamon to taste
• 1/4 banana
• 1/4 cup of blackberries
• 1 tablespoon walnuts (cut to small pieces)
• 1 tablespoon sliced almonds
Instructions
Add all the ingredients for the oatmeal in a container.
Add 1 1/4 cup of water and cook in the microwave for 1 minute, mix.
Microwave for another 30 seconds, mix again.
Microwave for the last 30 seconds (varies according to the microwave. Read note below, otherwise it can spill).
Cut the ingredients from the toppings list and mix with rest of oatmeal.
Notes
• If prepping ahead of time, place the first 3 ingredients in a plastic storage bag until you are ready to mix the toppings the day of.
• If you can't find oat flour in your grocery store, you can easily make yours by adding rolled oats to a food processor and grinding into a flour consistency.
• It's important that you do not microwave the oatmeal at one time, otherwise it will spill over.
• This recipe can be made the day of or before hand and saved in a plastic food storage bag.
Blame it on Mei | Miami Mom Blogger Mei Jorge https://www.blameitonmei.com/
---
PIN FOR LATER