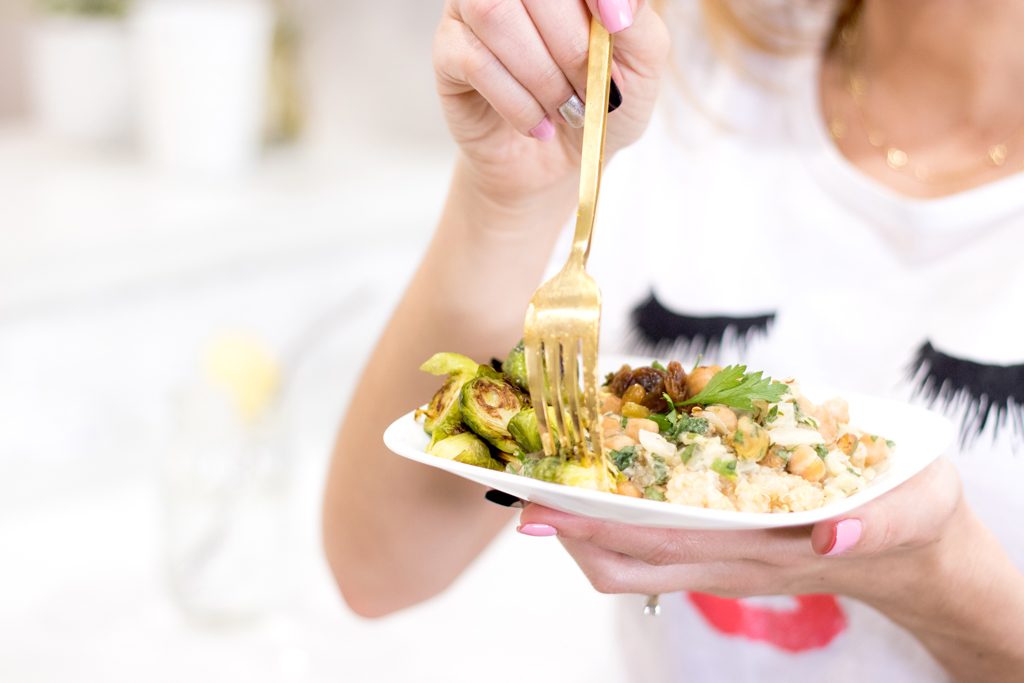 [one_half]
Hi loves!
What do you say we welcome February with a new healthy recipe? Can I get a YAS!!!! Well I hope you like garbanzo beans, because I love them! THEY. ARE. DELISH!
But aside from that, they are also part of the superfood list. So naturally, I gravitated towards this recipe while I was making my weekly search for meal-prep options. Not sure if I have mentioned the following before, but all the recipes that I have shared so far can be cooked ahead of time and stored in the fridge for a later date (of the same week). Although it might take a few hours (2-2.5 hrs.) to cook three different meals, it saves you time every night when you don't know what to cook for dinner, or better yet, saves you $ during lunch time while at work.
Hope you like this recipe as much I did.
PS. If you want to see the other yummy and healthy recipes you can do so here.
[/one_half][one_half_last]
¡Hola amores!
¿Qué dicen si le damos la bienvenida a febrero con una nueva receta saludable? Bueno, espero que les gusten los garbanzos, ¡porque yo los amo!
Pero aparte de que son deliciosos, también forman parte en la lista de los súper alimentos. Así que, naturalmente, esta receta me llamo la atención mientras hacía mi búsqueda semanal para partidarios. No estoy seguro de haber mencionado lo siguiente, pero todas las recetas que he compartido hasta ahora se pueden cocinar con anticipación y guardar en el refrigerador para después (mientras que sea en la misma semana). Aunque puede tomar unas horas (2 a 2.5 horas) cocinar tres comidas diferentes, le ahorrara tiempo cada noche cuando no sabe qué cocinar para la cena, o mejor aún, le ahorra $ durante la hora del almuerzo en su trabajo.
¡Espero que les guste esta receta tanto como yo!
PD: Si desean darle un vistazo a las otras deliciosas y saludables recetas, pueden hacerlo aquí.
[/one_half_last]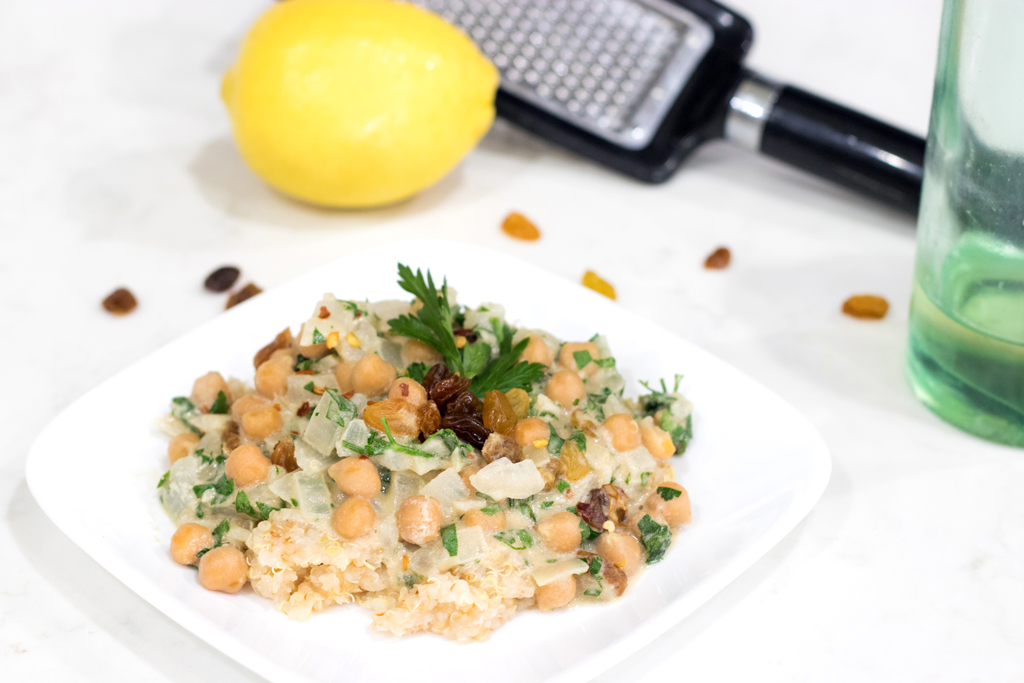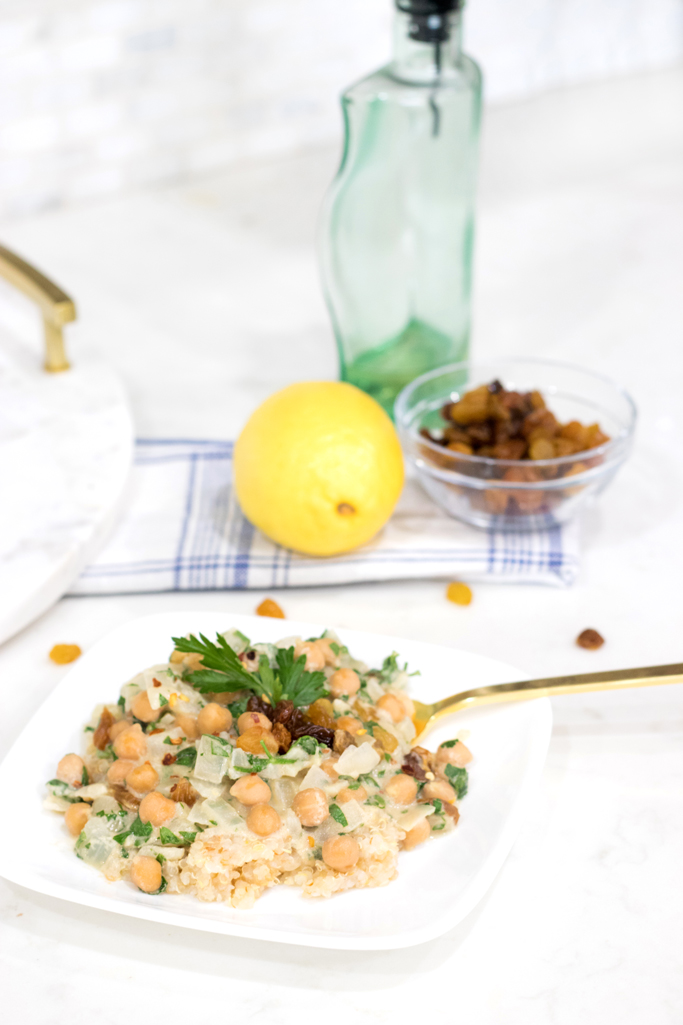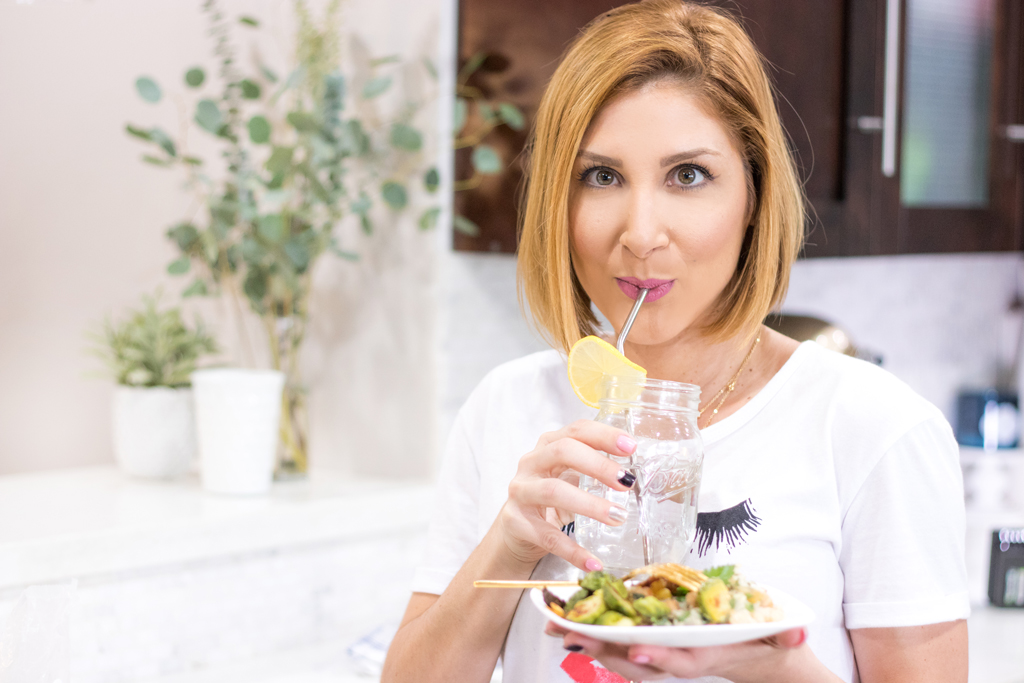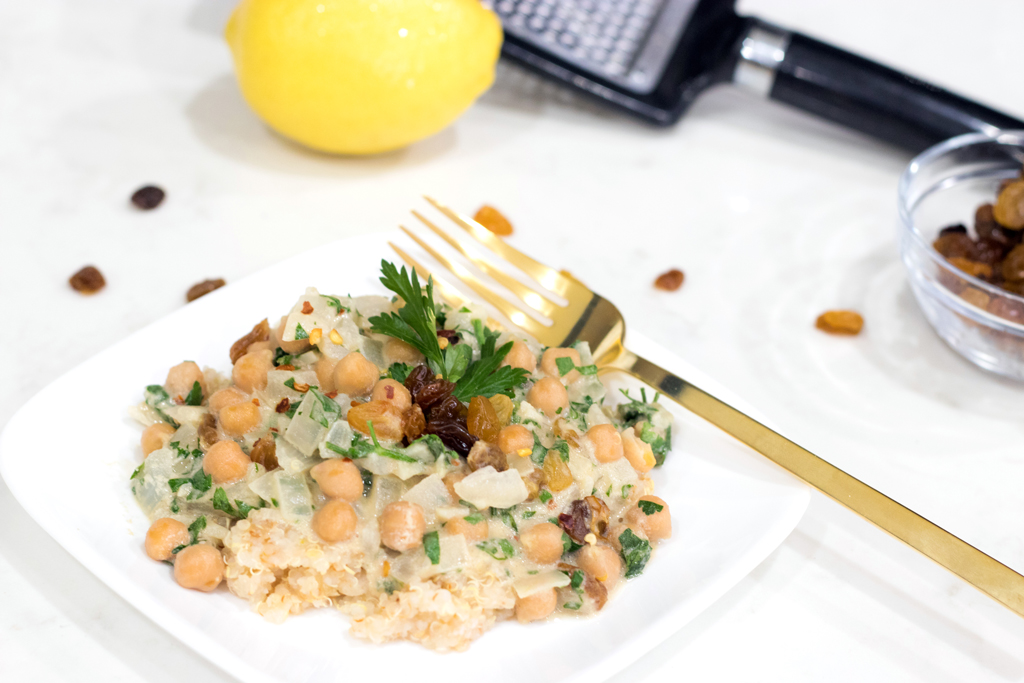 Garbanzo Beans in Tahini Sauce over Lemony Quinoa
2018-01-30 15:50:41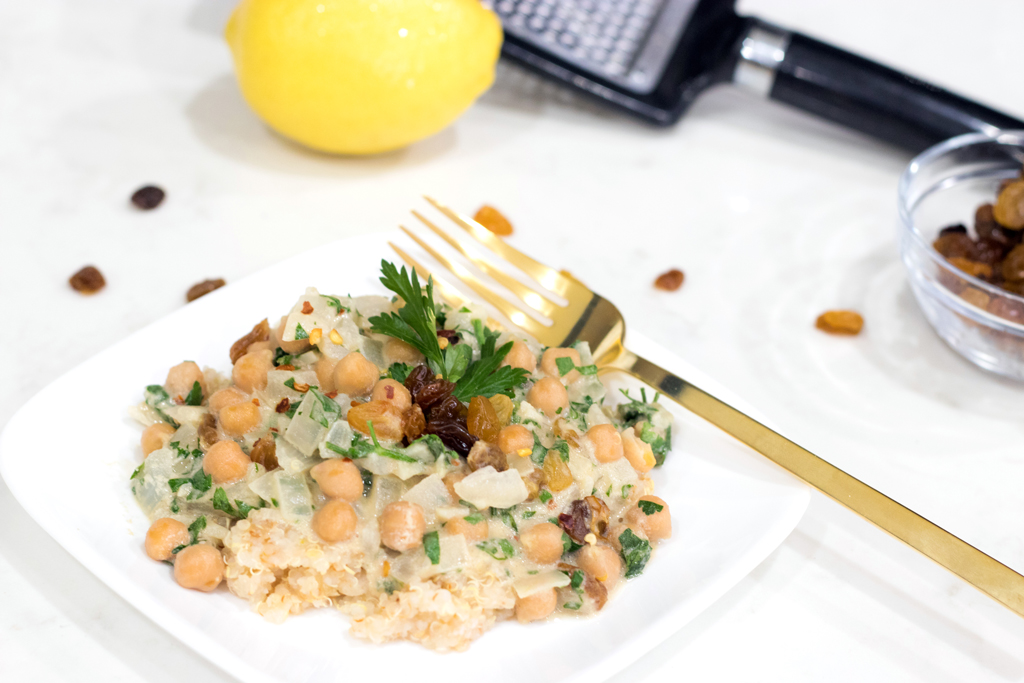 Serves 5
Garbanzo beans are not only part of the superfood list, they are truly delish! **This recipe is vegetarian, vegan friendly & gluten free**
Ingredients
• 3 tablespoons olive oil, divided
• 1 cup quinoa
• 2 2/3 cups water, divided
• 1 1/4 teaspoons salt, plus more for seasoning
• 1/2 medium onion
• 2 garlic cloves
• 2 lemons
• 1/4 teaspoon red pepper flakes (optional)
• 1/2 cup tahini
• 2 teaspoons granulated sugar
• 1 (15-ounce) can garbanzo beans, drained and rinsed
• 1/3 cup golden raisins
• 1/2 cup coarsely chopped fresh parsley leaves
Instructions
Heat 1 tablespoon of the oil in a medium saucepan over medium heat until shimmering.
Add the quinoa and cook, stirring occasionally, until it is toasted and golden brown, about 4 minutes.
Add 2 cups of water and 1/4 teaspoon salt, bring to a boil. Cover the pan, reduce the heat to low, and simmer 15 minutes.
Remove from the heat and let sit covered for 10 minutes.
Meanwhile, make the butter bean mixture. Cut the onion into small dice, finely chop the garlic and zest one of the lemons. Set the zest aside.
Juice both lemons and set the juice aside.
Heat the remaining 2 tablespoons olive oil in a large frying pan over medium heat until shimmering.
Add the onion, garlic, and red pepper flakes if using, and season with salt.
Cook, stirring occasionally, until translucent and very tender, about 10 minutes.
Meanwhile, whisk together the remaining 2/3 cup water, 1 teaspoon salt, tahini, 1/4 cup of the lemon juice, and sugar in a small bowl until smooth and set aside.
When the onion is ready, add the tahini mixture, garbanzo beans, and raisins and stir to combine.
Heat just until the edges of the pan begin to bubble (do not let the mixture boil).
Taste and season with salt as needed. Remove from the heat, cover to keep warm, and set aside until the quinoa is ready.
When the quinoa is ready, add in 1 tablespoon of the lemon juice and the reserved zest and fluff with a fork.
Taste and season with salt and more lemon juice as needed.
Stir the parsley into the garbanzo bean mixture and serve over the quinoa.
Blame it on Mei | Miami Mom Blogger Mei Jorge https://www.blameitonmei.com/