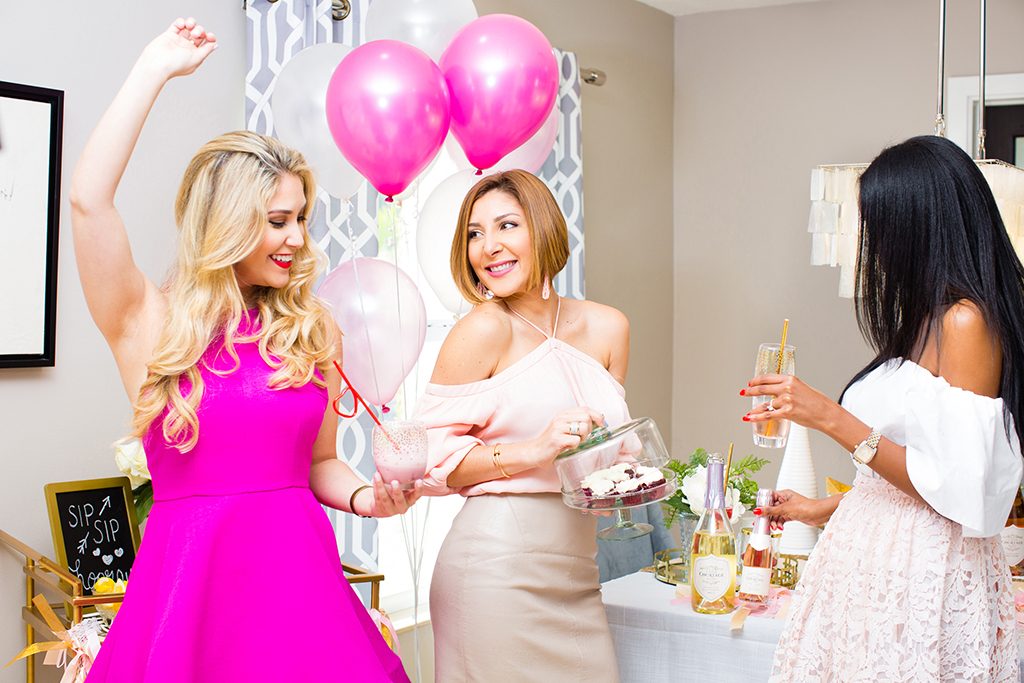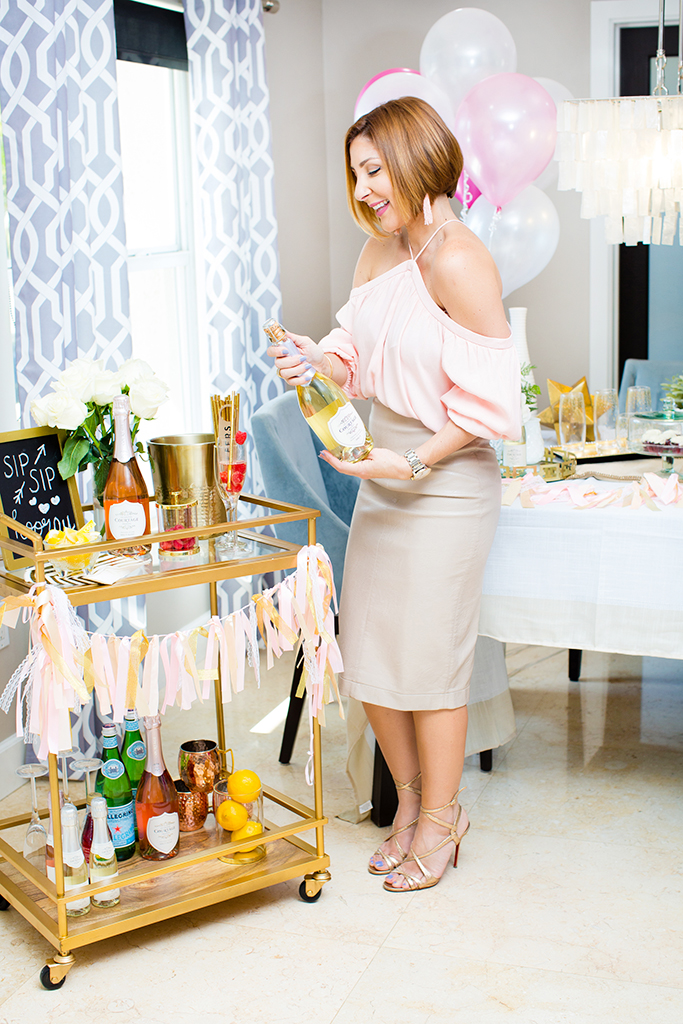 Want the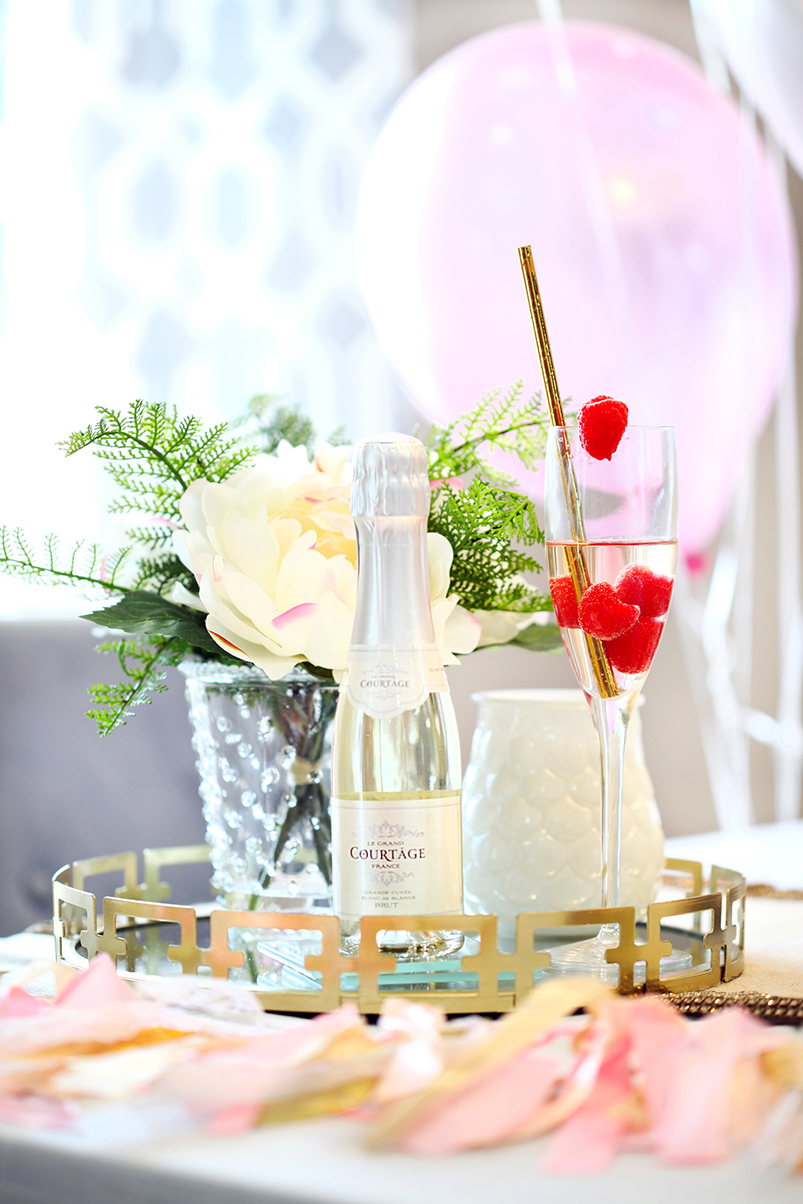 perfect excuse to hang out with your besties? Why not celebrate Galentine's over some bubbly cocktails? Check out the blog for more! Valentine's Cocktails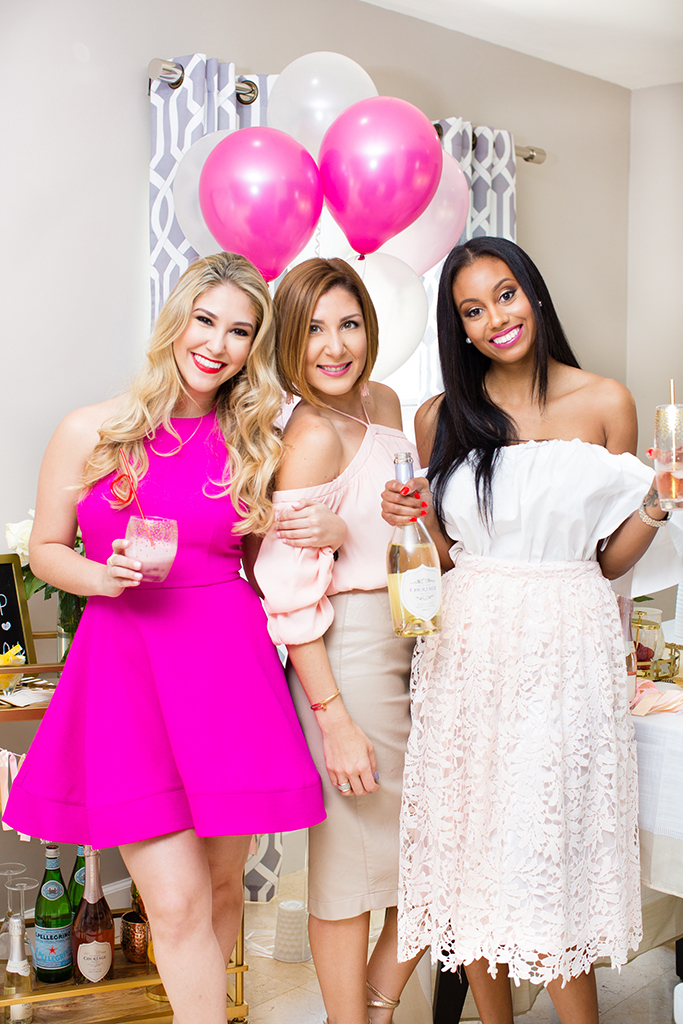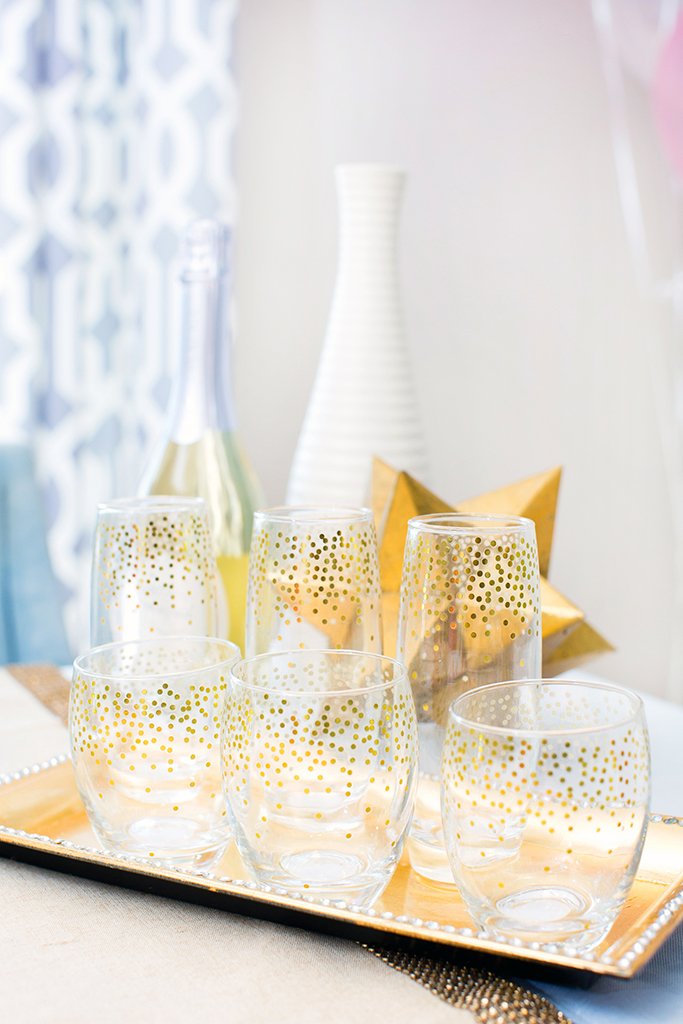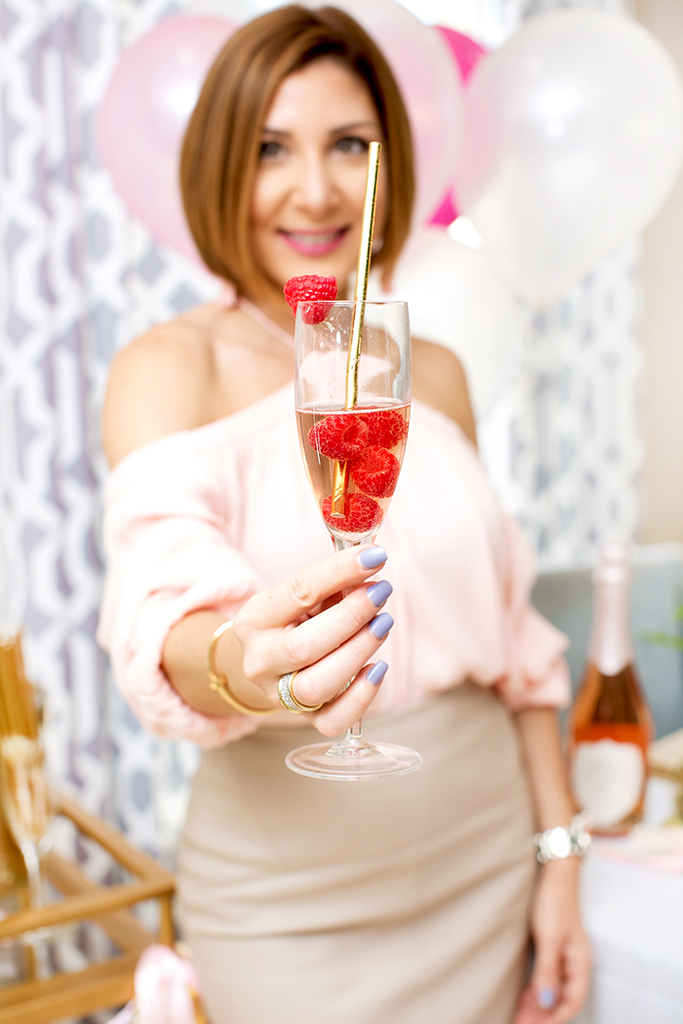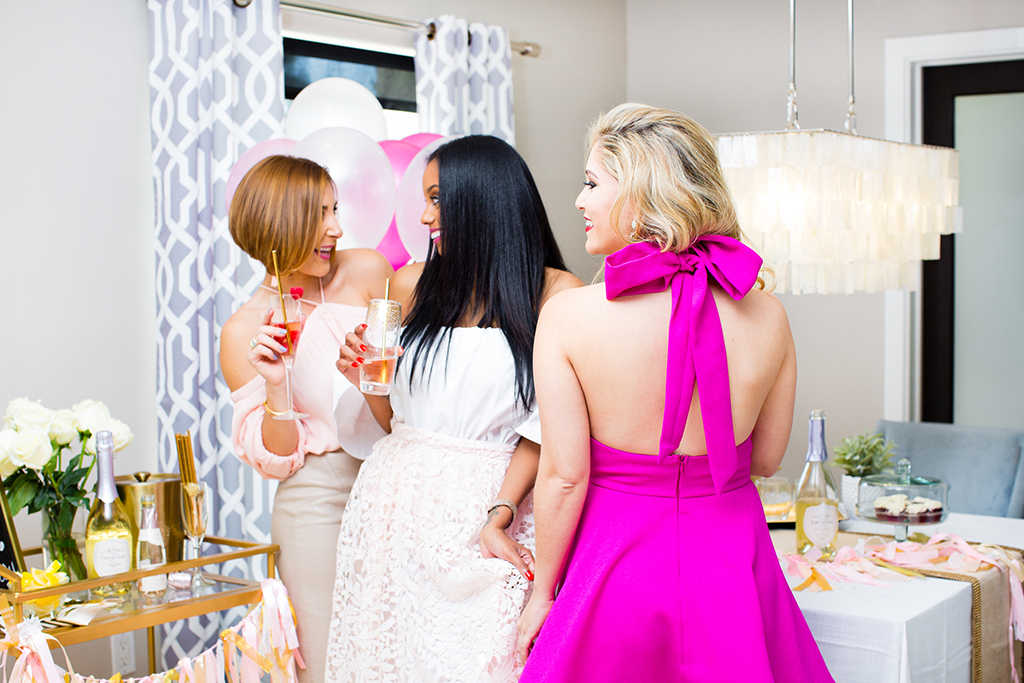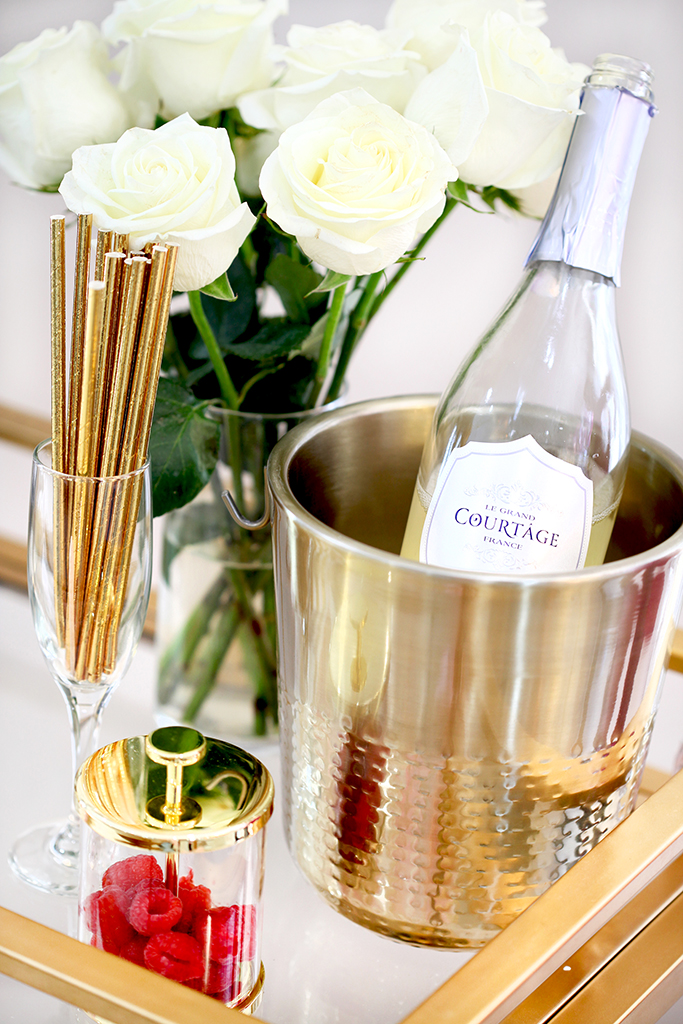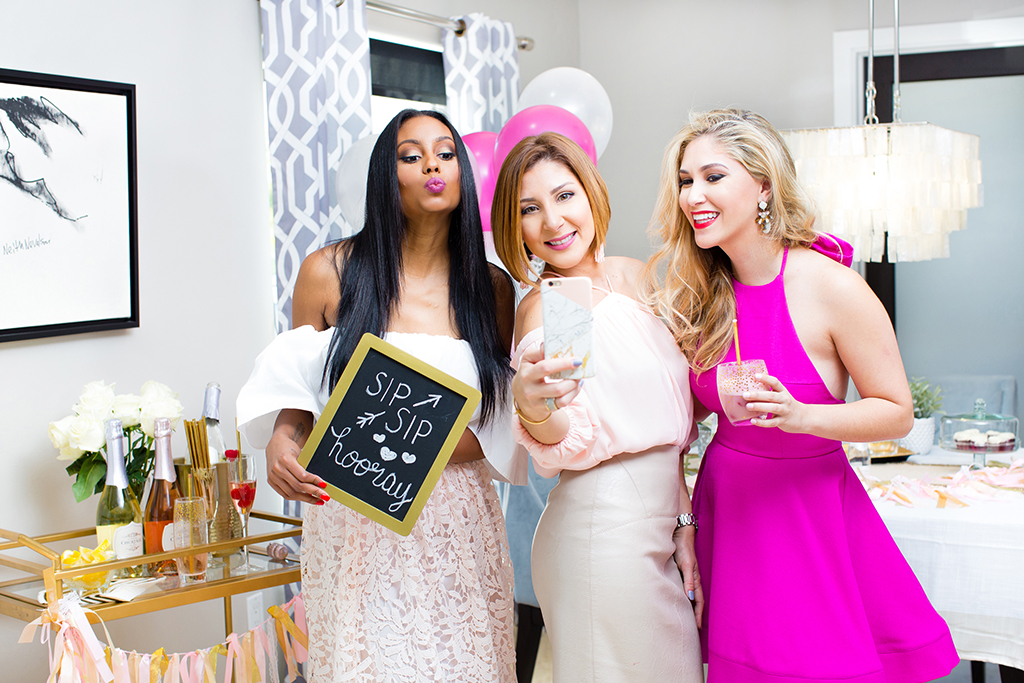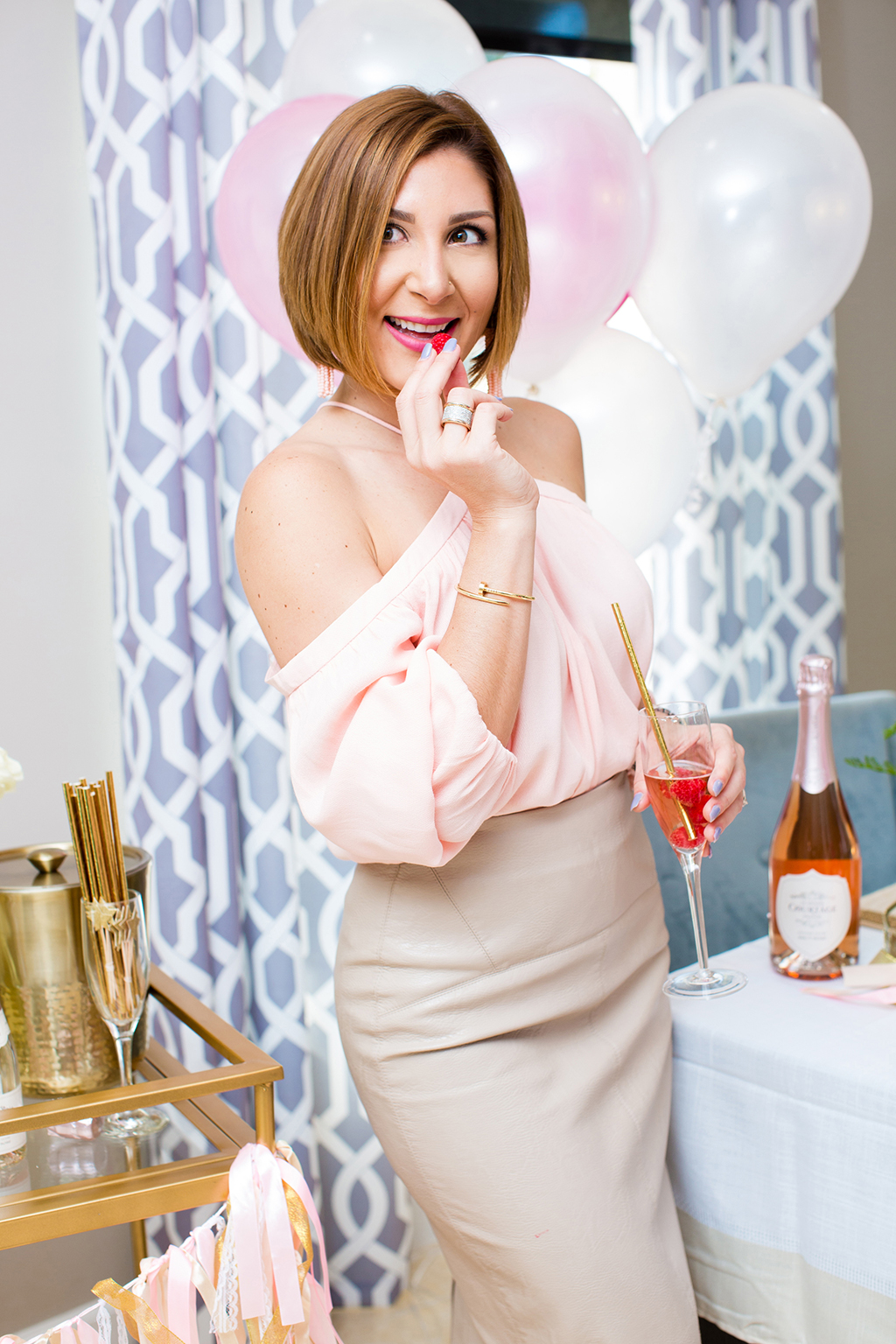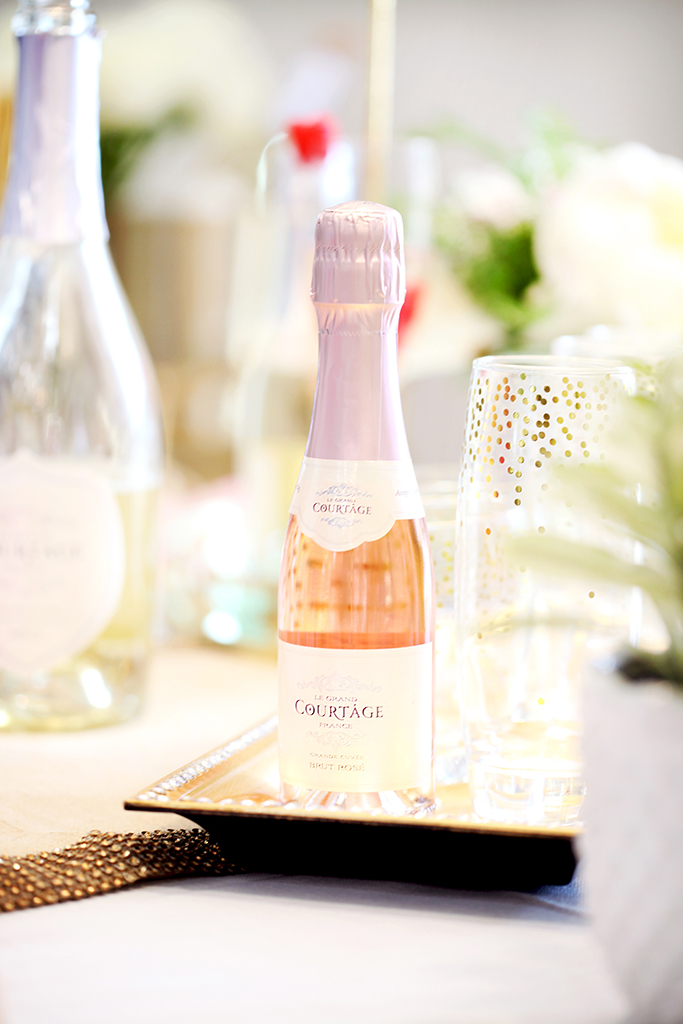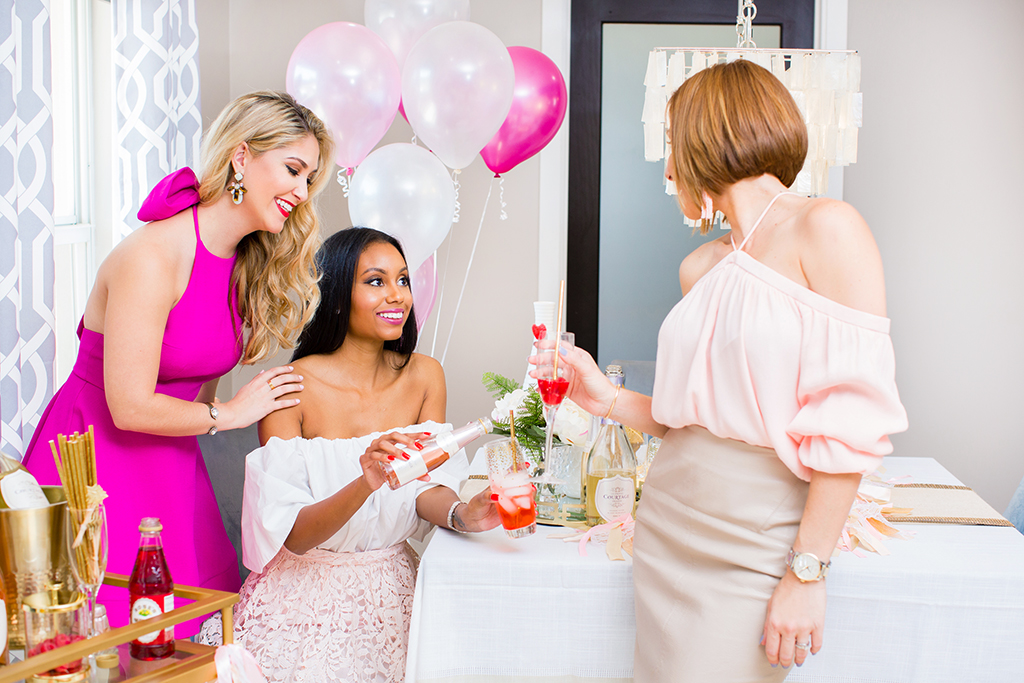 { BAR CART } CART    ||   CONFETTI CHAMPAGNE GLASS    ||   CONFETTI WINE GLASS    ||    ICE BUCKET      ||    GLASS CANISTER     ||     GOLD STRAWS    ||    GOLD STRIPE NAPKINS        ||      PINK RIBBON BANNER     ||    LOVE GLASS COASTERS      ||     CHEERS BOTTLE OPENER (similar here)   ||  MOSCOW MULE COPPER CUPS (similar here)    ||    ROUND MIRROR TRAY     ||    TABLE RUNNER

{ MY LOOK} TOP: Maruchi (similar here and here)   ||   SKIRT: Zara (similar here and here)   ||    EARRINGS: Baublebar (new affordable collection in collaboration with Target here)   ||   Bracelet: Cartier (affordable option here)  ||   RING: Henri Bendel (affordable option here)   ||   WATCH: MontBlanc (affordable option here)   ||   SANDALS: Christian Louboutin (similar here, affordable option here)   ||   LIPSTICK: c/o Bite Beauty
Photography by: Luccia Lowenthal
Happy Wednesday loves!
So what's a good excuse for having some fun with your besties besides the typical shopping date or Sunday brunch? A Galentine's cocktail-soirée of course! And this past weekend, I did just that with these gorgeous ladies; Rochelle from Pretty Yellow Things and Laura from Laura Wears.
The mood was set with delish bubbly courtesy of Le Grand Courtâge, yummy sweets, contagious laughs and lots of selfies. And let's not forget my adorable bar cart! I am so #OBSESSED. And for under $120 is a steal. Trust me when I say that because I have been on a serious hunt for a cute yet affordable option for some time now. If you are also obsessing over the gold straws, confetti cups, ice bucket and the rest of the bar cart setup, I have linked all the details above.
As far as our bubbly cocktails, we each decided to make our own (because three is always better than one, right!). Below you can find the recipe for my oh-so-valentine's-inspired drink. Make sure to check out Rochelle's Shirley Temple and Laura's Strawberry Champagne Float.
Raspberry Champagne Rum Punch
Ingredients
• 1 mint sprigs (optional for garnish although I used a raspberry)
• 1 (10-ounce) bag frozen raspberries, slightly thawed
• 1 liter bottle of Ginger ale (chilled)
• 1 (750 ml) bottle of Le Grand Courtâge Brut Rose (chilled)
• 1 cup Rum 
Instructions
Pour champagne, ginger ale and rum into a large pitcher or punch bowl. Add raspberries and stir gently to combine. Garnish with mint sprig or single raspberry like I did.

FALDA ENTALLADA + BLUSA DE HOMBROS AL DESCUBIERTO
¡Feliz miércoles!
¿Cuál es una buena excusa para divertirse con tus mejores amigas además de un paseo de compras o un brunch (almuerzo) de domingo? ¡Una fiesta entre amigas para celebrar el día de San Valentín por supuesto! Y este fin de semana pasado, hice justamente eso con estas bellísimas chicas; Rochelle de Pretty Yellow Things y Laura de Laura Wears.
El escenario se estableció con exquisitos vinos espumantes cortesía de Le Grand Courtâge, deliciosos dulces, contagiosas risas y un montón de selfies. Y no nos olvidemos de mi adorable carrito de bar. ¡Estoy obsesionada con el! Y por menos de $120 es difícil decirle que no. Confíen en mí cuando digo eso porque he estado en búsqueda de uno como este, a un precio asequible, hace un par de meses. Si también están obsesionadas con el sorbete/popote/pitillo dorado, vasos de confeti, hielera y el resto de los accesorios de mi carrito, he escrito todos los detalles donde adquirirlo arriba.
En cuanto a nuestros espumosos cócteles, cada una decidimos saborear de uno diferente (porque tres es siempre mejor que uno, ¿no lo creen?). A continuación pueden encontrar la receta de mi bebida y no se olviden de echarle un vistazo a las recetas de las otras chicas: Shirley Temple de Rochelle y el Champán con sorbete de fresas de Laura.
Ponche de Champan con Frambuesa
Ingredientes
• 1 ramita de menta (opcional para adornar pero yo use una frambuesa)
• 1 (10 onzas) de frambuesas congeladas (ligeramente descongeladas)
• Botella de 1 litro de Ginger ale (fría)
• 1 botella (750 ml) de Le Grand Courtâge Brut Rose (fría)
• 1 taza de Ron
Instrucciones
Servir champaña, ginger ale y ron en una jarra. Agregue las frambuesas y revuelva para combinar. Adorne con ramita de menta o frambuesa como lo hice yo.