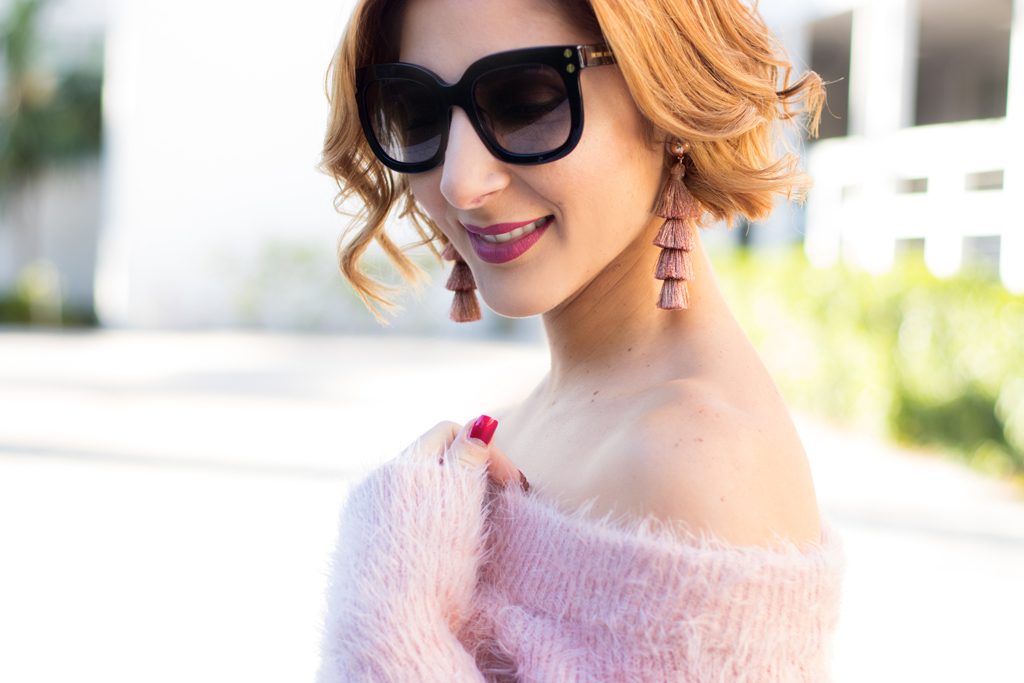 Everyone needs an off the shoulder sweater in their collection! Especially when it's #millenialpink and made of the comfiest fuzziest fabric. Miami Fashion Blogger


SWEATER: c/o Saks OFF 5th || LEGGINGS: c/o Saks OFF 5th || RING: YSL (affordable stone ring) || EARRINGS: BaubleBar|| HANDBAG: c/o Saks OFF 5th) || SHOES : Stuart Weiztman (affordable pearl sandals) || SUNGLASSES: Henri Bendel || LIPSTICK: Huda Beauty – Bombshell
[one_half]
I love a good deal –#WhoDoesnt right? especially when we are talking about designer goodies. That is why I am so excited to be partnering with Saks OFF 5th to feature not only how you can find great discounts on your favorite brands, but to share how you can style one item several ways.
When I was choosing the pieces for this collaboration, I eyed this darling fuzzy off-the-shoulder sweater. I immediately began picturing it with almost all the other items that were on my cart. Thus, I thought, why not share how I would style it different ways?
[/one_half][one_half_last]
Me encantan las rebajas –¿a quien no? – especialmente cuando estamos hablando de marcas que amo. Es por eso que estoy bien emocionada de haberme unido con Saks OFF 5th en las siguientes publicaciones para ofrecer no solo cómo pueden encontrar grandes descuentos en sus marcas favoritas, sino también para compartir cómo pueden combinar su pieza favorita, de varias maneras.
Cuando estaba eligiendo las piezas para esta colaboración, vi este adorable suéter de hombros al descubierto. Inmediatamente comencé a imaginarlo con casi todos los otros artículos que ya estaban en mi carrito de compras. Por lo tanto, pensé, ¿por qué no compartir cómo lo combinaría de forma diferente?
[/one_half_last]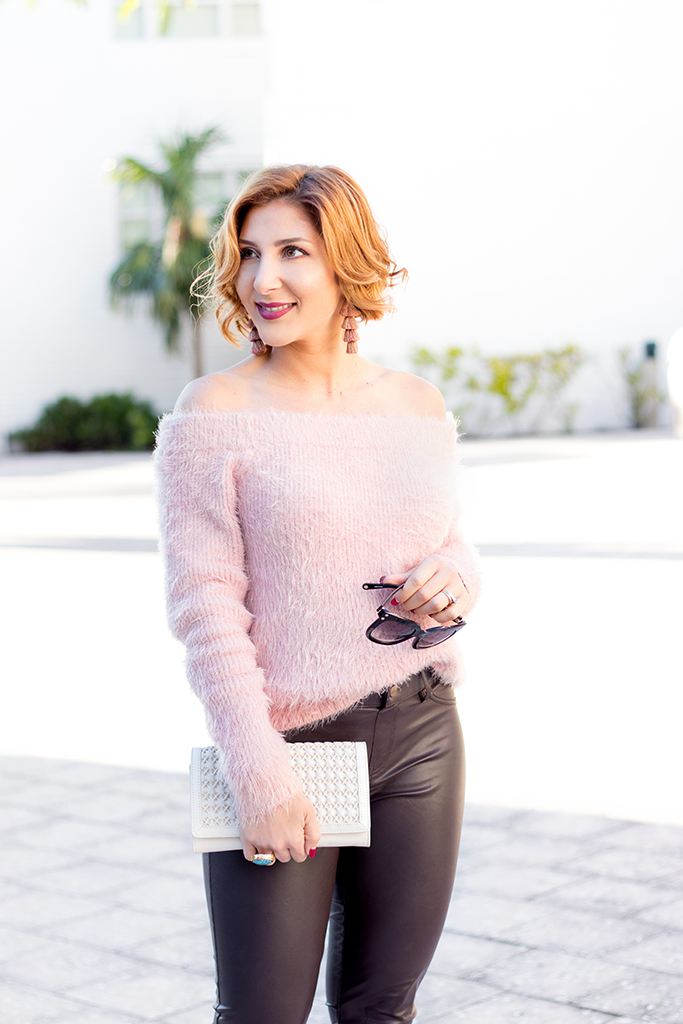 [one_half]
If you have been a reader for some time, you must know that I am an advocate of repurposing favorite pieces over and over again, and have in fact shared this personal philosophy many times before. It is easy to get caught up with buying new items ever so often or whenever there's a special occasion. But if you are up to the challenge, I guarantee that you can mix and match most of the pieces you already have in your closet in completely different ways. So, let's get started.
I decided to premier my first #off5thfind during the South Florida Blogger Awards two weekends ago (read the PS note on this post for more about the award I was honored with). I opted to pair my new millennial pink sweater, which is a bit on the looser side with something more fitted, like these dark brown faux leather leggings. The purpose was to elongate my petite height (I am only 5'3") and it sure did the trick!
Come back soon to check out how I style this same sweater again!

This is a sponsored conversation written by me on behalf Saks OFF 5th. All the opinions expressed are, as always, honest and my own. Thanks for supporting the brands that make this blog possible.
[/one_half][one_half_last]
Si han sido lectores del blog durante algún tiempo, deben saber que defiendo la noción de vestir piezas una y otra vez, y de hecho he compartido esta filosofía muchas veces. Es fácil caer en la trampa de compra nuevos artículos a menudo o cada vez que hay una ocasión especial. Pero si están preparadas para el desafío, le garantizo que pueden mezclar y combinar la mayoría de las piezas que ya tiene en su armario de maneras completamente diferentes. Empecemos…
Decidí estrenas mi primer #off5thfind durante los premios de South Florida Bloggers hace dos fines de semana (lea mi nota al final, en esta publicación para obtener más información sobre el premio que gane). Opté por combinar mi nuevo suéter color rosa, que es un poco suelto con algo más ajustado, como estos leggings de piel sintética de color marrón oscuro. El objetivo era alargar mi pequeña estatura (solo soy 5'3″) y ¡sí que funcionó!
¡Regresen pronto para ver cómo combine este mismo suéter una vez más!
Esta es una conversación escrita por mí y patrocinada por Saks OFF 5th. Todas las opiniones expresadas, como siempre, son honestas y propias. Gracias por apoyar a las marcas que hacen este blog posible.
[/one_half_last]