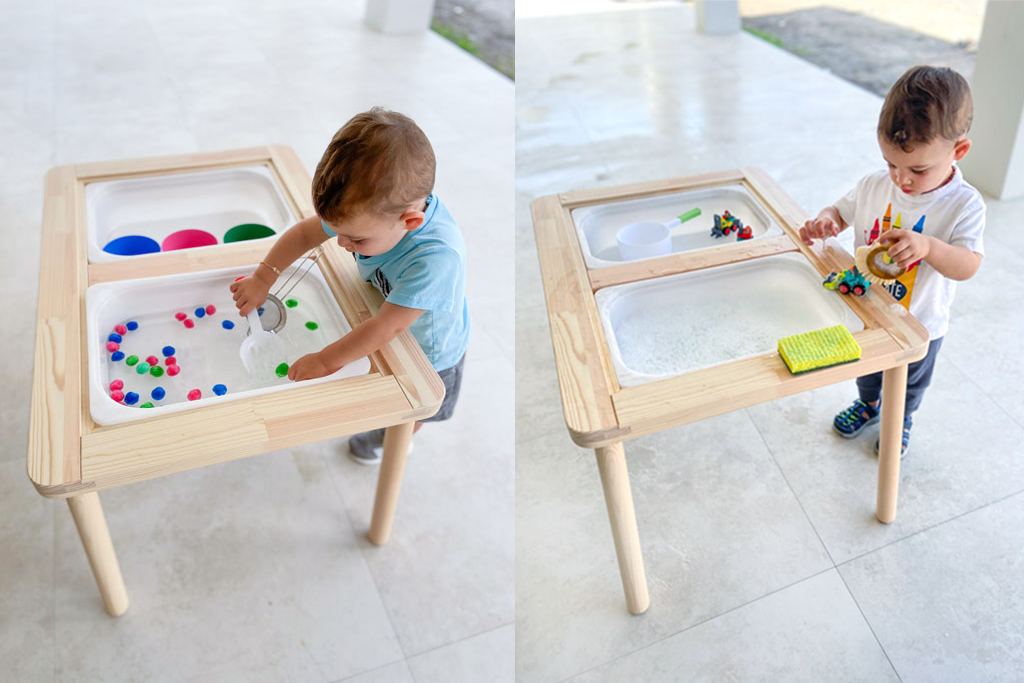 https://amzn.to/2yTQmtQWant to keep your little one busy during self-isolation? These indoor toddler activities are super fun for them and simple to make for you.


[one_half]
This article was first published on coralgableslove.com.
Hi loves,
As self-isolation inside our home is still the norm, we fret with what our little ones can do besides the stationary screen time. So, here are 5 fun activities for toddlers that you can create with materials you already have at home.
PS: the sensory table is from IKEA.
[/one_half][one_half_last]
Este artículo fue publicado por primera vez en coralgableslove.com.
¡Hola amores!
Como el autoaislamiento dentro de nuestra casa sigue siendo la norma, nos preocupamos por lo que nuestros pequeños pueden hacer además del tiempo al frente de pantallas. Entonces, aquí hay 5 actividades divertidas para niños pequeños que ustedes pueden crear con materiales que ya tienen en casa.
PD: la mesa sensorial es de IKEA.
[/one_half_last]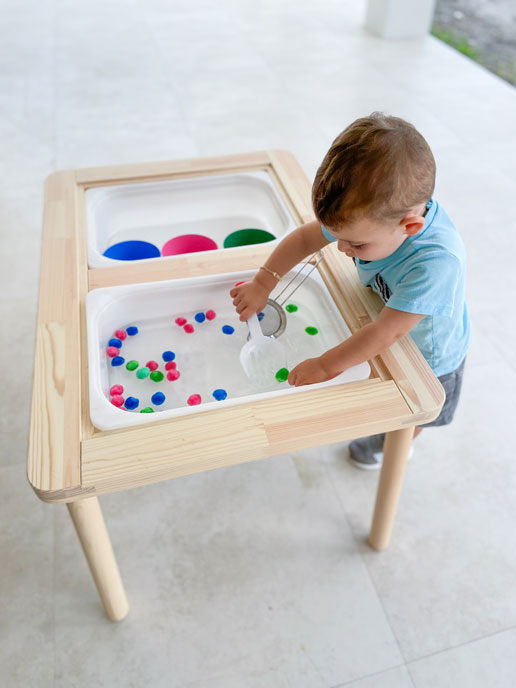 [one_half]
Scooping & Color Matching in Water
What you'll need
1 plastic bin
Different colored pom poms, water toys, water bottle caps or any item that floats
Slotted spoon or hand-held colander
2-3 colored bowls that match the items chosen above (we have these from IKEA)
What to do
Fill bin with water
Place items that float in the bin
Place the colored bowls and colander next to bin
Show child how to scoop and place the items in their coordinating colored bowls
[/one_half][one_half_last]
Combinar Colores
Lo que necesitarán
1 recipiente de plástico
Pompones de diferentes colores, juguetes de agua, tapas de botellas de agua o cualquier artículo que flote
Cuchara con agujeros o colador de mano
2-3 tazones de colores que coinciden con los elementos elegidos anteriormente (tenemos estos de IKEA)
Qué hacer
Llene el recipiente con agua
Coloque los artículos que flotan en el recipiente
Coloque los tazones de colores y el colador al lado del recipiente
Muéstrenle al niño cómo sacar y colocar los artículos en el tazón correspondiente
[/one_half_last]
---
---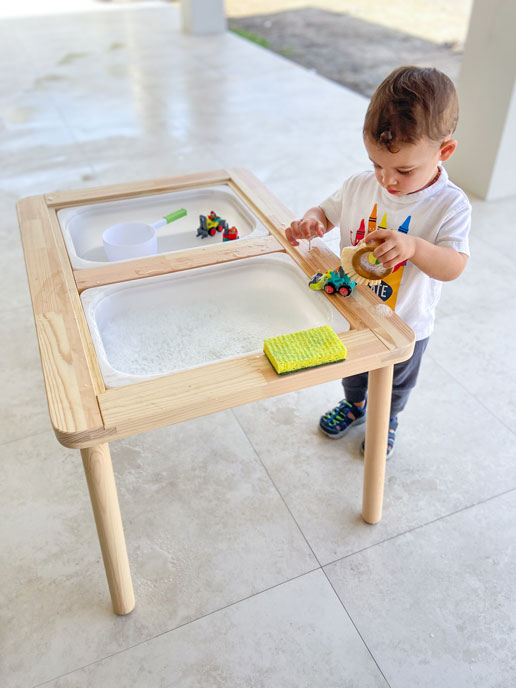 [one_half]
Wash Station
What you'll need
2 bins
Soap
Sponge or cleaning brush
Dry towel
Toys (can be cars, dolls, animals, etc.)
What to do
Fill one of the bins with soapy water
Fill the other bin with clean water
Let your child gather the toys he/she wants to wash
Show child how to wash toys in soapy water, rinse with clean water and dry with towel
[/one_half][one_half_last]
Estación de Lavado
Lo que necesitarán
2 recipientes de plástico
Jabón
Esponja o cepillo de limpieza
toalla seca
Juguetes (pueden ser autos, muñecas, animales, etc.)
Qué hacer
Llenar uno de los recipientes con agua y jabón
Llenar el otro recipiente con agua limpia
Dejen que su hijo escoja los juguetes que desee lavar
Muéstrenle al niño cómo lavar los juguetes con agua jabonosa, enjuagar con agua limpia y secar con la toalla
[/one_half_last]
---
---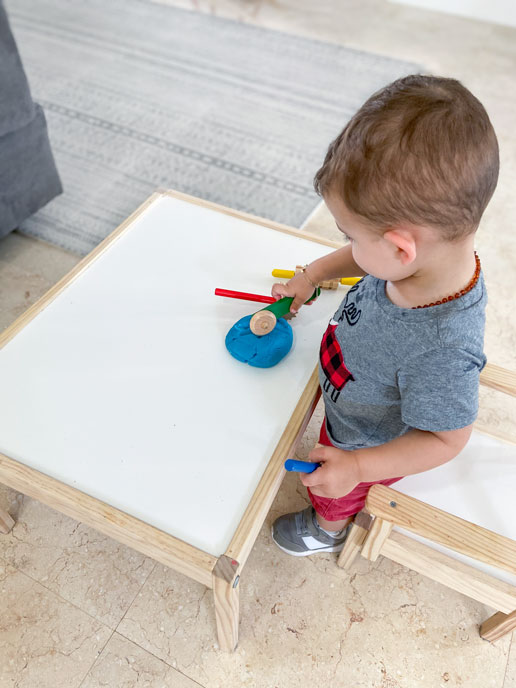 [one_half]
Non-toxic Homemade Playdoh
What you'll need
1 cup flour
2 tsp cream of tartar
½ cup salt
1 tbsp cooking vegetable oil
1 cup warm water
cookie cutter (or anything similar)
How to make it
Mix 5 drops of gel food coloring with water
Add vegetable oil and water with food coloring to a large pot
Add the dry ingredients to your pot and mix well
Cook over low to medium heat until dough starts to form and becomes dry
Once it starts to form a ball, take off the heat.
Once cool, knead for 5 minutes
[/one_half][one_half_last]
Plastilina casera
Lo que necesitarán
1 taza de harina
2 cucharaditas de crema de tártaro
½ taza de sal
1 cucharada de aceite vegetal para cocinar
1 taza de agua tibia
cortador de galletas (o algo similar)
Como hacerlo
Mezcle 5 gotas de colorante de gel con agua
Agregue aceite vegetal y agua con colorante a una olla grande
Agregue los ingredientes secos a su olla y mezcle bien
Cocine a fuego bajo hasta que la masa comience a formarse y se seque
Una vez que comienza a formarse una bola, quite del fuego
Una vez frío, amase durante 5 minutos.
[/one_half_last]
---
---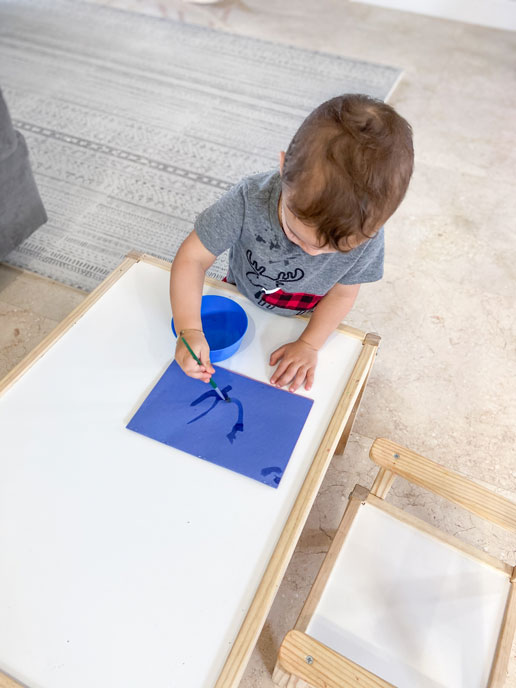 [one_half]
Painting with Water
What you'll need
construction paper (or any colored paper)
brushes, cotton balls or foam brushes
small bowl
painter's tape
What to do
Tape construction paper to desired surface
Fill bowl with water (a little goes a long way)
Show child how to dip brush in water and paint on paper
[/one_half][one_half_last]
Pintar con agua
Lo que necesitarán
papel para manualidades
pincel, algodón o brochas de espuma
tazón pequeño
cinta de pintor
Qué hacer
Pegue el papel con cinta a la superficie deseada
Llene el recipiente con agua (solo un poco es necesario)
Muéstrele al niño cómo sumergir el pincel en agua y pintar sobre papel
[/one_half_last]
---
---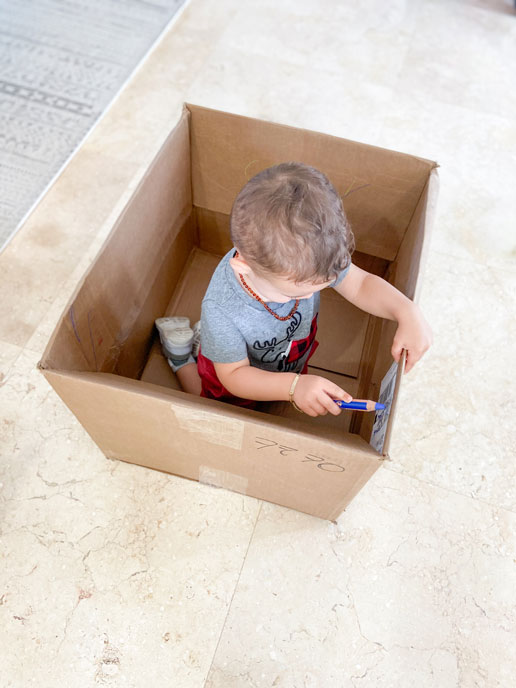 [one_half]
Cardboard Box Coloring
What you'll need
What to do
Place colored pencils inside box
Place child inside box
Show child he/she can color anywhere inside the box
[/one_half][one_half_last]
Colorear en caja de cartón
Lo que necesitarán
Qué hacer
Coloque lápices de colores dentro de la caja
Coloque al niño dentro de la caja
Muestre al niño que puede colorear en cualquier lugar dentro de la caja
[/one_half_last]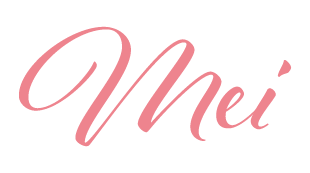 ---
PIN FOR LATER