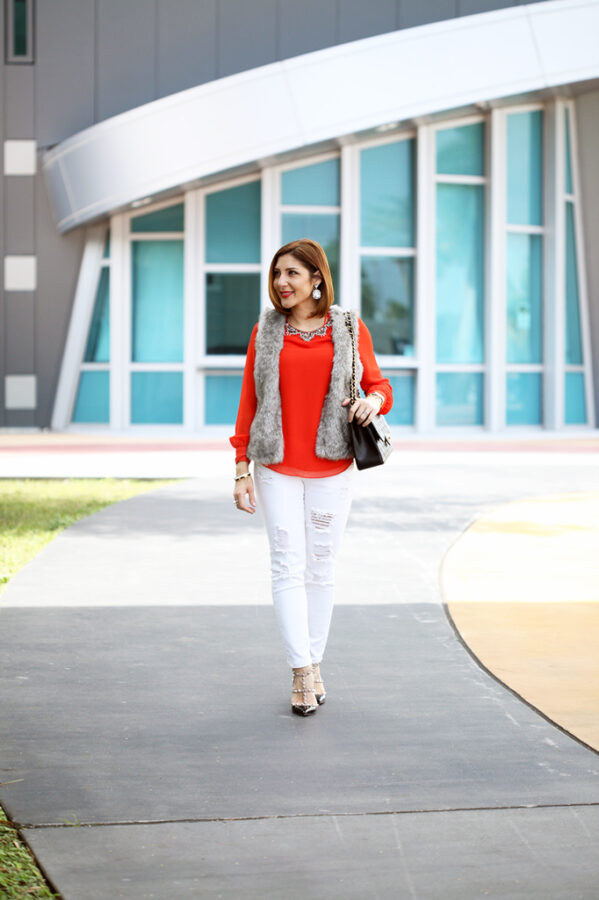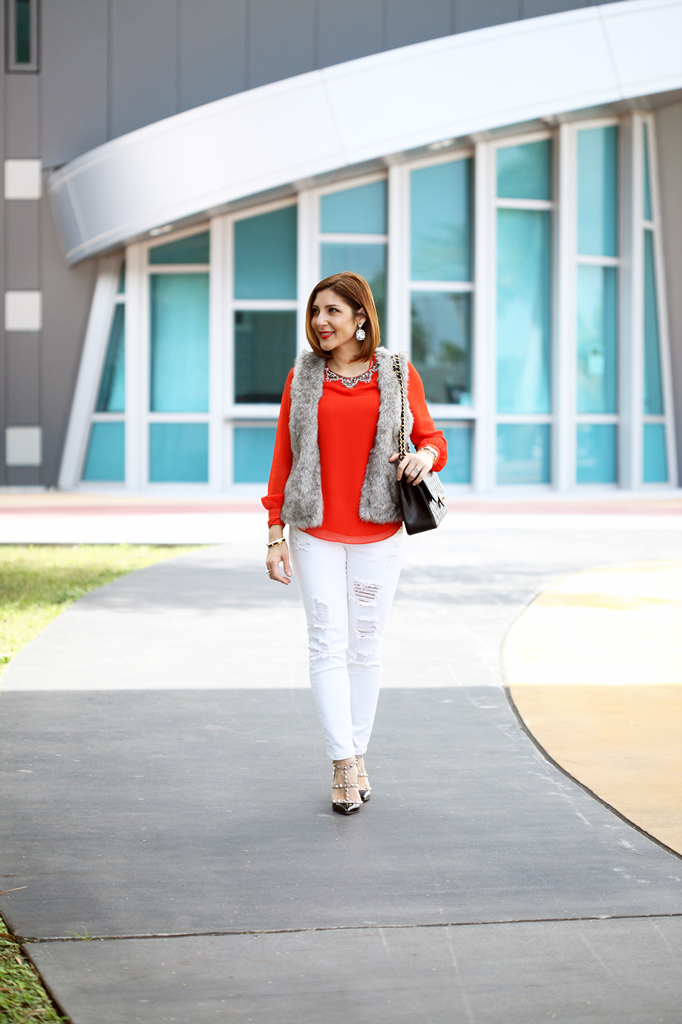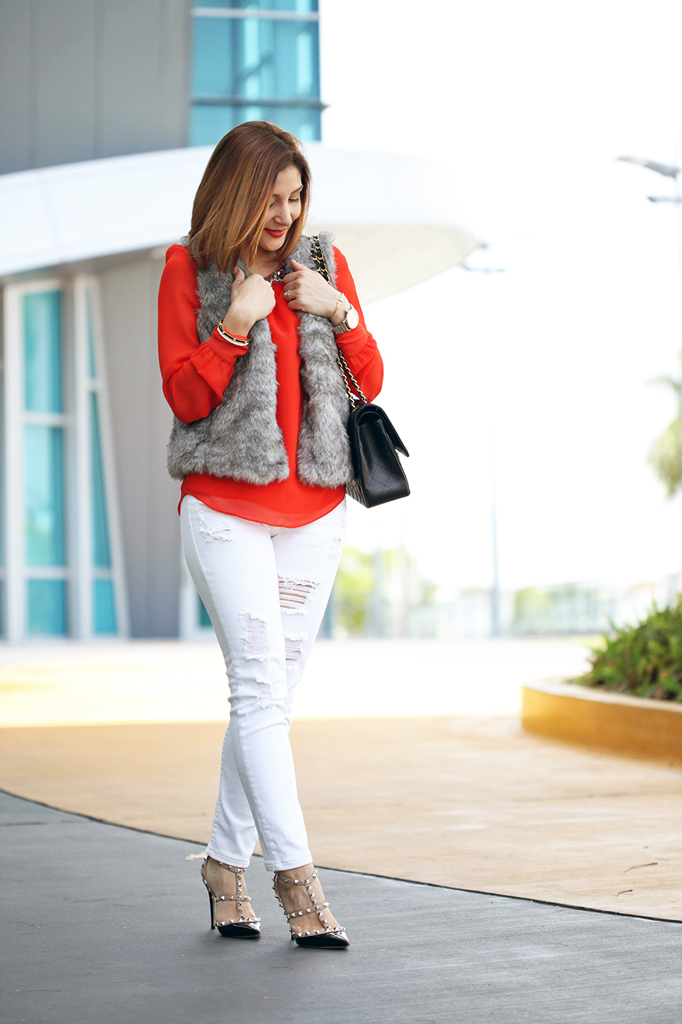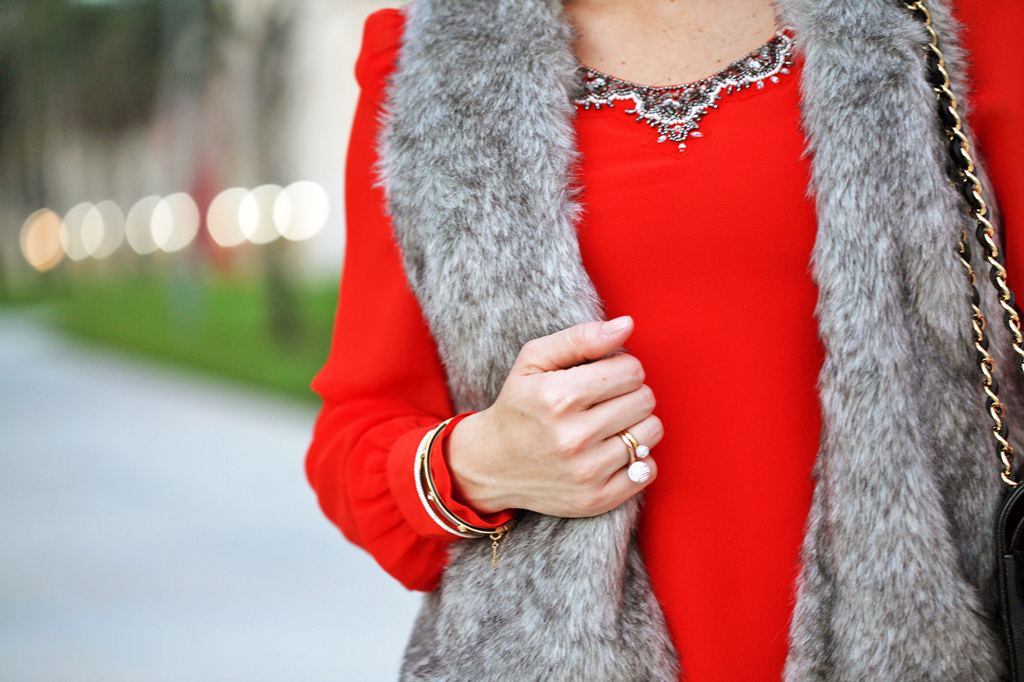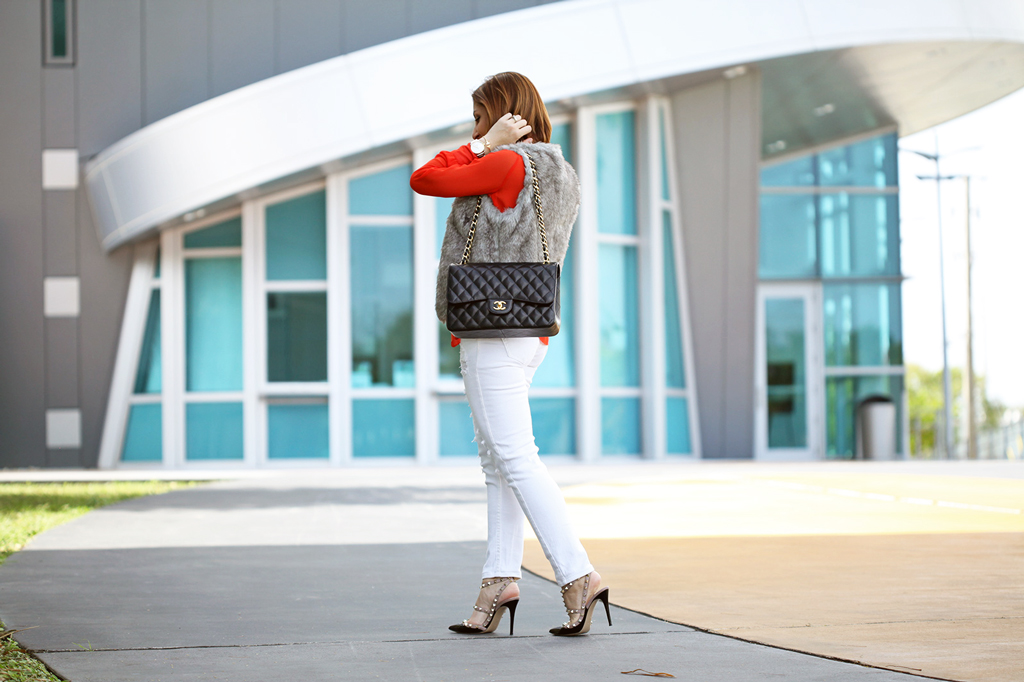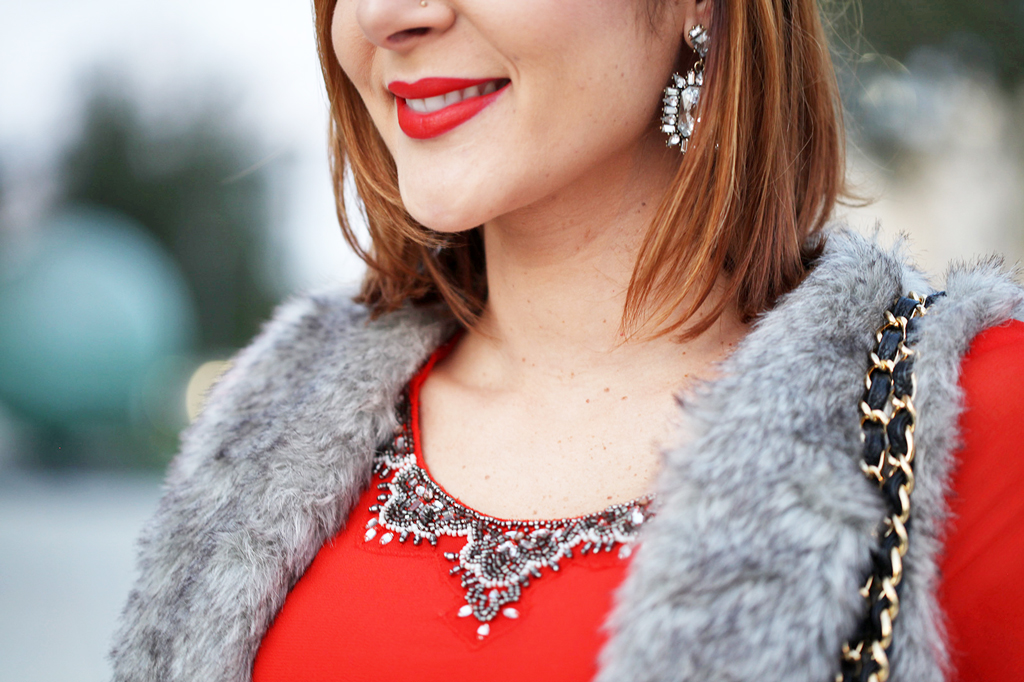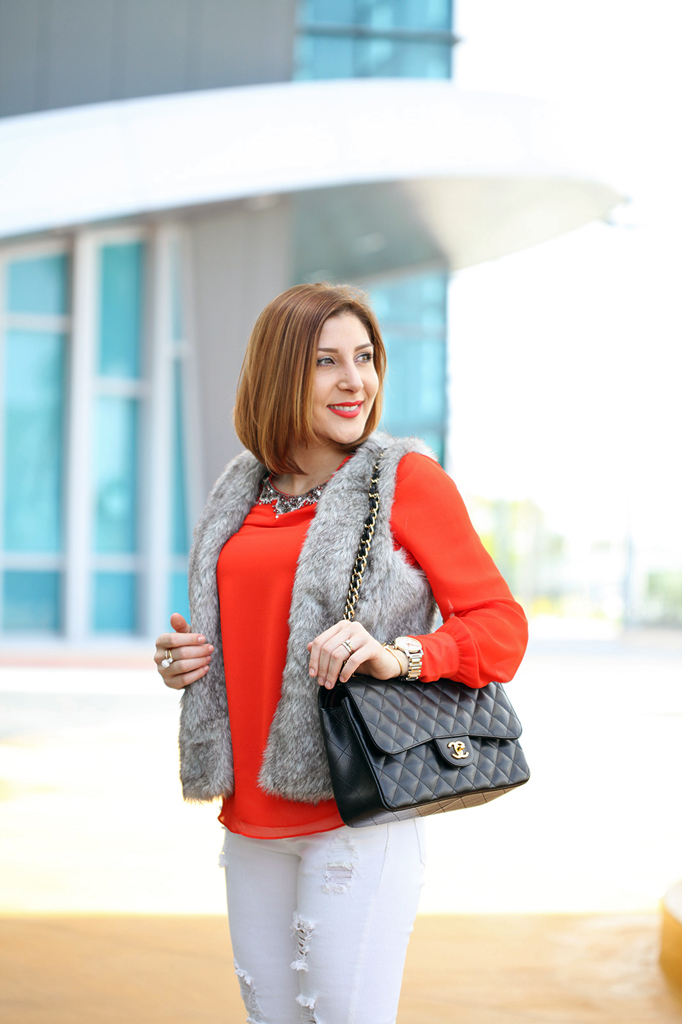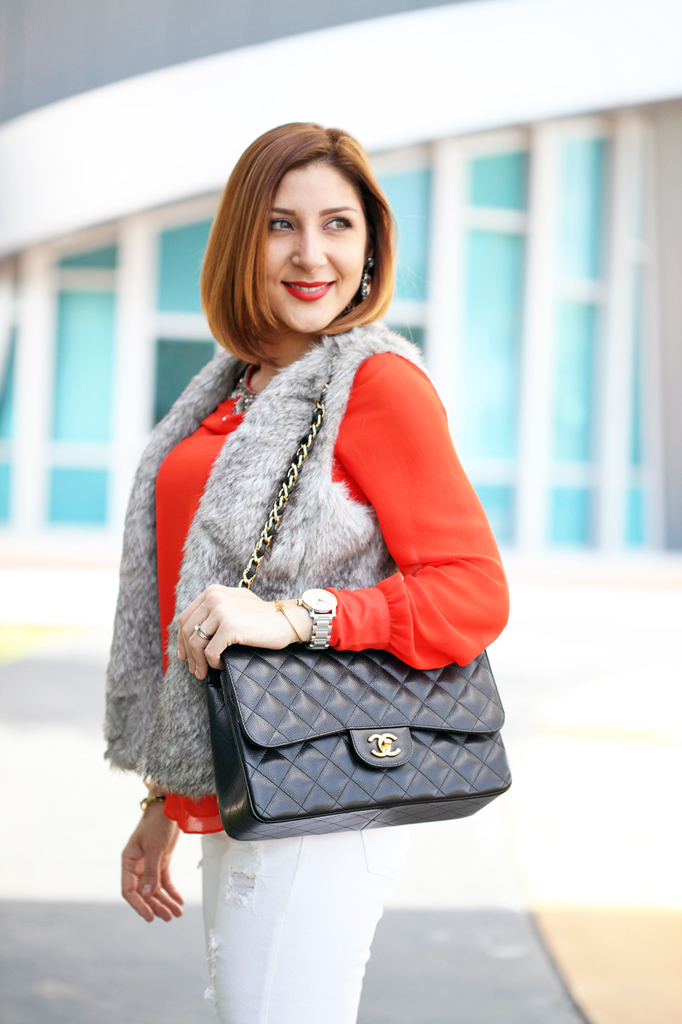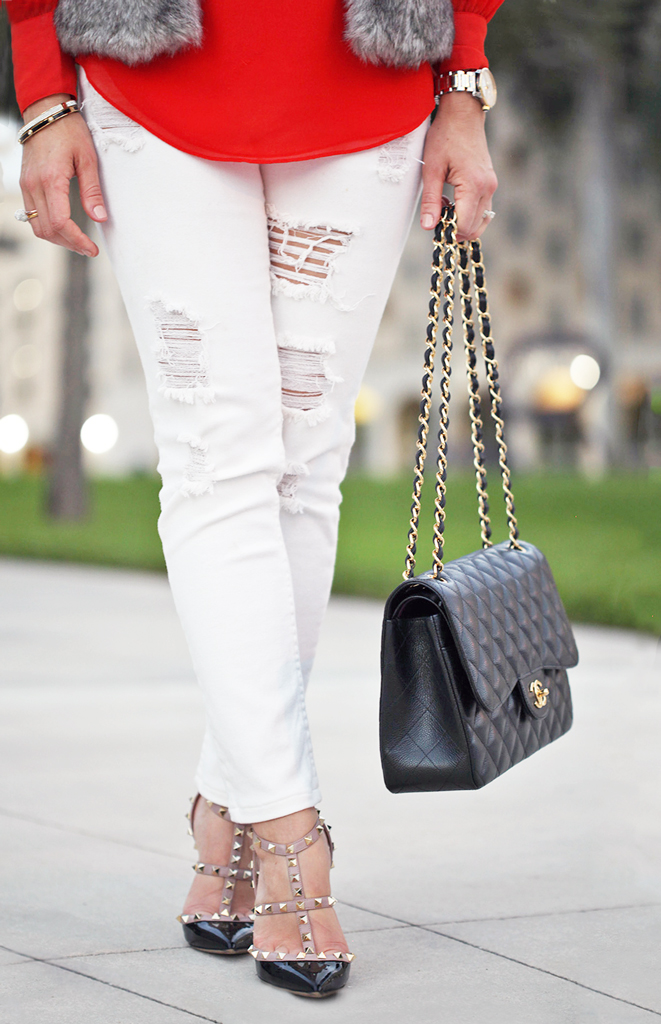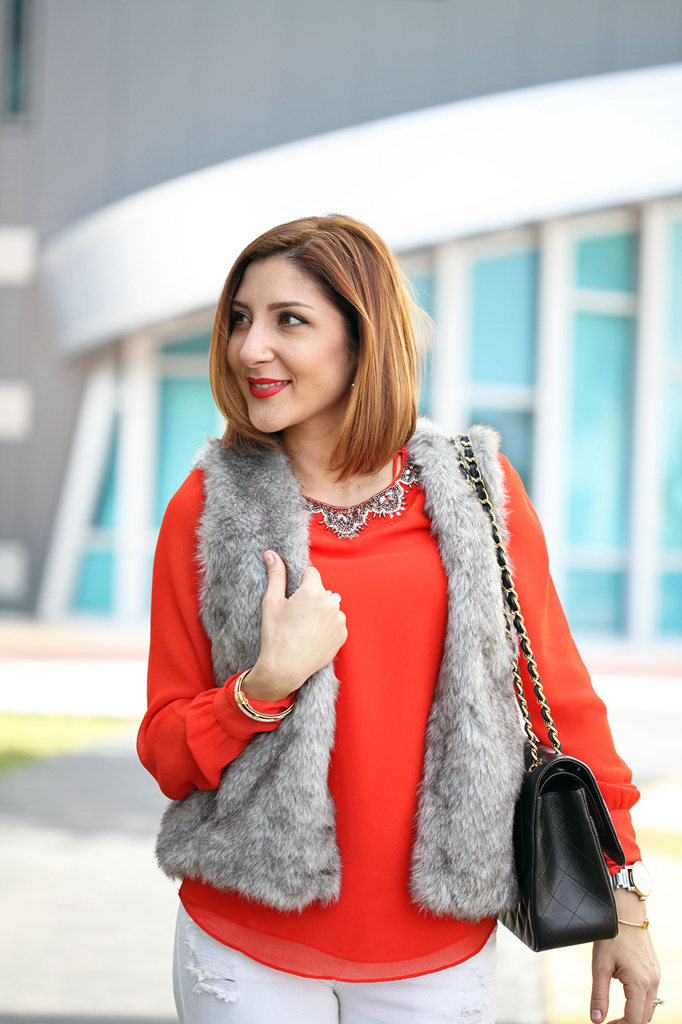 <<  TOP: Zara (similar)   |    VEST: The Limited (similar #1 & similar #2)    |    JEANS: Zara (similar #1 & similar #2)   |    WATCH: Montblanc 'Timewalker' |      BRACELET: Henri Bendel ('Rox Skinny Bangle' & 'Miss Bendel Rivet Bangle')   |   EARRINGS: Baublebar 'Ascher Drop'    |    RING: Henri Bendel  (similar)   |    HANDBAG: Chanel 'Classic Double Flap'   |   SANDALS: Valentino 'Rockstud Patent'    |   NAIL POLISH: CND Vinylux 'Svelte Suede'    |   LIPSTICK: MAC 'D for Danger'    |    LIPLINER: Make Up For Ever '8C Red'   >>
Are you finding yourself writing 2015 instead of 2016 yet? I hope I am not the only one forgetting! Now, something I am definitely not forgetting is my new (faux) fur vest (it is no longer available but I have linked similar options above). Even though the Miami weather is not ideal for this current obsession of mine, I literally can't stop including vests in many of my outfits (check out other ways I've styled faux fur vests here, here & here). This one specially, captivated me while browsing for Christmas presents and I just couldn't say no. The color is the most gorgeous gray that pairs beautifully with this embellished blouse from a few seasons ago (also linked similar options above) and it's the ideal length for ladies with petite body frames like I.
What trend do you happen to love and wear despite the weather? Share below…

PIEL POR DOQUIER: CHALECO + JEANS BLANCOS
¿Ya se han equivocado escribiendo 2015 en lugar de 2016? ¡Espero no ser la única olvidando! Pero algo que definitivamente no olvido es mi nuevo chaleco (ya no está disponible, pero he encontrado opciones similares más arriba). A pesar de que el clima de Miami no es ideal para mi nueva obsesión, no puedo dejar de incluir chalecos en muchos de mis looks (echa un vistazo a otras maneras de cómo he combinado chalecos aquí, aquí y aquí). Éste en especial, me cautivó mientras buscaba regalos para la Navidad y no pude negar de adquirirlo. Su color gris es el más precioso y se combina fácilmente con esta blusa adornada ya de hace un par de temporadas (también encontré otras similares y he proporcionado su enlace más arriba), también su largo es el ideal para las chicas con figuras petite como yo.
¿Qué moda le gusta y viste a pesar del clima? Comparte a continuación…