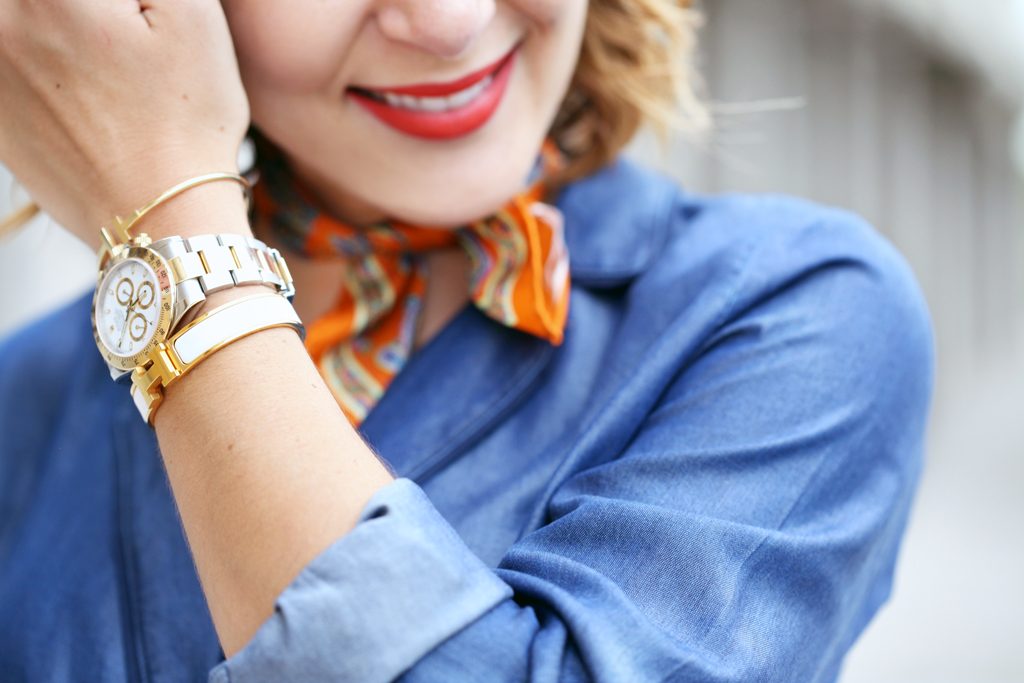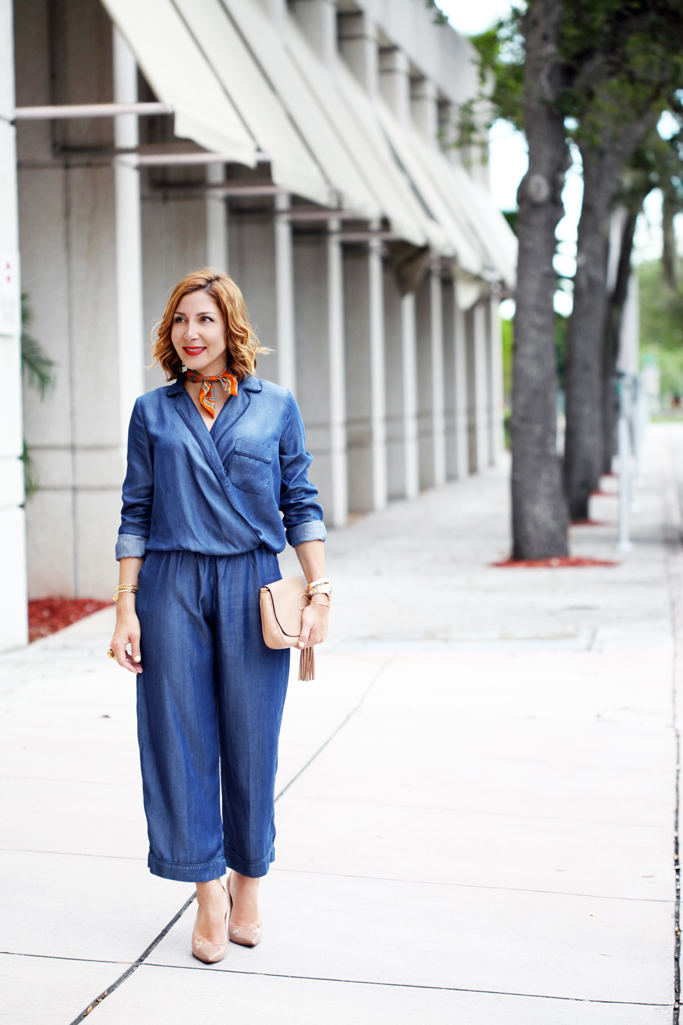 How to wear the pajama look. Learn how to style the comfy pajama trend without looking like you're lounging at home with some blush heels and pop of color.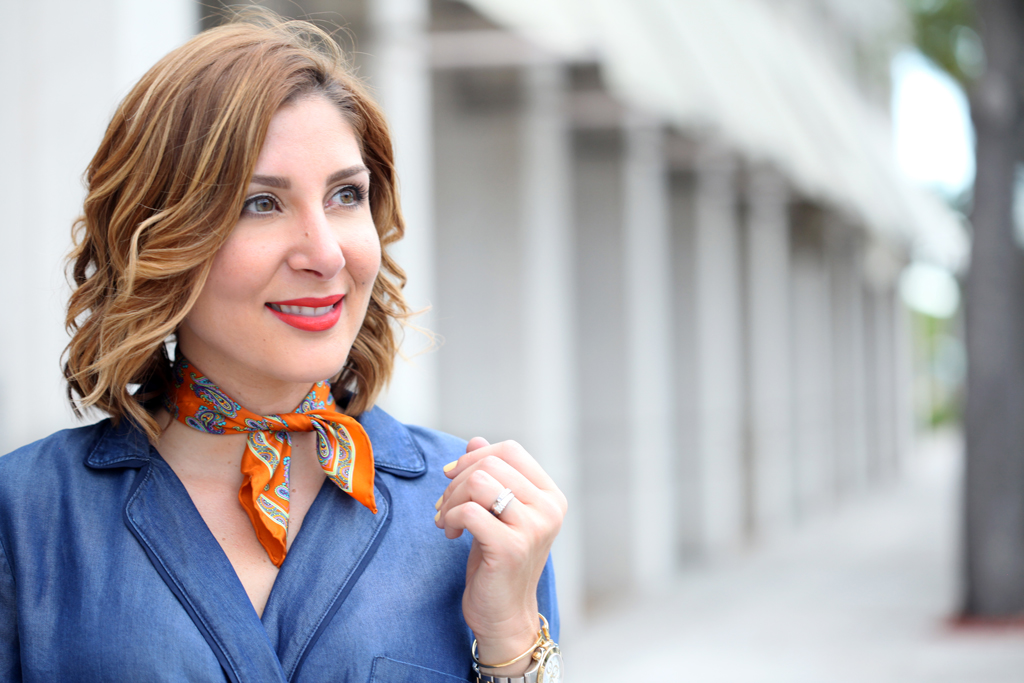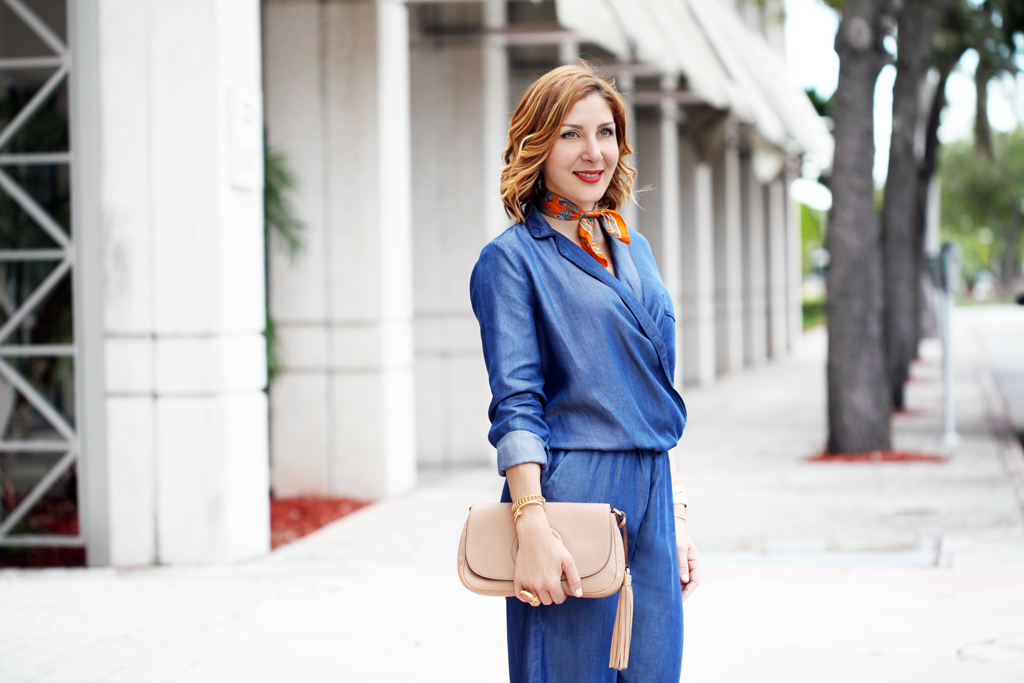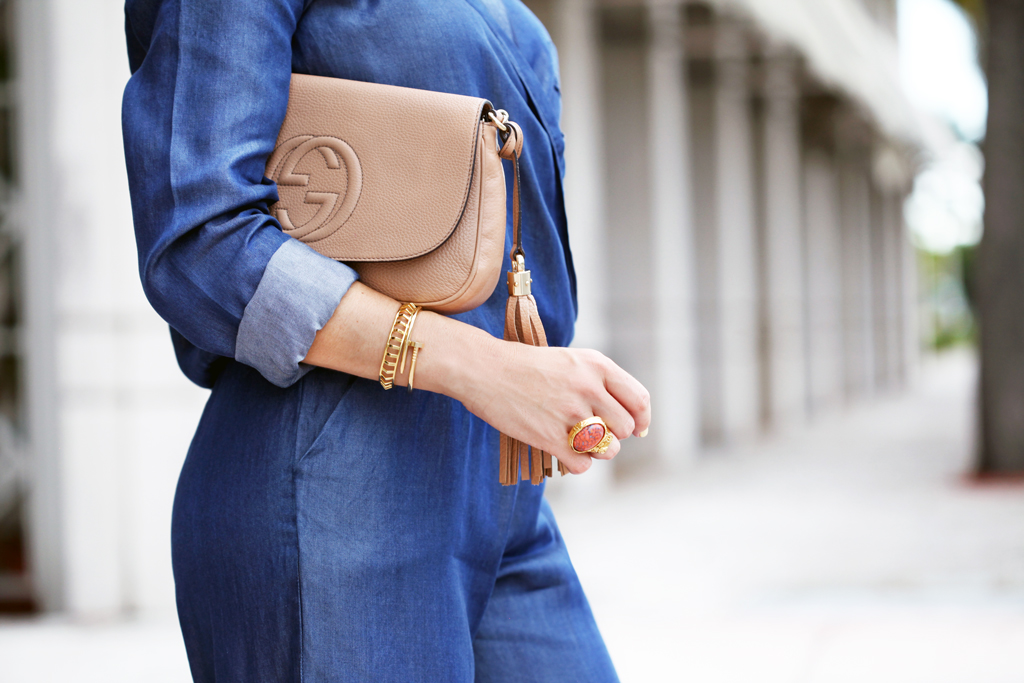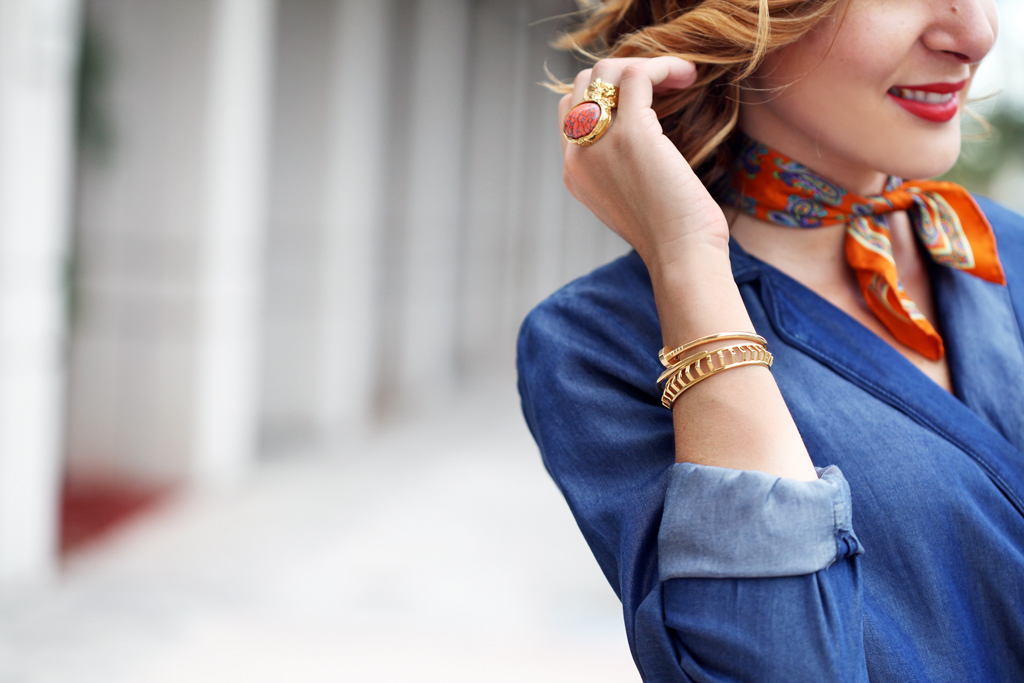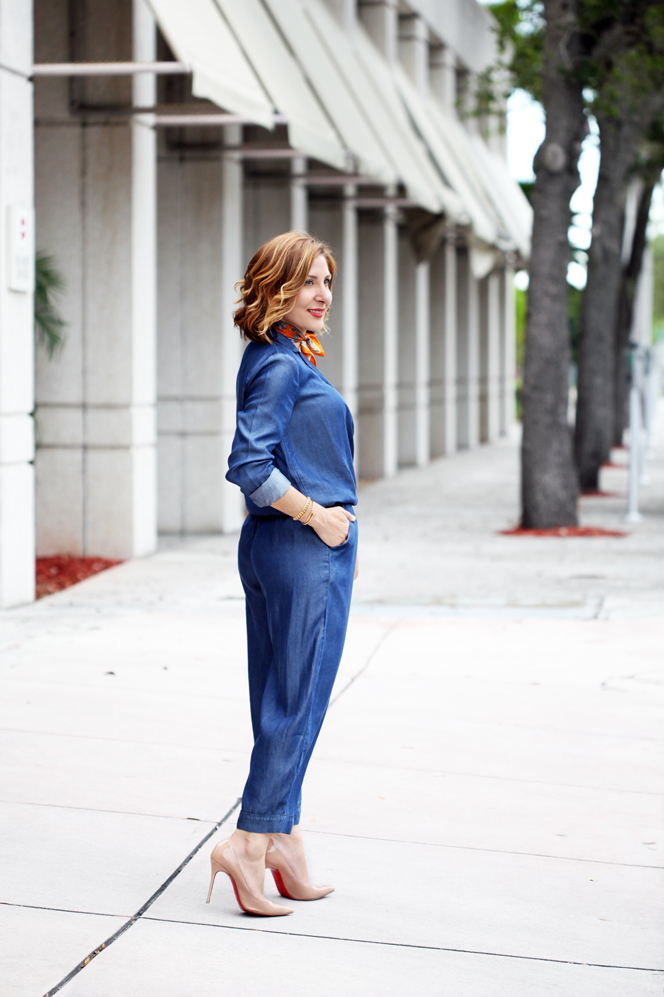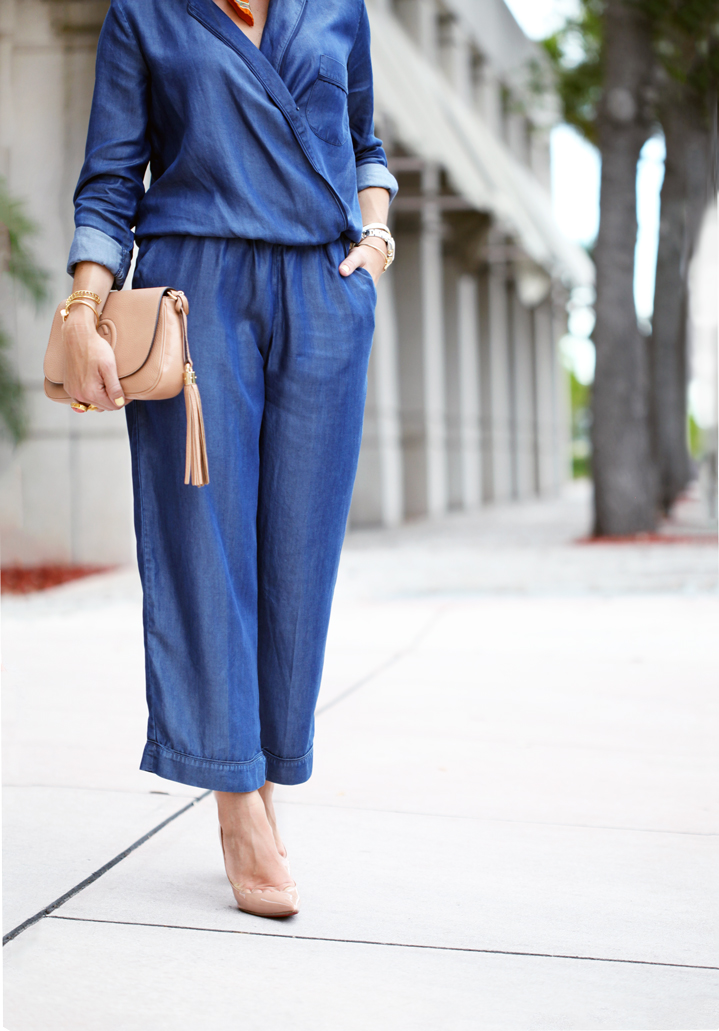 <<   JUMPSUIT:  Zara (similar here and here)  |    NECK SCARF: Nordstrom (similar here)  |   WATCH: Rolex (affordable version here)  |    BRACELET: Cartier 'Juste Un Clou' (affordable version here),  Hermès 'Clic Clac H' (affordable option here),  and Tiffany & Co. 'T-Wire' (affordable option here)   |  RING: YSL 'Arty' (affordable options here, here and here) |    HANDBAG:  Gucci 'Soho Medium' (similar here, affordable option here)   |   HEELS: Christian Louboutin 'So Kate' (affordable option here)  |    NAIL POLISH: OPI 'Don't talk bach to me'   |    LIPSTICK:  MAC 'So Chaud'  >>
Yes, I am obsessed with jumpsuits (should be a given by now), and no I couldn't keep away from this chambray one. Why? Well… not only because it's undeniably perfect for cooler temperatures, but I've also wanted to try the pajama trend ever since it made its debut early this year during New York Fashion Week. I was a bit hesitant at first, but was confident it would work because, hey what doesn't match with chambray? Don't believe me? Take a look here, here and here to see how I've styled it in the past. My trick to pulling this comfy trend is to pair it with heels, preferably in the blush tones if you're a petite gal like me. This will elongate your figure as well as keeping the overall look sleek and simple. As ususal, I wanted to add a pop of color, so I opted for another trend, the neck scarf. This piece is actually one of my hubby's pocket square, shhhh!
So do you dare to take on the pajama look?

 ENTERIZO DE DENIM + PAÑUELO AL CUELLO
Sí, estoy obsesionada con los enterizos (ya deben saber), y nó, no pude mantenerme lejos de este por mucho tiempo. ¿Por qué? Bueno… no sólo porque es sin duda perfecto para temperaturas más frías, ni porque sucede ser el color perfecto de denim, pero también porque he querido intentar la tendencia pijama desde que hizo su debut a principios de este año durante la Semana de la Moda de Nueva York (New Work Fashion Week). Siendoles honestea, estaba un poco indecisa al principio, pero dude de que iba a funcionar porque, ¿que no combina con denim? ¡Todo combina con denim! ¿verdad? ¿No me creen? Echen un vistazo aquí, aquí y aquí para ver como lo he combinado en el pasado. Mi truco para esta tendencia, comodísima por cierto, es de combinarla con tacones, preferiblemente en los tonos de beige si eres una chica de pequeña estatura como yo. Asi alargaran tu figura, al igual de mantener el look por lo general elegante y sencillo. Como siempre, quería añadir un toque de color, así que opté por otra tendencia, el pañuelo al cuello.
¿Se atreven a intentar este look?