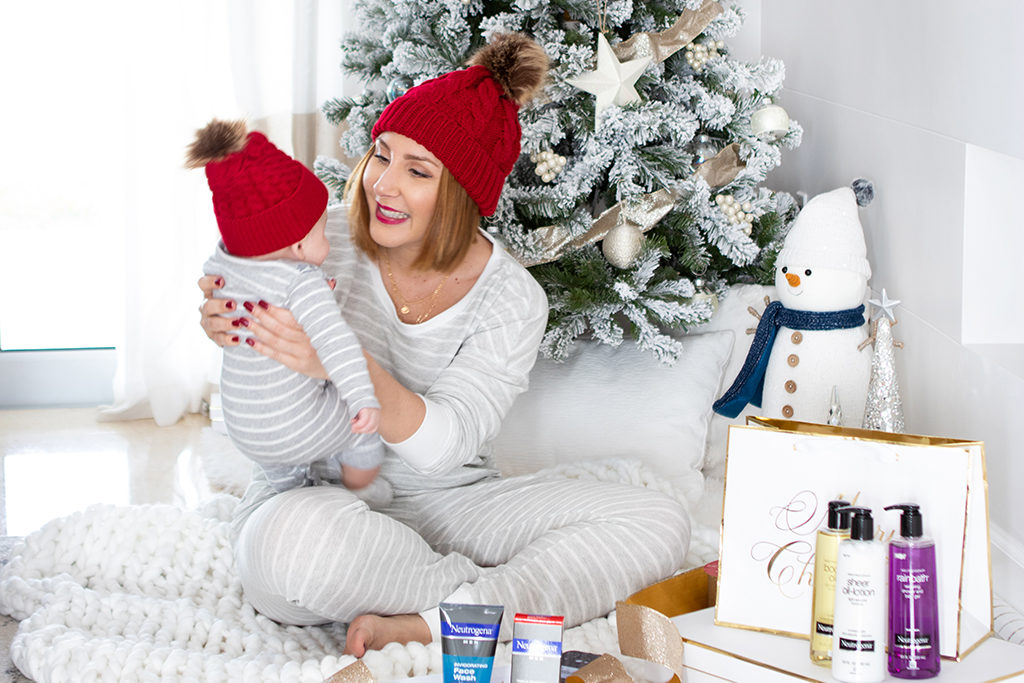 The holidays are not over just yet! Creating family traditions is more important now that we have a little family of our own.
[one_half]
Happy New Year!!
The holidays are not over just yet! Since this is our first holiday season as parents, I want it to be extra special! Not only for baby Julian, but for my hubby who has been my rock, the shoulder I lean on to, my cheerleader and my sanity throughout these challenging but rewarding 3 months. And as such, I want to create traditions that us three (and Dante too of course) enjoy and look forward to every year.
A small but exceptionally cute tradition is dressing in the same PJ's (which I will take advantage of as long as baby Julian allows me to J). Another and very important one is the Hispanic custom of El Día de los Tres Reyes Magos (Three King's Day). This is celebrated on January 6th when kings Melchior, Gaspar and Balthazar leave gifts for children under their bed. Unlike the Cuban food and music, this tradition is less observed in the United States, thus my husband and I want Baby J. to feel and celebrate his Cuban culture as much as his parents do.
[/one_half][one_half_last]
¡Feliz Año Nuevo!
¡Las fiestas Navideñas todavía no han concluido! Como esta es nuestras primeras fiestas como padres, ¡quiero que sea muy especial! No solo para el bebé, sino también para mi esposo, que ha sido el hombro en el que me apoyo, el que me anima y me ha ayudado a mantener mi cordura durante estos tres desafiantes pero gratificantes meses. Y como tal, quiero crear tradiciones que disfrutemos y anhelemos hacer cada Navidad como familia.
Una de las tradiciones que quiero comenzar es vestirnos con los mismos pijamas (que aprovecharé hasta que Julián me lo permita J). Otra muy importante es la costumbre hispana de El Día de los Tres Reyes Magos que se celebra el 6 de enero cuando los reyes Melchor, Gaspar y Baltazar dejan regalos para los niños debajo de su cama. A diferencia de la comida y la música cubana, esta tradición es menos conocida en los Estados Unidos, por lo que mi esposo y yo queremos que Julian sienta y celebre su cultura cubana tanto como sus padres.
[/one_half_last]
[one_half]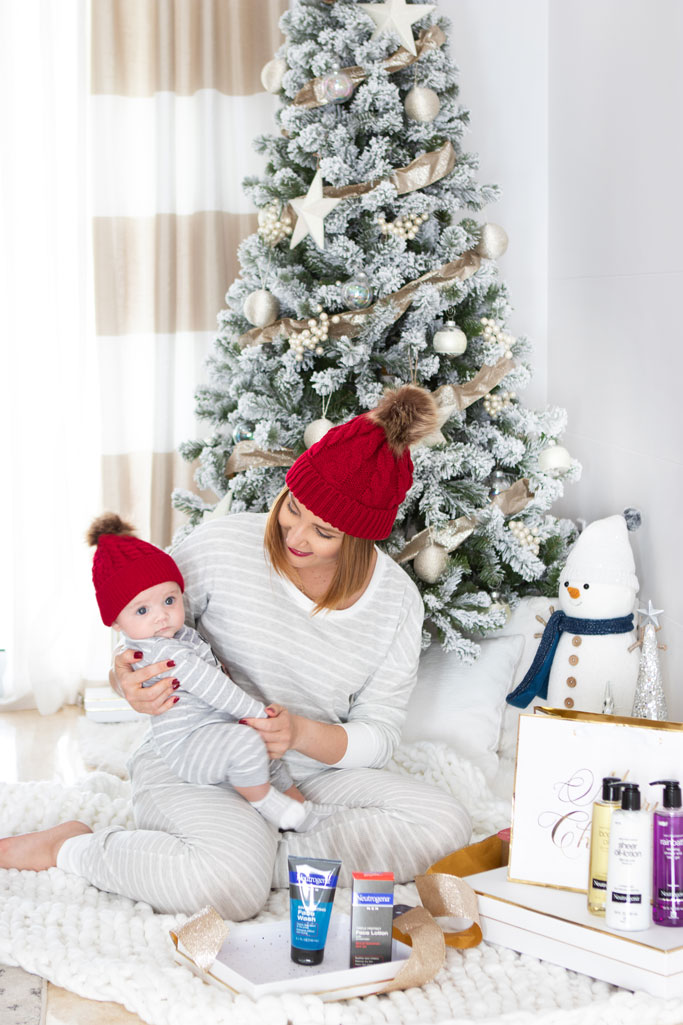 [/one_half][one_half_last]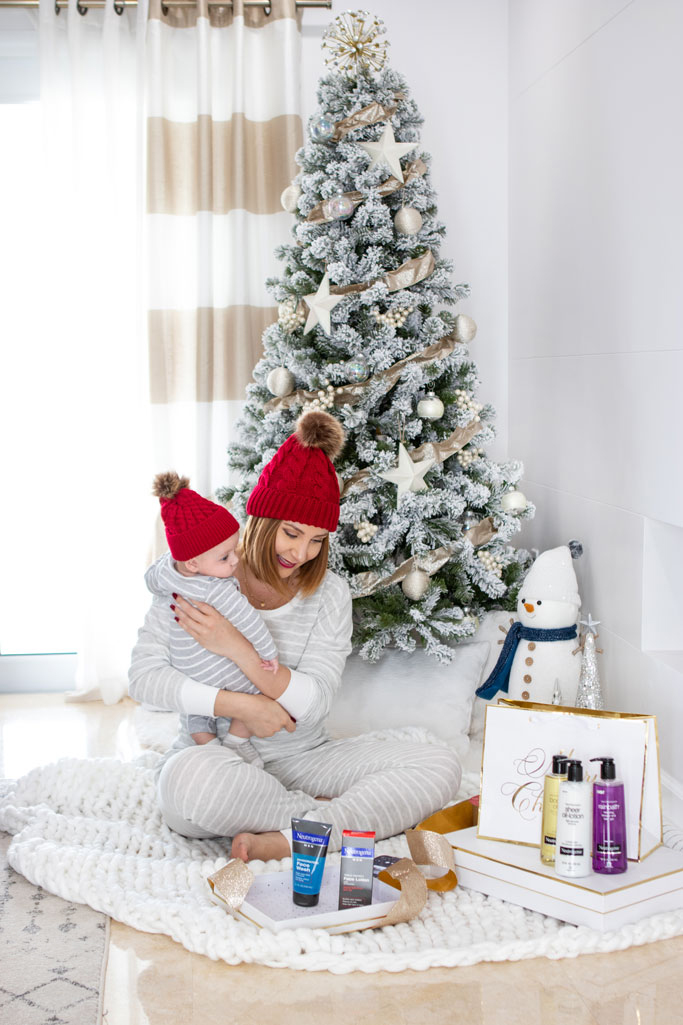 [/one_half_last]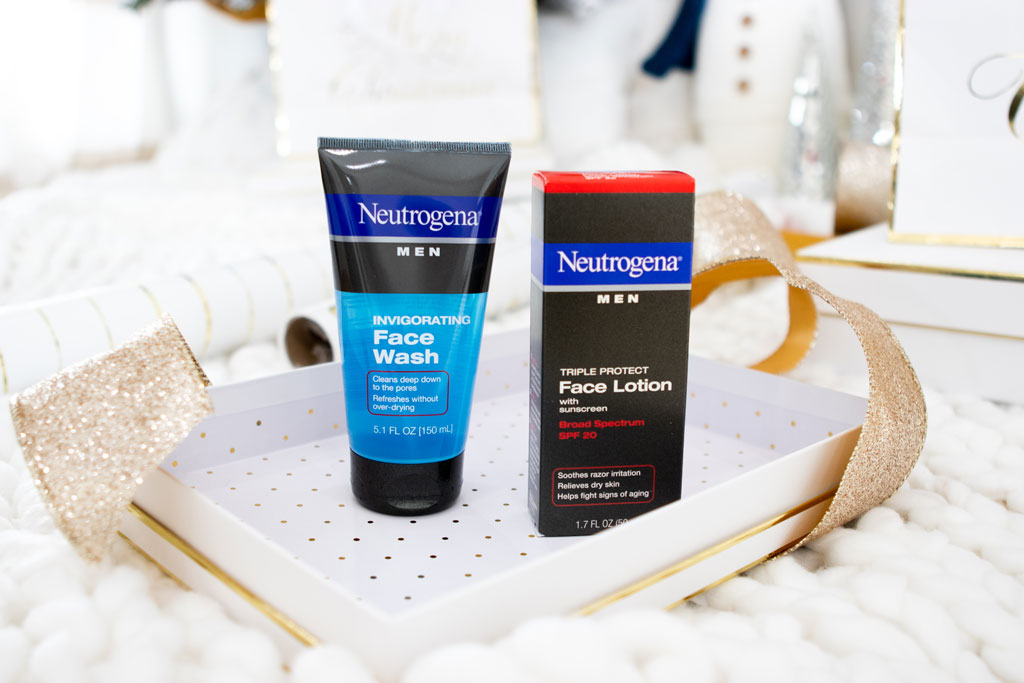 [one_half]
Even though this tradition is intended for kids, parents need a little loving too, right?! And so, I will be helping my little peanut pick and wrap his daddy's present, making it another tradition I will be looking forward to year after year. I picked out my husband's favorite face wash and lotion from Neutrogena, because let's be honest, at this point in our lives, my husband and I rather be gifted things we use and need.
Ladies, men need to take care of their skin too! So, encourage your other half to incorporate a skincare routine in addition to shaving. Neutrogena's Invigorating Face Wash removes excess surface oil and dirt, is oil-free, has a cooling lather and does not over-dry the skin. The Triple Protect Face Lotion is non-greasy, lightweight, has an SPF 20 sunscreen, moisturizes and helps fight the signs of aging, a hole in one wouldn't you say?
[/one_half][one_half_last]
A pesar de que esta tradición está dirigida a los niños, los padres también necesitan un poco de amor, ¿no? Y por eso, estaré ayudando a mi pequeño a elegir y envolver el regalo de su papá, convirtiéndolo en otra tradición que estaré anhelando año tras año. Elegí el limpiador facial y loción favorita de mi esposo, porque seamos honestos, en este momento de nuestras vidas, mi esposo y yo preferimos que nos regalen cosas que usamos y necesitamos.
Chicas, ¡los hombres necesitan cuidar su piel también! Por lo tanto, anime a su otra mitad a incorporar una rutina de cuidado de la piel además del afeitado. El limpiador facial (Invigorating Face Wash) de Neutrogena elimina el exceso de grasa y suciedad de la superficie, no contiene aceites, tiene una espuma refrescante y no seca la piel. La loción facial Triple Protect no es grasosa, es liviana, tiene un protector solar SPF 20, hidrata y ayuda a combatir los signos del envejecimiento.
[/one_half_last]
[one_half]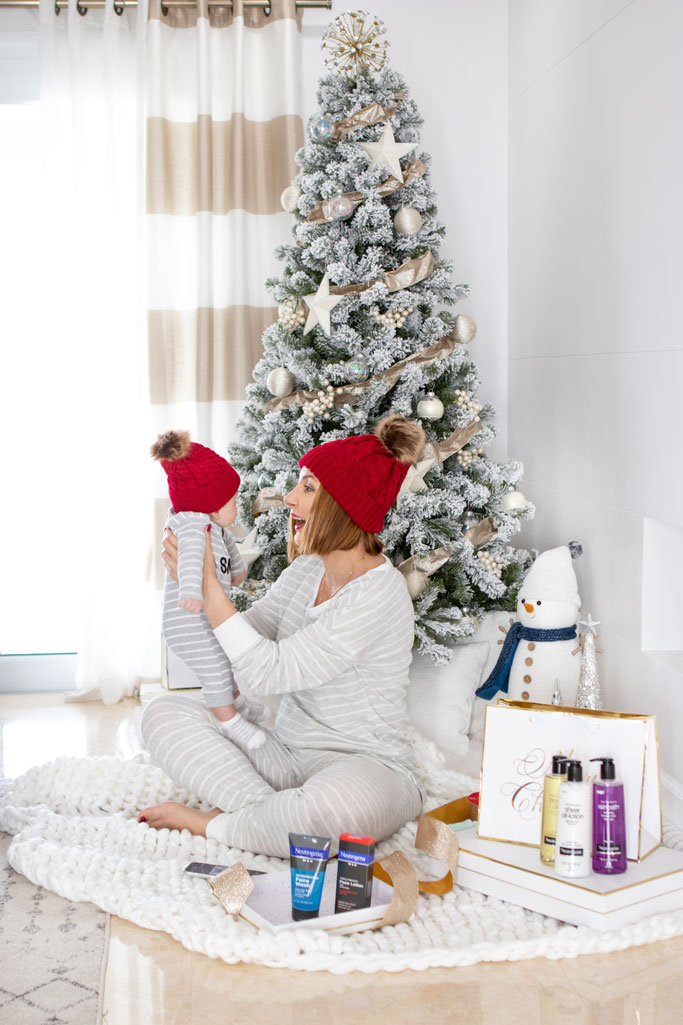 [/one_half][one_half_last]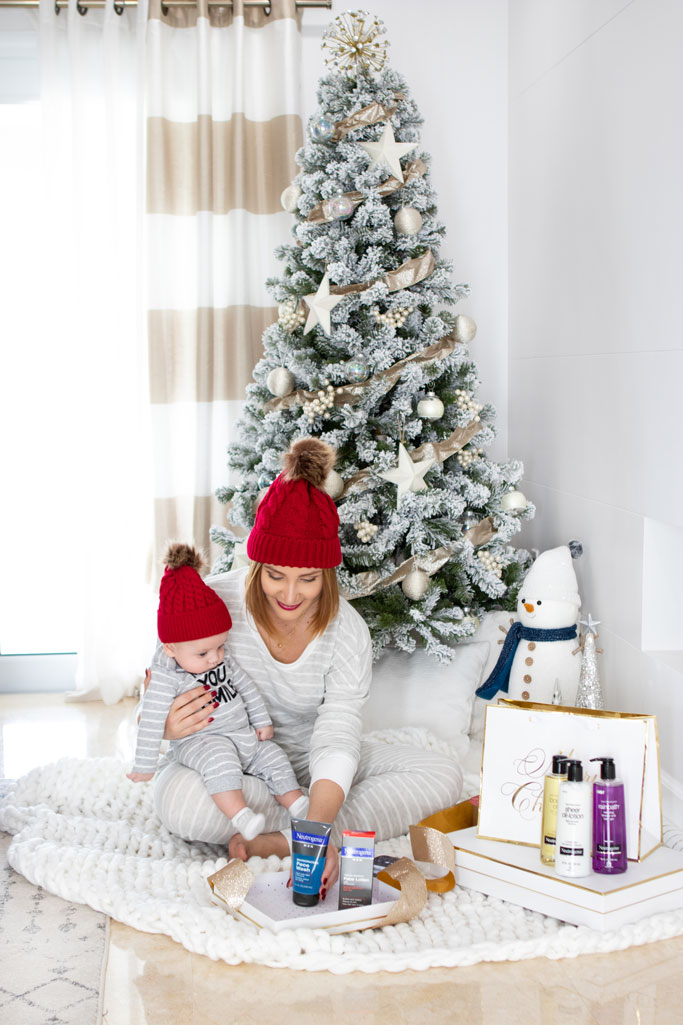 [/one_half_last]
[one_half]
PS: Don't forget to get something for yourself when you are out picking up these goodies for your other half though. Which is exactly what this mamma did! I got myself, [clears throat], I mean, baby Julian got me the Rainbath Fresh Plum Shower and Bath Gel, Body Oil and Sheer Oil-Lotion. I've actually mentioned in my Instagram stories that my skin has been very dry post-partum and these products have incredibly helped to soften, restore and smooth out my skin. The shower gel does not leave behind a heavy residue and its available in several floral scents. The body oil and sheer oil-lotion both absorb quickly locking in the moisture for beautiful and moisturized skin.
What are some of your holiday traditions? I would love to know in the comment section below.
This is a sponsored conversation written by me on behalf Neutrogena. All the opinions expressed are, as always, honest and my own. Thanks for supporting the brands that make this blog possible.
[/one_half][one_half_last]
PD: No olviden de conseguir algo para ustedes cuando estén comprando estas cositas para tu otra mitad. ¡Que es exactamente lo que hice yo! Me compre, quiero decir, el bebé Julian me compro el gel de baño (Rainbath Fresh Plum Shower and Bath Gel), aceita para el cuerpo (Body Oil) y loción (Sheer Oil-Lotion). De hecho, en mis historias de Instagram mencioné que mi piel ha estado muy seca después del parto y estos productos han ayudado increíblemente a restaurar y mantener mi piel suave. El gel de baño no deja un residuo y está disponible en varios aromas florales. El aceite para el cuerpo y la loción de aceite se absorben rápidamente y ayuda a mantener piel hermosa y humectada.
¿Cuáles son algunas de tus tradiciones durante la Navidad? Me encantaría saber en la sección de comentarios a continuación.
Esta es una conversación escrita por mí y patrocinada por Neutrogena. Todas las opiniones expresadas, como siempre, son honestas y propias. Gracias por apoyar a las marcas que hacen este blog posible.
[/one_half_last]