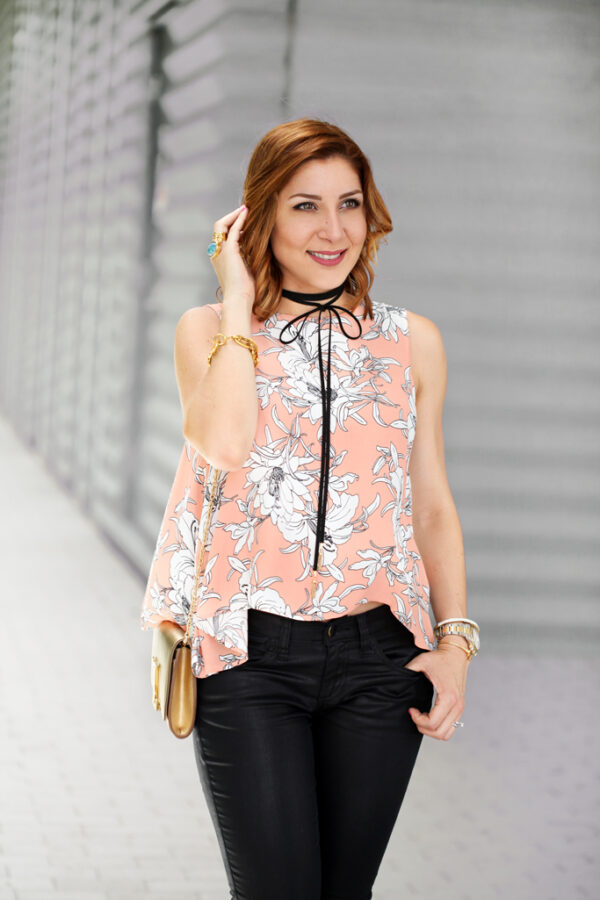 How to style coated jeans without looking like a die-hard rocker. Transitioning to fall with my favorite coated jeans, flowy floral top and must-have choker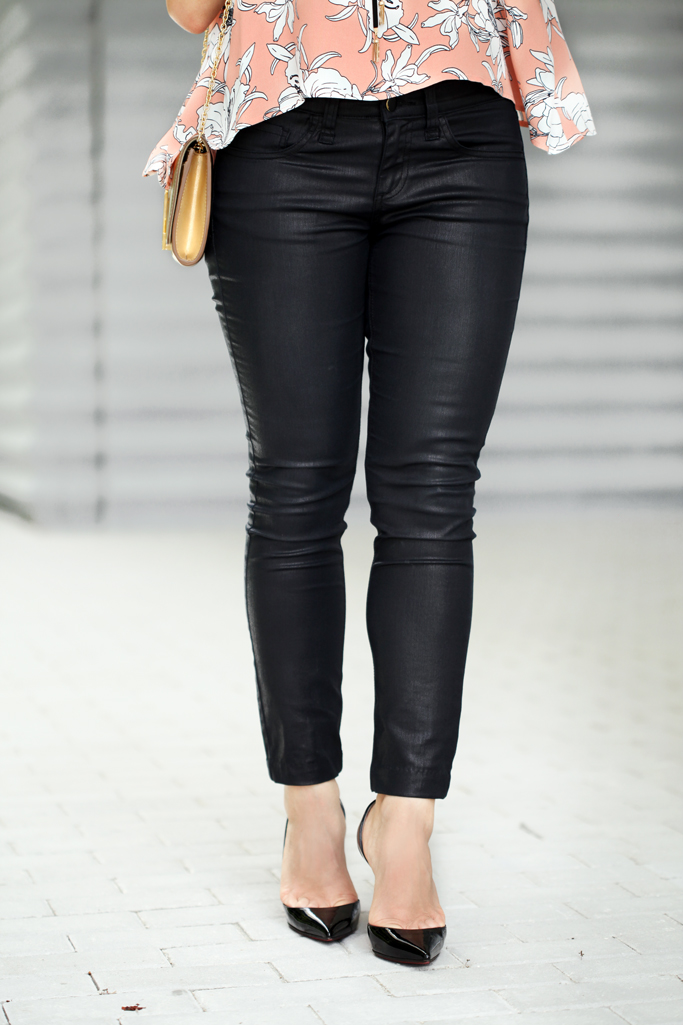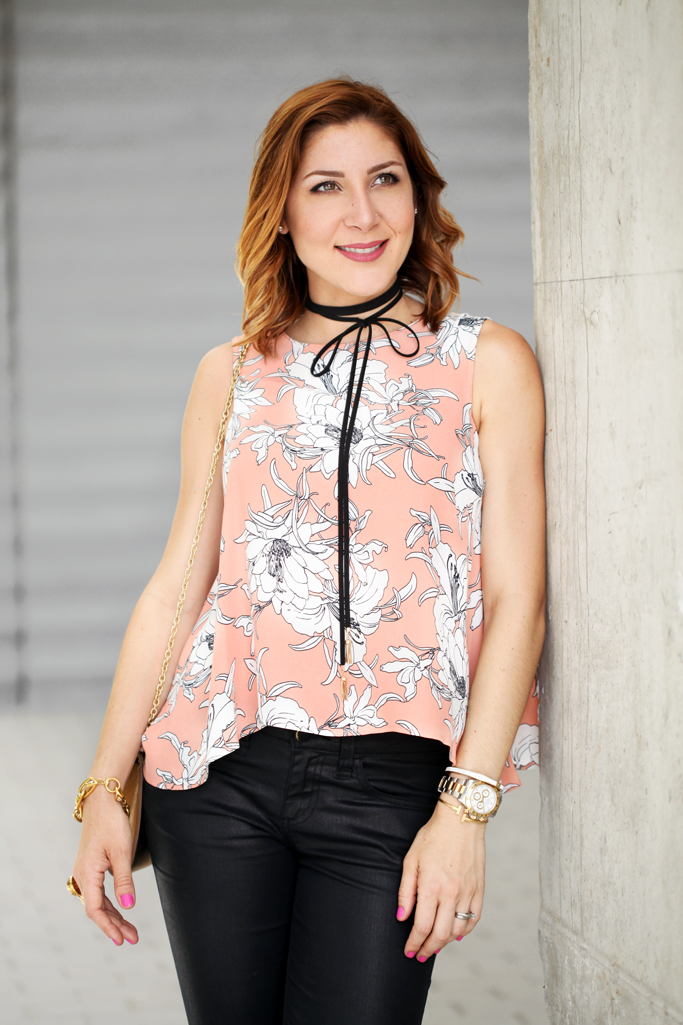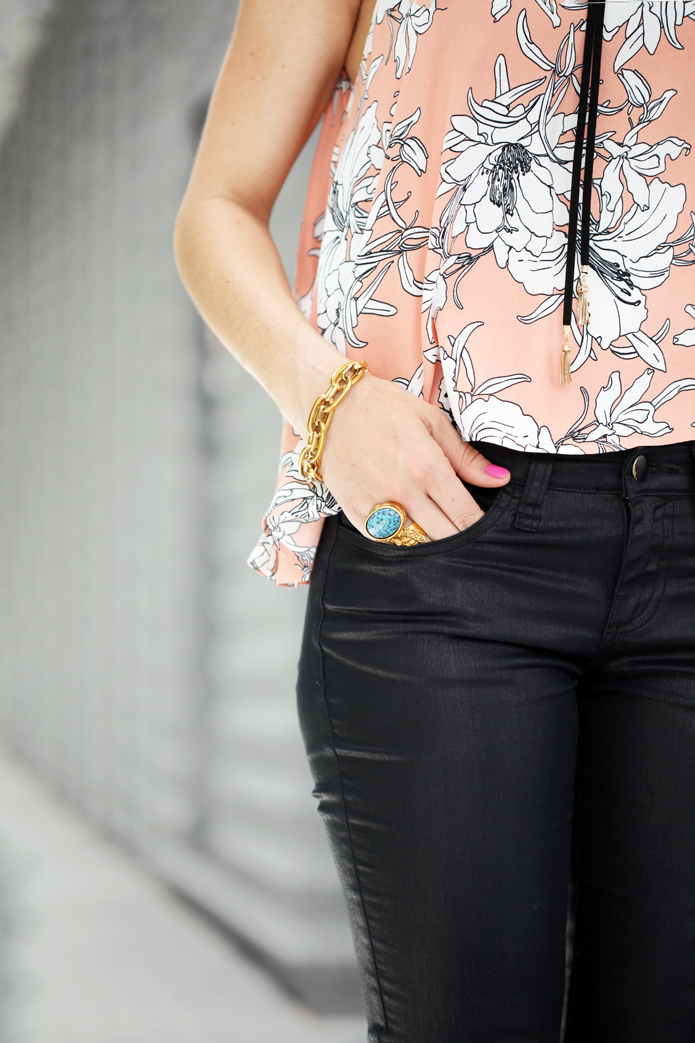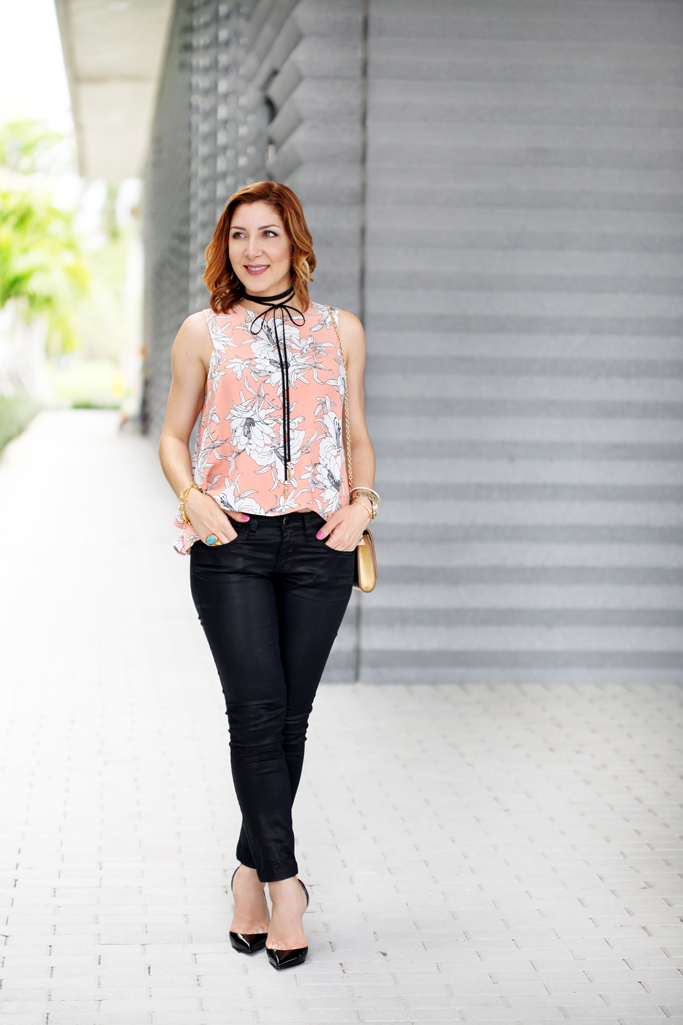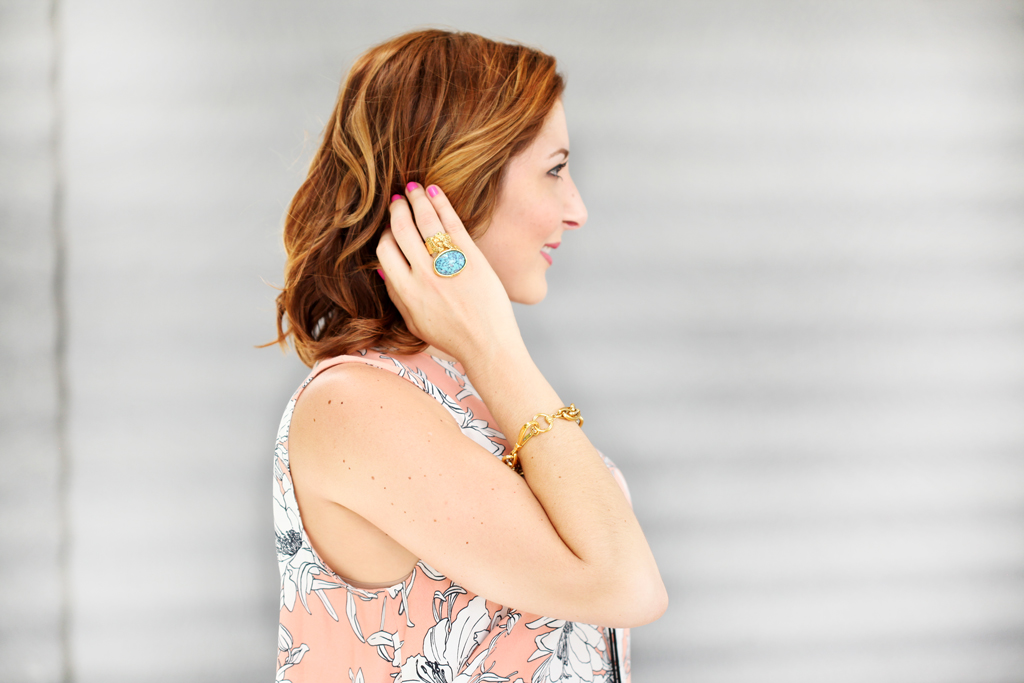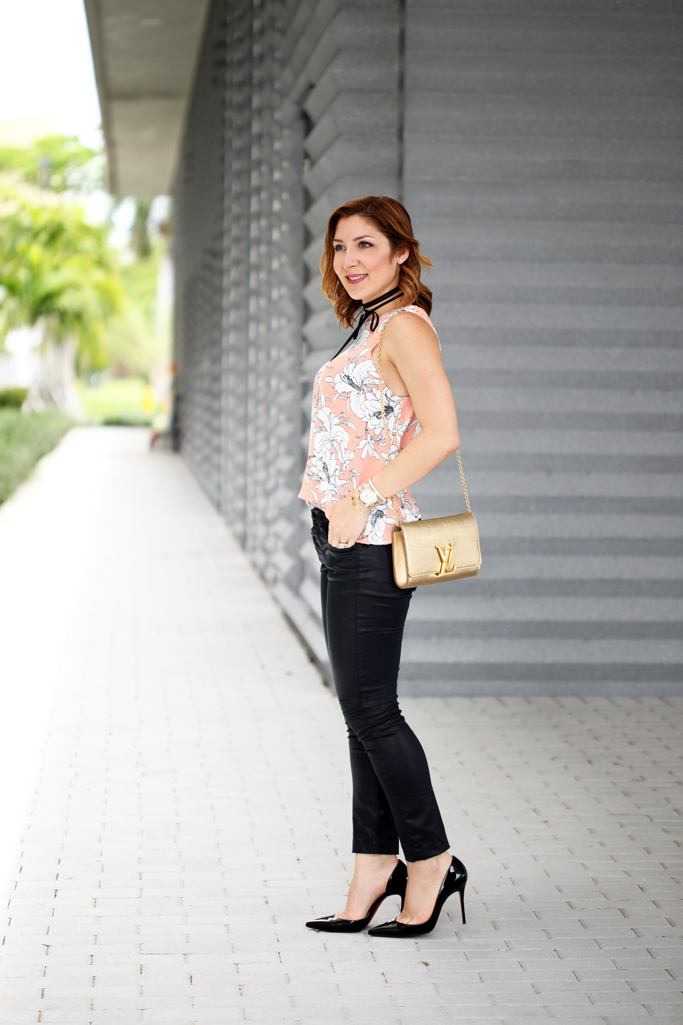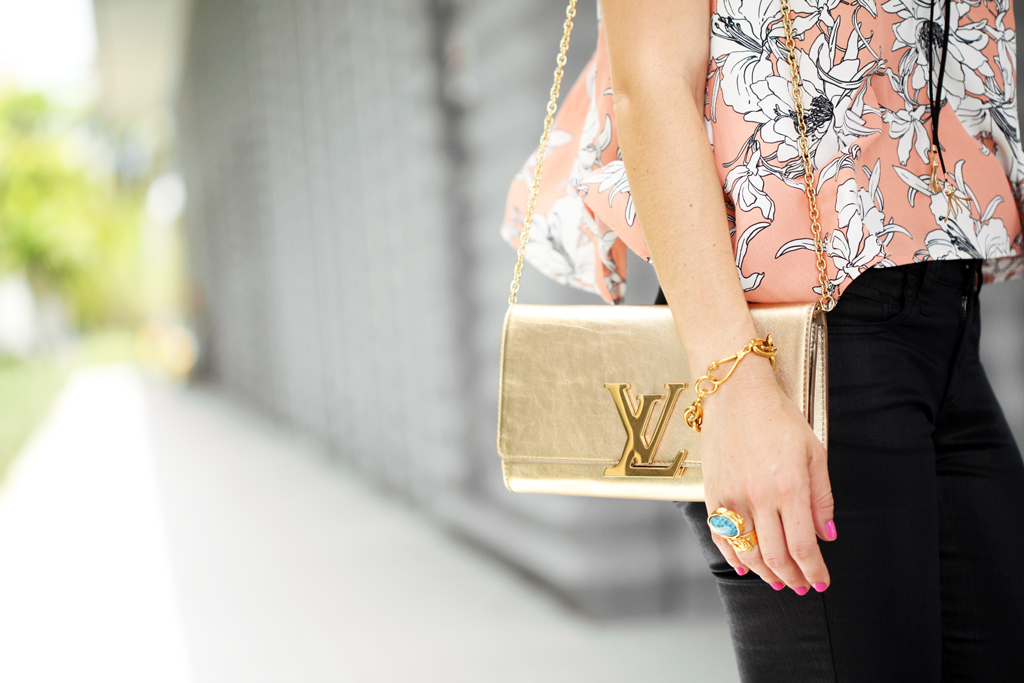 << JEANS: Forever 21 (similar here and here) | BLOUSE: Zara (similar here, loving this one here) | WATCH: Rolex (affordable version here) | NECKLACE: BaubleBar 'Lariat' (similar here) | BRACELET: Henri Bendel (similar here), Henri Bendel 'Rox Skinny Bangle', and Tiffany & Co. 'T-Wire' (affordable option here) | RING: YSL 'Arty' (affordable options here, and here) | HANDBAG: Louis Vuitton 'Louise' (similar here, affordable option here and here) | HEELS: Christian Louboutin 'Iriza Patent Half-d'Orsay' (affordable option here and here) | NAIL POLISH: Essie 'Turquoise & Caicos' | LIPSTICK: MAC 'Cremesheen + Pearl' >>
Hi loves and happy Friday!
I am so excited for this weekend for a few reasons. One, my hubby will be competing in his first ever Ironman triathlon on Sunday. If you are unaware of what this means, the Ironman 70.3 Miami race (which is only half of the full Ironman course, oh yeah!) goes like this; participants have to swim 1.2 miles, bike 56 miles and run 13.1 miles. My hubby has been training for over a year now and let me tell you it is intense! I am so proud of him and if you'd like to see live updates, make sure to follow me on Instagram and check out my Instastories. Reason number two is that we had the chance to have our long overdue date night before the actual competition, where we celebrated his win, since he is already a winner in so many ways.
So because the autumn weather is absent in my city, I have to be as creative as possible in achieving a fall look. Hence why I opted for my all-time favorite coated jeans and as usual, had to add a pop of color with this flowy top that I've wanted to wear for some time now. Do you all have a choker yet? Please say yes, if not, what are you waiting for? I have featured this exact one in an array of different looks; take a peek here, here, here and here.
What do you think; does this look remind you a bit of fall? I know it's not the standard but a Miami gal has to do what a Miami gal has to do!

BLUSA DE FLORES + GARGANTILLA
¡Hola amores y feliz viernes!
Estoy super emocionada por este próximo fin de semana por un par de razones. Uno, mi esposo estará compitiendo en su primer triatlón Ironman el domingo. Si no conocen de ello, el Ironman 70.3 de Miami (¡cual es sólo la mitad de la carrera completa del Ironman original) así va; los participantes tienen que nadar 1.2 millas, andar 56 millas en bicicleta y correr 13.1 millas. Mi esposo ha estado entrenando durante más de un año y les cuento que no es nada fácil y ¡demasiado intenso! Estoy muy orgullosa de él y si les gustaría ver en vivo el transcurso, asegúrese de seguirme en Instagram y echarle un vistazo a mis Instastories. La razón número dos es que tuvimos la oportunidad de disfrutar de nuestra cena semanal (que de por cierto ya estábamos retrasados ya 2 semanas) antes de la competencia, donde celebramos su victoria, puesto que ya es un ganador de muchas maneras.
Puesto que el clima de otoño está ausente en mi ciudad, tengo que ser lo mas creativa posible para lograr un look de dicha estación. De ahí es por qué opté por mis pantalones negros favoritos (que tienen como una capa de satin que brilla dependiendo del angulo que lo mires) y como de costumbre, tuve que añadir un toque de color con esta blusa que he querido vestir desde hace algún tiempo. ¿Ya tienen una gargantilla en su colección? Por favor, contesten que sí, si no, ¿qué están esperando? He combina ésta misma en una variedad de looks; echen un vistazo aquí, aquí, aquí y aquí.
¿Qué piensan? ¿Les recuerda un poco a otoño mi outfit? Yo sé que no es lo usual, pero que les puedo decir además de que las chicas de Miami tenemos que manipular nuestros looks de acuerdo al poco frió que se padece en nuestra ciudad.