Cartagena's old town is one of the most picturesque cities I have visited (among Santorini, Mykonos, and Russia). Its people are incredibly hospitable, kind, and truly one-of-a-kind. And you can't miss their delicious cuisine and colorful handcraft.
Want to know more about it? Check it out below.
When we visited
We visited in late June. The heat ?, sun ☀️and humidity ? was intense but tolerable with a hand fan. And as any tropical climate, the rain made its appearance once a day.
Check out this link if you want to know when the best time is to visit Cartagena.
Where we stayed
Bastion Luxury Hotel was our accommodation of choice. It was built on site of an old 16th century colonial house and its truly GORGEOUS! The attention to detail, cleanliness, staff, check-out/check-in process, complimentary breakfast and rooftop pool/bar area is impeccable.
We stayed in a Premium Bastion room which had a small terrace looking out to a lush courtyard, a full-sized bathroom with rain shower and the usual additional amenities (hair dyer, safe, mini-bar, hangers, wi-fi, etc.). One of the things we loved most was that it is conveniently located near many restaurants, parks, museums and churches.
El casco antiguo de Cartagena es una de las ciudades más pintorescas que he visitado (entre Santorini, Mykonos y Rusia). Su gente es increíblemente hospitalaria, amable y verdaderamente única. Y no te puedes perder su deliciosa cocina y su colorida artesanía.
¿Quieres saber más acerca de eso? Compruébalo a continuación.
Cuando visitamos
Visitamos a finales de junio. El calor ?, el sol ☀️ y la humedad ? eran intensos pero tolerables con un ventilador de mano. Y como cualquier clima tropical, la lluvia hacía su aparición una vez al día.
Consulta este enlace si quieres saber cuándo es el mejor momento para visitar Cartagena.
Donde nos hospedamos
Bastion Luxury Hotel fue el hotel que elegimos. Fue construido en el sitio de una antigua casa colonial del siglo XVI y es verdaderamente !MAGNÍFICO! La atención al detalle, la limpieza, el personal, el proceso de check-out/check-in, el desayuno de cortesía y el área de la piscina/bar en la azotea es impecable.
Nos alojamos en una habitación Premium Bastion que tenía una pequeña terraza con vistas a un exuberante patio, un baño de tamaño completo con ducha tipo lluvia y las comodidades adicionales habituales (secador de pelo, caja fuerte, minibar, perchas, wi-fi, etc. ). Una de las cosas que más nos gustó fue que está convenientemente ubicado cerca de muchos restaurantes, parques, museos e iglesias.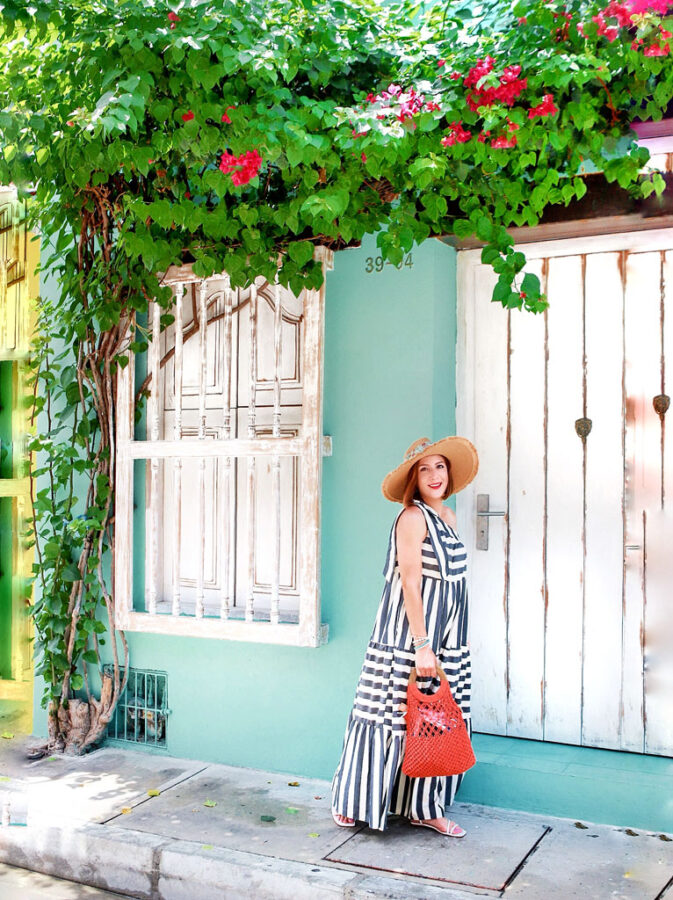 How many days did we stay
We stayed for 4 days, 3 nights. Two days were enough to get to know the city and its historical landmarks (mentioned below under What we visited). The third day we spent it at a private beach called Isla del Encanto. And fourth day was a leisure day where we spend it at the hotel pool, souvenir shopping and a last-minute cocktail.
How safe did we feel
We felt very safe. The hotel staff and everyone in the tourism industry that we were in contact with, confirmed that we would be OK during day and nighttime inside the walled city (sometimes also referred to as Old Town). However, use standard precaution as you would anywhere else.
What currency/credit cards did we use
We used dollars, Colombian pesos and credit cards. You can exchange currency at (1) the airport when you arrive, (2) several currency exchange houses throughout the city and (3) your hotel (not all hotels have this service). Credit cards are well accepted in Cartagena, preferably Visa or MasterCard.
Cuantos dias nos quedamos
Estuvimos 4 días y 3 noches. Dos días fueron suficientes para conocer la ciudad y sus monumentos históricos (que se mencionan a continuación en Qué visitamos). El tercer día lo pasamos en una playa privada llamada Isla del Encanto. Y el cuarto día fue un día de ocio donde lo pasamos en la piscina del hotel, comprando souvenirs y un cóctel de última hora.
Que tan seguros nos sentimos
Nos sentimos muy seguros. El personal del hotel y todos en la industria del turismo con los que estuvimos en contacto, confirmaron que estaríamos bien durante el día y la noche dentro de la ciudad amurallada. Sin embargo, use precaución estándar como lo haría en cualquier otro lugar.
¿Qué moneda / tarjetas de crédito usamos?
Usamos dólares, pesos colombianos y tarjetas de crédito. Puede cambiar moneda en (1) el aeropuerto cuando llegue, (2) varias casas de cambio de moneda en la ciudad y (3) su hotel (no todos los hoteles tienen este servicio). Las tarjetas de crédito son bien aceptadas en Cartagena, preferiblemente Visa o MasterCard .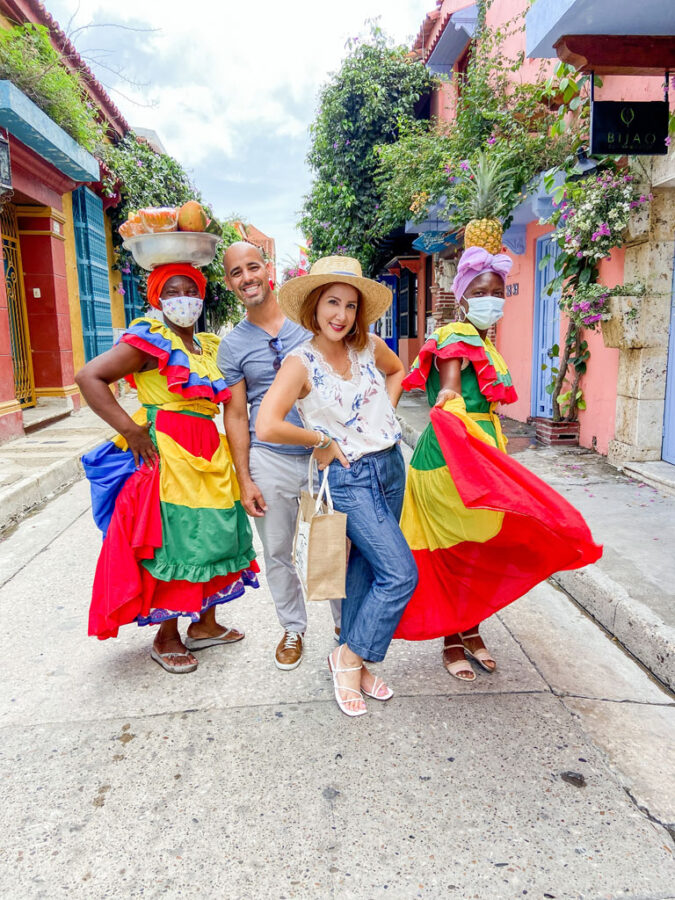 How did we get around
The short and sweet answer is: walking. The old city is small and extremely pedestrian friendly. We only used a taxi three times: to get to and from the airport, and to get to the pier (for the day we took a speed boat to a private beach).
Where we ate
The octopus dish was incredible, and that's coming from someone who never tries dishes of this kind. The plate presentation was top notch and the interior décor had a chic tropical vibe.
The service was also great! Friendly and attentive!
This was another restaurant with a jaw-dropping-tropical-chic-Instagram-worthy-and-trendy decor that is a master at not only delicious dishes but at one-of-a-kind signature cocktails. They have a terrace overlooking beautiful Spanish architecture; sadly, we weren't able to enjoy it because it was raining.
Nonetheless, my husband tried their signature Michelada Buena Vida and I, their Margarita. Both of these drink's presentation was out of this world. Loved the attention to details, from their personalized drink glasses to their napkins.
Definitely worth a try to see Cartagena's sunset from their terrace while sipping on a Mojito.
This place might be small, but their large local rum selection and amazing service makes up for it! Grace was our server, and her knowledge of their liquor menu is incredible. If you want the best rum-tasting experience, this is the place for you. Oh and the food is unbelievable too.
We opted to seat outside to enjoy the lush tropical landscape of Plaza San Diego, the colorful façade of hotel Santa Clara and church Santo Toribio, but as we were leaving, I peeked at the interior and oh my! I would have liked to return just to experience a meal inside. Later I found that the restaurant is located in a restored republican house that preserves its original architecture, floors and walls.
As far as my favorite dish –the tiradito was incredible!
Tiradito (pronounced tee·ruh·dee·tow) is a Peruvian dish of raw fish, cut in the shape of sashimi, and of aspect similar to crudo, and carpaccio, in various sauce.
In other words, this is the perfect dish that combines Peruvian cuisine with Japanese.
This is where my hubby took me for my birthday dinner. With its fancy ambiance and delicious authentic Italian dishes, this restaurant is a must for a romantic dinner.
The chef came over to our table and helped us decide our dinner. Both dishes were truly incredible and were as traditional Italian flavors as it could get.
Because it was raining, we couldn't eat in their stunning lavish outdoor terrace that for a second transported me back to Tuscany. However, the interior was just as striking, with colonial stone arches and authentic Spanish-tile floors.
¿Cómo nos movimos?
La respuesta corta y dulce es: caminar. La ciudad vieja es pequeña y muy amigable para los peatones. Solo usamos un taxi tres veces: para ir y venir del aeropuerto y para llegar al muelle (para el día que tomamos una lancha rápida a una playa privada).
Donde comimos
El plato de pulpo estuvo increíble, y viene de alguien que nunca prueba platos de este tipo. La presentación del plato fue excelente y la decoración del restaurant tenía un elegante ambiente tropical.
¡El servicio también fue excelente! Amable y atento!
Este fue otro restaurante con una decoración impresionante, tropical, chic, y digna de Instagram. El restaurant es un maestros no solo en platos deliciosos, sino también en cócteles exclusivos únicos. Tienen una terraza con vista a la hermosa arquitectura española; lamentablemente, no pudimos disfrutarlo porque estaba lloviendo.
No obstante, mi esposo probó su emblemática Michelada Buena Vida y yo, su Margarita. La presentación de ambas bebidas estaba fuera de este mundo. Me encantó la atención a los detalles, desde sus vasos de bebida personalizados hasta sus servilletas.
Definitivamente vale la pena intentar ver la puesta de sol de Cartagena desde su terraza mientras te tomas un mojito.
Este lugar puede ser pequeño, ¡pero su gran selección de ron local y su increíble servicio lo compensa! Grace fue nuestra camarera, y su conocimiento del menú de licores es increíble. Si deseas la mejor experiencia de degustación de ron, este es el lugar para ti. Ah, y la comida también es increíble.
Optamos por sentarnos afuera para disfrutar del exuberante paisaje tropical de la Plaza San Diego, la colorida fachada del hotel Santa Clara y la Iglesia de Santo Toribio, pero cuando nos íbamos, miré el interior y ¡ay! me hubiera gustado volver solo para experimentar una comida en el interior. Mas tarde, descubrí que el restaurante está ubicado en una casa republicana restaurada que conserva su arquitectura original, pisos y paredes.
En cuanto a mi plato favorito, ¡el tiradito fue increíble!
Tiradito es un plato peruano de pescado crudo, cortado en forma de sashimi, y de aspecto similar al crudo, y carpaccio, en salsas variadas.
En otras palabras, este es el plato perfecto que combina la cocina peruana con la japonesa.
Aquí es donde mi esposo me llevó a la cena de cumpleaños. Con su ambiente elegante y deliciosos platos italianos auténticos, este restaurante es imprescindible para una cena romántica.
El chef se acercó a nuestra mesa y nos ayudó a decidir nuestra cena. Ambos platos eran realmente increíbles y tenían los sabores italianos más tradicionales posibles.
Debido a que estaba lloviendo, no pudimos comer en su impresionante y lujosa terraza al aire libre que, por un segundo me transportó de regreso a la Toscana. Sin embargo, el interior era igual de llamativo, con arcos de piedra colonial y auténticos pisos de baldosas españolas.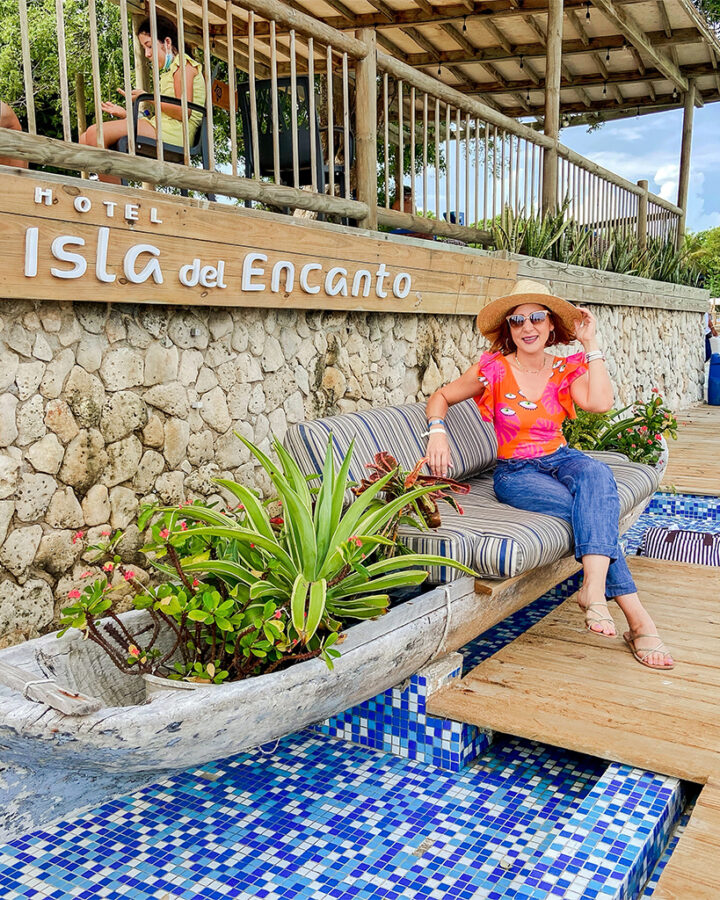 How did we get there
We flew directly to Cartagena airport (CTG) from Miami.
How is the WI-FI
There is free Wi-Fi in most establishments (especially restaurants), public spaces like malls and hotels.
COVID-19 Measures
At the time this post was written (July 2021), everyone in the city wore a mask. Hotels, restaurants, historical sights, churches and public establishments carried and encouraged its patrons to use hand sanitizer.
Cómo llegamos
Volamos directamente al aeropuerto de Cartagena (CTG) desde Miami.
¿Cómo es el wi-fi?
Hay Wi-Fi gratuito en la mayoría de establecimientos (especialmente restaurantes), espacios públicos como centros comerciales y hoteles.
Medidas para COVID-19
En el momento que esta publicación fue escrita (julio de 2021), todos en la ciudad usaban una máscara/tapabocas. Hoteles, restaurantes, lugares de interés turístico, iglesias y establecimientos públicos tenían y alentaban a sus clientes a usar desinfectante de manos.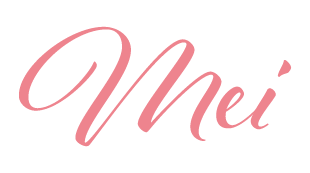 ---
PIN FOR LATER