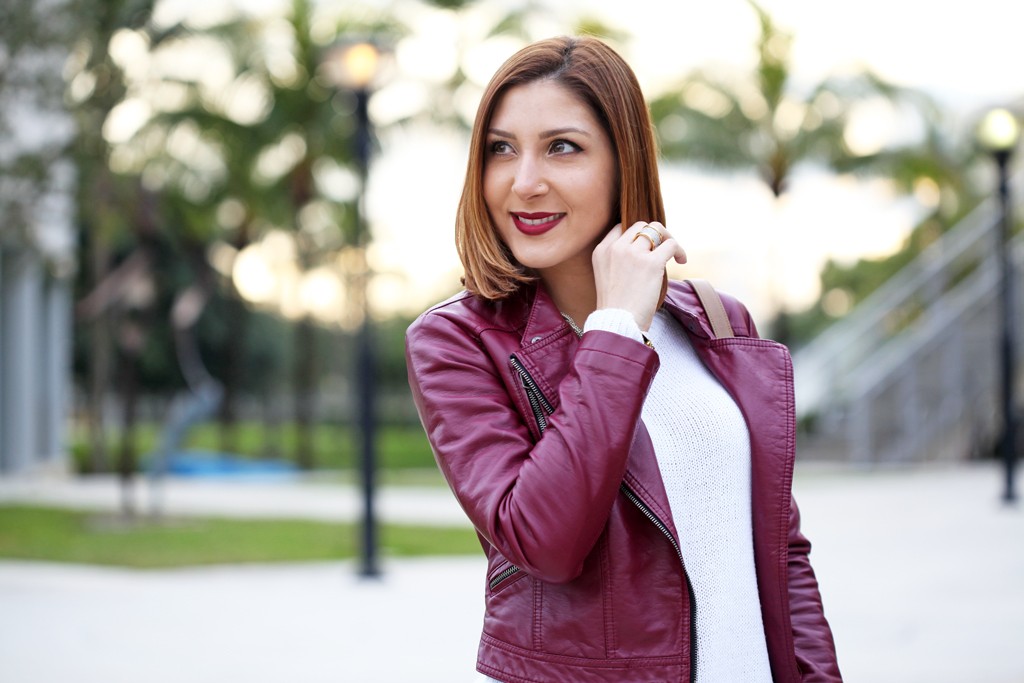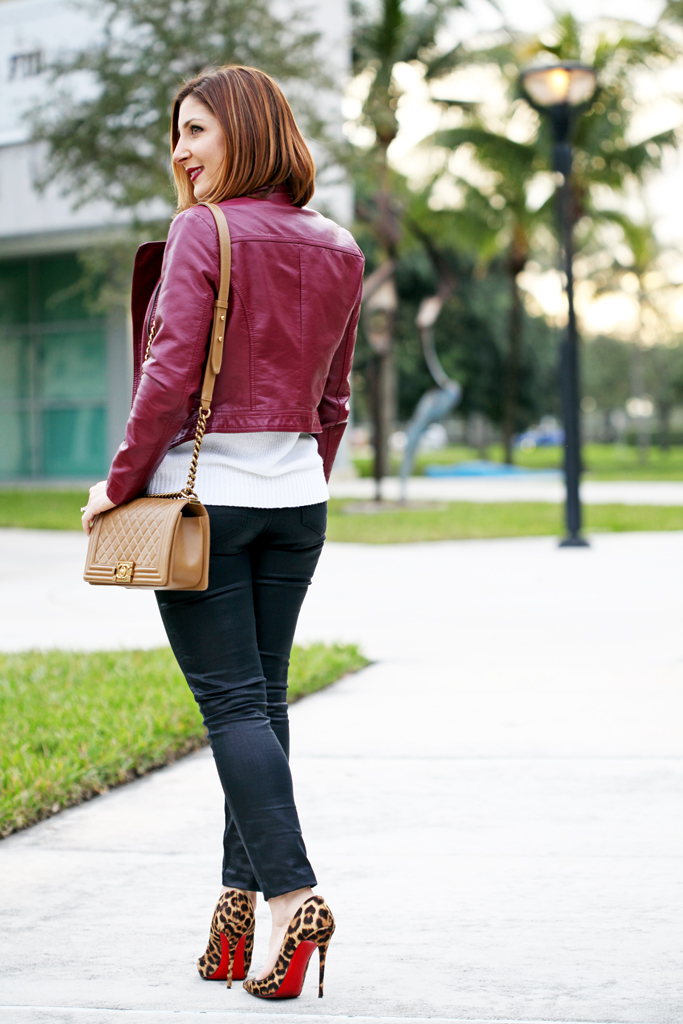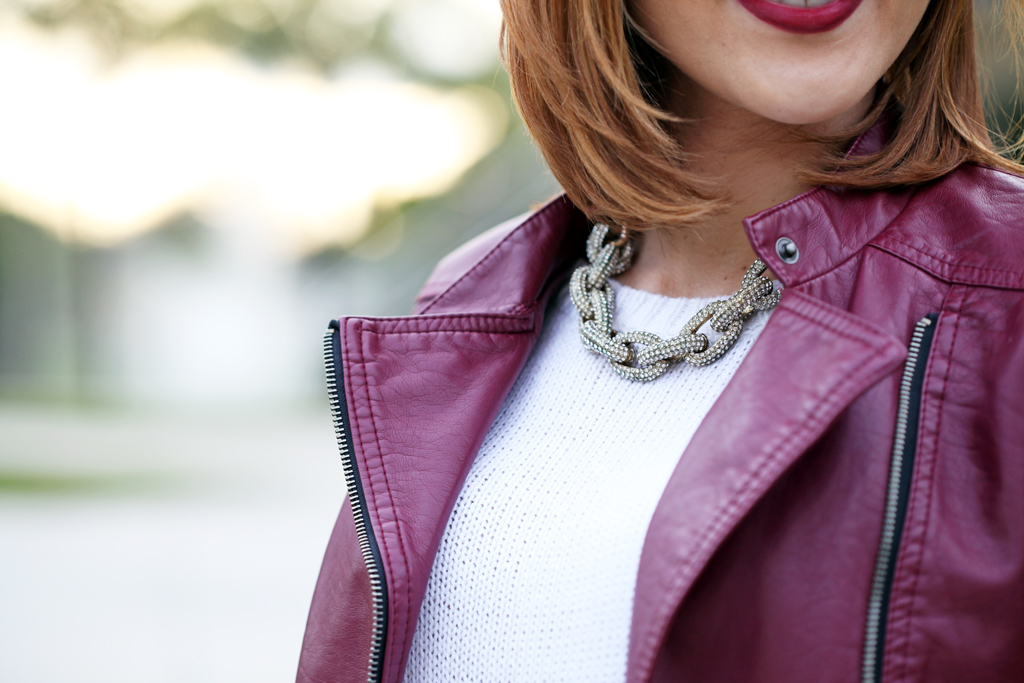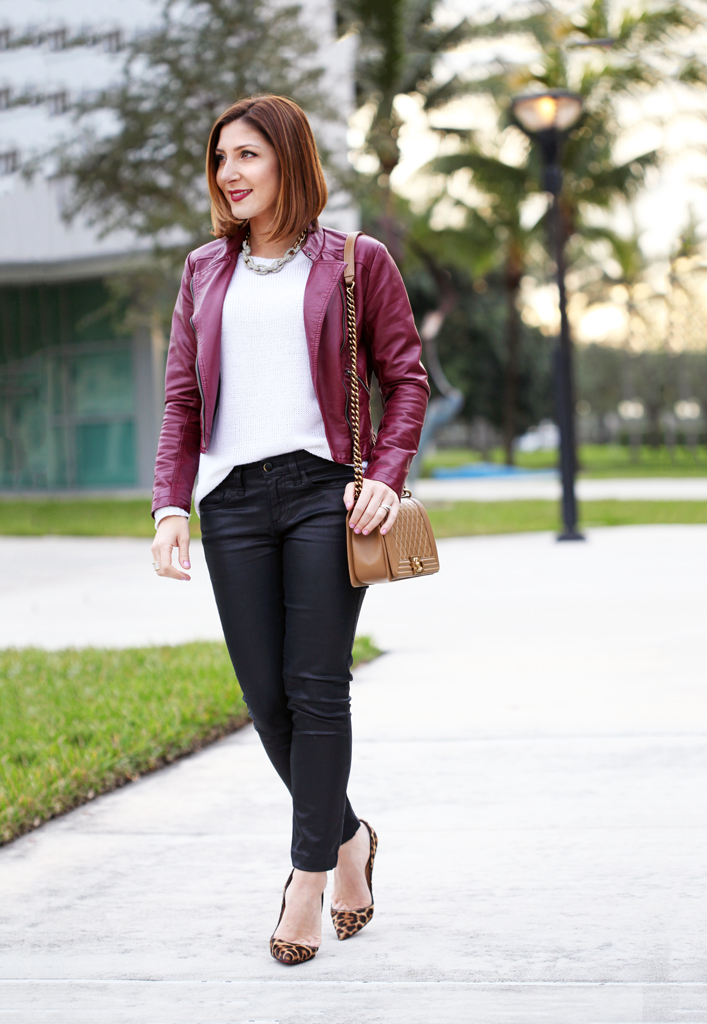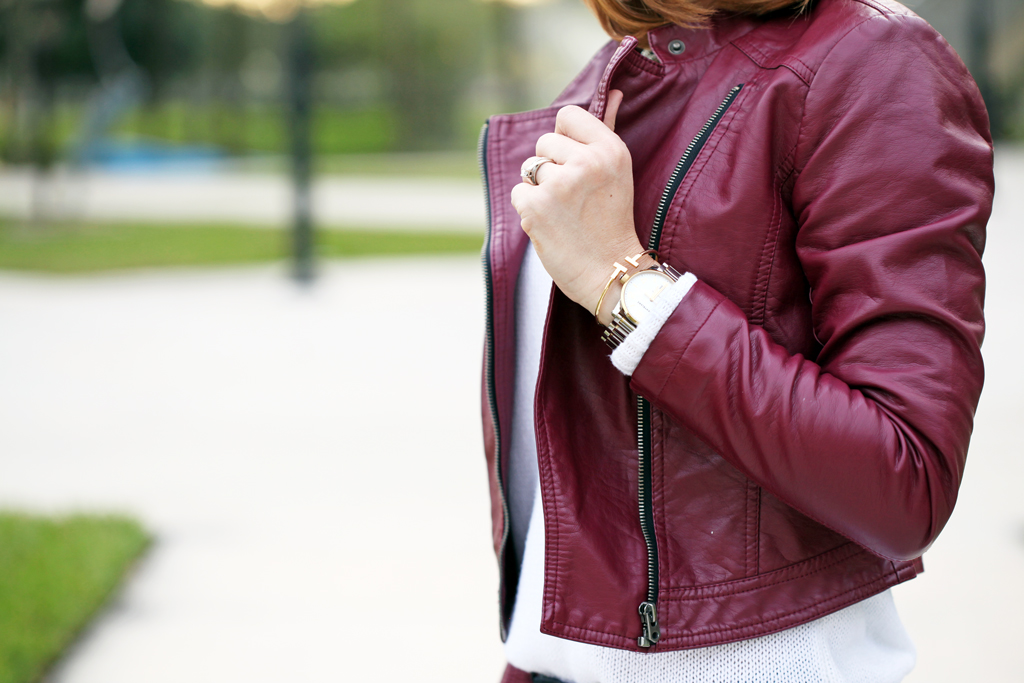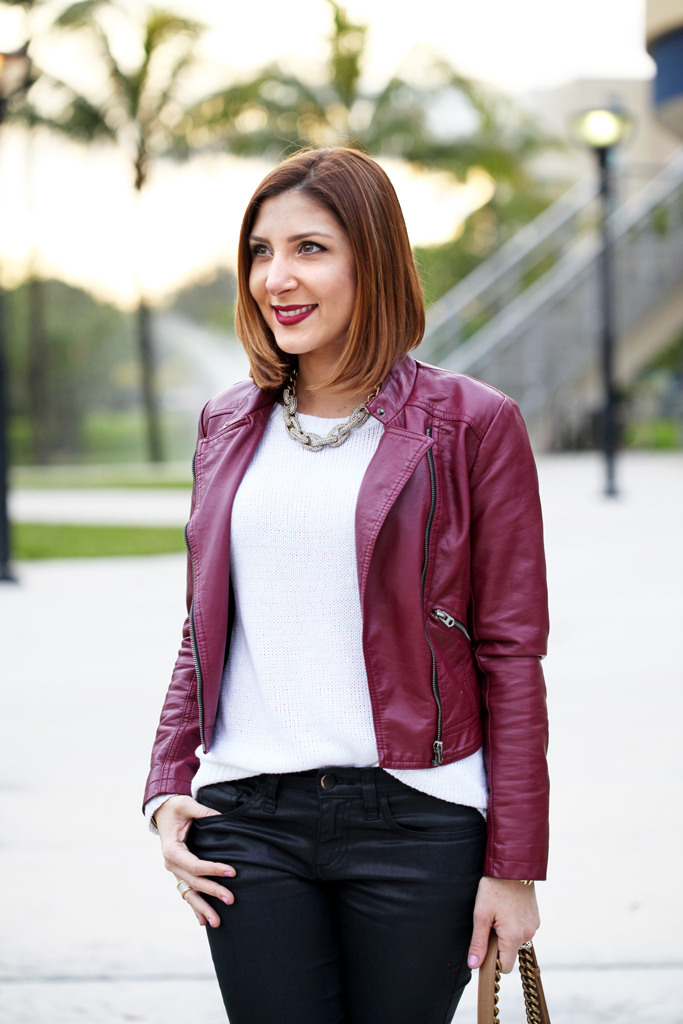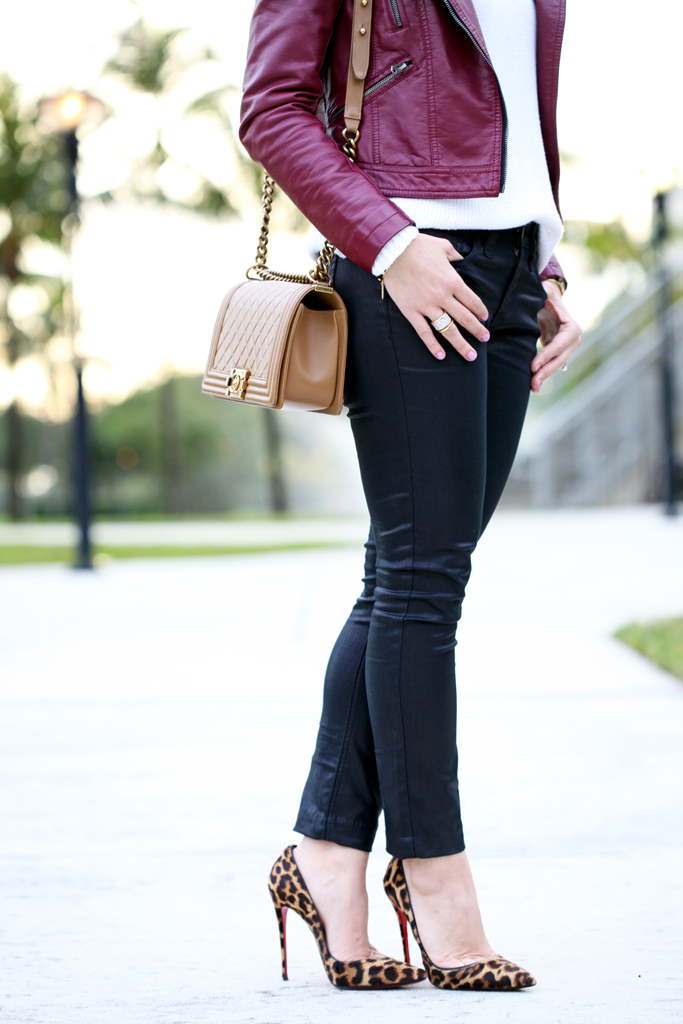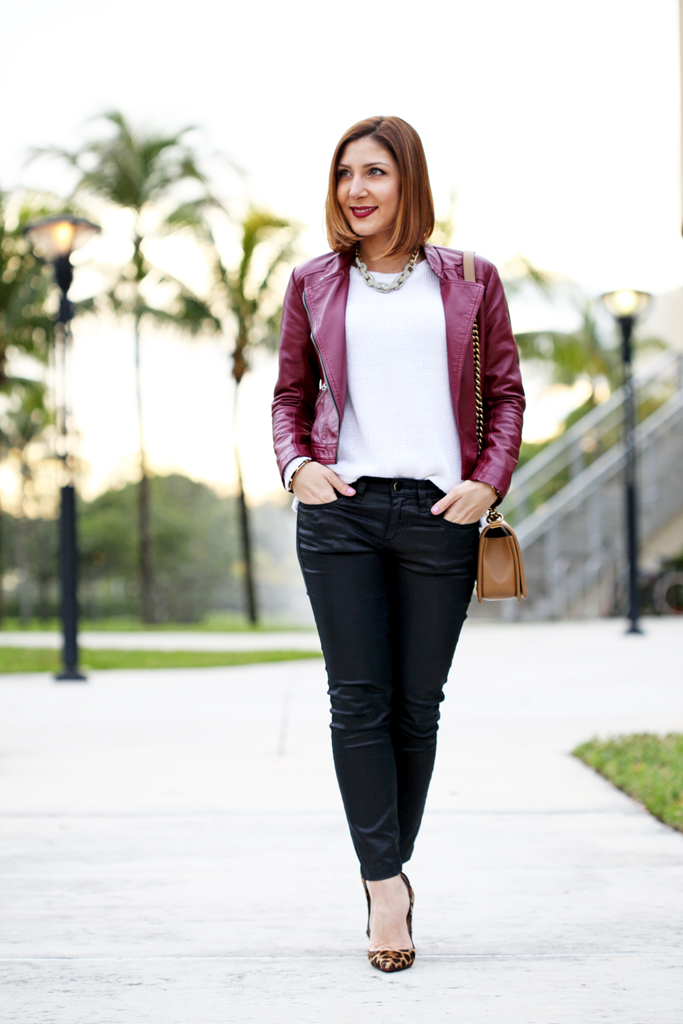 <<  JACKET: Forever 21 (similar)  |   SWEATER: Forever 21 (similar)  |   JEANS: Forever 21 (similar)   |    WATCH: Montblac 'TimeWalker'  |    HANDBAG: Chanel 'Boy Small'    |   NECKLACE: Nordstrom (similar)    |    RING: Henri Bendel (similar)   |   BRACELET:  Henri Bendel 'Miss Bendel Rivet Bangle' & Tiffany & Co. 'T:Wire'    |     PUMPS: Christian Louboutin 'Pigalle Follies'    |   LIPSTICK: Mac 'D for Danger'  |   NAIL POLISH: Essie 'Warm & Toasty Turtleneck' >>
During this past week Miami gals (and gents) had the opportunity to once again bring out the sweaters, jackets and scarves (so sorry to all those up north that are REALLY bracing the close to 0°F temps, my respect to you). So as expected, the perfect jacket had to make an appearance, so it did. This moto jacket is one of my favs because of its rich color; it goes so well with many pieces believe it or not (take a look at how I styled it with a romper here, yes a romper). For this cooler occasion, literally, I opted for some darker shades, and of course for my trusty and most favorite color of all… leopard. Doesn't it tie it all in?
Hope you are having a great week!

PREPARADA CON ROJO OSCURO: CHAQUETA + TACONES DE LEOPARDO
Durante la mayoría de la semana pasada las chicas (y caballeros) de Miami tuvieron la oportunidad de vestir una vez más suéteres, chaquetas y bufandas (realmente siento por aquellos que viven al norte y están sufriendo de las temperaturas cerca de 0°F). Y así como era de esperar, la chaqueta perfecta tuvo que tomar primer plano y lo hizo. Esta chaqueta es una de mis favoritas debido a su color intenso; que va muy bien con muchas piezas crean o no (echen un vistazo a cómo la combine con un mono corto aquí, sí un mono). Para esta ocasión con clima fresco, opté por los tonos oscuros, y por supuesto añadí mi color favorito… el leopardo, que une el conjunto ¿no creen?
¡Espero que estén teniendo una bella semana!