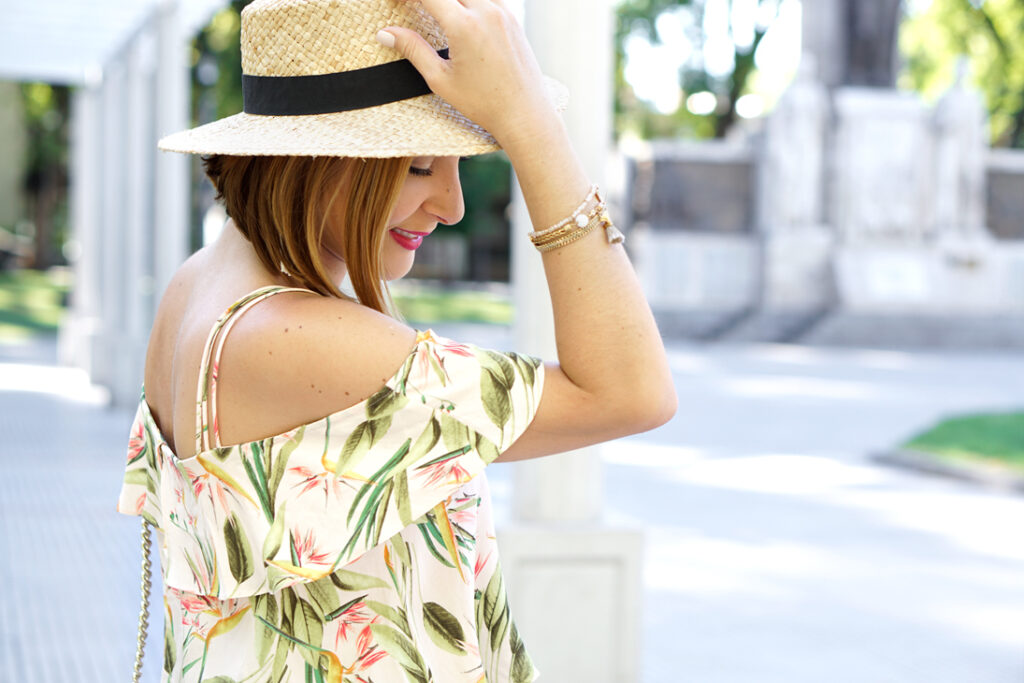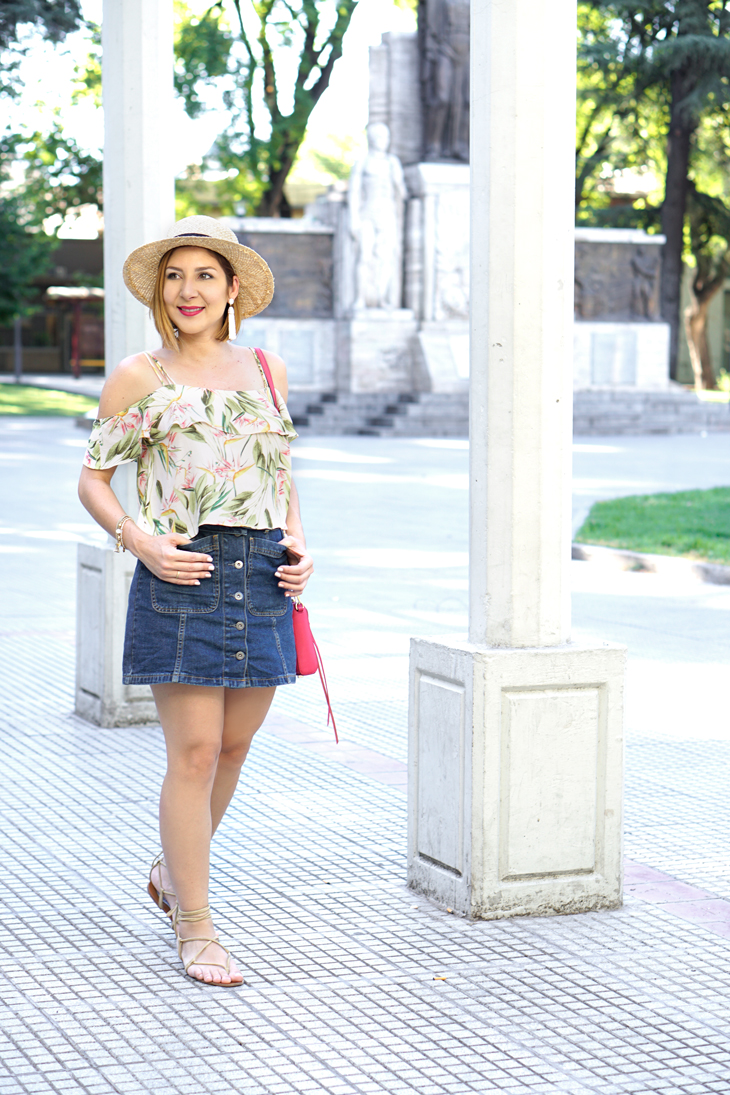 When traveling to warmer climates make sure to pack your button-front denim skirt! It is the perfect addition to any travel ensemble.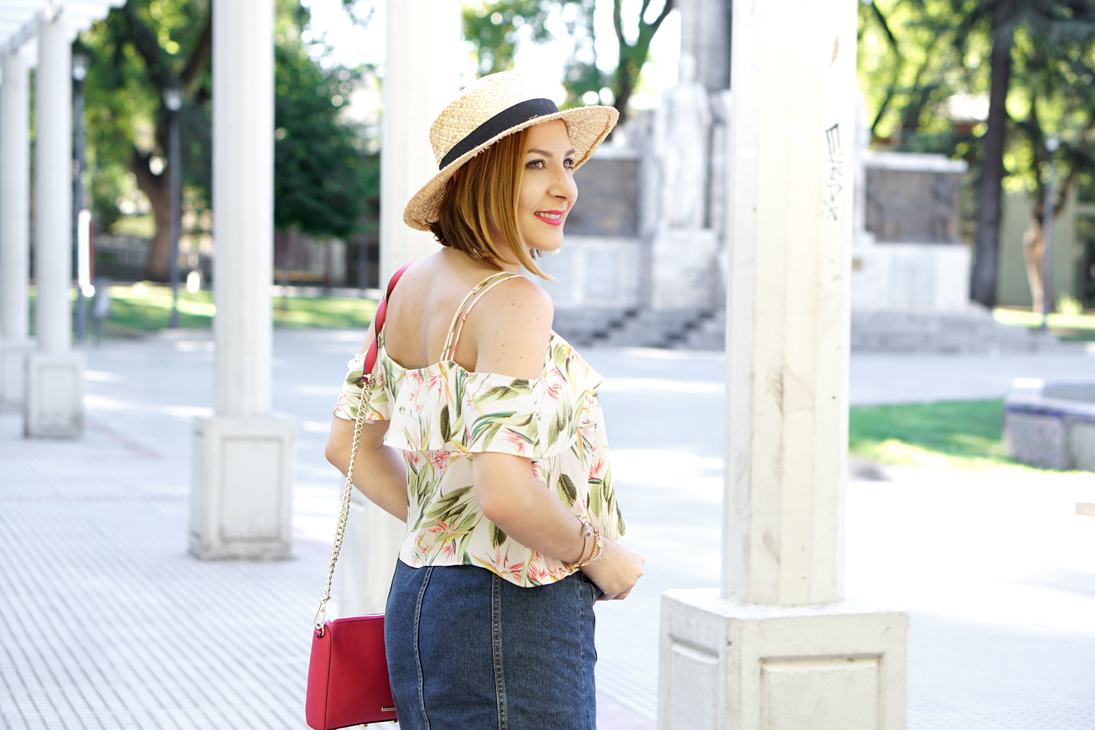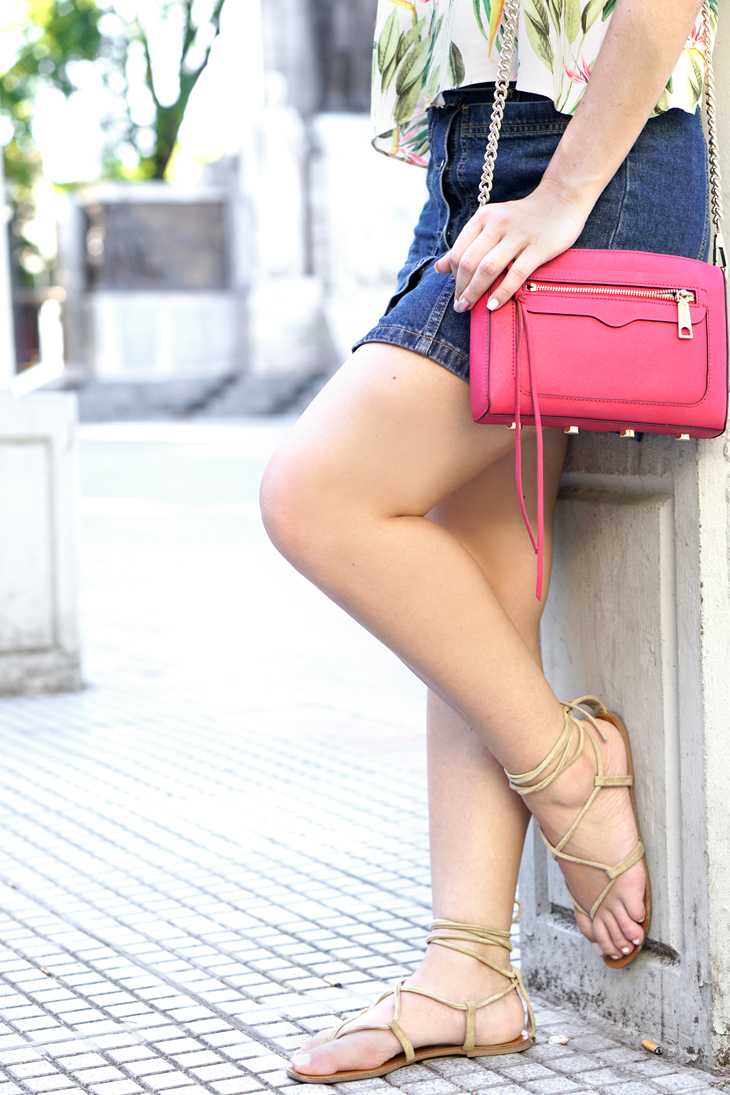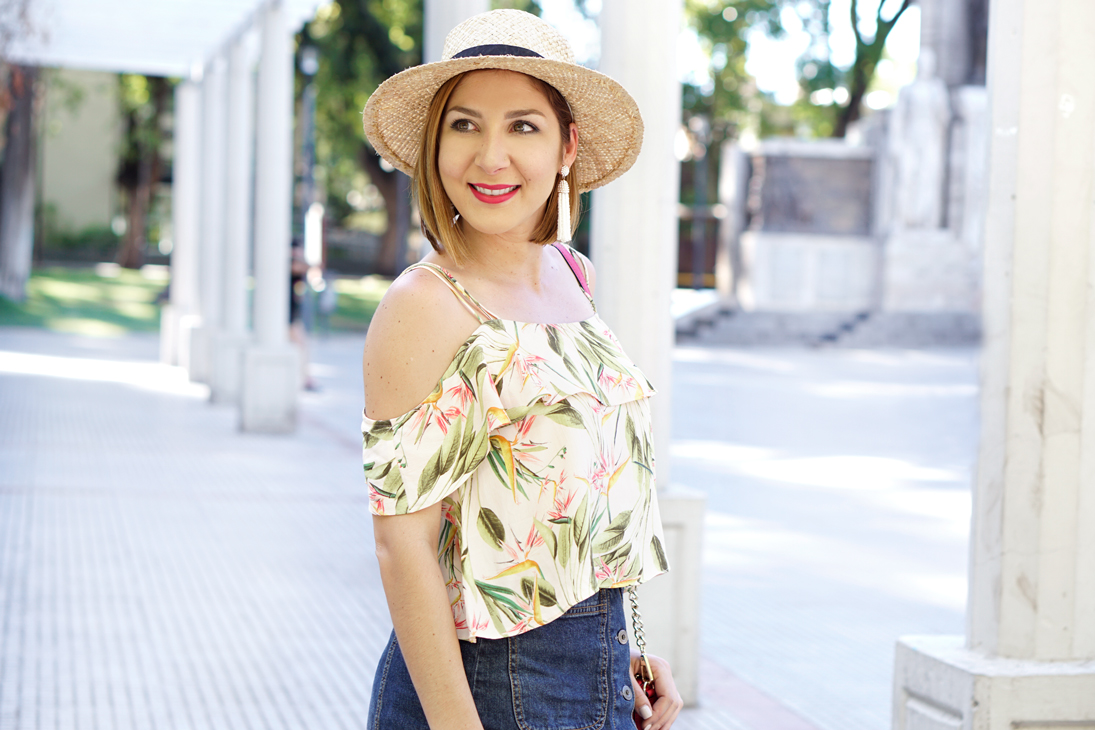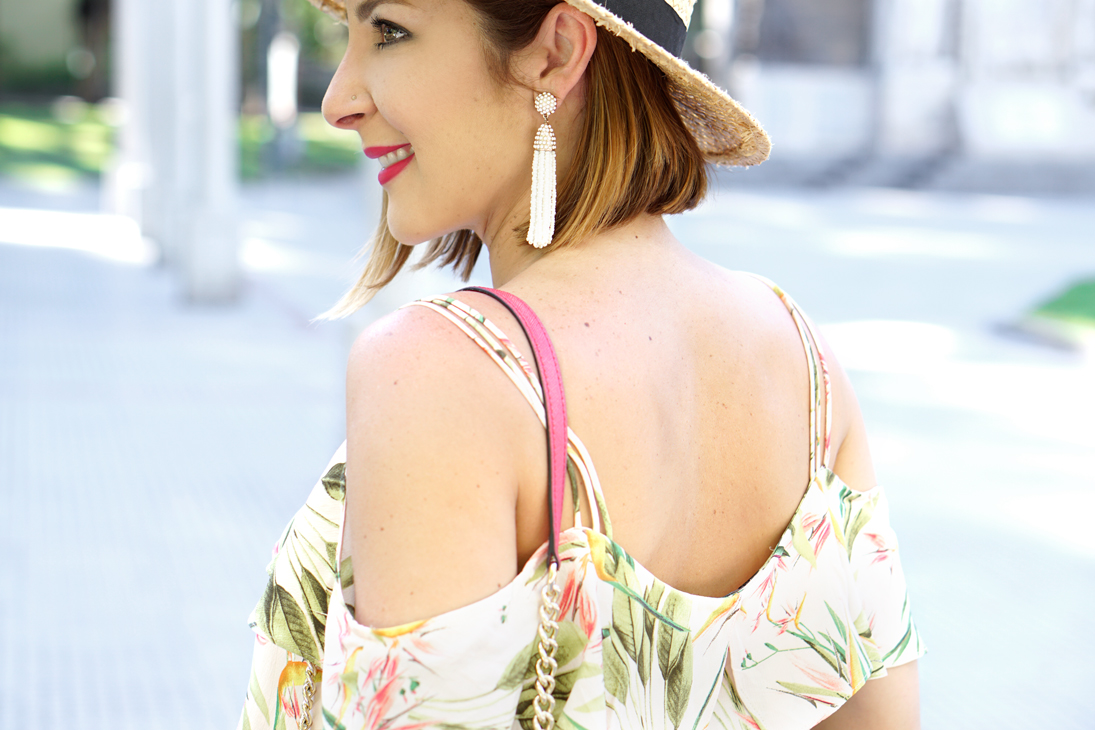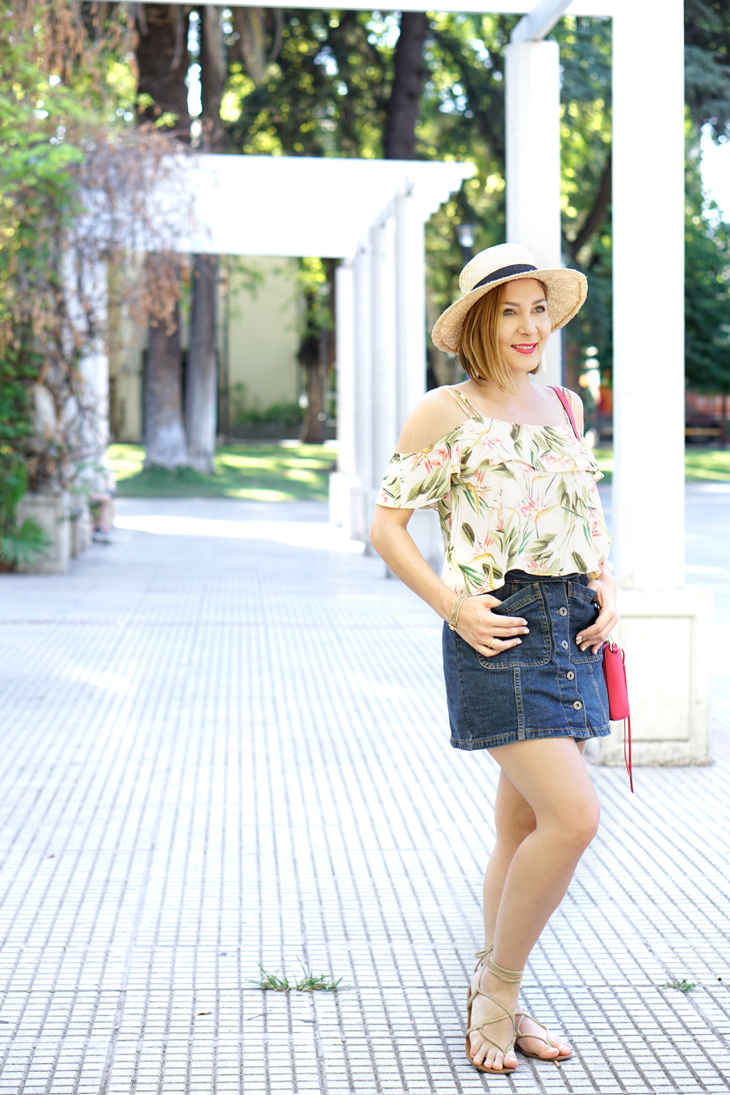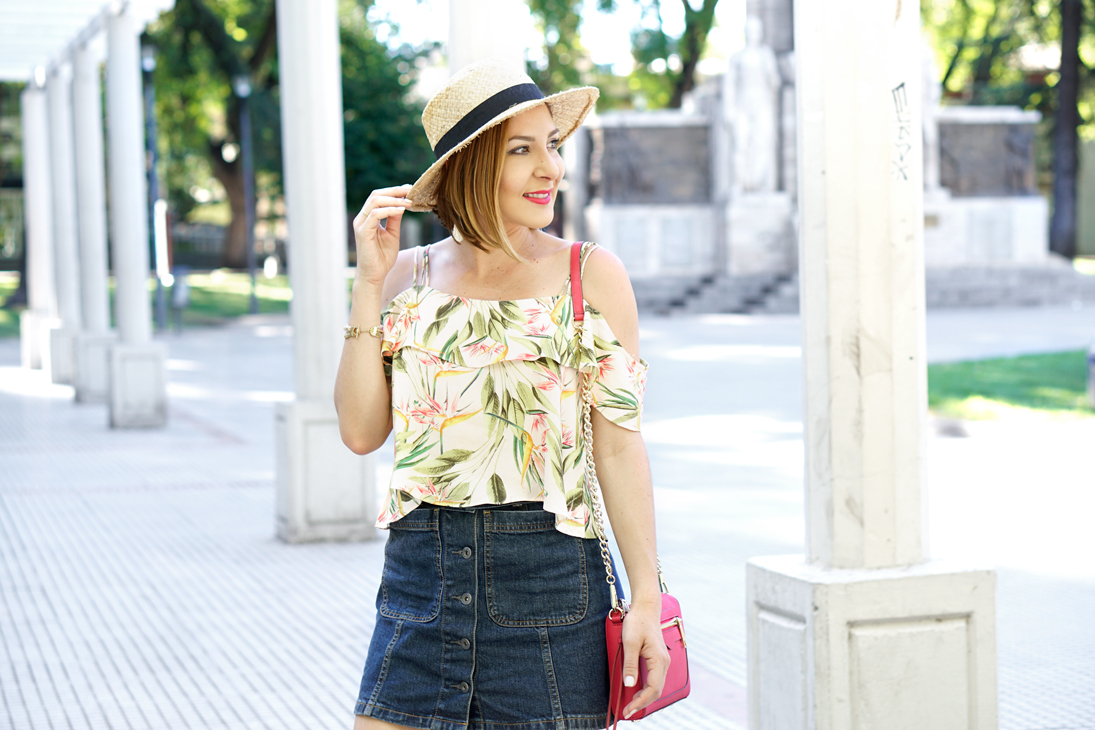 TOP: Zara (exact one here) || SKIRT: Nordstrom Rack (similar here) || EARRINGS: Baublebar (similar here) || HAT: Nordstrom || HANDBAG: Rebecca Minkoff || BRACELET: Henri Bendel (similar here) || RING: c/o Mejuri (similar here) || SANDALS: Steve Madden (similar here and here) || LIPSTICK: Huda Beaty
Hi my loves!
Another Friday calls for another travel post. But before I continue, I want to remind you about my other travel stories from Argentina (here) and Brazil (here), where I also share a few travel vlogs. As my trip's posts come to an end, I have to highlight how absolutely incredible both countries are, each in its own unique way. And being completely honest; it's hard to pick a favorite. I was, though, very excited to visit Mendoza, which is one of the red-wine capitals of the world, especially the Malbec variety. I am not much of a red wine drinker; I prefer sparkling wine like champagne and prosecco, but for some reason I was eager to give Malbec a try. As soon as I tried the first sip, I was in love. It is deep in color and has intense fruity flavors with a velvety texture. Surprisingly it is quite soft too, which I appreciate because I am not fond of strong wine.
The morning after we arrived, we headed for a tour of the city, where we drove around town and through its beautiful national park. During the 1860s, an earthquake devastated the city, and while rebuilding it, it was decided to create five plazas to provide safe open spaces in the event of another disaster. These plazas have become the cornerstone of the city. These photos were actually taken in Plaza Italia, name given because of the many individuals who migrated from the country. Mendoza takes the siesta (afternoon nap) tradition very seriously. Due to the summer heat, most of the businesses close during lunch hour and re-open later in the afternoon; restaurants are usually open. Since this province is located in an extremely dry desert region, it has extensive artificial irrigation system. Most streets have irrigation channels on either side which allows for the greenery to flourish.
The city has a very laid-back atmosphere but when the sun sets, it buzzes around its plazas and main restaurant-avenue. It's hard to have a bad meal there, everywhere we tried the food was delish. Mendoza is also an adventure and outdoor activity town. It is near the Aconcagua Mountain, the highest outside of the Himalayas. You can do trekking, expeditions, horseback riding, and whitewater rafting in the desert and the mountain. We were more interested in the wine activates though, and during our last day in the city, we took a tour to one of the leading Malbec regions called La Rioja, which I will share in an upcoming post.
Hope you have a great weekend!

FALDA DE JEAN + BLUSA DE HOMBROS AL DESCUBIERTO
¡Hola mis amores!
Otro viernes, otro post de nuestro viaje a Argentina. Pero antes de continuar, quiero recordarles sobre mis otros posts de Argentina (aquí) y Brasil (aquí), donde también comparto algunos vlogs del viaje. Ya que a medida que estas historias llegan a su final, tengo que resaltar lo absolutamente increíble que son los dos países, cada uno en su propia manera. Y siendo completamente honesta, es difícil elegir mi favorito. Sin embargo, sí estaba muy emocionada de visitar Mendoza, una de las capitales del vino tinto del mundo, especialmente la variedad Malbec. No soy de beber vino tinto; prefiero el vino espumoso como champán y prosecco, pero por alguna razón estaba ansiosa de probar el Malbec. Tan pronto cuanto probé el primer sorbo, me enamore. Es de un color intenso y tiene sabores afrutados con una textura terciopelo. Sorprendentemente, es muy suave también, lo que aprecie mucho porque no me agrada el vino fuerte.
La mañana después de llegar, nos dirigimos a una excursión de la ciudad, donde fuimos en coche por la ciudad y a través de su hermoso parque nacional. Durante el 1860, un terremoto devastó la ciudad, y al reconstruirla, se decidió crear cinco plazas para proporcionar espacios abiertos en caso de otro desastre. Estas plazas se han convertido en el lugar de encuentro de la ciudad. Estas fotos fueron tomadas en Plaza Italia, nombre dado debido a las muchas personas que emigraron del país. Mendoza toma muy en serio la tradición de la siesta. Debido al calor del verano, la mayoría de los negocios cierran durante la hora del almuerzo y vuelven a abrir en la tarde; los restaurantes suelen estar abiertos. Dado que esta provincia está ubicada en una región extremadamente seca, cuenta con un extenso sistema de riego artificial. La mayoría de las calles tienen canales de riego a ambos lados, lo que permite que la vegetación florezca.
La ciudad tiene un ambiente muy relajado pero cuando el sol se pone, las personas se reúnen alrededor de sus plazas y avenida principal donde se encuentran la mayoría de los restaurantes. Es difícil comer algo que no agrade, porque la comida de todos los lugares que probamos fue deliciosa. Mendoza también es una ciudad para actividades al aire libre. Está cerca de la Montaña Aconcagua, la más alta fuera de los Himalayas. Puede hacer trekking, expediciones, paseos a caballo, y rafting en el desierto y la montaña. Nosotros estábamos más interesados ​​en las actividades relacionadas al vino, por lo tanto, durante nuestro último día en la ciudad, tomamos un tour a una de las principales regiones de Malbec, llamada La Rioja, que compartiré en un próximo post.
¡Espero que tengan un lindo fin de semana!