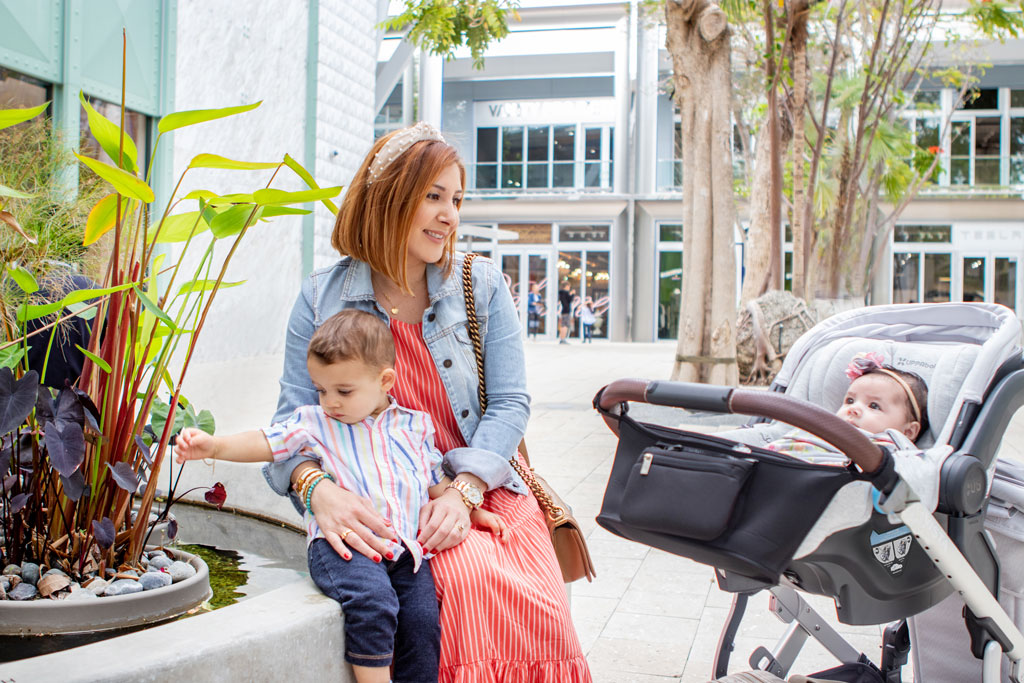 The best double stroller in town! It has an over-sized storage basket, maneuvers beautifully, each child has an unobstructed view and more.

STROLLER & ACCESSORIES MENTIONED

MY LOOK

[one_half]
This is a sponsored post written by me on behalf of UPPAbaby. All opinions are 100% mine. Thanks for supporting the brands that make this blog possible.
Hi loves!
I've been taking it easy on the blog and social media these past few months. But since this post was long overdue, I decided to dive right in and get it done! I have been using the UPPAbaby VISTA stroller for over 6 months. I began using it as a single stroller with Julian and converted it to a double stroller when baby Mila was born. In other words, I am beyond the testing stage and equipped to share my honest review on this oh-so cute, luxury full-size stroller.
[/one_half][one_half_last]
Esta es una conversación escrita por mí y patrocinada por UPPAbaby. Todas las opiniones expresadas son 100% mias. Gracias por apoyar a las marcas que hacen este blog posible.
Hola amores,
En los últimos meses, lo he estado tomando con calma por aquí en el blog y también las redes sociales. Pero como este post se había retrasado mucho, ¡decidí sentarme y hacerlo! He estado usando el coche (carriola) UPPAbaby VISTA por más de 6 meses. Comencé a usarlo con una silla con Julián y lo convertí en coche doble cuando nació Mila. En otras palabras, estoy más allá de la etapa de prueba y estoy equipada para compartir mi crítica honesta sobre este hermoso coche.
[/one_half_last]
[one_half]
Overall, this is an I N C R E D I B L E stroller!!! It really is. Let me share why in a few bullet points.
Glides and maneuvers like butter. The four-wheel suspension provides a very reasonable smooth ride even on uneven surfaces. Keep in mind, this is not an off-road stroller and therefore should be treated as such.
Modern look. Available in several colored textiles with leather accents. If your choice of color does not include the leather accents you can purchase them separately, like the handle bar cover.
Important accessories included. Comes standard with toddler seat, toddler seat rain cover, toddler seat bug shield, bumper bar, bassinet, bassinet bug shield, and bassinet storage bag. Other accessories like the RumbleSeat to convert to a double stroller, Carry-All, Cup Holder and more are sold separately.
[/one_half][one_half_last]
En general, este es un coche I N C R E D I B L E !!! Realmente lo es. Permítanme compartir por qué en los siguientes puntos.
Se desliza y se maniobra muy fácilmente. La suspensión en las cuatro ruedas proporciona una conducción liviana y hábil incluso en superficies irregulares. Tengan en cuenta que este no es un coche todoterreno y, por lo tanto, debe tratarse como tal.
Aspecto moderno. Disponible en varios colores con detalles en cuero. Si su elección de color no incluye los acentos de cuero, puede comprarlos por separado, como la barra.
Accesorios importantes incluidos. Viene estándar con el asiento para niños pequeños, la cubierta para la lluvia del asiento para niños pequeños, el protector contra insectos del asiento para niños pequeños, la barra bumper, el moisés, el protector contra insectos para el moisés y la bolsa de almacenamiento del moisés. Otros accesorios como el asiento RumbleSeat para convertir en un coche doble, organizador, portavasos y más se venden por separado.
[/one_half_last]
[one_half]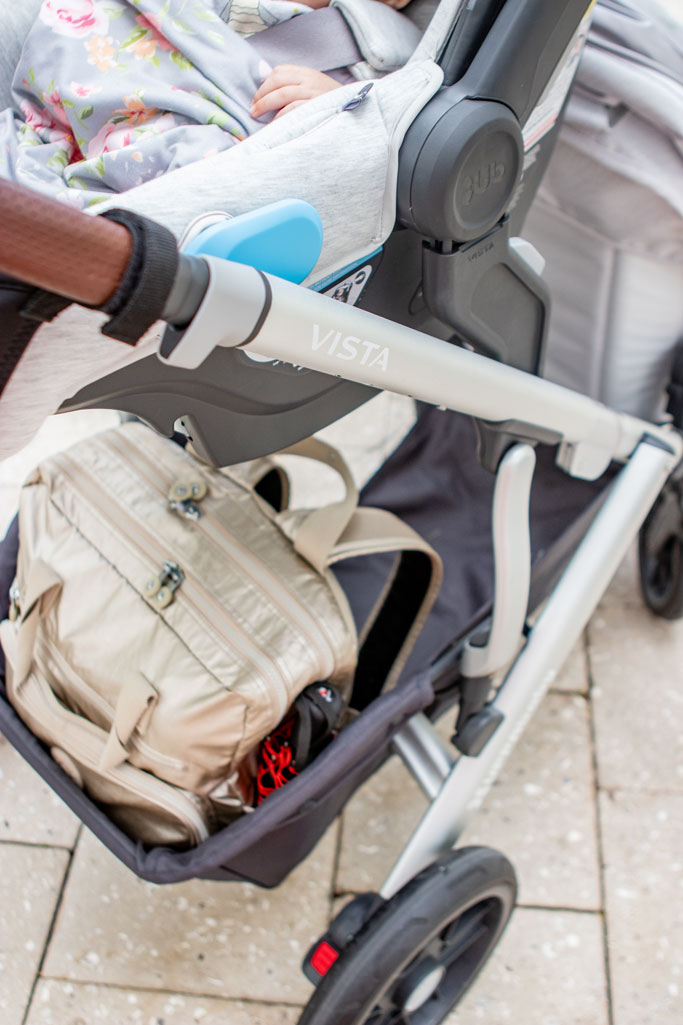 [/one_half][one_half_last]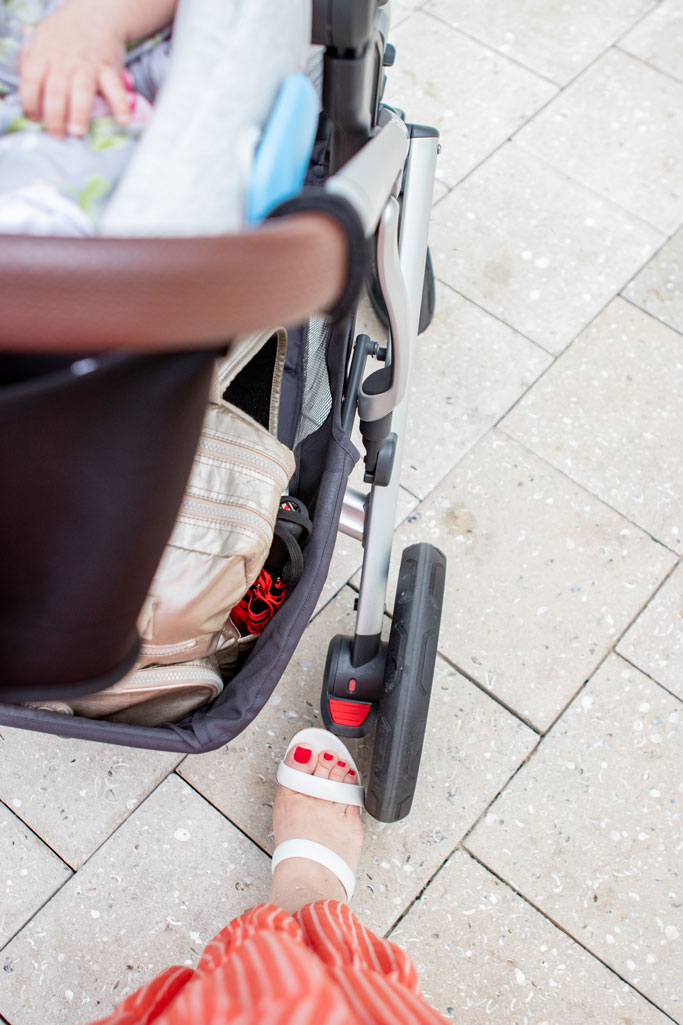 [/one_half_last]
[one_half]
Over-sized storage basket. I have successfully fitted our diaper bag, small cooler bag (for snacks and formula), and shopping bags inside… it is GREAT!
It's modular. This stroller is ideal for growing families. It is easily adapted to fit 3 kiddos; two in each respective seat and third child with the PiggyBack Ride-Along Board (just make sure you are purchasing the right seat and adapter for your needs). And unlike most staked double strollers, neither seat covers the other; meaning that each child has an unobstructed view. PS: If you have any doubts on what seat configuration and adapters you need, check out UPPAbaby's virtual tool here.
Good bassinet. This stroller comes with a comfortable deep bassinet for babies up to 20 lbs. and is safe for night-time sleep. You can purchase the Bassinet Stand for $150 if you want to use the bassinet for the baby's first few months.
Great recline & adjustable footrest. With the push of a button you can easily recline the footrest and Toddler Seat.
[/one_half][one_half_last]
Cesta de almacenamiento enorme. He colocado dentro de ella con éxito nuestra bolsa de pañales, una pequeña hielera (para las meriendas y fórmula) y bolsas de compras… ¡es GENIAL!
Es modular. Este coche es ideal para aquellas familias que tienen pensado tener mas bebes. Se adapta fácilmente a 3 niños; dos en cada asiento respectivo y el tercer niño con la tabla PiggyBack Ride-Along Board (solo asegúrense de comprar el asiento y el adaptador adecuado para sus necesidades). Y a diferencia de la mayoría de los coches dobles, ninguno de los asientos cubre al otro; lo que significa que cada niño tiene una vista placentera y sin obstáculos. PD: Si tiene alguna duda sobre qué configuración de asiento y adaptadores necesita, consulte la herramienta virtual de UPPAbaby aquí.
Buen moisés. Este coche viene con un moisés cómodo y bastante profundo para bebés de hasta 20 lbs. y está clasificado para dormir por la noche. Pueden comprar donde apoyar el moisés por $150 si desean usar el moisés durante los primeros meses del bebé.
Buena reclinación y reposapiés ajustable. Con solo presionar un botón, pueden reclinar fácilmente el reposapiés y el asiento principal.
[/one_half_last]
[one_half]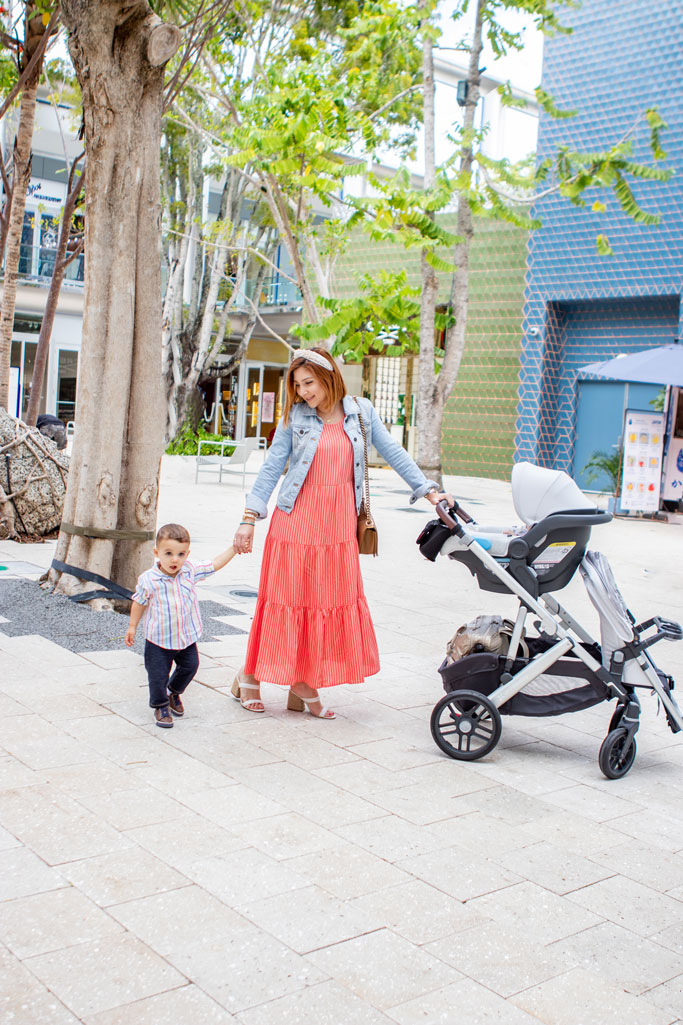 [/one_half][one_half_last]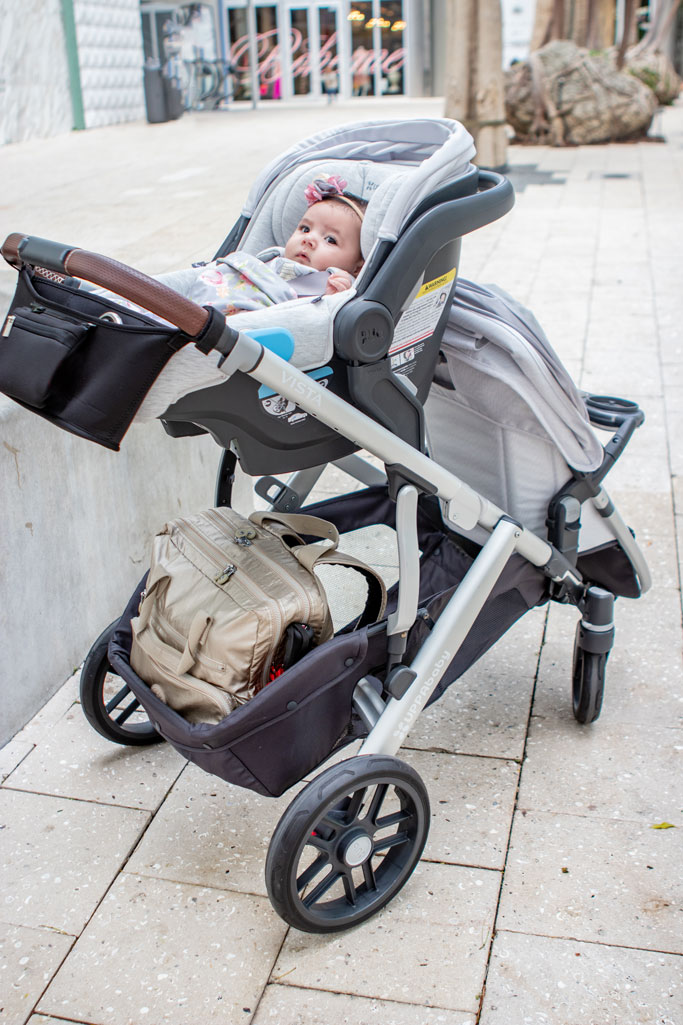 [/one_half_last]
[one_half]
Compatible with the best car seats. Adapters for car seats from other brands like Maxi Cosi, Cybex, Nuna and Chicco are sold separately for $45. The UPPAbaby MESA is compatible without adapters.
Easy fold. It's simple to fold and open. And can stand while folded without toppling over. Since it's a bit bulky once folded, I suggest measuring your trunk to make sure it fits.
Heavy. The VISTA is not the lightest (weighs 27 lbs. as a single stroller and 34 lbs. as a double) but is standard for a full-size stroller. And it can be cumbersome to take it in and out of a trunk or carry up a flight of stairs.
My final thoughts? If you have the means ($) to purchase it, I recommend you do! I specially love that it is modular, the unobstructed view for each child, the smooth ride and the amount of storage space.
[/one_half][one_half_last]
Compatible con las mejores sillas de auto. Los adaptadores para asientos de automóviles de otras marcas como Maxi Cosi, Cybex, Nuna y Chicco se venden por separado por $45. UPPAbaby Mesa es compatible sin adaptadores.
Fácil de plegar. Es fácil de plegar y abrir. Y puede pararse mientras está plegado sin caerse. Dado que es un poco voluminoso una vez doblado, sugiero medir su maletero (baúl) para asegurarse que quepa.
Pesado. El Vista no es el más liviano (pesa 27 libras con un asiento y 34 libras con los dos) pero es estándar para un coche de ese tamaño. Y puede ser incomodo llevarlo dentro y fuera de un baúl o subir unas escaleras.
¿Mis pensamientos finales? Si está bajos sus medios ($) para comprarlo, ¡le recomiendo que lo haga! Me encanta especialmente que sea modular, la vista sin obstáculos para cada niño, la maniobra suave y la cantidad de espacio de almacenamiento.
[/one_half_last]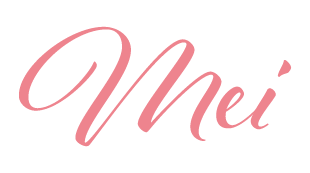 ---
PIN FOR LATER