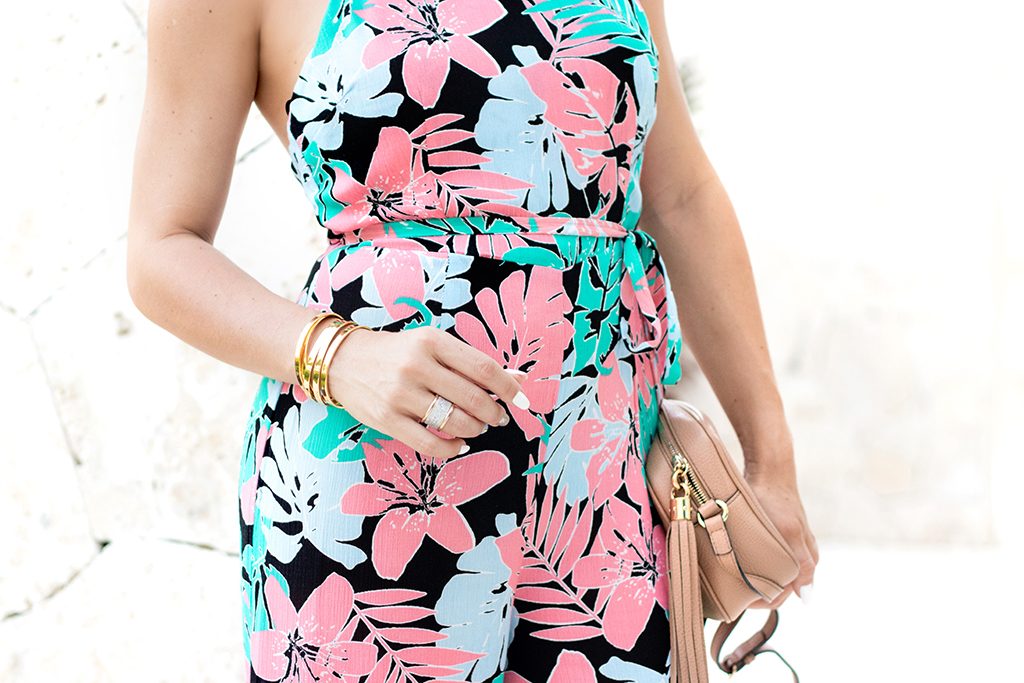 JUMPSUIT: Forever 21 (less than $25) || BRACELETS: BaubleBar || EARRINGS: BaubleBar (similar here for less than $13) || HANDBAG: Gucci (similar here and available in two other colors) || RING: Henri Bendel (similar) || SANDALS: Nordstrom (similar here for less than $30 and available in 3 other colors ) || LIPSTICK: ColourPop – Saturday
[one_half]
Heeello my loves!
I've been wanting to share this jumpsuit sooner, but haven't had the chance to. And being completely candid, I just unpacked and did laundry this past weekend. I know, I know! very unlike me.
I've mentioned several times before that I sometimes shop at Forever21.com, since I often get a little overwhelmed when I walk into the store. Thus, a few weeks before my tropical vacay, I decided to do some damage and filled my shopping cart with a few goodies. While on the trip, I shared on my InstaStories and Instagram feed this business-in-the-front-party-in-the-back jumpsuit (which you all loved), this cute pom-pom dress (only $23 and wore for a romantic dinner at the beach) and this incredibly versatile vertical stripe denim mini skirt (that since returning from the trip, I have styled it differently a few times already)
I think this jumpsuit is lacking the credit it deserves. But luckily that works for you ladies' favor, because it is still available in ALL sized and for less than $25, well it's a steal. The fabric of this cutie is so soft and flows so pretty when you walk (or dance :)). And the back, well it's my favorite part, besides the pretty floral pattern. I can't wait to style it for a more casual affair, maybe with a panama or boater hat and some comfy flat sandals.
PS: Not sure if you're aware of the category 4 hurricane (which is the highest in the scale) that recently devastated the state of Houston in Texas. If you, your family or friends have been affected, my heart goes out to you. However, those who have not, I am sure you want to know how you can help out. Check out this article, that shares a few tips to keep in mind and some recommended charitable organizations.
Curious enough, when we were visiting Punta Cana about a week ago, this storm was just developing and passed very close to us. As you can imagine, there was intermittent rain for about a day, but nothing even close to what other cities experienced.
[/one_half][one_half_last]¡Hola mis amores!
He querido compartir este enterizo desde la semana pasada, pero no he tenido la oportunidad de hacerlo. Y siendo completamente sincera, acabo de desempaquetar y lavar la ropa el fin de semana pasado. ;|
Bueno, sé que les he mencionado varias ocasiones que a veces compro en Forever21.com, ya que a menudo me siento un poco abrumada cuando entro en la tienda (tienen mucha mercancía y me marea). Por lo tanto, unas semanas antes de mis vacaciones tropical, decidí hacer un poco de daño (a mi tarjeta de crédito) y llene mi carrito de compras con unas cuantas golosinas. Mientras en el viaje, compartí en mi InstaStories e Instagram, este enterizo (cual todas amaron), este lindo vestido de pompones (solo $23 y cual vestí para una cena romántico en la playa) y esta mini falda de franjas vertical que es increíblemente versátil (que, desde mi regreso, he vestido de manera diferente unas cuantas veces ya).
Creo que este enterizo no tiene el crédito que merece. Pero chicas, afortunadamente eso está a su favor, porque todavía está disponible en TODAS las tallas y a menos de $25. La tela es super suave y fluye tan bonito cuando caminas (o bailas). Y la parte de atrás, bueno, es mi parte favorita, además del bello y llamativo estampado de flores. No puedo esperar a vestirlo para un día más casual. Quizás con un sombrero de paja ancho y unas cómodas sandalias planas.
PD: No sé si conocen del huracán categoría 4 (que es el más alto en la escala) que recientemente devastó el estado de Houston en Texas. Si usted, su familia o amigos han sido afectados, mi corazón esta con usted. Sin embargo, aquellos que no fueron afectados, estoy segura de que desean saber cómo puede ayudar. Echen un vistazo a este artículo, que comparte algunos consejos para tener en cuenta y algunas organizaciones de caridad que recomiendan.
Curiosamente, cuando estábamos visitando Punta Cana, hace aproximadamente una semana y media, esta tormenta se estaba desarrollando y pasó muy cerca de nosotros. Como pueden imaginar, hubo lluvia intermitente durante un día, pero nada parecido a lo que otras ciudades experimentaron.
[/one_half_last]