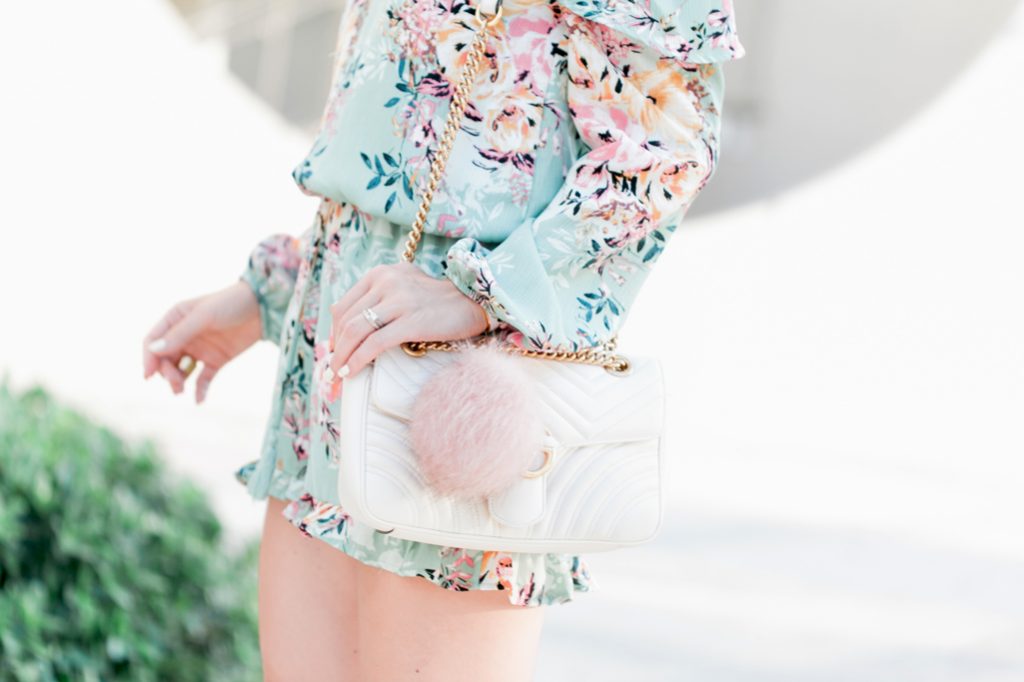 A floral romper is always a good idea (this cutie is less than $28), especially when the day calls for lots of sunshine and sparkling bubbly.


ROMPER:  Target (under $28)   ||   EARRINGS: BaubleBar   ||   BRACELET: Cartier (affordable option here), Hermes (affordable option here), BaubleBar (part of this set)   ||   RING: Henri Bendel (similar here)    ||   HANDBAG: Gucci  (affordable option here 35% off)   ||  FUR KEY CHAIN: Michael Kors on sale! (affordable option here)   ||   SANDALS: Saks Fifth Avenue (affordable option here and here)   ||    LIPSTICK: Anastasia Beverly Hills – Muted Coral
[one_half]Hi loves!
This past weekend I was invited to attend Simply Stylist's Pop-Up event for non-other than Coppertone. And because I knew it would be taking place outdoors, I had to find something comfy, lightweight and preferably sleeveless to wear. During my weekly run to Target, I took a gamble and glanced through the junior's section and I found this floral cutie. I have to confess though, that I barely shop for clothe here, only because in the past, I haven't been successful in finding something flattering for my petite frame. But oh-boy was I surprised when I tried this on! I also got a few other things but I will share those in upcoming posts. From now on, I will make sure to browse through the women's/junior's section more often.
Now let me share about Coppertone's new whipped sunscreen technology. While at the event, I applied this sunscreen twice and let me tell you I was extremely impressed. The formula is so lightweight, absorbs quickly, leaves the skin smooth and incredibly soft. Sunscreen is very important ladies! Unprotected sun exposure is very damaging for our skin. It causes skin aging, wrinkling and contributes to skin cancer, so we must protect from it as much as we can. If you think about it, sunscreen is the most affordable anti-aging treatment you could ever buy. Therefore, make sure you use it every day and apply it often. As far as makeup, try to choose foundation brands that already include SPF in the formula, like this one (my go-to), this one and this one (my favorite affordable option).
PS: If you want to see more snapshots from the event browse #simplymiami in Instagram.
[/one_half][one_half_last]¡Hola mis amores!
Este fin de semana pasado fui invitada al evento de Simply Stylist con Coppertone. Y porque sabía que se llevaría a cabo al aire libre, tuve que elegir algo cómodo, ligero y preferiblemente sin mangas para usar. Durante mi viaje semanal a Target, eché un vistazo a la sección de ropa y encontré este enterizo de flores. Tengo que confesar, que no tengo muchas cosas en mi armario de Target porque en el pasado, no he tenido éxito en encontrar algo halagador para mi pequeña estatura. ¡Pero realmente me sorprendí cuando decide probarme esta pieza! También adquirí otras cosas, pero voy a compartirlas en los próximos posts. Y de seguro que, a partir de ahora, me aseguraré de pasar por esta sección de Target más a menudo.
Ahora, permítanme compartir sobre la nueva tecnología de protección solar de Coppertone. Mientras estuve en el evento, tuve la oportunidad de aplicarme el protector solar dos veces, y les confieso que estaba muy impresionada. La fórmula es tan ligera, absorbe rápidamente y deja la piel increíblemente suave. El protector solar es muy importante chicas. Exponerse al sol desprotegida es muy dañino para nuestra piel. Provoca envejecimiento de la piel, arrugas y contribuye al cáncer de piel, y por lo tanto debemos protegernos tanto como podamos. Y tomen cuenta que el protector solar es el tratamiento anti-envejecimiento más asequible que puedan adquirir. Por lo tanto, asegúrense de usarlo todos los días y aplicarlo a menudo. En cuanto al maquillaje, traten de elegir marcas de base liquidas que ya incluyan FPS (actor de protección solar) en la fórmula, como ésta (mi favorita), ésta y ésta (opción asequible favorita).
PD: Si desean ver más del evento, busquen #simplymiami en Instagram.[/one_half_last]