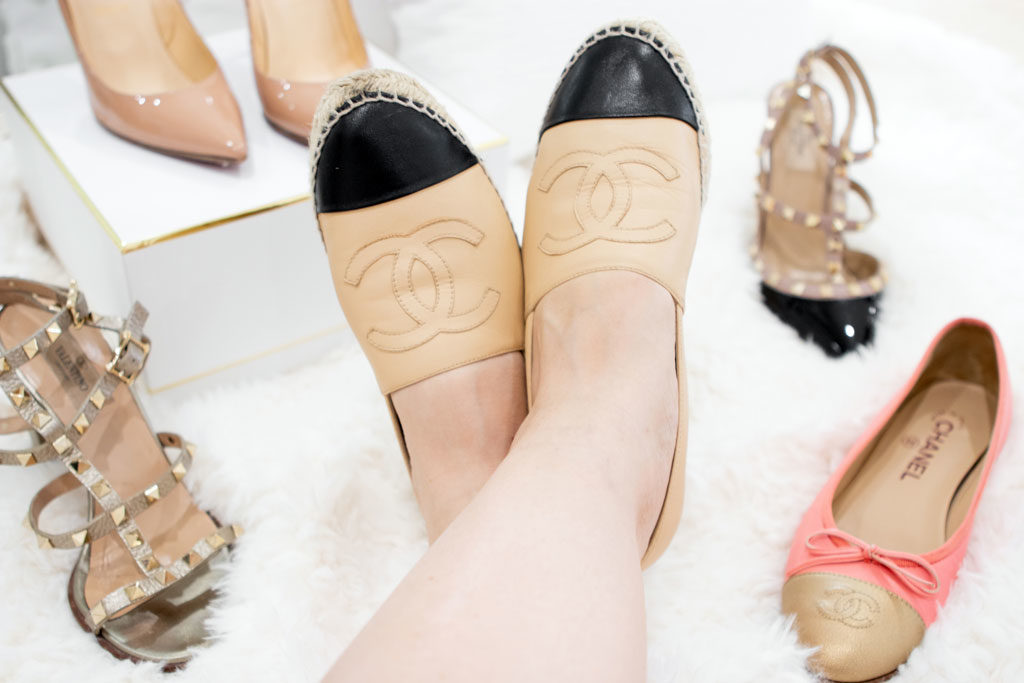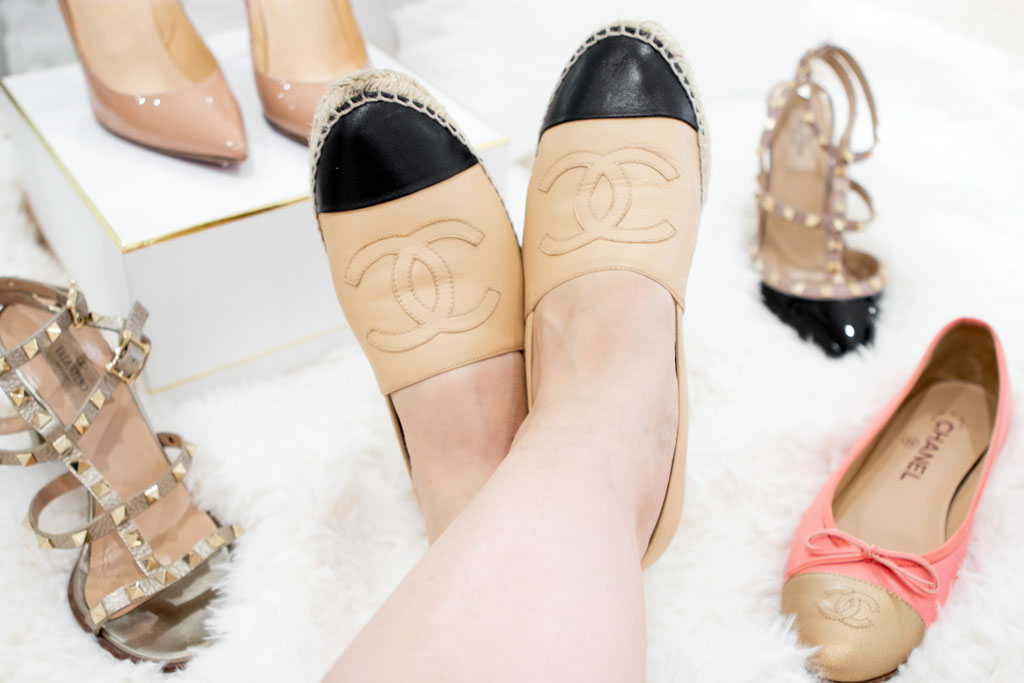 New year, new pair of shoes obviously! Here is a list of the top 5 timelesss designer shoes worth investing in.Miami Fashion Blogger, Miami Mommy Blogger.


[one_half]
New year, new pair of shoes #obviously. I am not talking about ANY type of shoe though, I am referring to the pricey ones. The ones we are willing to break the bank for.
But before splurging on those Valentino's, Loubi's or Chanel's, we have to be selective and very, very, VERY smart! My take on luxury items is to spend on timeless pieces and forgo the trendy trap. In other words, if you are looking to spend your hard-earned money, you should do it in items you can wear season after season, and year after year. That is why today I am sharing the top 5 designer shoes I own that are worth buying (although I have a few more favorites but for the sake of your wallet 🙂 I feel this is a well-balanced list).
[/one_half][one_half_last]
Año nuevo requiere un par de zapatos nuevos #obviamente. No estoy hablando de cualquier tipo de calzado, me refiero a los no tan asequibles. Aquellos cual estamos dispuestas a gastar más de lo normal.
Pero antes de darnos el gusto con esos Valentinos, Louboutins o Chanels, tenemos que ser selectivas y muy, muy, MUY inteligentes. Mi opinión sobre los artículos de lujo es de optar por piezas atemporales y renunciar a la trampa de las tendencias. En otras palabras, si estás buscando gastar tu dinero, debes hacerlo en artículos que puedas usar temporada tras temporada, y año tras año. Por eso hoy estoy compartiendo los 5 mejores zapatos de diseñador que tengo y que vale la pena comprar (aunque tengo muchos favoritos, pero por el bien de su cartera 🙂 creo que esta es una lista bien equilibrada).
[/one_half_last]
[one_half]
What's the criteria for making it to the list though?
Quality – you'll be paying top dollar for designer shoes, therefore high-quality materials and great craftmanship are a must.
Style – due to the abundance of styles out there, classic pieces will always be the way to go with designer items. Unlike trendy items that have an expiration date, timeless styles will always be classy and fashionable.
Versatility – to get your money's worth, shoes that can take you through a range of occasions are the ones to invest in. Think, how much use can you get out of them.
[/one_half][one_half_last]
¿Cuáles son los criterios para llegar a la lista?
Calidad: Pagarás un alto precio por los zapatos de diseñador, por lo cual, los materiales de alta calidad y la excelente artesanía son imprescindibles.
Estilo: Debido a la abundancia de estilos, piezas clásicas siempre serán la decisión correcta con los artículos de diseñador. A diferencia de los artículos que estén a la moda en cierta temporada tienen una fecha de vencimiento, los estilos atemporales siempre serán elegantes y modernos.
Versatilidad: Para hacer que tu dinero valga, invierte en los zapatos que puedas vestir a través de varias ocasiones. Piensa en cuánto uso le puedes sacar.
[/one_half_last]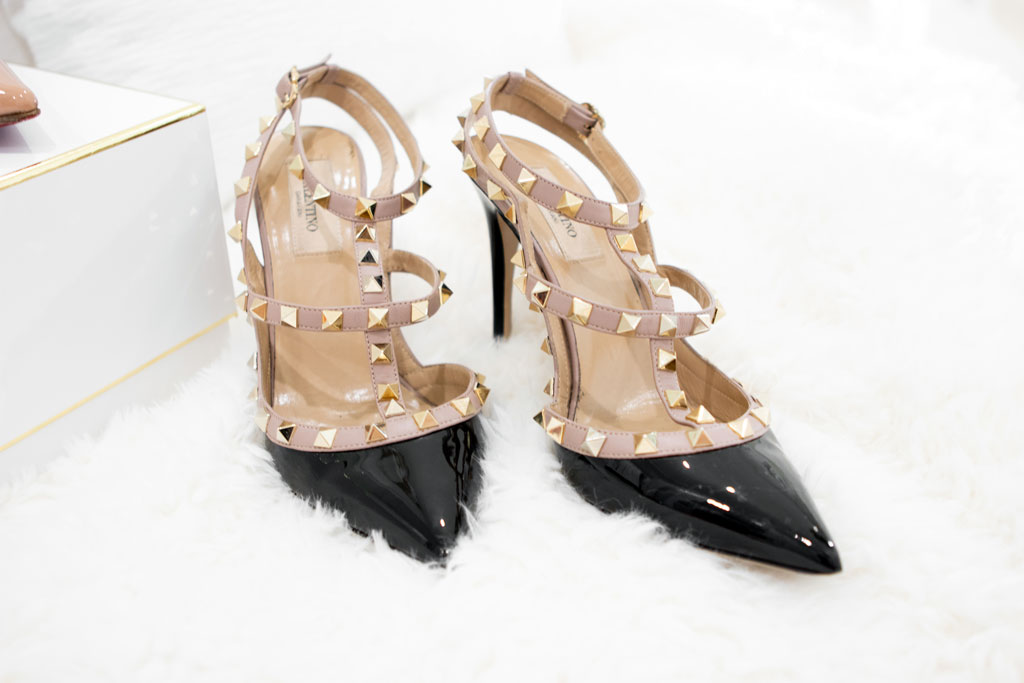 [one_half]
Valentino Rockstuds Heels (in black patent, run true to size) | These have become a cult favorite since they were first introduced in 2010 (goes to show that this specific style has stood the test of time and are definitely worth owning). They are incredibly comfortable for both, office and night wear, and available in several color combos. If black is not your cup of tea, nude is another timeless option.
[/one_half][one_half_last]
Valentino Rockstuds (en charol color negro) | Estos se han convertido en uno de los favoritos desde que se introdujeron por primera vez en 2010 (demuestra que este estilo específico ha superado la prueba del tiempo y definitivamente vale la pena tenerlo). Son increíblemente cómodos tanto para la oficina como para la noche, y están disponibles en varias combinaciones de colores. Si el color negro no te agrada, el de color piel es otra opción atemporal.
[/one_half_last]
[one_half]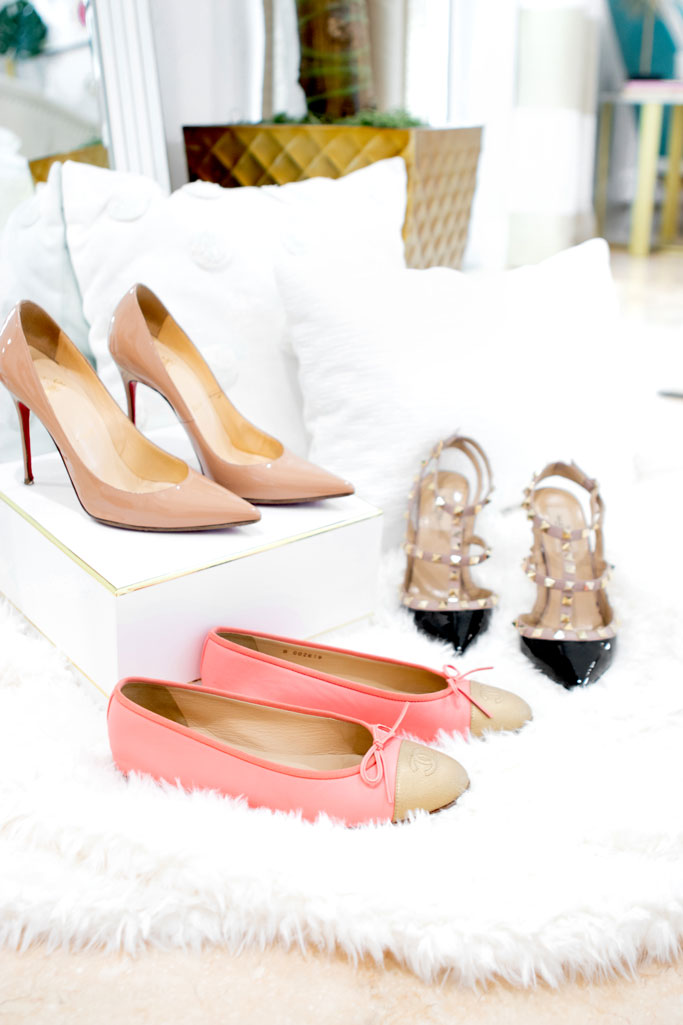 [/one_half][one_half_last]
[/one_half_last]
[one_half]
Christian Louboutin Decollete 554 100 mm Pump(in nude patent, run small) | You can't talk about designer shoes without mentioning the uber well known red soles. These iconic shoes are definitely a must-have! They can take you from day to night in a sec. And in the color nude, you can wear them with everything, from a long evening gown to a pair of skinny jeans. And besides, they do wonders to elongate your figure. However, since Loubis are known as being not the most comfortable, I recommend to half size up. Other pump options to consider are the Pigalles and So Kate, but these have a smaller toe box and are overall narrower. You can always stretch them at home with these or take them to a cobbler who can do it for you (if you live in Miami, I recommend Sunset Cobblers). Another thing to consider is to is to have red rubber soles professionally put on (by same cobbler as above) because it works as a grip (they tend to be slippery without the rubber sole) and keeps your soles looking red all year long (the red soles are not permanent and are easily scuffed).
[/one_half][one_half_last]
Christian Louboutin Decollete 554 100 mm (en charol color piel) | No se puede hablar de zapatos de diseñador sin mencionar las conocidas suelas rojas. ¡Estos zapatos icónicos son definitivamente imprescindibles en tu colección! Pueden llevarte de día a noche en un segundo. Y en el color piel, puedes usarlos con todo, desde un vestido largo de noche hasta un par de jeans ajustados. Y, además, hacen maravillas para alargar tu figura. Sin embargo, dado que se sabe que no son los más cómodos, recomiendo que lo compren en un tamaño mas grande. Otras opciones de tener en cuenta son los Pigalles y So Kate, pero estas tienen una puntera más pequeña y, en general, son más estrechos. Siempre puedes estirarlos en casa con estos o llevarlos a un zapatero que puede hacerlo por ti (si vives en Miami, les recomiendo Sunset Cobblers). Otra cosa para considerar es de llevarlos a un zapatero para que le añada suelas de goma rojas porque funciona como un agarre y mantiene las suelas rojas durante todo el año (las suelas rojas originales no son permanentes, resbalan y se raspan fácilmente).
[/one_half_last]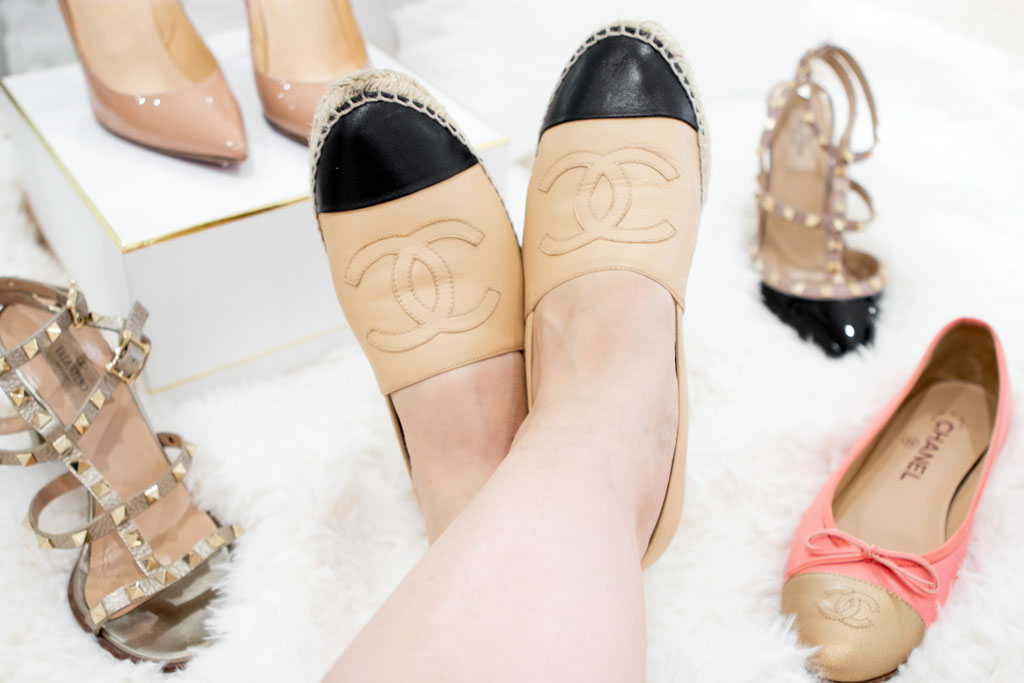 [one_half]
Chanel Espadrilles (in beige & black leather, run true to size) | Who doesn't love to be comfy while looking chic? This espadrille does exactly that! And with every passing season, Chanel launches new fabrics that are always buttery soft, chic, durable, and great for the city as well as the beach.
[/one_half][one_half_last]
Alpargatas Chanel (en cuero de color beige y negro) | ¿A quién no le gusta estar cómoda mientras se ve elegante? ¡Estas alpargatas hacen exactamente eso! Y con cada temporada que pasa, Chanel lanza nuevos tejidos que siempre son suaves, elegantes, duraderos y excelentes tal para la ciudad como para la playa
[/one_half_last]
[one_half]
Valentino Rockstuds City Sandals (in metallic leather, run true to size) | I have to admit that I am a rockstud fanatic. But what can I do when these are just so perfect! They are extremely versatile because of its metallic color –they go with pretty much EVERYTHING. Oh and don't get me started with how comfortable they are. Due to their block heel, I was even able to wear these throughout most of my pregnancy.
[/one_half][one_half_last]
Sandalias Valentino Rockstuds (cuero de color metal) | Tengo que admitir que soy fanática del estilo rockstud (tachuelas). ¡Pero qué puedo hacer cuando estos son tan perfectos! Son extremadamente versátiles debido a su color metálico –van con casi TODO. Ah, y no me hagan hablar de lo cómodos que son. Debido a su tacón ancho, pude usarlos incluso durante la mayor parte de mi embarazo.
[/one_half_last]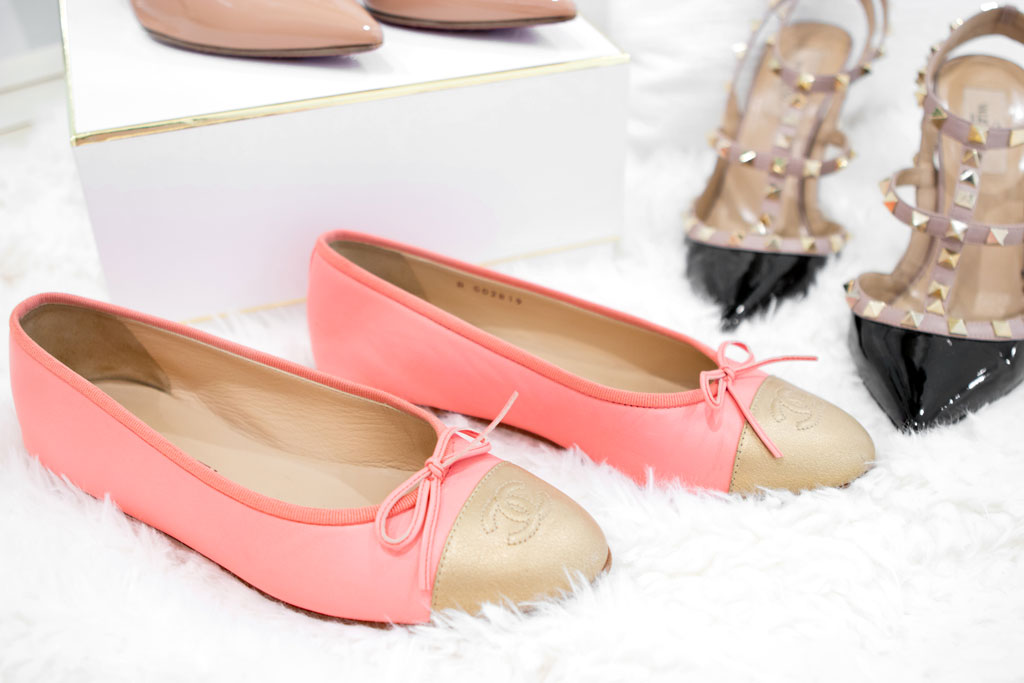 [one_half]
Chanel Ballet Flats (beige and black leather, run true to size) | Definitely the most iconic shoe of this fashion house! The quilted cap toe ballet flat has been THE one worn by sophisticated women for decades. This style has been made over and over again, yet nude with black is the most classic. And as far as comfortability, well they are as comfy as can be.
[/one_half][one_half_last]
Zapatillas de Bailarina Chanel (cuero de color beige y negro) | ¡Definitivamente el zapato más icónico de esta marca! El estilo de bailarina ha sido usado por las mujeres sofisticadas durante décadas. Y aunque este estilo se ha hecho una y otra vez, el más clásico es el de color beige con negro. Y en cuanto a la comodidad, son súper cómodos para andar por doquier.
[/one_half_last]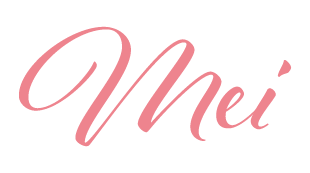 ---
PIN FOR LATER